Like many families across the country, the Kennedy family is isolating together. During regular times, they're rarely together, given factors such as full-time jobs, military college and everyday life. Now that they are, they're banding together to help others.
When it's not a global health pandemic, the five members of the Kennedy family lead busy lives that have them living and working out of the house. RBC client Brooke Kennedy is a recent university graduate and is working full-time in downtown Toronto. One brother is attending Royal Military College (RMC), over three hours away in Kingston, Ontario, while the youngest is still in high school, living at home with mom and dad. It's been years since all five of them have lived under the same roof. Now that they're settling in the same place, they're making the most of their time together by giving back to the community as a family.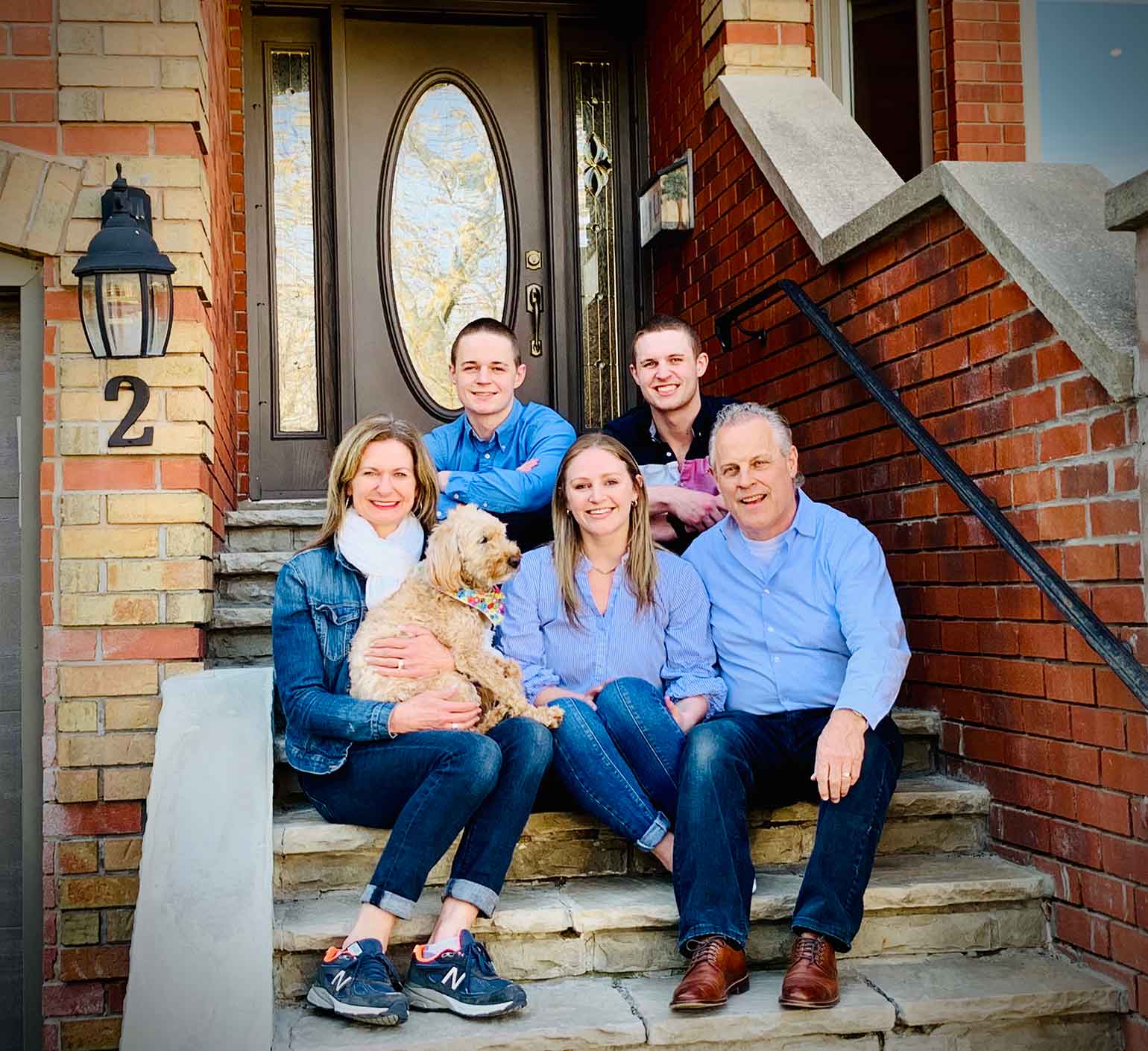 Helping Around the Community
As Brooke says, "there is only so much you can do from your house." While we can all relate to that, she speaks from the context of volunteering. That's why during the COVID-19 pandemic, the family is getting out into the community as much as possible to make the biggest impact they can. Given the family is healthy and without any underlying immunity issues, they are both comfortable going out and grateful for the fact that they can leave home to help.
From their home base in Brampton, they lend a hand with several initiatives that assist local families.
At the local thrift-store-turned-food-bank, the Kennedys sort food that comes in from different donators. "In our region, people can request specific groceries that they can't get or can't afford to get," Brooke explains. The Kennedys may create buckets to fulfill those orders, create generic baskets for people who come by, and/or spend their time disinfecting the groceries and supplies so they are safe to hand out to the public.
Brooke's brother organizes a second food bank at the local church, and delivers much of the food to families in the area. Her mom, meanwhile, is helping with Kids Help Phone. Once a 911 dispatcher, it's a natural fit and meaningful work she can do from home. The family also assists low-income seniors via their neighbourhood hotline, which connects volunteers with seniors who need groceries but must stay isolated.
Always Driven to Give Back
Brooke's mother has always been driven to volunteer. Previously, the family has volunteered with their local church, and spent holidays delivering toys to children through the Santa Claus Fund. Given mom's background as a 911 dispatcher, she was aware just how overwhelming it can be to live through a crisis, so knew she had to galvanize her family to help out in the community.
While Brooke and her father work full time and her brother is in the military reserves, the family does as much as they can, whenever they can.
Even before formal volunteer efforts began to shape, the family was cooking, baking and shopping for other families. Grandparents, aunts, friends and neighbours now send through their lists, which the Kennedys fulfill. "When my mom goes to Costco sometimes with my brothers, they have so many carts. They have to explain: "We're not stockpiling, we're giving these to other people.'"
Getting Something Bigger in Return
During a time when many people are struggling with a lack of structure in their days, Brooke admits that their work in the community has given them all a sense of purpose. "Giving back feels so satisfying, knowing that you contributed at the end of the day." Particularly for the family members who aren't working full-time, "it's so much better to wake up in the morning and know what you're going to do that day," she says.
That being said, she is quick to say that their own sense of purpose is not the reason they volunteer. "Ever since we started volunteering as a family, we realized that we could have been in the situation where the whole family is laid off. You can only control so much. So we are very grateful for what we have." A sizeable sense of gratitude has in fact been a major ingredient in their lives since this began. Gratitude for health, for the ability to help, and for the time they are getting back as a family.
"My one brother is at RMC and there's a chance I only get to see him one week out of the year because of our schedules. Having so much time together is great, and volunteering brings us back together in a different way," Brooke explains.
When they're not giving back in the community, the Kennedys have been playing games and having conversations that they didn't have time for before. They have a giant scorecard in their window, tracking their battles of Euchre, pool and competitive solitaire. "This has made us super close," Brooke says. "And I don't think that will change after this ends."
RBC clients across the country have been stepping up to face the COVID-19 crisis with courage, generosity and compassion. Discover other stories of how clients are making a meaningful difference during this difficult time. #RandomActsofCanadian
More from the #RandomActsofCanadian Series:
This article is intended as general information only and is not to be relied upon as constituting legal, financial or other professional advice. A professional advisor should be consulted regarding your specific situation. Information presented is believed to be factual and up-to-date but we do not guarantee its accuracy and it should not be regarded as a complete analysis of the subjects discussed. All expressions of opinion reflect the judgment of the authors as of the date of publication and are subject to change. No endorsement of any third parties or their advice, opinions, information, products or services is expressly given or implied by Royal Bank of Canada or any of its affiliates.