Belfast's local gems and lesser-known hotspots
Northern Ireland capital Belfast is nothing like Dublin, its bigger sibling across the border in the Republic of Ireland. The once-gritty UK city that built the Titanic and was infamous for years of violent conflict (now officially ended) has a renewed twinkle in its eye these days and a tangibly warm embrace for visitors – many of whom quickly fall for the hidden gem destination. An 80-minute airline hop from London , Belfast is a fascinating side-trip for Britain-bound vacationers – especially if you follow the locals to their favourite haunts.
Great Sleepovers
Recommended city centre mid-rangers include Ten Square, a super-friendly chic boutique in a former linen warehouse, and quirky Steve-McQueen-themed Bullitt Hotel, where stylish rooms include oversized stills from the 1968 action movie Bullitt. Higher up the pecking order, the luxe Merchant Hotel is a one-time Victorian bank building with antique-lined rooms and a grandly gilded restaurant in its former banking hall.
Tastiest Breakfasts
Join Queen's University students for a great-value "fry" (the regional vernacular for heaping eggs-and-bacon) at Maggie Mays. Or rein in your belly with a Veggie Breakfast at art-lined Cafe Conor — traditional soda bread included. Belfastians also love coffee and treats at chatty Dock Cafe, where shipyard memorabilia and mismatched furniture combine with an honesty box system: grab what you fancy and pay what you think it's worth.
Insider Tours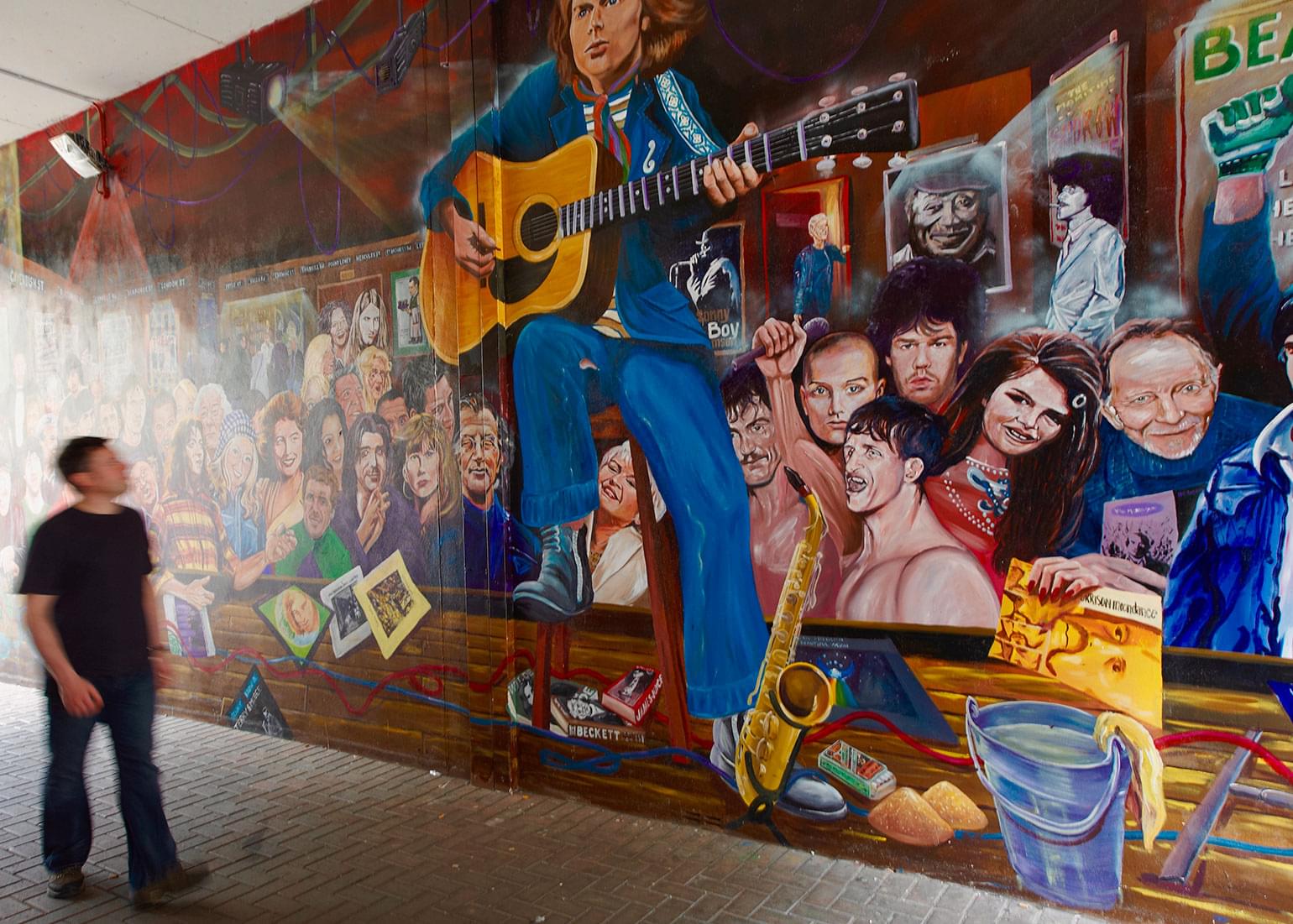 For an introduction to the Troubles – the violent nationalist versus loyalist conflict that officially ended with 1998's Good Friday Agreement – hop in a Black Cab Tour. Driver Billy Scott delves honestly into what it was like during the dark days and weaves you around Belfast's intriguing street murals. Originally part of the conflict's propaganda war, these now cover everything from sports to music and world peace. Dive further into the city's grassroots culture on a Street Art Walking Tour or a Belfast Music Bus Tour, complete with tales of local performers like Van "The Man" Morrison.
Unique Attractions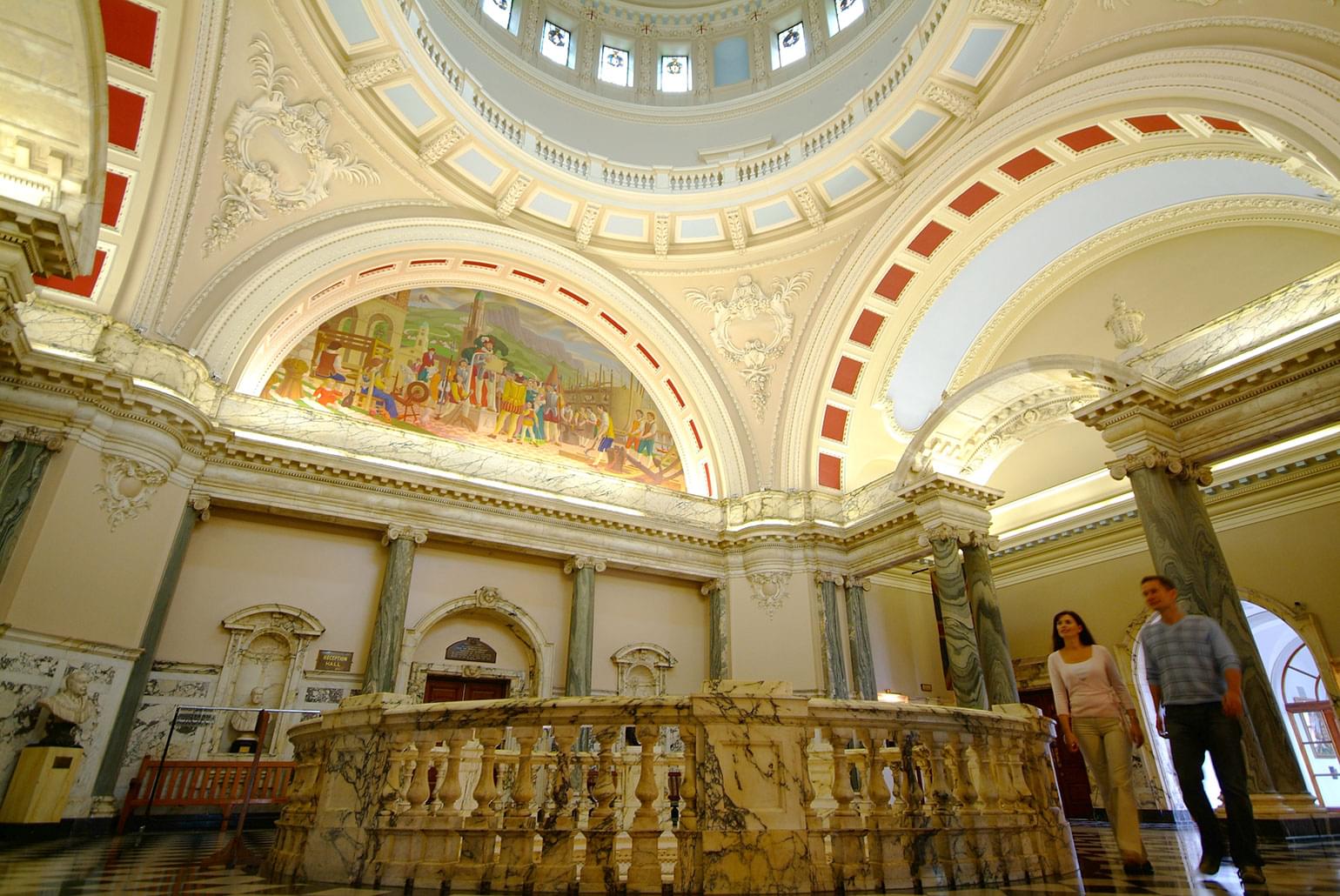 Locals like Van know that Belfast's history dates back far before the Troubles. In the city centre, check out the hidden gem Linen Hall Library, built in 1788 (tours available) and the dazzling Crown Liquor Saloon, a heritage-protected Victorian gin palace of wood panels and stained glass. Not quite so ornate, retired Crumlin Road Gaol shivers the spines of visitors with tales of riots and historic hangings, while penalties of a different kind are part of the ice action at Belfast Giants' hockey games — look out for the team's many Canadian players.
Titanic Trail
Free interior tours are provided at Belfast's landmark Victorian-era City Hall. You can also tap into the region's Titanic connections outside in its Titanic Memorial Garden, where the names of 1,512 victims are recorded on bronze plaques. But while the city's huge, prow-shaped Titanic Experience museum is a must-see, there are several alternate ways to dive beneath the surface of its local backstory. Visit the SS Nomadic, a transfer craft for Titanic-bound passengers, then take a harbour boat tour for the real-life tales of those who worked on the construction.
Best Shopping
Northern Ireland's main shopping city is studded with chain stores on and around Donegall Place. But follow the locals to Victorian-era St. George's Market — especially on Saturdays, when foodies can enjoy everything from chunky pork pies to piquant regional cheeses. Save time for a latte in front of the buskers here then nose around stalls including vintage-inspired stationary purveyor Arbee. Unique souvenirs? The Fountain Centre's Space Craft showcases contemporary artistic creations while local gem bookstore Keats & Chapman stocks tomes illuminating Belfast's tumultuous past.
Top-Table Dining
Local gems are also on the dine-out menu. Slide alongside a linen-topped table for perfectly-prepared regional lamb and fish dishes at James St. South, or feel the warm embrace of gourmet comfort entrees like seared scallops with black pudding at brick-lined Barking Dog. Book ahead for the celebrated Muddlers Club, a hidden side street eatery where in-the-know Belfastians feast on mouthwatering seasonal dishes. And when all you need is a perfect pie and java combo, head straight to Established Coffee.
Nightlife
If stronger libations are required, the welcoming bars of the city's cobbled Cathedral Quarter have a friendly party vibe. And while you should check ahead to see what's on at the landmark Belfast Waterfront concert hall, there's also regular live music in a more intimate setting at the traditional-style Sunflower Pub. But don't miss rubbing shoulders with the cheery quaffers at the labyrinthine Duke of York, where summertime sipping in the brightly-lit alleyway outside is the best way to spend a balmy Belfast evening.
This article is intended as general information only and is not to be relied upon as constituting legal, financial or other professional advice. A professional advisor should be consulted regarding your specific situation. Information presented is believed to be factual and up-to-date but we do not guarantee its accuracy and it should not be regarded as a complete analysis of the subjects discussed. All expressions of opinion reflect the judgment of the authors as of the date of publication and are subject to change. No endorsement of any third parties or their advice, opinions, information, products or services is expressly given or implied by Royal Bank of Canada or any of its affiliates.