Many people say that Dominique Fils-Aimé is radiant, that she glows. That her personality is as luminous as her voice. Music critics are saying this 36-year-old singer-songwriter is a rising star destined for an international career.
Canada's emerging artists contribute to the vitality of our communities. The series "Creative Culture: Emerging Artists to Watch" paints a portrait of young Canadian artists who are starting to enter the spotlight.
---
Still unknown before 2015, Dominique grabbed Quebecers' attention by reaching the semi-final of the show La Voix. It was actually after several diverse professional experiences that she decided, at age 30, to follow her passion—mostly for the love of music, but also from a desire to have a positive influence in the world. The Montreal artist believes strongly in the power of art to bring people together and give them a little happiness.
Inspired by the great soul and jazz singers like Billie Holiday and Nina Simone, Dominique sings about love, healing, hope and reconciliation. Both songwriter and singer, she explores the African-American musical universe with her palette of musical colours ranging from blues to jazz and soul—and she depicts these hues on her album covers too: blues-blue for Nameless, jazz-red for Stay Tuned and hopeful yellow for Three Little Words. A crescendo of success for an artist who is happy to return to the stage and her audience after a year of pandemic.
DFA : Artwork Three Little Words
Dominique says that she composed most of the three albums' songs at the start of the trilogy project. "I had a clear concept from the start: the themes I wanted to cover, the sound I hoped to achieve, the emotions I was looking for and even the colours. After each album, I reworked the songs for the next one to include my personal growth, while still remaining true to the original vision."
When asked what inspires her and what her aspirations are, her authenticity is immediately evident. And her warmth. "It's passionate people who inspire me, at least as much as artists. Because, ultimately, what people do with passion, I consider that art. It can be physical, artistic, even culinary! I know people who make ravioli with passion, and in my eyes, they're artists. From the moment you're passionate about something and it makes you want to create, I find that inspiring."
The pandemic has not slowed her down. Happy to get into the studio with her band, Dominique recorded her third album while adhering to the health regulations. There she felt as if she were in a bubble, almost isolated from the rest of the world, in a recording studio by the water and away from Montreal. "It was a great opportunity for me to be able to continue my musical project with my band. I only realized just how much had happened once the recording was done and I was able to step back for a moment and absorb it all."
Recipient of an MVP Project grant from RBCxMusic, Dominique had the opportunity to explore new digital tools and produce the video for her hit Love Take Over, an experience she greatly appreciated. "The MVP Project has really allowed artists to discover new creative vistas through a greater use of digital media and to create in a new way—it lets them adapt to what we are all experiencing, and find a space to work during an especially precarious time for them."
Even though the tour for her latest album had to be postponed, she was still able to promote it online, on TV and over the radio. But she missed performing. "The band and I are looking forward to being together and to sharing the experience of the new album with the audience. You don't know how much you miss something until you can no longer do it."
Planning is already under way for a series of shows that will take Dominique Fils-Aimé to several regions of Quebec and eventually onto the international stage, once the public health situation allows.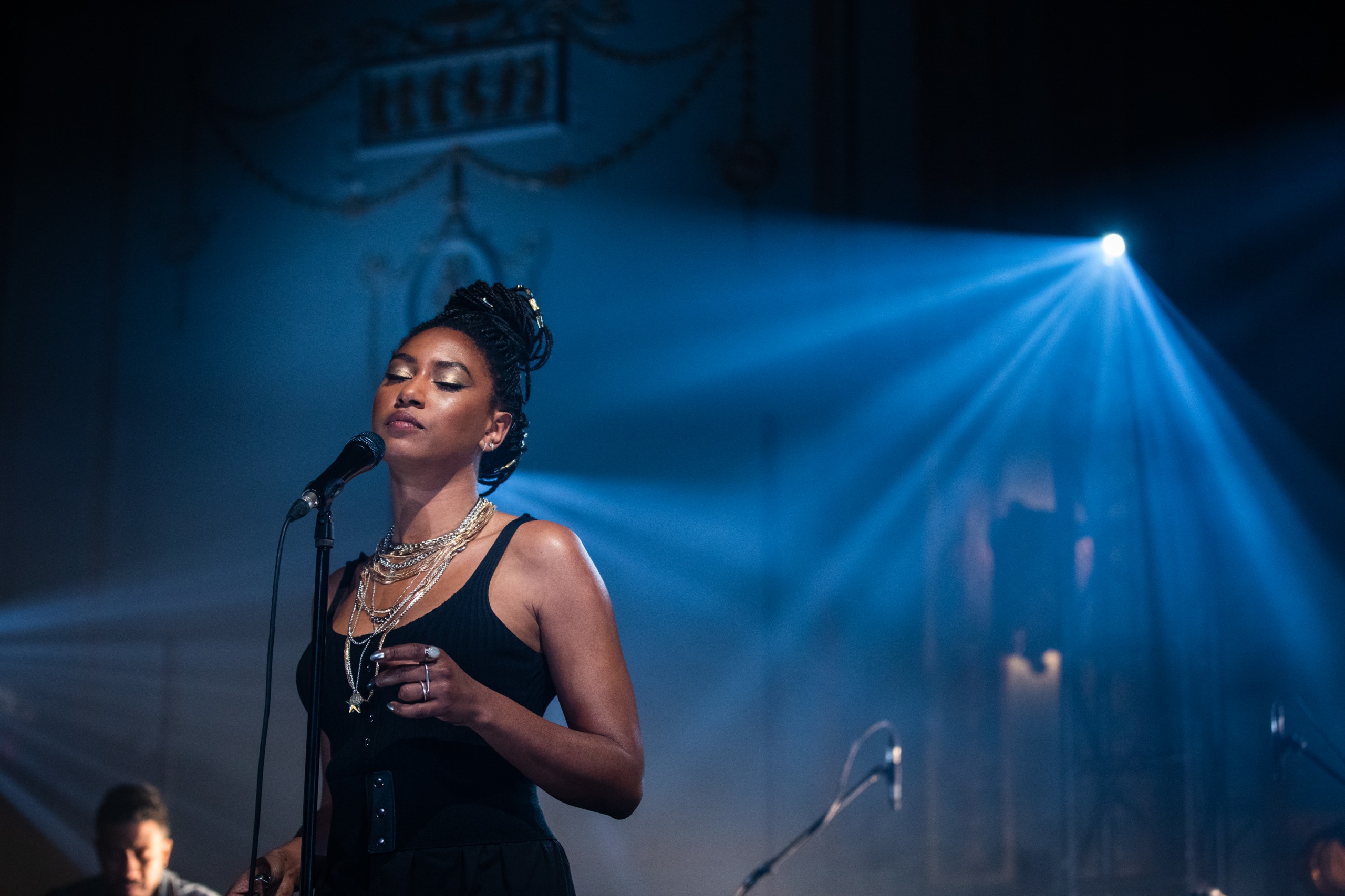 DFA : La Petite Photographe
What are her plans for the future? "I know that I still want to create. Right now, I'm at the same stage as I was before the trilogy, in other words the period where I allow myself to dream, where I form the ideas of what I want to say. I wake up every day with a new dream and tell myself that I'll develop the one I have most often."
In November 2020, Dominique Fils-Aimé received a grant from the RBCxMusic MVP Project to produce the video for her song Love Take Over. Launched in May 2020, this program aims to support and promote emerging Canadian artists and artists who have been affected by the COVID-19 pandemic.
The MVP Project is part of the RBC Emerging Artists Project, which helps Canadian artists bridge the gap from emerging to established, and supports organizations that provide the best opportunity for them to advance their career.
Since 2015, more than 11,000 artists have received support through these two programs.
Dominique's advice to emerging artists:
Let your instinct and passion guide you. "If you're getting into music to be famous or make money, maybe it's not the right career for you. Do it for love and surround yourself with love. That's what will sustain you and help you stay on track."
Don't focus exclusively on the technical aspects of making music. "Training your voice or learning music theory are important, but channelling your emotional experiences is just as important. Be curious and willing to try new things to express your emotions through your art."
Focus on the journey instead of the destination and take advantage of what's around you. "For example, Montreal is known for its digital arts and street art. The inspiration you draw from that can be transformed into other types of art, like music."
Find inspiration in all aspects of your life. There are sources of inspiration all around you: people, trips, all forms of art, past experiences. "I encourage people to explore outside their comfort zone, outside music. When we set out to meet people who are passionate about what they do, we are enriched by what we find. And so is our art."
The creative process has to remain fun. "It's important to feel we can create freely so that it continues to be enjoyable and spontaneous. You have to give yourself permission to take a break, so you keep your creative work from becoming a chore."
Surround yourself with good people. "My band play a central role for me. When you're well supported, you not only grow more as an artist, but the journey is that much more fun."
More from the Creative Culture: Emerging Artists to Watch:
This article is intended as general information only and is not to be relied upon as constituting legal, financial or other professional advice. A professional advisor should be consulted regarding your specific situation. Information presented is believed to be factual and up-to-date but we do not guarantee its accuracy and it should not be regarded as a complete analysis of the subjects discussed. All expressions of opinion reflect the judgment of the authors as of the date of publication and are subject to change. No endorsement of any third parties or their advice, opinions, information, products or services is expressly given or implied by Royal Bank of Canada or any of its affiliates.