RBC Artist in Residence Sylvia Nickerson on staying creative, changing course, and still moving toward her goals when the pandemic delayed her first gallery installation at the Art Gallery of Hamilton (AGH).
Banner Image: "Dark Mirrors" (mixed media installation, 2020), images courtesy of the Art Gallery of Hamilton, with photography by Robert McNair.
---
Hamilton, Ontario based Sylvia Nickerson is an artist and illustrator who creates vibrant comics focusing on parenting, gender issues, social classes. What was supposed to be one of the most exciting times in her life — having her first art installation at a prominent Ontario gallery — turned to disappointment when COVID-19 hit earlier this year. Like many Canadians, Sylvia chose to face the challenges brought about by the pandemic with resiliency and a lot of creativity.
Creating "Dark Mirrors"
Nickerson's original plan for her first artist residency at the Art Gallery of Hamilton (AGH), presented by RBC was to create an installation where gallery-goers help develop the characters who will appear in her next graphic novel, "Dark Mirrors." The book will explore how, "Data collection and digital platforms track and influence our behavior," she says. Visitors were to help create everything about their identities including their background stories.
But with the AGH gallery working spaces closed due to COVID-19 and her installation delayed, she found herself like so many other parents, working from home while balancing caring for her two children, ages 10 and 6. To help cope with the uncertainty brought about by the pandemic, Sylvia turned to her art. She began producing large and brightly coloured papier-mâché forms of the characters for her novel in her kitchen and eventually, in a separate studio.
She says this turned out to be a gift, despite it being somewhat chaotic. "So many things were shut down, the fact that the gallery show was just being delayed … I was really grateful to be building through the pandemic." Nickerson began sharing her process for creating the figures for the "Dark Mirrors" installation online.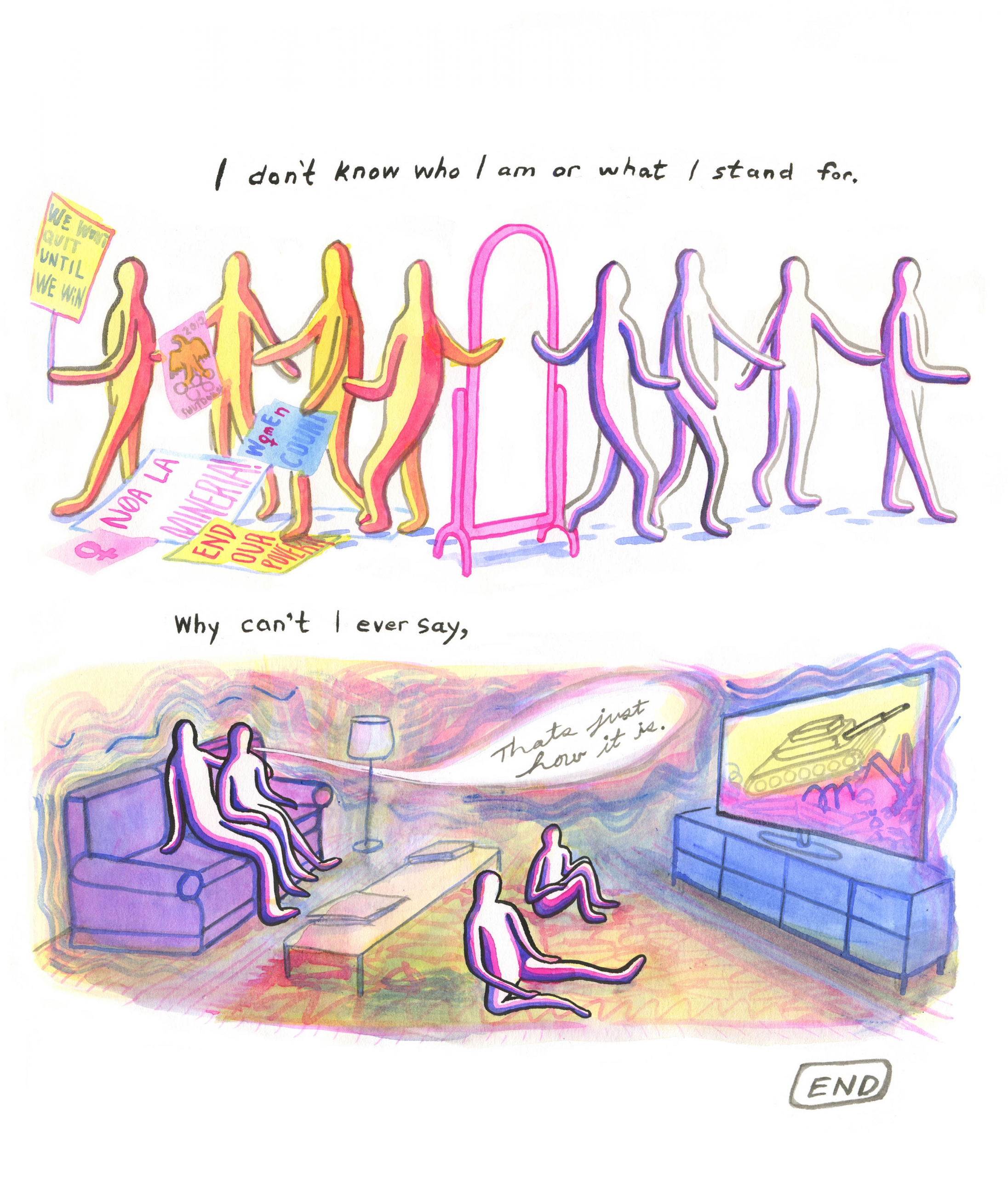 "I don't know what I stand for." "Why Can't I ever say, 'That's just how it is.'" EXCERPTS FROM THE BOOK BY SYLVIA NICKERSON, ALL WE HAVE LEFT, IS THIS, CA$INO PRESS, 2018 ($25 CAN), IMAGES COURTESY OF SYLVIA NICKERSON
Developing your artistic voice over time
'For many years I struggled with how to place art into my life,' she explains. 'It was something I seemed to be drawn to, but following artistic inspiration can be disruptive and consuming.'
Nickerson developed an interest in art early, thanks to artistic grandmothers on both sides of her family, but it wasn't always clear to her it would be a lifetime pursuit. After obtaining an art degree, she earned a PhD in mathematical history and still teaches history part-time at two leading Canadian universities.
As an artist, Sylvia is the winner of the 2020 Doug Wright Award for Emerging Talent. Nickerson's recent graphic novels include the largely autobiographical "Creation" and a short-story compilation "All We Have Left, Is This." Each book explores multiple themes: the enormity and responsibility of motherhood, gentrification, gender identity, loss, loneliness and aging.
"For many years I struggled with how to place art into my life," she explains. "It was something I seemed to be drawn to, but following artistic inspiration can be disruptive and consuming. That's the negative side. The positive side is: Visual arts have always been there for me, and my relationship to art has evolved as I have evolved."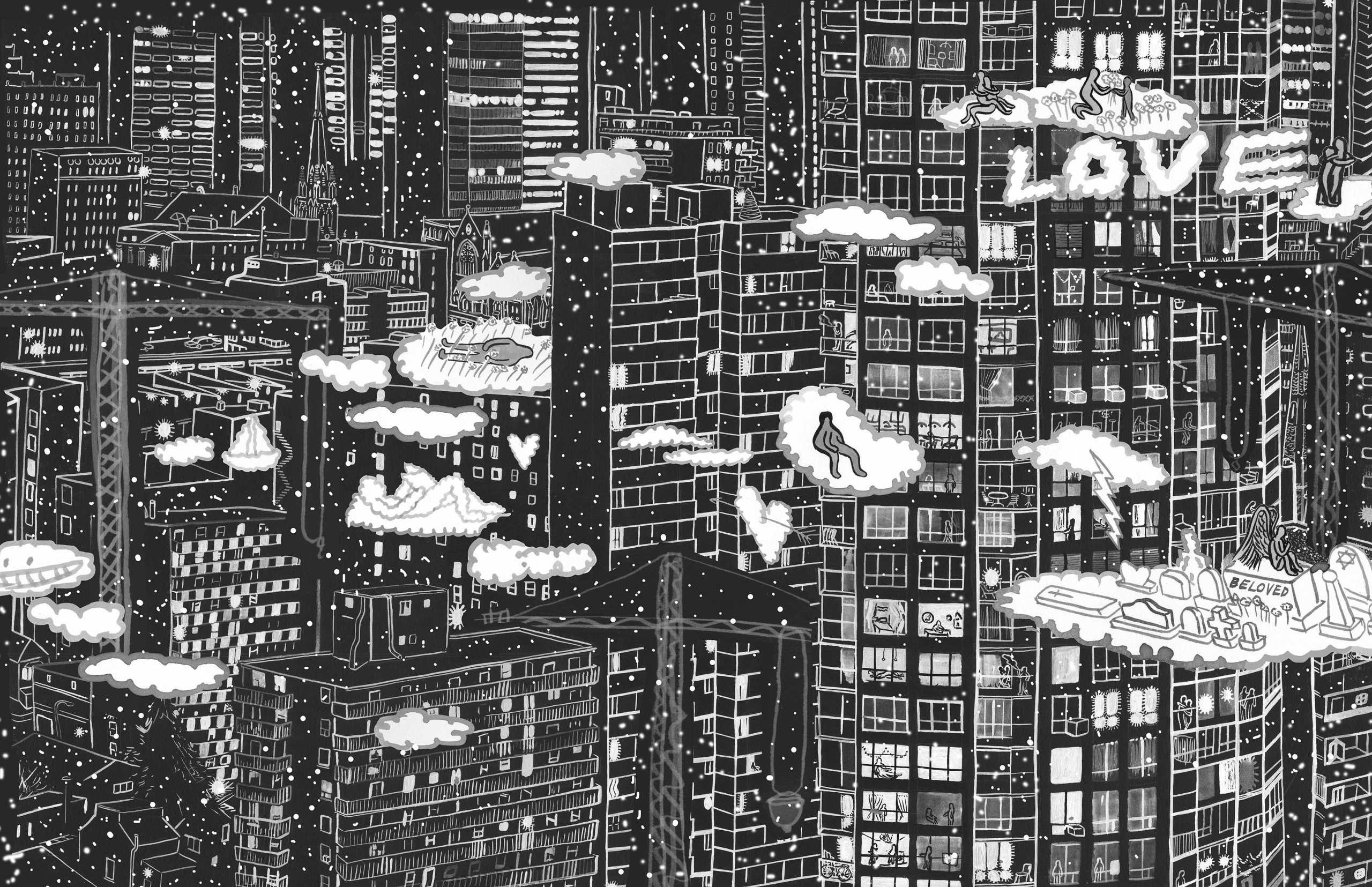 Excerpts from the book by Sylvia Nickerson, Creation, Drawn & Quarterly, 2019 ($24.95 CAN) Images courtesy of Sylvia Nickerson and Drawn & Quarterly
Throughout her artistic journey, she's also had major life distractions: moving cities (Toronto to Hamilton), becoming a mother and juggling simultaneous careers in illustration, publishing and teaching.
"Young artists face innumerable challenges," she says. "It will take years to develop your own voice, and probably you will make very little money while you spend years developing into a mature artist. It is only once you get to that later mature stage that people start to recognize and appreciate the results of all those years of dedication. I've been fortunate. Plenty of mature artists deserve more opportunities and financial support but never receive it."
Art as an essential part of life
"Don't give up," despite the challenges, she affirms. Artistic expression has been something she could do anywhere and take anywhere. "So many people have to give up art because other things get in the way," she empathizes. "But if you can stick with it — not just play at it — but really continue pursuing it, it can be very powerful."
Now 41 and raising two children, Nickerson thinks art has benefited her life in transformative ways. "Art could be the most consistent relationship of your life. You can use it to inspire others … art is really a very essential part of connecting with those big questions about why we are alive, what is the nature of human experience, how do we find common ground with others."
While her tenure as the artist-in-residence at the AGH continues until October 2021, she is also working on completing another graphic novel along with her first children's book.
More from the Creative Culture: Emerging Artists to Watch:
This article is intended as general information only and is not to be relied upon as constituting legal, financial or other professional advice. A professional advisor should be consulted regarding your specific situation. Information presented is believed to be factual and up-to-date but we do not guarantee its accuracy and it should not be regarded as a complete analysis of the subjects discussed. All expressions of opinion reflect the judgment of the authors as of the date of publication and are subject to change. No endorsement of any third parties or their advice, opinions, information, products or services is expressly given or implied by Royal Bank of Canada or any of its affiliates.