Dreaming of making movies since Grade 6, successful filmmaker Ruth Lawrence creates opportunities for other women in film from her beloved home in Newfoundland.
Ruth Lawrence had it all figured out in sixth grade.
In the 1960s, choosing a career focused on 'lights, camera, action!' while growing up in the remote fishing town of St. Jacques-Coombs Cove, Newfoundland (Population: 200) may seem improbable to some. But Lawrence can pinpoint the exact time when her career aspirations — acting and storytelling through film — first took flight.
"It all started in grade six" she recalls without hesitation. "I was allowed to go to weekend movies at the school gym, and one of the teachers at the school was an absolute movie lover. The way he talked about the films — I just caught the bug, and for some reason, at that age, I thought I could become an artist," she says. "There was no reason for me why I couldn't just do it."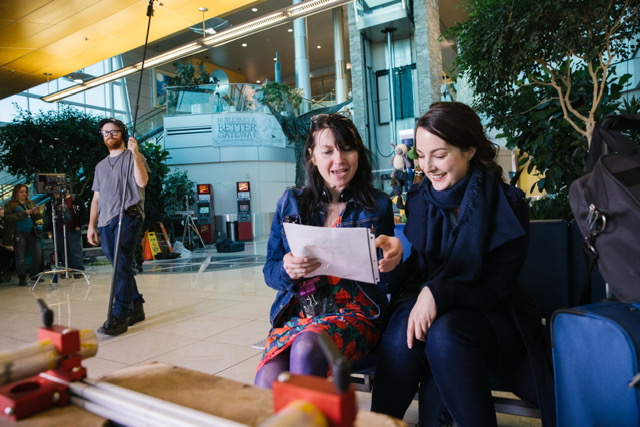 Photo: Jessie Brinkman Evans
A Female-lead Feature Film Premier
Lawrence's first feature film Little Orphans premiered this September as the "Gala Presenting Film" at the RBC supported Atlantic International Film Festival (FIN), and weeks later at the St. John's International Women's Film Festival (SJIWFF).
Telling the story of three sisters returning home for a wedding, Little Orphans focuses on the unresolved and complicated relationships among a connected set of women; the sisters themselves and the interconnections with their mother, aunt and daughter/niece.
The film was pre-selected as the opening night film for the prestigious female-focused film showcase. Behind the scenes, the film was in fact a celebration of the strength of female relationships: more than 50% of the cast and crew on Little Orphans were women. Knowing the industry's critical need for more diverse representation both in front of and behind the camera, Lawrence hopes to replicate this in future projects.
The Love of the Newfoundland Artistic Community
Lawrence left 'the Rock' to study at Toronto-based George Brown Theatre School and Niagara College's theatre school. In her second year at George Brown, she became pregnant with her son.
While school staff welcomed her infant in class, the birth of her son made her realize she would ultimately return to live in Newfoundland. "Back then, I couldn't have been a working actor in Toronto while raising a baby. But, I knew that it would be possible in Newfoundland, and I had always intended to come back."
Lawrence says the films' success also speaks to the Newfoundland artistic community. "Because the island is so small, if we didn't work together as a community, it wouldn't work, and the theatre groups here are the same. Something about where we are from, we accept people for who they are and what they have to offer. I knew that I would be accepted when I came back from Toronto, and I was."
Creating Opportunities for Female Filmmakers
Knowing she had a community that supported female artists solidified her conviction to continue pursuing her artistic path. SJIWFF is one of the longest-running women's film festivals in the world and has been instrumental in helping Lawrence develop as an artist.
She became a regular participant, attendee and student over the years. "I took every workshop, forum, attended every opportunity that was offered through the festival when I was starting out. I showed my first short film in 1999 at the festival," she reminisces.
"But when I started out, I didn't know how to make a film. I was writing short plays. One day the director of the play said, 'You know this could be a film,' so I decided to learn how to do that."
This approach is what she would recommend to any artist: don't be afraid to recognize — and then seek out — what you don't know. "Fear can hold you back, but every time I approach a project I ask myself, 'What do I need to learn to get to the next step,' and then I find a way to obtain that knowledge."
Growing During the Pandemic
COVID-19 provided Ruth and her mostly-female creative team a benefit in that, "It allowed us time to reflect. "We didn't have to make decisions so fast. While COVID delayed things, it also gave us time to come up with better ideas." This included becoming comfortable with the idea of showcasing her work to larger audiences via virtual screenings.
Previously Lawrence would never have considered releasing a feature film online. Now she appreciates that this option is being embraced by creators and there are benefits to having people around the globe view your work at the same time. This was the case with Little Orphans when presented at FIN via online streaming.
Despite the success and opportunities that will likely come with the launch of her first feature, Lawrence has no intention of ever leaving Newfoundland. She hopes to be shooting her third film — with a significant female cast and crew — starting next year.