Sunny San Diego, just north of the Mexican border, is a popular snowbird destination due to its mild climate, beautiful beaches and range of outdoor activities.
Outdoor enthusiasts, die-hard golfers and culture buffs alike are sure to embrace the many activities and attractions San Diego has to offer. The expansive Balboa Park, for instance, is home the world famous San Diego Zoo, over a dozen museums and numerous unique galleries and gardens. Stunning hikes and breathtaking whale watching excursions are also easy to reach from wherever you stay in the San Diego area, as are the many beaches that dot the coastline.
While the city itself offers many things to see and do, there are several nearby seaside communities to explore – either for the day, or as a winter destination. Check out pretty La Jolla, glamorous Encinitas, or mellow Solana beach. You can even cross to Tijuana for the day for fun Mexican shopping and dining experiences.
With the laid back charm of a beach town, the amenities of a big city and some of the best hiking, surfing and golf courses in the world, San Diego truly has something for everyone.
Climate
San Diego's consistently comfortable sunny days and cool nights make the area an enticing spot for snowbirds to spend the winter months. It's rarely too hot and almost never too cold, so it's easy to get outdoors no matter when you're visiting.
Activities
The San Diego area is home to a stunning strip of coastline, the Peninsular Mountain Ranges and inland desert landscape. Given the wide range in setting and terrain, there is lots to do for the outdoor enthusiast – from golfing to hiking, cycling and surfing. And while there is only one major league sports franchise in town, L.A. is only two hours away – so sports fans can easily get their fix, whatever their game is.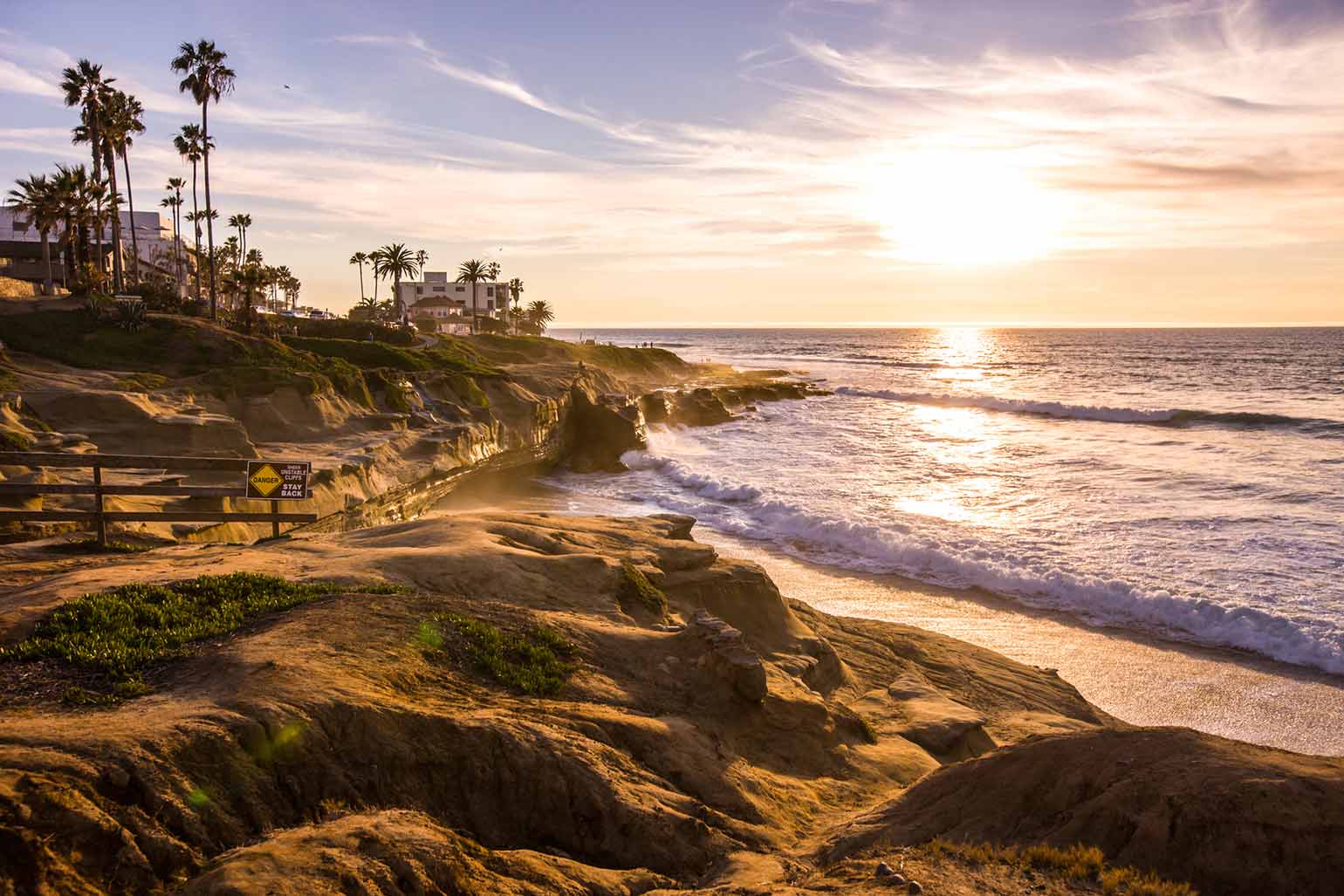 Sports and Leisure
The San Diego Padres is the only major league franchise in town, and kicks off the ball season at the end of March/ early April at the spectacular Petco Park, which boasts the best sightlines in baseball and fabulous views of downtown San Diego.
While the sports viewing is limited in the immediate area, the city of L.A. is just a two-hour drive – so even the most diehard sports enthusiast will be in their element. Fans can visit epic stadiums, see some current greats and schedule a time to visit when the home team is playing.
And if you've got grandkids coming in to the area – or if you're young at heart – a day trip to L.A's amazing theme parks will prove to be great fun.
Read all about sports and leisure in the L.A. area – including major league baseball, basketball and hockey franchises, as well as famous theme parks – in our Coachella Valley post.
Parks, Arts and Culture
USA Today has called San Diego "One of America's most creative cities," and it's no wonder. Balboa Park alone features 17 museums and cultural institutions with a wide range of artistic and historical experiences, making it the largest urban collection of cultural exhibits in the U.S. It's also home to the world famous San Diego Zoo and a stunning assortment of unique gardens that are perfect for strolling, reflection or exploration.
But creativity extends well beyond the boundaries of the park! In fact, San Diego county is home to 248 museums, and the city is proud to present two Tony® Award-Winning theatres, a range of public art spaces, exciting music venues, dance performances, film festivals and more.
Shopping and Dining
San Diego is home to an exciting dining scene that has truly taken off over the last 10 years. Previously known as a hot spot for tacos and burritos, the culinary options today are as diverse as they are delicious. Conde Nast Traveler has put out a Top 20 list of restaurants in San Diego proper – as well as neighbouring suburbs – so you can get a taste of what the city has to offer.
If you're in the mood for some retail therapy, you're also in luck in San Diego. Whether you care to stroll the many outdoor shopping malls and outlet centres, explore up and coming shops and designer boutiques, or dig for treasures at the weekly farmers markets, you'll find what you're looking for here. To give you a hand, Racked.com has a great map of boutique and vintage shopping in the city and Sandiego.org has compiled of listing of their favourite outlet malls and shopping centres for your browsing pleasure.
Real Estate
Housing in the San Diego area tends to be more expensive than other snowbird regions, with the median home price coming in at $625,759. But there is a large condo market in the region, offering more affordable options for those wishing to make this seaside region their winter home. And with several desirable suburbs – including Encinitas, Solana Beach, Poway and La Jolla – there's lots of real estate to choose from.
Median home prices per city:
Encinitas: $1,011,169
Poway: $634,000
Solana Beach: $1,311,000
La Jolla: $1,732,000
Escondido: 437,800
Getting There and Around
There are regular, non-stop flights to San Diego from several Canadian cities. Many snowbirds choose to drive from Canada, with several scenic routes to that travel through spectacular landscapes featuring mountains and rock formations. Getting around San Diego is easiest to do by car, but public transportation is a viable option if you're sticking within the city limits.
Bottom Line
With near-perfect weather all year, the San Diego area offers an exciting range of outdoor activities, attractions and culture for the Canadian snowbird looking for a getaway that is so much more than a beach. While home ownership does tend to come at a higher price in and around San Diego, there are a number of beautiful suburbs to explore, and a range of housing options to choose from. If you're willing to pay a bit more for an active, exciting seaside retirement, it's worth taking a second look at San Diego.
RBC Bank is RBC Bank (Georgia), National Association ("RBC Bank"), a wholly owned U.S. banking subsidiary of Royal Bank of Canada, and is a member of the U.S. Federal Deposit Insurance Corporation ("FDIC"). U.S. deposit accounts are insured by the FDIC up to the maximum amount permissible by law. U.S. banking products and services are offered and provided by RBC Bank. Canadian banking products and services are offered and provided by Royal Bank of Canada. U.S. deposit accounts are not insured by the Canada Deposit Insurance Corporation ("CDIC"). RBC Bank, Equal Housing Lender.