Coachella Valley offers over 350 days of sunshine and a host of outdoor activities in which to enjoy it. If you're looking for an active lifestyle in one of the most spectacular settings in the U.S., 'the desert' is the place to be.
Coachella Valley, also known as "the desert" is home to cities such as Palm Springs, Indian Wells and Palm Desert. Offering a thriving golf scene, natural hot springs, resort escapes and plenty of desert adventures, the region offers snowbirds an idyllic winter escape. And with near-perfect winter weather and over 350 days of sunshine, snowbirds chasing warmth need look no further.
A range of outdoor activities makes the California desert a perfect destination for the active snowbird. From hiking, cycling, tennis and rock climbing, there is an abundance of adventure for those up for either a challenge or less rigorous outdoor fun. And whether you're seeking to soothe tired muscles or simply pamper yourself, the spa and wellness scene in the region is unmatched, with natural hot springs – and enterprising resorts – catering to those who wish to unwind, detox or reconnect with themselves in peace.
For foodies, farm-to-fork dining is the norm in Coachella, as fresh ingredients and masterful chefs comingle to create extraordinary meals. Galleries, studios and museums satisfy the art and history enthusiast, and world-class music and theatre performances offer virtually limitless entertainment options. Shopping choices in the district range from antique shops to modern luxury retailers – something for every taste!
And if you're looking for a bit of action, you can cheer on your favourite sports team or whisk your grandkids away for some magical fun, as L.A. is only a 2-3 hour drive. Major baseball, hockey and basketball franchises are plentiful in the city, and Disneyland and Universal Studios offer the kids (and you) a great escape from the everyday.
Want to dig a bit deeper into Coachella Valley? Take a look!
Climate
Coachella's sunny, dry climate is one of the biggest draws for Canadians seeking a winter haven. There is virtually no rainfall during the year in the area, and Palm Springs – the valley's principal city – sees 354 days of sunshine per year.
Activities
The region offers over 150 golf courses and just as many tennis courts, with a range of public, private and semi-private clubs to play at. If outdoor adventure is more your taste, the hiking and cycling trails here are among the best in the world.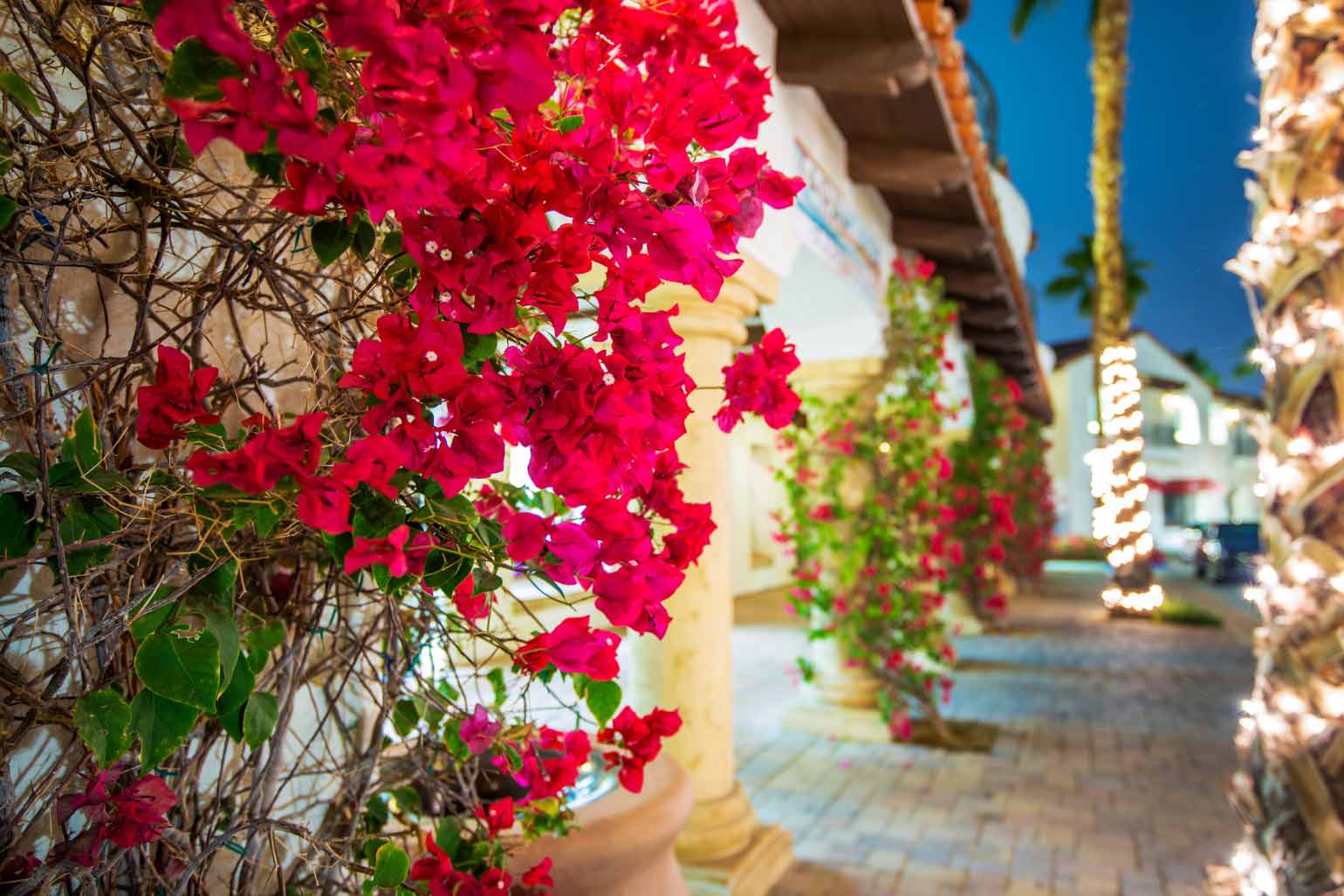 Health and Wellness
The city of Desert Hot Springs, in the heart of the Coachella Valley, is renowned for its healing minerals, which are found naturally in aquifers that run beneath the ground. The mineral waters, which bubble and percolate to the surface, make this one of the most popular international spa destinations in the world.
Sports and Leisure
With the city of L.A. just a few hours away, even the most diehard sports enthusiast will be in their element. Fans can visit epic stadiums, see some current greats and schedule a time to visit when the home team is playing. And if you've got grandkids coming in to the area – or if you're young at heart – a day trip to amazing theme parks will prove to be great fun.
Arts and Culture
There is a burgeoning arts scene in Coachella Valley, thanks in large part to an influx of young artists – and art patrons – over the last 10 years. The tree-lined Art Deco district in Palm Springs, for instance, features many galleries and boutiques. And the Palm Springs Art Museum offers a full roster of exhibitions and experiences that are designed to connect you to surrounding art and culture.
Shopping and Dining
Coachella Valley is home to one of the best shopping in southern California, featuring exclusive shops in downtown Palm Springs, fun and stylish Outlet Malls in Cabazon and The Gardens on El Paseo in Palm Desert. Check out this guide to the best shopping in Palm Springs and more about shopping in the Palm Desert area.
When it comes to dining, Coachella Valley's focus on health and wellness shines through, with magnificently fresh fare to suit every palette (as well as a variety of fun, casual food choices for those times when you're in the mood for a burger or hot dog!). Take a look at this list of Top 10 dining in the Palm Springs/ Palm Desert area. If you're in the market for something special, view the Top 10 fine dining spots of the region.
Real Estate
Snowbirds can find accommodation to suit every taste and budget in California, with some cities and communities being more affordable than others. From homes, townhomes, condos and RV parks, there's something for everyone in the Coachella Valley.
The median house price in Coachella Valley is $400,000, and is comprised of a wide range of homes – from the simple and affordable to the highly luxurious.
Median home prices per city:
Palm Springs: $693,000
Palm Desert: $402,000
La Quinta: $500,500
Indian Wells: $925,000
Cathedral City: $310,000
Indio: $320,000
Desert Hot Springs: $220,000
Getting There and Around
There are regular, non-stop flights to both Los Angeles and San Diego from several Canadian cities. Palm Springs also has its own airport with connections from many points in the U.S. as well as some seasonal service from Canada. Many snowbirds choose to drive from Canada, with several scenic routes that travel through spectacular landscapes featuring mountains and rock formations.
Bottom Line
Coachella Valley offers a tremendous snowbird experience for those seeking sunshine, outdoor activity, and a healthy lifestyle – as well as great proximity to everything Los Angeles has to offer. While the housing prices in the more exclusive cities are on the higher side, there are affordable options in the area as well, making this an appealing region for every taste and budget.
RBC Bank is RBC Bank (Georgia), National Association ("RBC Bank"), a wholly owned U.S. banking subsidiary of Royal Bank of Canada, and is a member of the U.S. Federal Deposit Insurance Corporation ("FDIC"). U.S. deposit accounts are insured by the FDIC up to the maximum amount permissible by law. U.S. banking products and services are offered and provided by RBC Bank. Canadian banking products and services are offered and provided by Royal Bank of Canada. U.S. deposit accounts are not insured by the Canada Deposit Insurance Corporation ("CDIC"). RBC Bank, Equal Housing Lender.