As the first graduate of the Mikw Chiyâm arts program at Voyageur Memorial School in Mistissini, Quebec in 2017, Siibii channeled their positive engagements and relationship-building with other young people into a new role as Youth-Project Lead with Uusdaadaouw: Let's Build Project.
Cree singer-songwriter Siibii Petawabano witnessed firsthand how art and creative design can help build strong, healthy and resilient communities. As the first graduate of the Mikw Chiyâm arts program at Voyageur Memorial School in Mistissini, Quebec in 2017, Siibii channeled their positive engagements and relationship-building with other young people into a new role as youth project lead with the Uusdaadaouw: Let's Build Project.
Uusdaadaouw (pronounced OOSH-da-dow) is a youth-led, art-driven initiative in six Cree communities across the Eeyou Istchee territory of northern Quebec. The project looked to identify and respond to community needs. Creative interventions were developed in collaboration with youth leaders, students and community organizations to provide support in areas such as health, wellness, resilience, land, environment and Miyupimaatisiiun — a Cree term for "living life well."
"A lot of the youth identified problem spots, whether it was lateral violence, alcoholism, the need for recycling programs in their communities, sexual education … These kids, they're not blind. They see what they're lacking," says Siibii. "They were talking about the importance of the youth voice and that they want to be heard."
Bringing Communities Together
The Uusdaadaouw: Let's Build Project is supported by the RBC Foundation through the RBC Future Launch Community Challenge. It is implemented in partnership with the Eenou-Eeyou Community Foundation, Community Foundations of Canada, the Cree Nation Government, the Cree School Board, the Mikw Chiyâm Program, the inPath Project and the Cree Nation Youth Council.
The Uusdaadaouw project took place in the Mistissini, Nemaska, Waskaganish, Eastmain, Chisasibi and Whapmagoostui communities with student participants who were enrolled through the Mikw Chiyâm arts program at their respective schools.
In November 2019, youth representatives from each community worked alongside mentors from the Cree Nation Youth Council to dream up and map out the ways in which art and creativity could bring their communities together and foster resilience. After the project was put on hold due to the COVID-19 pandemic, it restarted, continuing to the end of the 2020-21 school year.
Siibii, alongside one young leader per community, called Youth Artist Assistants, hosted a series of "Vital Conversations" throughout the year. These conversations connected community organizations with more than 150 students in 11 school classrooms. The participants designed and delivered collaborative art projects in songwriting and music production, photography, painting and installation, poetry, spoken word, creative writing, and screen printing. Many of the creative projects were derived from the Miyupimaatisiiun theme and highlighted the beauty in each community as opposed to just the challenges.
"I was really inspired by all of the projects," says Siibii. "One of my favourites was in Chisasibi at the youth clinic. This was a brand new facility and it was kind of sterile. [The clinic] wanted youth to create art to feel like they belong. They ended up making canvas pieces that were put up throughout the clinic. I loved that principle of the organization wanting youth artwork for their youth."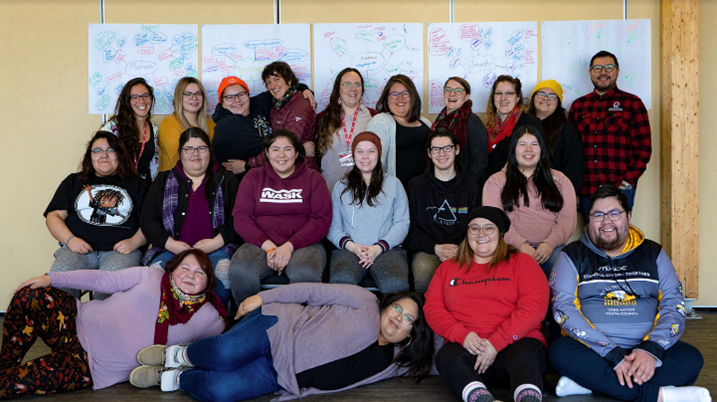 Youth representatives and mentors from the Cree Nation Youth Council.
Learning Through the Arts with Cree Schools
The Mikw Chiyâm interdisciplinary arts program was launched in 2015 by the Cree School Board to inspire youth with alternative spaces for creative learning and through collaborations with professional Canadian Indigenous and non-Indigenous artists. Given the challenges students are facing in accessing education and connecting with their peers throughout the pandemic, and given the specific mental health challenges facing Indigenous youth across Canada, Siibii says arts-based programming remains more important than ever.
"It's been proven that art can be used as therapy and as a means of expression. And I myself know that it saves lives. Arts programming has been very quick to be cut in federal funding. But they're so incredibly important, especially when we're talking about relations between First Nations people and non-First Nations peoples … there's something universal in creating art."
Accessing and Supporting Arts-Related Programming
As the project comes to a close, Siibii would like to see more funding directed to arts programming in schools at the community, provincial and federal levels.
"I would like to see a world where we can provide programming not necessarily depending on whether a community can afford it," Siibii says.
"Every community — especially every First Nations community — should have access to this kind of programming."
At just 21 years old, Siibii also has a musical career and hopes to continue making music and working with Indigenous youth to design more arts-related programming.
"While I'm young, I want to focus on my music career and on creating content that brings a lot more awareness to conditions for First Nations people in Canada," Siibii says. "We are resilient, we are strong… we are still here."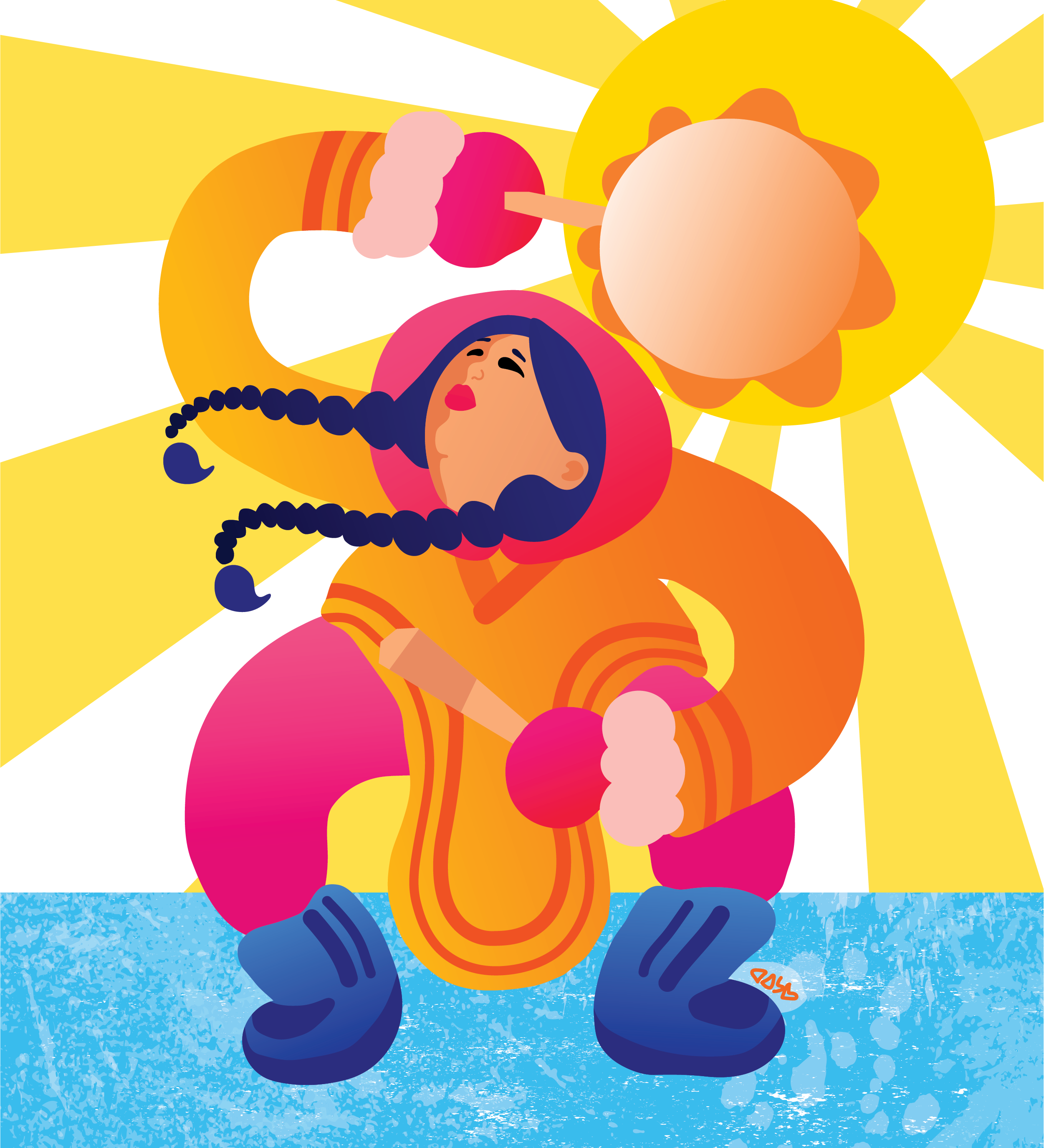 Discover how RBC is partnering with Indigenous communities to make a difference
Celebrating the unique heritage, diverse cultures and outstanding achievements of Indigenous Peoples.
More from the A Chosen Journey:
This article is intended as general information only and is not to be relied upon as constituting legal, financial or other professional advice. A professional advisor should be consulted regarding your specific situation. Information presented is believed to be factual and up-to-date but we do not guarantee its accuracy and it should not be regarded as a complete analysis of the subjects discussed. All expressions of opinion reflect the judgment of the authors as of the date of publication and are subject to change. No endorsement of any third parties or their advice, opinions, information, products or services is expressly given or implied by Royal Bank of Canada or any of its affiliates.