Routine was one of the seven Ventures selected by SheEO Activators in 2019. Ethically crafted with natural, wholesome ingredients and using low-waste packaging, this clean and effective product has built a loyal fan following in Canada and around the world.
Ever wondered how successful entrepreneurs turn their dreams into reality? What drives them to push the envelope, create change and advance their industries? We had the opportunity to ask Canadian small business owners how they transformed their ideas, goals and passions into reality.
Routine founders Neige and Pippa Blair are using their new status as a SheEO Venture to bring more natural products to more people. In addition to receiving capital funding, they are supported by an instant network of women entrepreneurs and mentors to help them take their business to the next level.
These "formerly stinky sisters" share the Routine Inc. story, and how the support from SheEO is making a difference in the future of their business.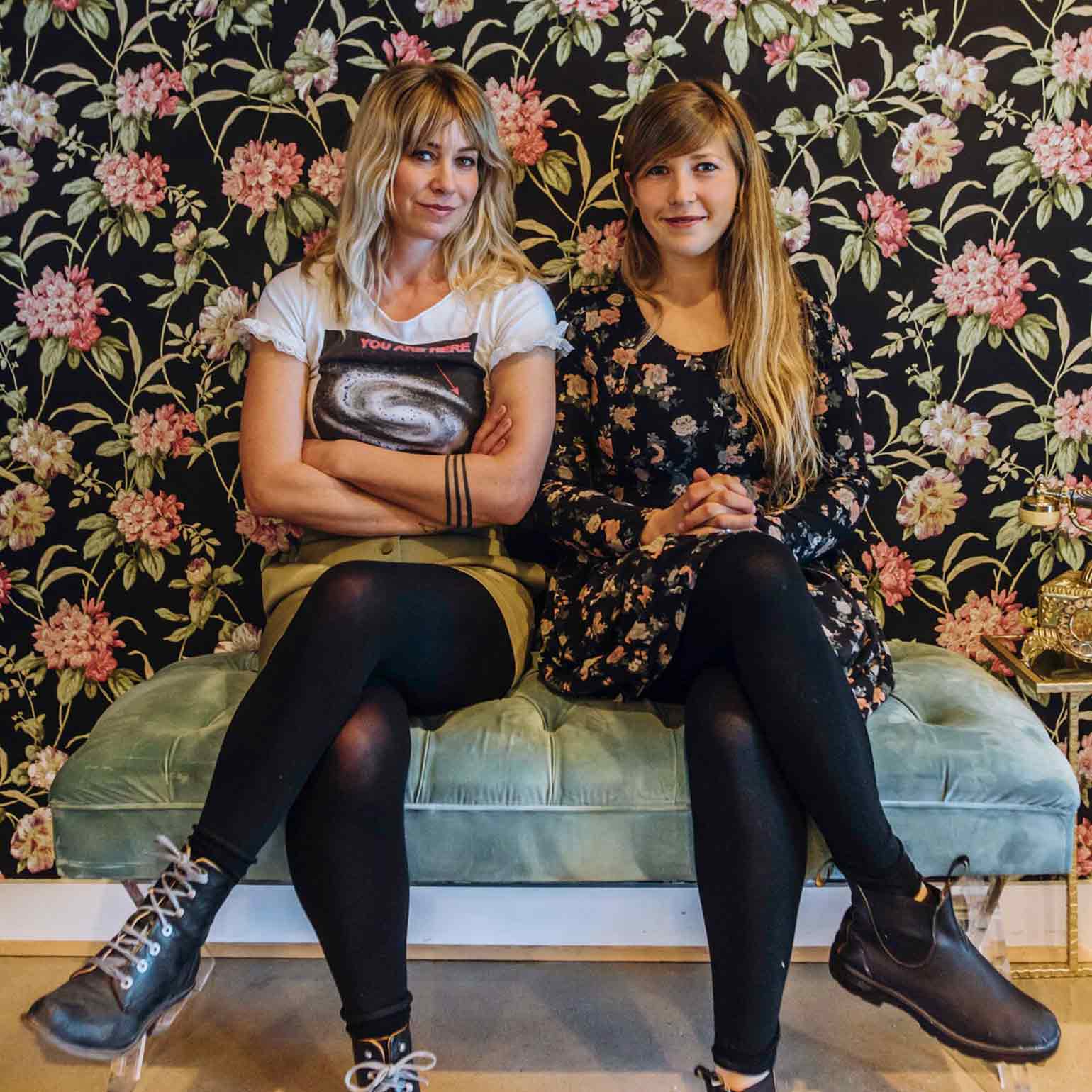 Q: What motivated you to create Routine?
Pippa: It started with Neige, who was interested in clean ingredients — plant-based, safe and non-chemical. Ingredients that you could actually pronounce. While conventional deodorants worked for her, natural products didn't come close — so naturally, she created her own.
People told her it was an amazing product and encouraged her to share it with the world — but she didn't know if she wanted to be "the deodorant girl."
She started selling it at Market Collective, a local market in Calgary, and the product sold out within the first weekend. She said, "You know, this would be way more fun to do with someone. Do you want to do this with me?" And that's how it all started.
Q: It's one thing to have an idea, but how did you come up with the actual product?
Neige: I have a creative background — I love art, music and crunchy natural stuff, but I also really like nice style. Taking all the things I loved, I wanted to make something natural that looked different than everything else that was natural out there.
I have been making products forever … I have a knack for creating things and I know what works with what. I have a whole bunch of recipes that have been in my back pocket for a while.
Q: How did you get Routine off the ground, and how have you been able to grow to where you are today?
Neige: After that initial market weekend, we each put in $250 to make a new round of product.
We contacted three stores in Calgary we thought would fit really well with the brand — two out of the three stores called us back. We also got into markets and started creating demand. People would go to local retailers and ask them to bring Routine in, so the first year or two our retail growth was really customer-driven. By our second year we were in over 100 physical locations.
For a solid four years everything we made went back into the company. Now, we're in 2,500 stores throughout Canada, the U.S., the UAE and Europe.
Q: What is the best advice you received as you started your business?
Pippa: The best advice I received was actually from Neige. Her advice was to listen to your own gut. When you start a business, you get advice from so many people. While you need to listen to the advice — and listen to your customers — you know your business better than anybody. You need to trust your own instincts, even if you go against the grain.
Neige: I'd say the best advice I read was in ReWork by Jason Fried. He said, "Planning is guessing." If you plan too much and aren't willing to diverge from that plan, you won't be nimble, so you won't be willing to roll with the punches.
Q: Before SheEO, and beyond your initial $250 investment, what kind of funding did you use?
Pippa: There was a point when we needed funding for inventory and we had to make a decision: Investors or banks? We were interested in investors, but we understood that investors were better for support such as marketing and distribution, and building connections to facilitate these kinds of things.
Because we just needed money to get us through a cash flow gap, we decided to get a loan and line of credit. That let us get the inventory we needed to push forward.
Q: Looking back to how you got started, is there anything you would have done differently?
Neige: No, we have had such great organic growth — we're along for the ride and we're having fun with it. If we make mistakes, we are cool with that too. We don't put too much pressure on ourselves. I would not have done anything differently except maybe not over-pluck my eyebrows.
Pippa: We feel incredibly lucky in our business journey. Everything feels right. There haven't been any crazy stumbling blocks, and when we've come across obstacles, we haven't panicked about them.
We believe that everything happens for a reason, and curveballs have helped us improve our product. Sometimes you have to go through some of the hard stuff. If it comes too easily you will take it for granted. You need to have a positive attitude about the hurdles. You need to earn your stripes.
Q: Who are some of the people who supported you on your journey?
Neige: First of all it was each other. We are each other's biggest supporters. Next it was definitely our family — they were our first employees. Pippa also had nursing-student friends doing manufacturing at times.
We also got connected with Arlene Dickinson's accelerator's company District Ventures, which got us connected with other businesses. We became each other's mentors and collaborators, and developed a network of people to ask for advice. That was four years ago. Just last week we shot a commercial and used the people in that accelerator.
We've also received a lot of support from the community. We do a lot of public engagement stuff, spreading entrepreneurial positivity and sharing our story. We like to take the fear away, and tell people to go for it. If the market needs something that doesn't exist and you have it, bring it on!
Q: Why is having a presence in your community important to you?
Neige: We are proud to be based in Calgary; we're proud to be a Canadian business.
We have a deep connection to our local community, which has resulted in word of mouth and a loyal fan following. Calgary has been a very supportive environment with a lot of positivity surrounding us. Just recently, we had a really nice write-up in the Calgary Herald, which gave us exposure to a whole other generation. We'll hear, "My mom saw you in the paper!"
It used to be only oil and gas in this city. Now people are starting to recognize that you can make things in Canada, in your city. That really opens doors for people.
Q: What it was like to be selected as a SheEO venture?
Pippa: The selection has really allowed us to plow forward. Vicki Saunders, the Founder of SheEO, emailed me. She used the product, loved it and thought we should apply.
The timing was perfect because we were at a crossroads. We needed some funding and more space. We had fun ideas for the future and needed an injection of cash.
Neige went out for a five-day retreat, which focused on a lot of learning and corporate activities — things we've never done. We have homework to complete every two weeks as we work towards strengthening our business internally. Now we're working with a SheEO assigned mentor, and we're focused on corporate culture and core values.
Q: How do you ensure your employees are aligned to your values?
Neige: You can consciously shape your culture or let it form by default. We are standing up and making sure we define our culture. We have three words to describe our values: Joy, confidence and community.
We haven't done much hiring outside our friend and family network yet, but we are growing. A few months ago we had five employees and now we have 11, so we have to get it right now.
Our company is at a point where we have fans, and it will be fun to hire fans. If a potential employee is already aligned with our company and has been following us, they will already know what we are producing and will make for a great employee.
Q: What's next for Routine?
Neige: We just launched face oils and people really love them.
We are going to be launching shampoos, conditioners, soaps, perfumes, candles, and basically anything you use in your house. We intend to be mindful about packaging and achieve zero waste where we can.
Having support and funding from SheEO is allowing us to make these things happen faster.
The SheEO model is based on women being radically generous to one another, and brings women Activators and entrepreneurs together to grow revenue-generating ventures. With its commitment to developing clean products and low waste packaging, Routine Inc. was one of seven ventures selected this year.
In November 2018, 23 women were recognized at the 2018 RBC Canadian Women Entrepreneur Awards. These exceptional women, and their trail-blazing companies from a variety of industries, share a common goal — to be the best at what they do.
More from the Canadian Women Entrepreneurs Series:
This article is intended as general information only and is not to be relied upon as constituting legal, financial or other professional advice. A professional advisor should be consulted regarding your specific situation. Information presented is believed to be factual and up-to-date but we do not guarantee its accuracy and it should not be regarded as a complete analysis of the subjects discussed. All expressions of opinion reflect the judgment of the authors as of the date of publication and are subject to change. No endorsement of any third parties or their advice, opinions, information, products or services is expressly given or implied by Royal Bank of Canada or any of its affiliates.