Here's how to spend five perfect days in the Land of Fire and Ice.
On the edge of the Arctic Circle, Iceland is home to glaciers, hot springs, fjords, and one of the hippest capitals in Europe. A starkly beautiful country, because of the warming effects of the Gulf Stream, the climate is much milder than might be expected of somewhere so far north. It does rain quite a lot though, so bring a decent jacket. As Icelanders say, "There's no bad weather, just poor dress choices!"
Here's how to spend five perfect days in the Land of Fire and Ice.
Day 1: Reykjavík
After landing at Keflavík Airport, take a taxi or shuttle 40 minutes west to Reykjavík. Freshen up at the art deco Hotel Borg — it's hosted Iceland's grandest visitors since opening in the 1930s. Shake off any jetlag with a walk around the center of Europe's northernmost capital, where the little streets are dotted with murals and the cottage-like homes are painted yellow, red, blue, and green.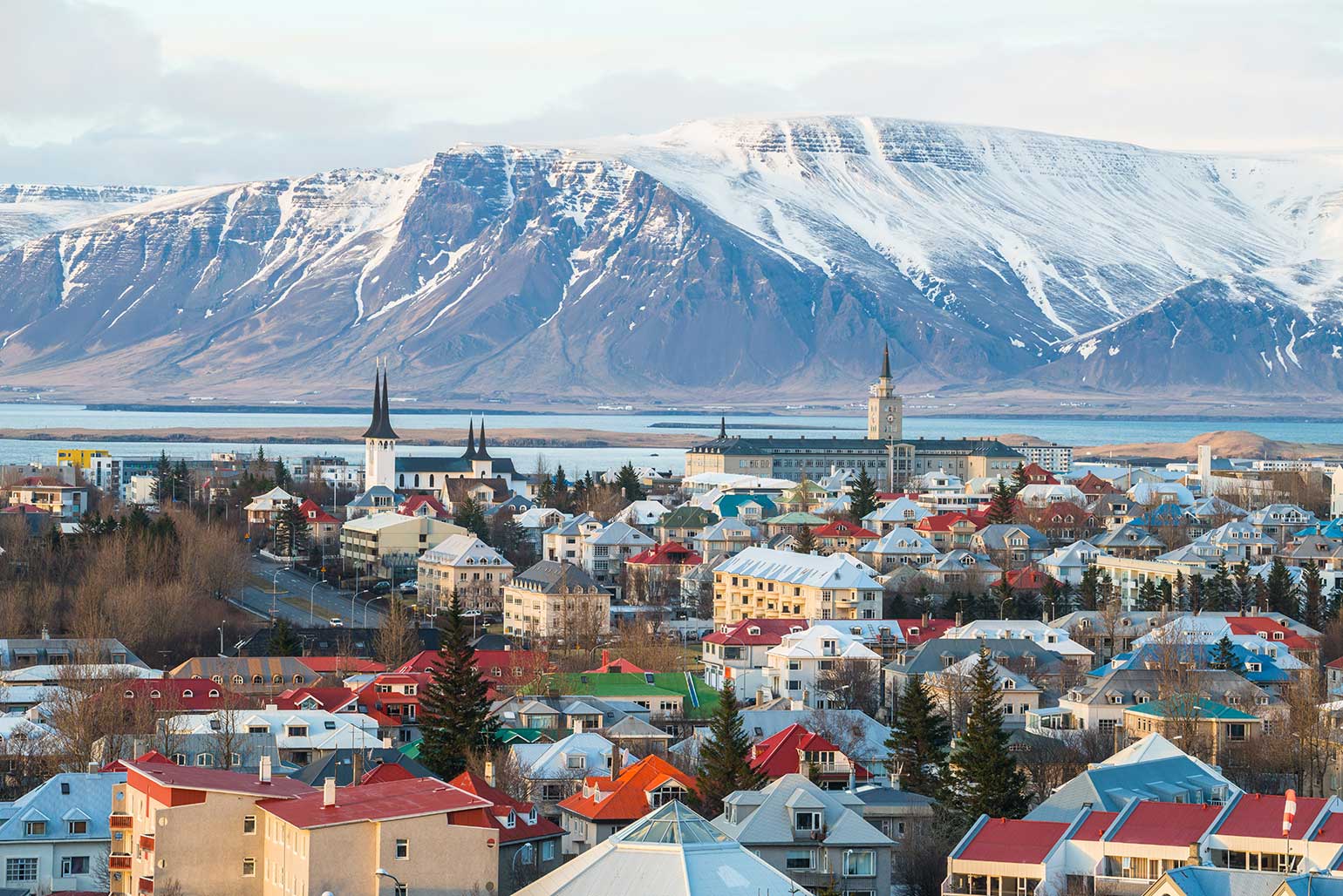 Head to the waterfront and visit the ultra-modern Harpa glass concert hall where the acclaimed virtual reality exhibition, Björk Digital, is making its national debut. Look out in awe at the desolate mountains across the sea, and — if it's a Saturday — head to harbour-side Kolaportið flea market. Pick up an Icelandic wool sweater, or save your pennies for the designer garments at Kiosk on Laugavegur — Reykjavík's main street, full of stylish bars, restaurants, and boutiques.
After you're done shopping, visit waterside seafood restaurant Saegreifinn for fresh lobster soup with bread and butter.
Relax at the hotel before dinner at fashionable Vegamot followed by drinks at hip Boston.
Tip: If you're visiting during the darkest part of the year from September – mid-April, a good place to see the Northern Lights dance overhead in flashing bands of green and pink, the most beautiful light show on Earth, is from Grótta lighthouse in the capital.
Day 2: Reykjavík – Golden Circle – Reykjavík
Renting a car while in Iceland is a great idea: Canadian driving licenses are valid for short-term visits and the roads are quiet and easy to navigate.
Have breakfast at the hotel, then grab driving snacks in the form of flaky croissants and baguette sandwiches from Sandholt bakery on Laugavegur. Today's route is along the 237 km Golden Circle loop, which hits three of the most incredible spots in the country: Thingvellir National Park, Geysir, and Gullfoss waterfall.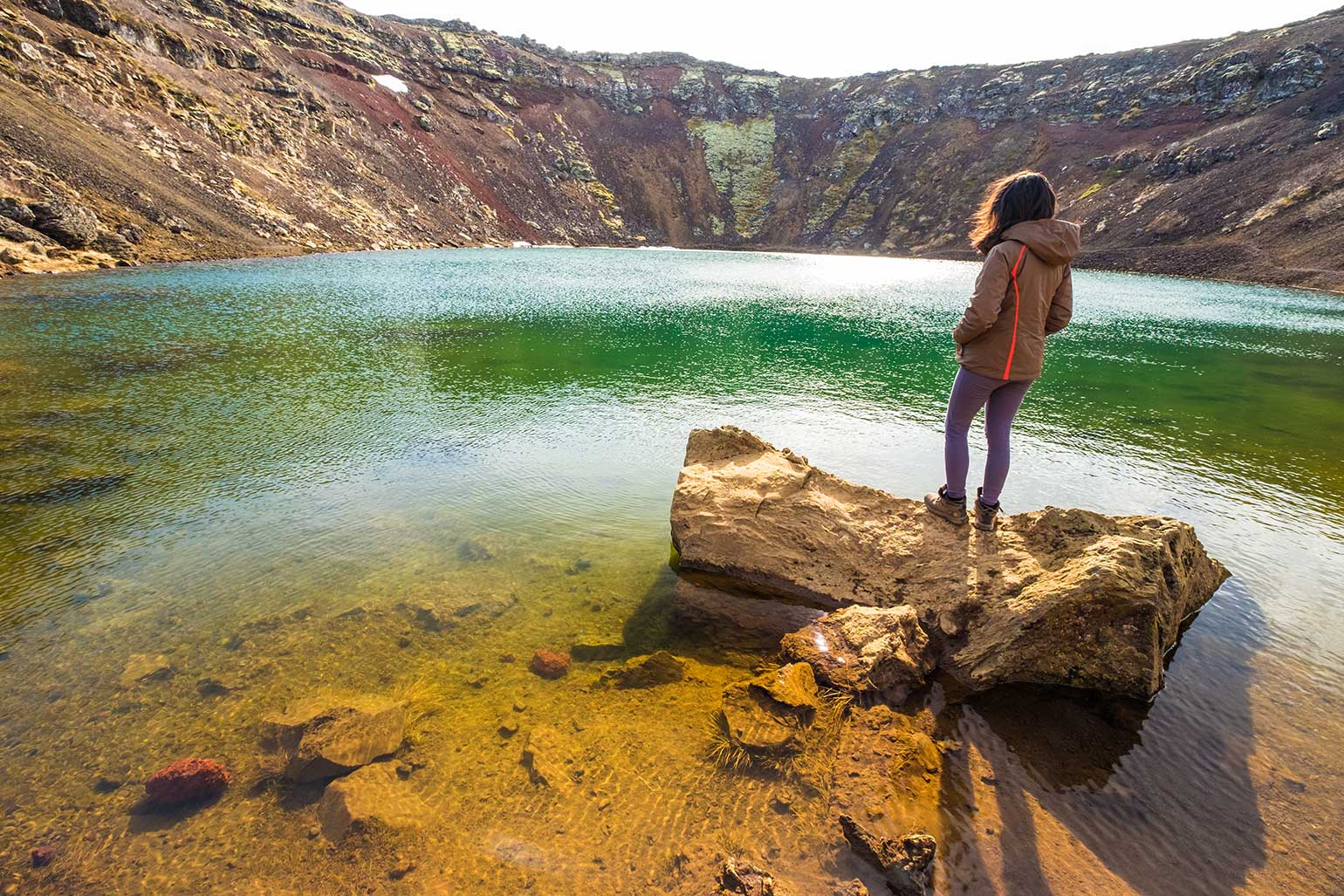 Drive east of Reykjavík to visit Almannagjá gorge in Thingvellir, where Iceland's first parliament held meetings over a thousand years ago. The national park is also home to Thingvellir rift valley, an otherworldly 40-meter deep slash in the earth where the North American and Eurasian continental plates are literally tearing apart.
Tip: If you're feeling up for an adventure, go scuba diving with a local outfitter at Lake Thingvellir, where the cold, clear water means visibility extends 100 meters.
Next up is Geysir Hot Spring Area in the mighty Haukadalur geothermal valley. Wander among the hot pools and fumaroles and visit Strokkur, where the fountain geyser's 30-meter spout sprays delighted visitors with hot water every few minutes.
10 km west, check out Gullfoss, whose name translates to 'Golden Falls.' Standing above the cascade and seeing rainbows created by the sunlight hitting the water is an incredible feeling.
If you're feeling peckish, the lamb soup served at the café by the falls is a good option, but if you can wait for dinner till you're back in Reykjavík — an hour and a half away — save room for an excellent seafood dinner among the candles and copper lamps at Fish Company.
Day 3: Reykjavík – Vík
Today you'll be driving along the island's Ring Road south east over glacial rivers, across lava fields, and past Eyjafjallajökull — the volcano whose giant ash clouds six years ago brought European air traffic to a halt. Break up the 2.5-hour drive with stops at beautiful waterfalls Seljalandsfoss and Skógafoss, and, just before your arrival in Vík — population 300 — pop into Skógar Folk Museum to experience Icelandic living, 1890s style.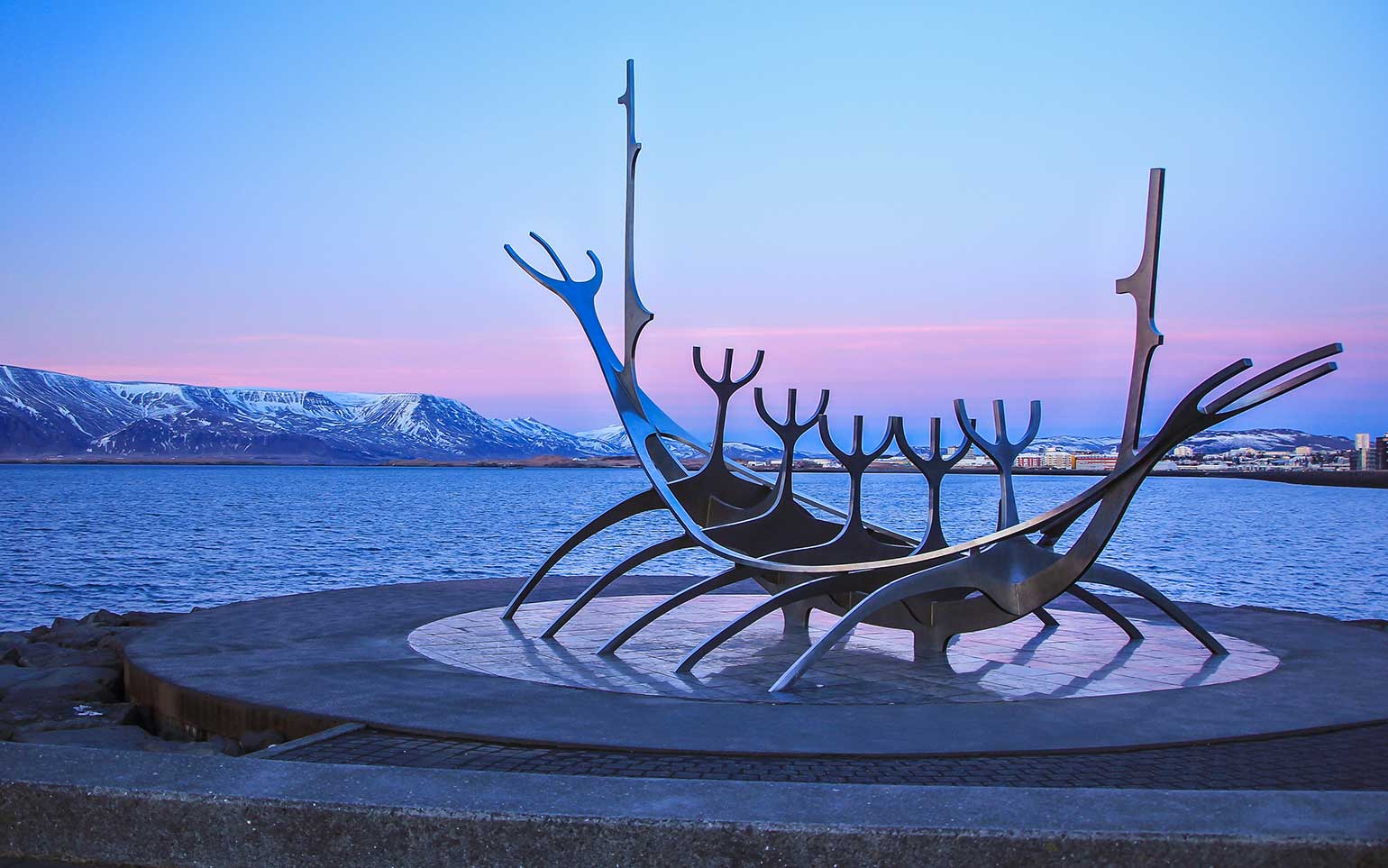 Check in at IcelandAir Hotel, where the rooms are modern and filled with light. Go horse riding on the village beach or out for a moody beach walk along Reynisfjara. With its lava sand, basalt stacks, and troll-like rock formations sticking out of the ocean, it's been voted one of the most beautiful beaches on Earth by Islands Magazine. If it's summer, head to the cliffs west of the beach in search of breeding puffins.
For dinner, head to café and restaurant Halldorskaffi (Monday – Saturday) for home-style cooking — gravlax, fillet of lamb, and traditional skyr cake — followed by an early night; tomorrow's going to be a big day.
Day 4: Vík – Jökulsárlón Glacier Lagoon – Reykjavík
Wake early and breakfast at the hotel before making the 40-minute drive to Jökulsárlon glacier lagoon at the edge of Vatnajökull National Park. Take a million pictures as you sail among the glittering blue icebergs on a zodiak boat tour (June – Sep). Visit beautiful Diamond Beach where the icebergs lie ashore like giant jewels and seals lap the water.
If visiting in winter, book well in advance to join a trip to the ice cave that forms here in the colder months.
From Jökulsárlón it's a scenic 5-6 hour drive back to Reykjavík.
Did you know? 8 out of 10 Icelanders refuse to deny the existence of elves. Looking at the country's ethereal landscape, you'll soon understand why.
Day 5: Reykjavík – Blue Lagoon – Keflavík
Reykjavík's core is home to lots of great museums and art galleries. If you have time in the morning before your flight, get a taste for Viking culture at the acclaimed National Museum and Saga Museum.
Say goodbye to the city with a trip to the top of the Space Shuttle-like Hallgrímskirkja church, the most iconic building in the capital where the 360° views from the top turn the capital into a perfect diorama.
Before leaving, choose your adventure: Why not head to Nauthólsvík Geothermal Beach? A perfect crescent of golden sand on the capital's fringe, the water here is heated to 18-20 °C in summer. Alternatively, on your drive through the Reykjanes Peninsula back to the airport, drop by the Blue Lagoon. Entry isn't cheap (upwards of around $57 CAD), but it's undeniably fun being enveloped in the milky 38 °C blue water and thick fog. The mineral rich silt at the bottom of the pool is great for conditioning skin… and awful for your hair. Slather on plenty of conditioner before you head in.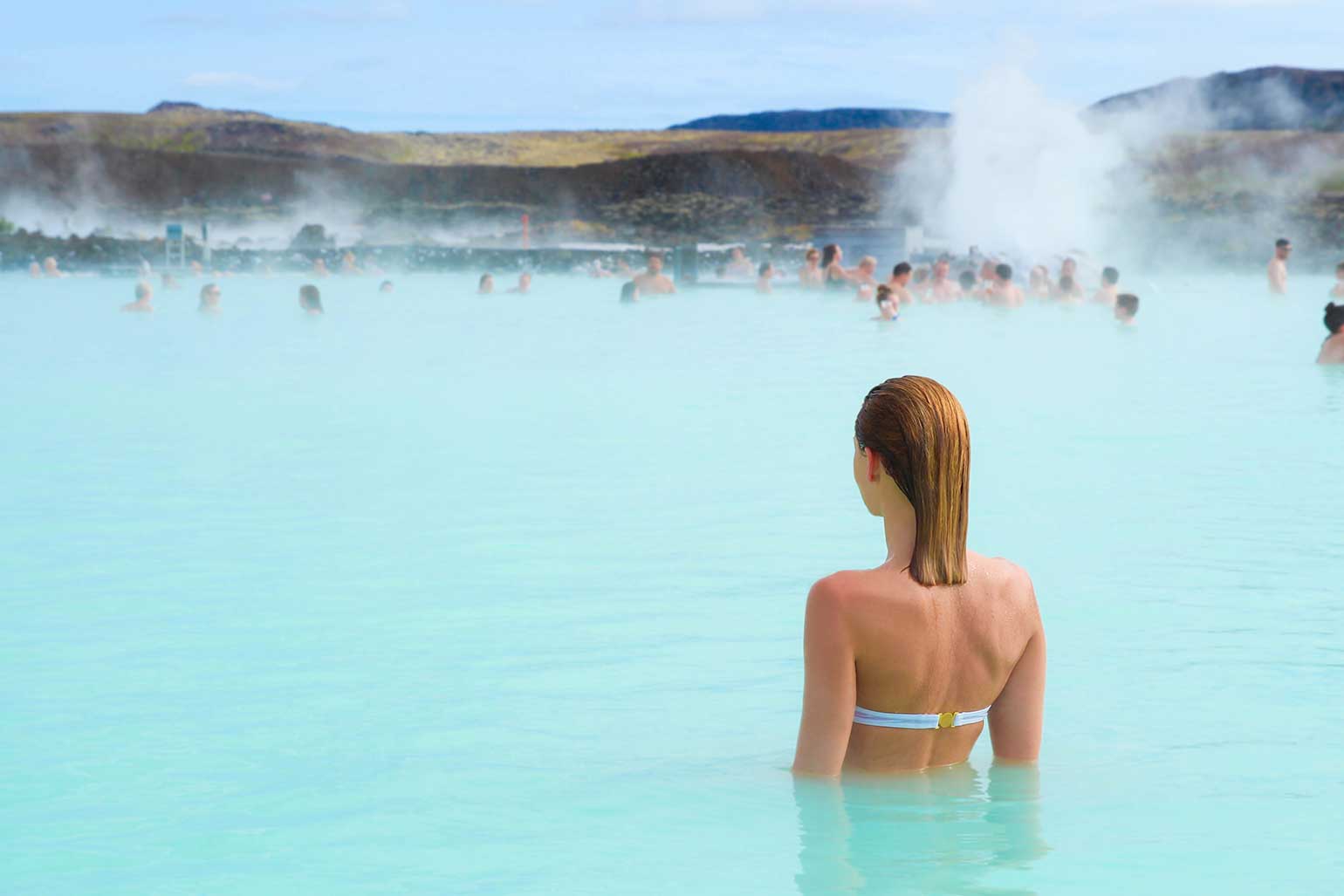 Did you know? If you're planning a trip between Canada and mainland Eualtrope, IcelandAir allows a stopover on the island for up to 7 nights.
This article is intended as general information only and is not to be relied upon as constituting legal, financial or other professional advice. A professional advisor should be consulted regarding your specific situation. Information presented is believed to be factual and up-to-date but we do not guarantee its accuracy and it should not be regarded as a complete analysis of the subjects discussed. All expressions of opinion reflect the judgment of the authors as of the date of publication and are subject to change. No endorsement of any third parties or their advice, opinions, information, products or services is expressly given or implied by Royal Bank of Canada or any of its affiliates.