"One belongs to New York instantly, one belongs to it as much in five minutes as in five years."
- Thomas Wolfe
There's a reason just about every American icon has waxed lyrical about New York; the city's amazing. In fact, it may just be the best place in the world. From Manhattan to Queens to Brooklyn, here's how to experience the best of the five boroughs in 48 hours.
DAY ONE
Morning
If it's your first time in NYC, stay in Midtown. It's where all the classic sights—the Empire State Building, Times Square, Broadway—are clustered, so you can see the attractions while dashing off to where the locals go. There's a slew of cool Airbnbs to choose from in the area. Or just book at the Ace Hotel on the edge of Koreatown; you know you'll get good coffee when there's a Stumptown cafe in the lobby.
Head to The High Line on Manhattan's West Side to stroll among public art dozens of feet above the city. Stretching from 34th Street for 2.3km along an old stretch of railway line, The High Line looks its best in the fall when the green space turns to orange and gold. This really is one of New York's best-loved parks, a success story so great that an underground Lowline full of greenery is being proposed (visit the Lowline Lab to see how that could look).
From The High Line you'll probably see a lot of cool boutiques and galleries. Check them out, and if you're in the mood for more great shopping take an Uber to the Lower East Side and The Rising States. Here you'll find clothes by independent, local designers like Hagahi and Samantha Pleet. Time for a quick coffee and cake stop at Maman (yes, just like New Yorkers, your New York trip will run on coffee).
Afternoon
Next up, Brooklyn. Take the L train over, or if your legs are up to it and you want some fun souvenir photos, walk the neo-Gothic span of Brooklyn Bridge to Downtown Brooklyn's business district. Head to the sprawling Brooklyn Museum to see great art, including Georgia O'Keeffes and Marilyn Minters at the upcoming exhibition A Year of Yes: Reimagining Feminism at the Brooklyn Museum (October 2016 – 2018).
Breathe in the crisp autumn air at Prospect Park. Covering 585 acres and designed by the guys behind Central Park, here you'll find hilly forests, a big meadow, a giant lake, and Brooklyn's botanical garden and zoo.
Evening
Golden hour is upon you, so head to Williamsburg 's The Ides rooftop bar at the Wythe Hotel. Grab some small bites—maybe a half dozen oysters if you're feeling fancy—and take in unforgettable views of the Manhattan skyline as it gets bathed in the setting sun's rays.
Before heading back to Manhattan, catch an indie show at the Music Hall of Williamsburg. Being part of the crowd here feels like an instant connection into the pulse of the city. If indie isn't your thing, head back to the island and check out the West Village's Smalls for live jazz or The Bowery Ballroom for rock.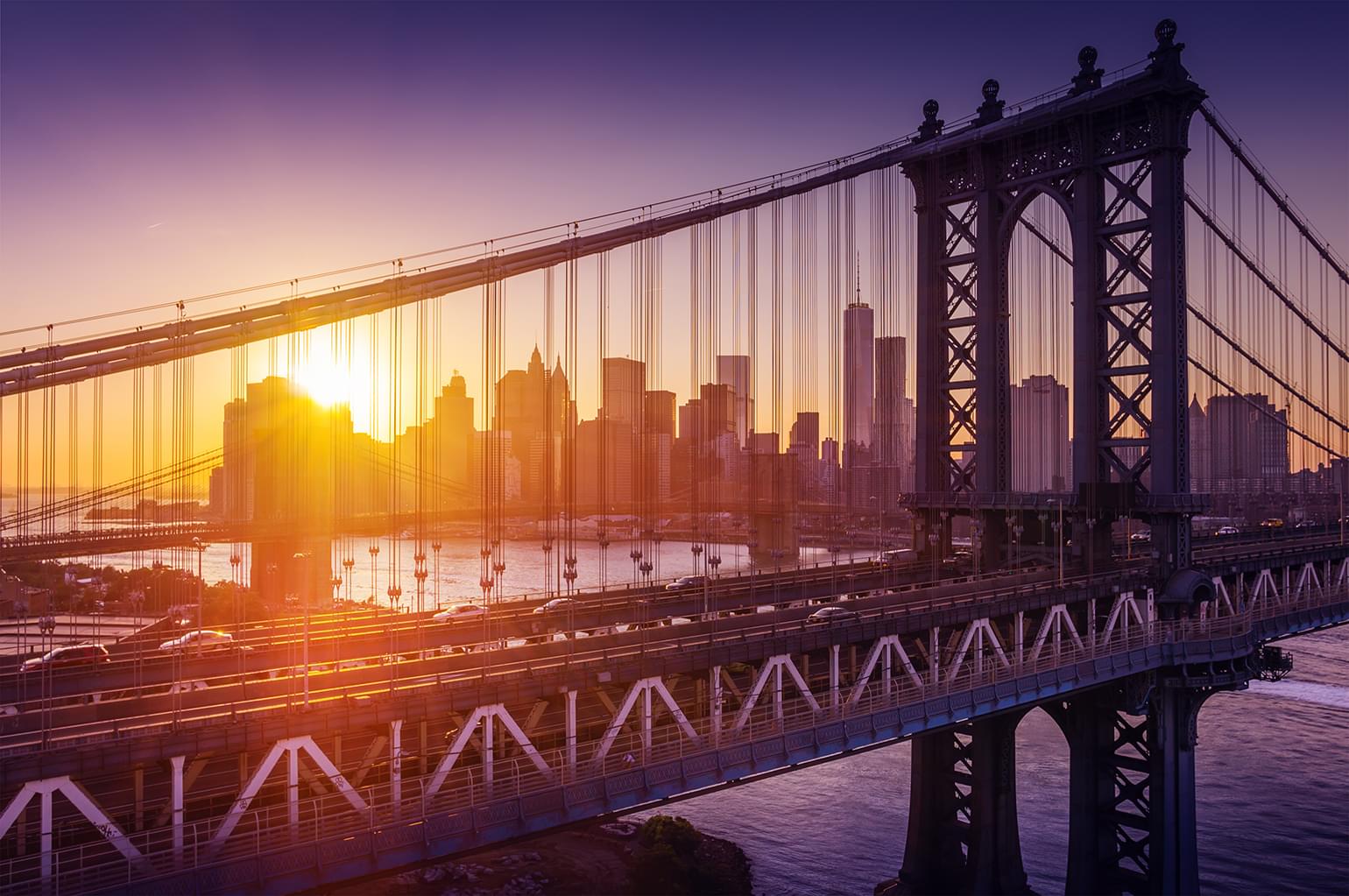 DAY TWO
Morning
New York has so many great museums. The most famous — MoMA, the Guggenheim, the American Museum of Natural History — are all in Manhattan. But it's also worth crossing the East River to Queens to visit the Museum of the Moving Image. Located in the historic Kaufman Astoria Studios, the museum is home to more than 130,000 artifacts, including Liz Taylor's Cleopatra wig and vintage arcade games. And you get to produce animations and practice recording your own voice overs.
One of New York's most diverse neighbourhoods, Astoria is home to proper Greek tavernas, tiny Italian delis, and perfect Palestinian shawarma shops. Eat wherever you like; it'll likely be a great meal. But if you'd like a recommendation, head to Egyptian restaurant Mombar (25-22 Steinway Street) for tagine.
No one ever gets tired of looking at the New York skyline. See it from a new vantage point at Queens' riverside Socrates Sculpture Park. It hosts a rotating series of installations; time your visit right and you can also join in on the free yoga, capoeira, and tai chi classes (till late September).
Afternoon
Two days isn't really enough time to discover every borough of this city, so you'll have to choose between taking the free ferry to the oft-overlooked Staten Island (which offers a close encounter with the Statue of Liberty) or heading north to check out the local arts scene in the Bronx's Piano District.
Evening
Take a cooking class with the League of Kitchens and learn to cook the local cuisine of an NYC resident in their own home. That might mean joining a small group and making Japanese rice flour dumplings in upper Manhattan, or prepping mixed dal and roti in Kew Gardens.
It's your last night in New York. See a show. Splurge on tickets to Hamilton or The Book of Mormon this fall, or check out an Off-Broadway performance like Drunk Shakespeare. The premise? One of the actors drinks five shots of whiskey, then tries to perform in a Shakespeare play. It's hilarious. For something more serious, read the listings on Thought Gallery for great lectures open to the public.
With an RBC Avion® Visa‡ card you can book your flight and even your hotel using RBC Rewards® points… letting you preserve some cash for eating, shopping and sightseeing!
More from the 48 Hours Travel Series:
This article is intended as general information only and is not to be relied upon as constituting legal, financial or other professional advice. A professional advisor should be consulted regarding your specific situation. Information presented is believed to be factual and up-to-date but we do not guarantee its accuracy and it should not be regarded as a complete analysis of the subjects discussed. All expressions of opinion reflect the judgment of the authors as of the date of publication and are subject to change. No endorsement of any third parties or their advice, opinions, information, products or services is expressly given or implied by Royal Bank of Canada or any of its affiliates.