With INUA, the stunning inaugural Inuit art exhibit at Qaumajuq, Inuit artists help the Winnipeg Art Gallery illuminate a new way forward in reconciliation.
This article was repurposed from the latest edition of RBC's "A Chosen Journey" — an annual report that celebrates Indigenous successes and affirms RBC's commitment to the Indigenous Community. Read the 2021 report here.
Banner photo by Lindsay Reid.
---
Heather Igloliorte was overcome with joy when she first glimpsed the caribou-hide beaded purse made by her grandmother's hands installed as part of INUA, the inaugural exhibition at Qaumajuq, WAG's reimagined Inuit art centre.
"I burst into tears when I first saw it, honestly," says Igloliorte. "It's beautiful. Her name was Suzannah, but she went by Susie."
Inuit moving forward together
Inuktitut for "It is bright, it is lit," Qaumajuq (pronounced kow-may-yourq) is a stunning 40,000-square-foot space that lights up downtown Winnipeg, a representation of WAG's new transparent and more respectful relationship with communities.
Susie's purse came back to her granddaughter via Twitter; a tweet from a stranger who said his grandmother (Grace Arnold) had been given the purse by Igloliorte's grandmother half a century ago when they were in hospital together.
As one of four Inuit curators of INUA, Igloliorte was able to give Susie's purse — a gorgeous example of traditional beadwork — the spotlight it deserves. It is also a nod to INUA's intergenerational theme. "That's what's coming through all the work, a respect for where we're coming from and thinking about where we're going as a people and our relationship to our ancestors and descendants," says the curator. The theme is encapsulated in the exhibit's name, INUA, which means "life force" in Inuktitut and is also an acronym for Inuit Nunangat Ungammuaktut Atautikkut ("Inuit moving forward together").
Suzannah Igoliorte. Purse, n.d. Beads, tanned hide, fabric. Collection of Myron Arnold. Photo: David Lipnowski
Challenging preconceptions of Inuit art
Igloliorte, an associate professor and research chair at Concordia University, and her co-curators (Krista Ulujuk Zawadski, Asinnajaq and Kablusiak) began their preparations for INUA more than two years ago. The result is approximately 100 artworks from 91 Inuit artists from across Inuit Nunangat and other circumpolar regions, including Alaska and Greenland and the urban south. Works from emerging artists, such as Nunatsiavummiut painter Bronson Jacque and Nunavut fashion designer Martha Kyak, sit alongside those of more established artists.
What visitors will experience at INUA may be different than imagined. Yes, there are stone carvings in the exhibition: Qaumajuq houses nearly 5,000 soapstone sculptures within a glass-walled vault, called Ilavut ("our relatives"), visible from the street outside. These are part of WAG's permanent collection of close to 14,000 Inuit artworks and the Government of Nunavut's 7,400-piece Fine Arts Collection held on loan at the WAG. Yet the sheer scale and wide mix of media in INUA — everything from textiles to sound, video, and drone photography — challenges preconceptions of Inuit art.
"The artwork highlights innovation, but innovation within a long continuity of Indigenous practices," says Igloliorte. "Inuit have always been artists. It's not something that started in the 1950s. Inuit art has always been. And so, the artists are working out of that long tradition of being creative and resourceful and making something of what's available to them. It was important to us, as curators, to show Inuit art as art made by Inuit and not a particular kind of medium or material."
Inuit art is also critical to tell the story of the Inuit, says Stephen Borys, WAG Director and CEO in Winnipeg. "Their land, their relocations, their resettlements, Residential schools, the loss of mineral, natural mineral resources, issues of sovereignty, climate change, all of those stories are told through art," he says. "This is one way that Qaumajuq can broaden, deepen our understanding of the North. When Inuit art is accessed in this innovative way, as an exercise of reconciliation really, it goes beyond the sector that we know as arts and culture."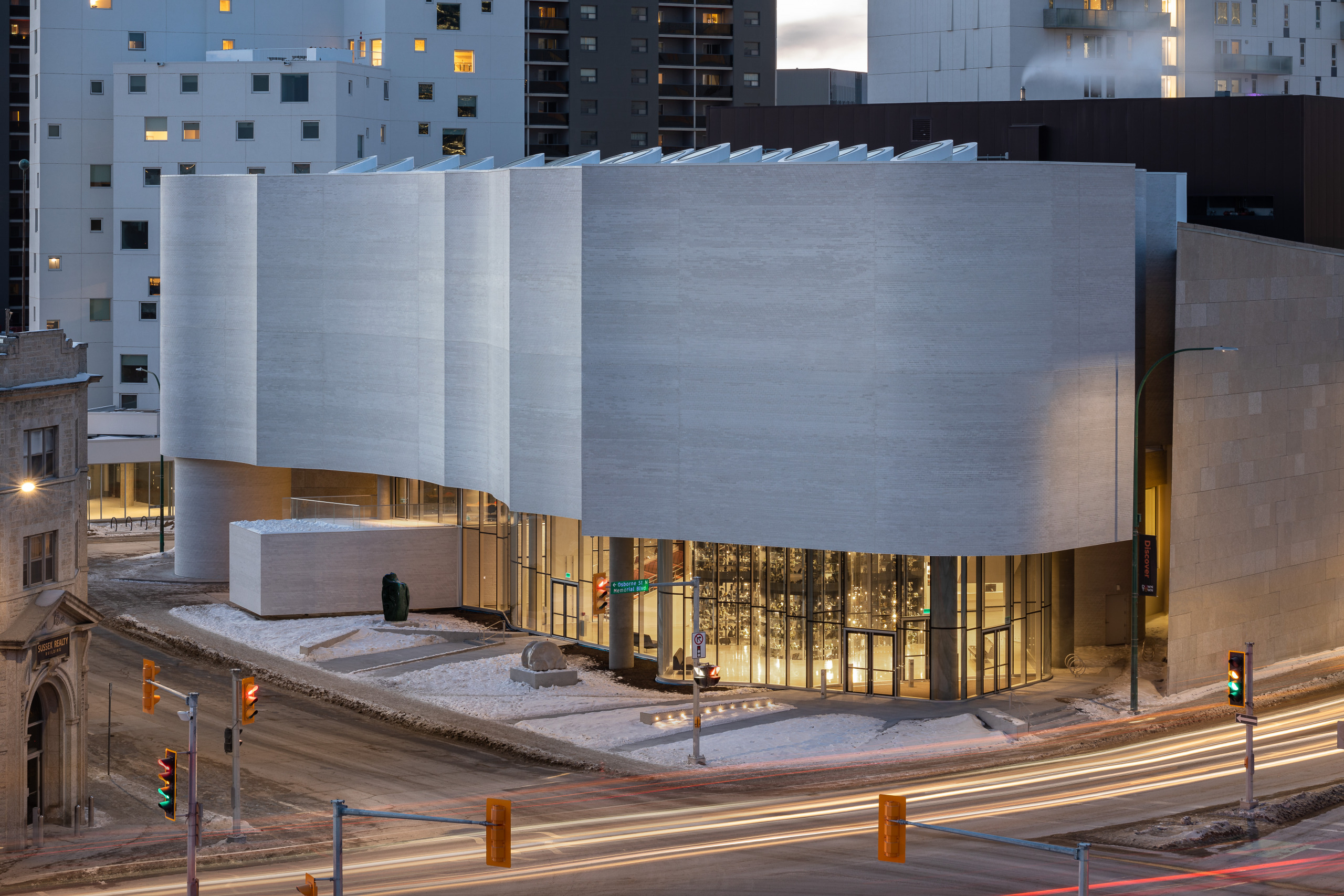 Qaumajuq, the Inuit art Centre at the Winnipeg Art Gallery. Photo by Lindsay Reid