In a regular year, RBC Place London welcomes 120,000 people through their doors for meetings, conventions, weddings, galas and holiday parties. When the pandemic hit, they had to close their doors and furlough 85% of their staff. So what did they do? They reached out to help the community.
For the past year, Lori Da Silva, CEO of RBC Place London, has been adapting to constant changes.
Unsure about when government relief would kick in for people who found themselves suddenly out of work, she and her senior leadership team didn't sit idly by. They got to work making food hampers for the culinary workers, servers, porters, bartenders and cleaners they had to furlough.
"Our first order was to take care of our people and get food to team members who might need extra help over those first weeks," Da Silva says.
Then, RBC Place London turned its attention to the London community.
Hunger and homelessness in London Ontario
Hunger and homelessness have been problems for decades in London. In recent years, real estate prices, drug addiction, and unemployment have all been steadily increasing. "We've been up for challenges in the past," says Glen Pearson, Co-Director of the London Food Bank. "But when COVID hit and hundreds of people couldn't go into shelters and the support agencies shut down, food security became an acute problem."
While Pearson and his wife were discussing how they were going to manage, Lori Da Silva called them out of the blue. "Lori didn't realize the crisis we were in. She just said 'We don't know the need, but we have the capacity. Is there any way we can help?'" says Pearson. "I would not have thought of going to RBC Place London to ask them for help as I knew they were going through a terrible time. I wouldn't have wanted to burden them."
But as Da Silva explains, they have a very large building, a professional culinary team and an industrial kitchen. "We can scale up, we can scale down — we're very flexible. What we do well is provide great, nutritious meals so we started making calls to see how we could best help."
The London Food Bank helped nearly 3,600 families a month prior to the pandemic, plus about 25 other social agencies. When the pandemic started, their numbers initially went down since people weren't going out to seek help, concerned about riding on public transit. Pearson and Da Silva determined that they needed to find a way to get food closer to individuals and brought in 519 Pursuit — a team of volunteers who get food to people needing it most.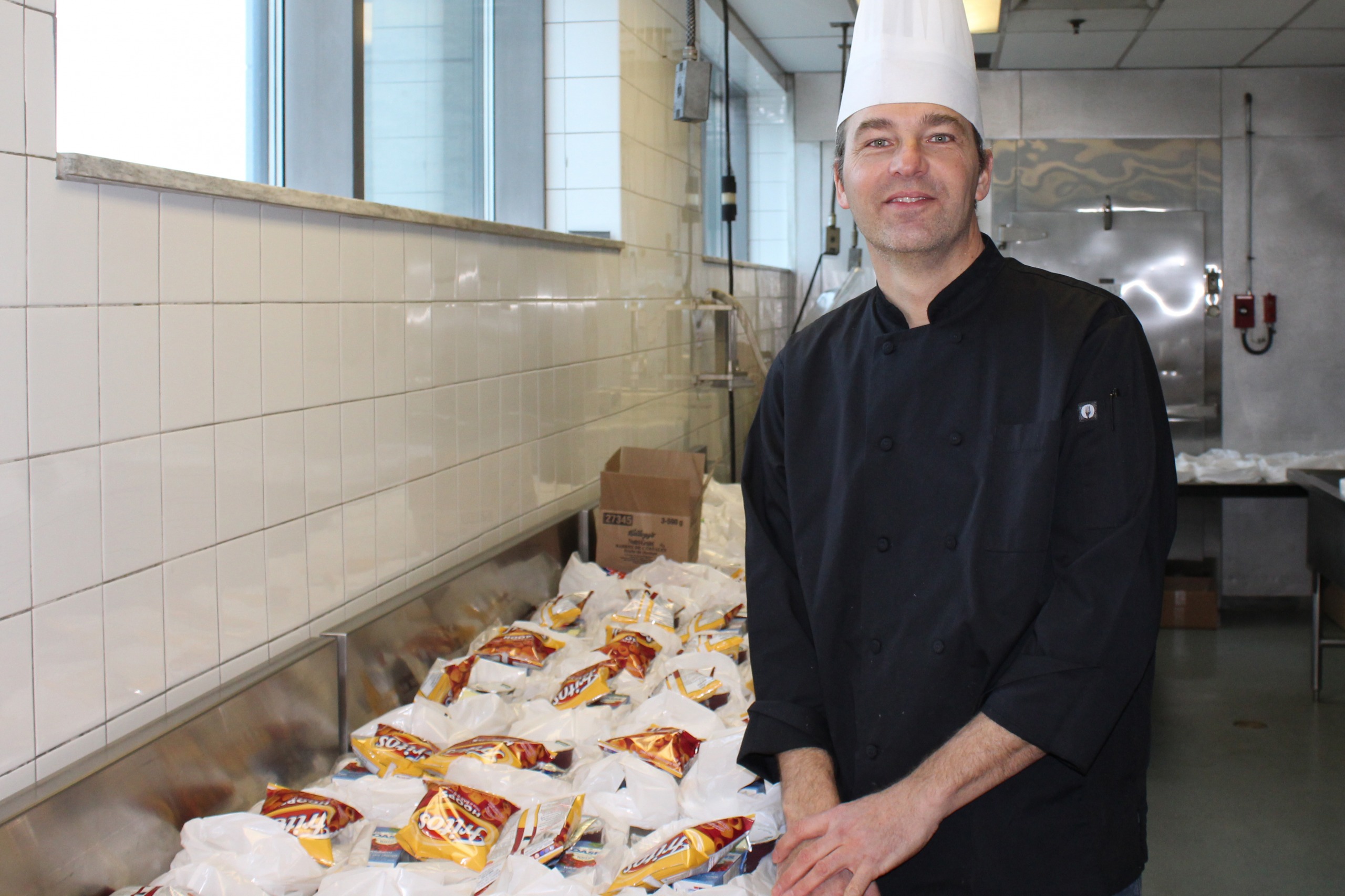 RBC Place London Executive Chef, David Van Eldik, Courtesy of RBC Place London.
RBC Place London began making up to 300 meals a day, with their Executive Chef and Executive Sous Chef preparing the food. They made meals at cost paid for by to the Food Bank and covered their team's salaries. A hundred meals were picked up by 519 Pursuit and delivered to people on the streets, while another 200 were sent out to other local non-profits by volunteers. Demand ramped up quickly, growing to nearly 600 meals per day at one point. RBC Place London was able to meet the demand, with all department leaders initially helping to bag the food. "We had a production line going," says Da Silva. "It was an all-hands-on effort to get meals out."
London Community Rallies Together
While a few large, corporate donations helped the London Food Bank meet the needs of the community, Pearson is quick to point out that it was the support by average Londoners that got their initiatives started. "People were lacking opportunities for their generosity. Once they found one, they really went for it." He says it was RBC Place London that made it all work.
"Lori contacted us asking how they could help. Then other businesses helped out, bicycle clubs, individuals … an army of volunteers gathered at RBC Place London every morning at 10 a.m. to get food to at-risk people. All without putting a call out for help. I've been at the Food Bank for thirty-five years and never seen anything close to this."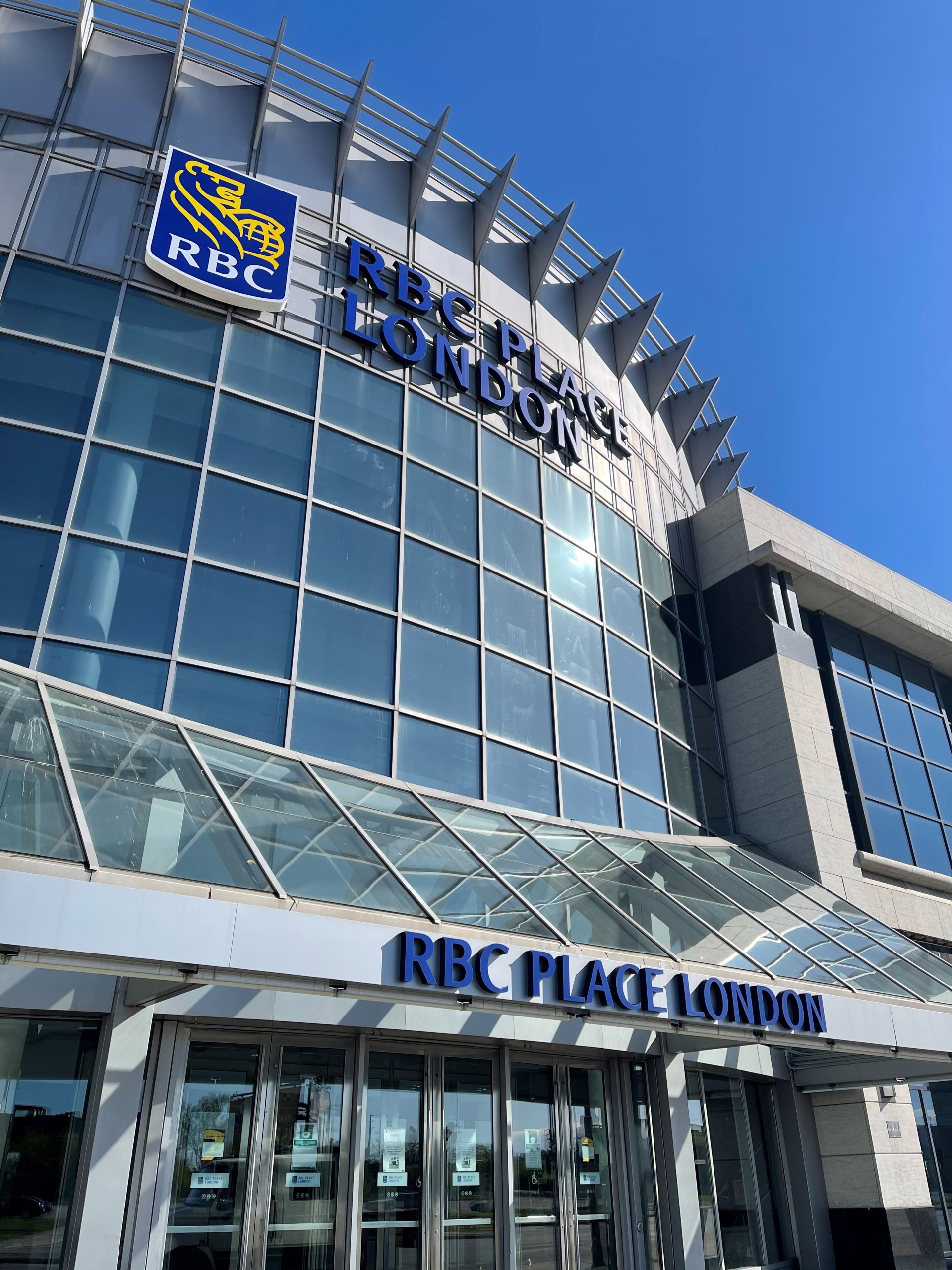 RBC Place London in London, Ont. Courtesy of RBC Place London.
A Collaboration Made in Heaven
As the partnership with the London Food Bank and 519 Pursuit reached its one-year anniversary this May, Da Silva is hopeful that they can continue their work once they are allowed to reopen.
Glen Pearson calls the collaboration a 'marriage made in heaven.' "This was a very unique situation from a large corporate player in the city who was facing hard times. The way they chose to handle it was to reach out when they could have buried their heads in the sand." For her part, Da Silva is proud of how the program grew and evolved over time to meet the needs of the people of London. "We're hopeful we made a difference in their lives."
This article is intended as general information only and is not to be relied upon as constituting legal, financial or other professional advice. A professional advisor should be consulted regarding your specific situation. Information presented is believed to be factual and up-to-date but we do not guarantee its accuracy and it should not be regarded as a complete analysis of the subjects discussed. All expressions of opinion reflect the judgment of the authors as of the date of publication and are subject to change. No endorsement of any third parties or their advice, opinions, information, products or services is expressly given or implied by Royal Bank of Canada or any of its affiliates.