Nine young poets are sharing unique perspectives and new interpretations on existing pieces from the Art Gallery of Hamilton's permanent collection.
How do you innovate and breathe fresh life into an art gallery's permanent collection? The Art Gallery of Hamilton (AGH) has one idea: create an immersive experience where young poets respond to the works, created by nine of Hamilton's brightest young emerging artists.
Each of the nine poets featured in the exhibition, "Breaking The Vault: Art and Poetic Liberty" chose pieces from the AGH's permanent collection and created spoken word poems to reflect their interpretations of the works.
The art exhibit is enhanced with augmented reality technology — by pointing your smartphone camera at an artwork in the gallery, the piece is replaced by the face of the poet performing their work. This allows visitors to experience the poets' performances while viewing the artworks.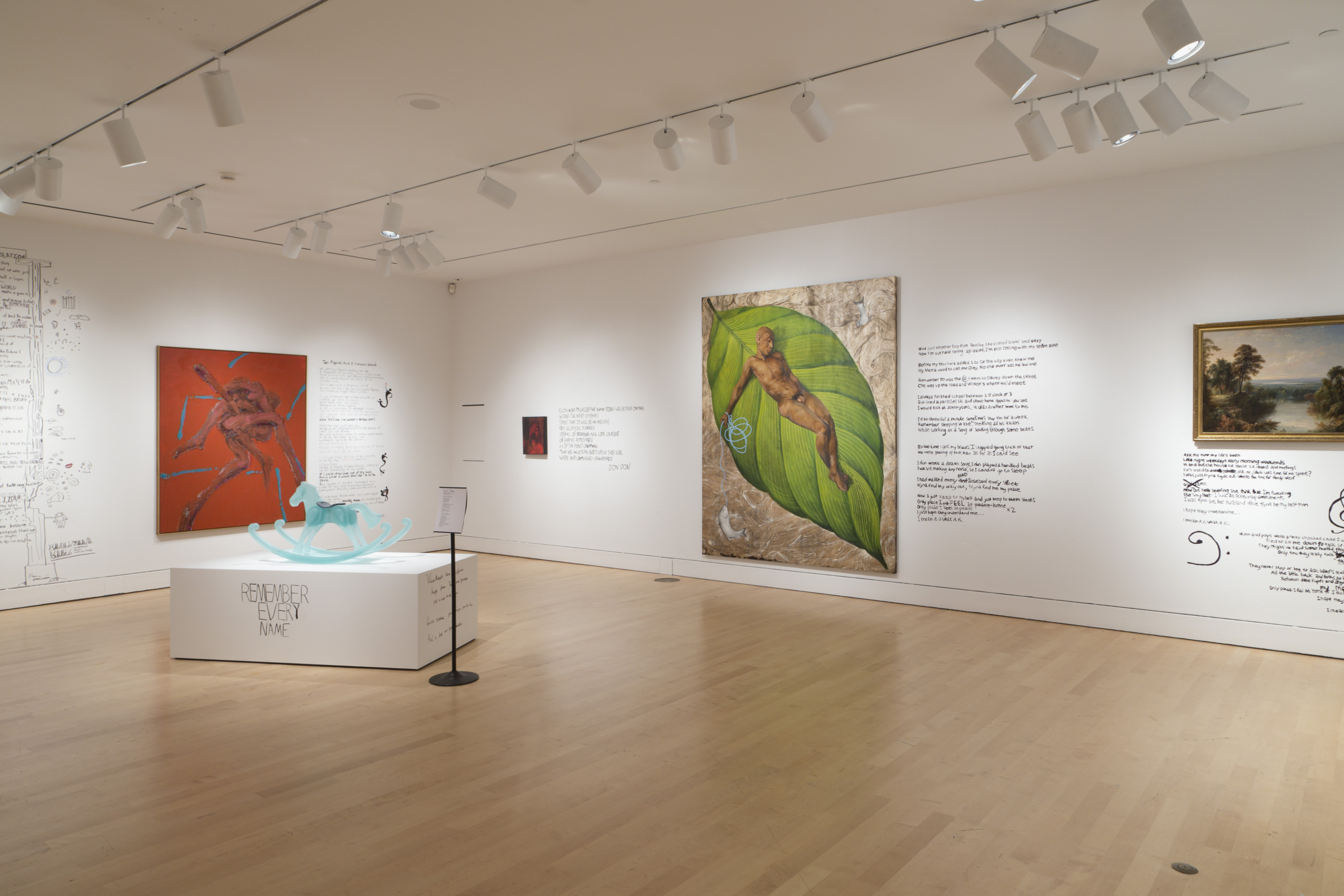 RBC is a proud sponsor of the exhibition and a long-time partner of the AGH.
"Our support for the arts, and emerging artists, in particular, is longstanding," says Carmela Trombetta, Vice President, Commercial Financial Services, Greater Hamilton at RBC. "We really see this exhibit is an investment in our country's young artists and their future successes. It's also encouraging to see such creativity and innovation from the AGH as they continue to work building a healthy, vibrant and more inclusive arts scene in Hamilton."
Bringing new voices to art galleries
Part of the importance of the Breaking the Vault exhibition is to introduce more historically underrepresented and culturally relevant voices to the traditional space of the art gallery. The featured poets are from Hamilton Youth Poets, an arts organization that helps give young people in Hamilton the space and opportunity to tell their stories.
"Curating and helping everyone create their pieces was a powerful experience," says Tanya Pineda, coordinator of the Hamilton Youth Poets and a performing poet in the exhibit.
Poets in this exhibition also include Amani Omar, Dondon, Eddie Lartey, Gizy, Jaidyn Fenton, Kaitlyn Tolch, Maeve Jenkinson, and Paulo Leon. Each young poet chose a work that spoke to them from the AGH's permanent collection.
"Watching everyone write and pull out metaphors and connections to their real lives was beautiful," Tanya says. "The growth in their writing was exponential and different from much of the other work we do."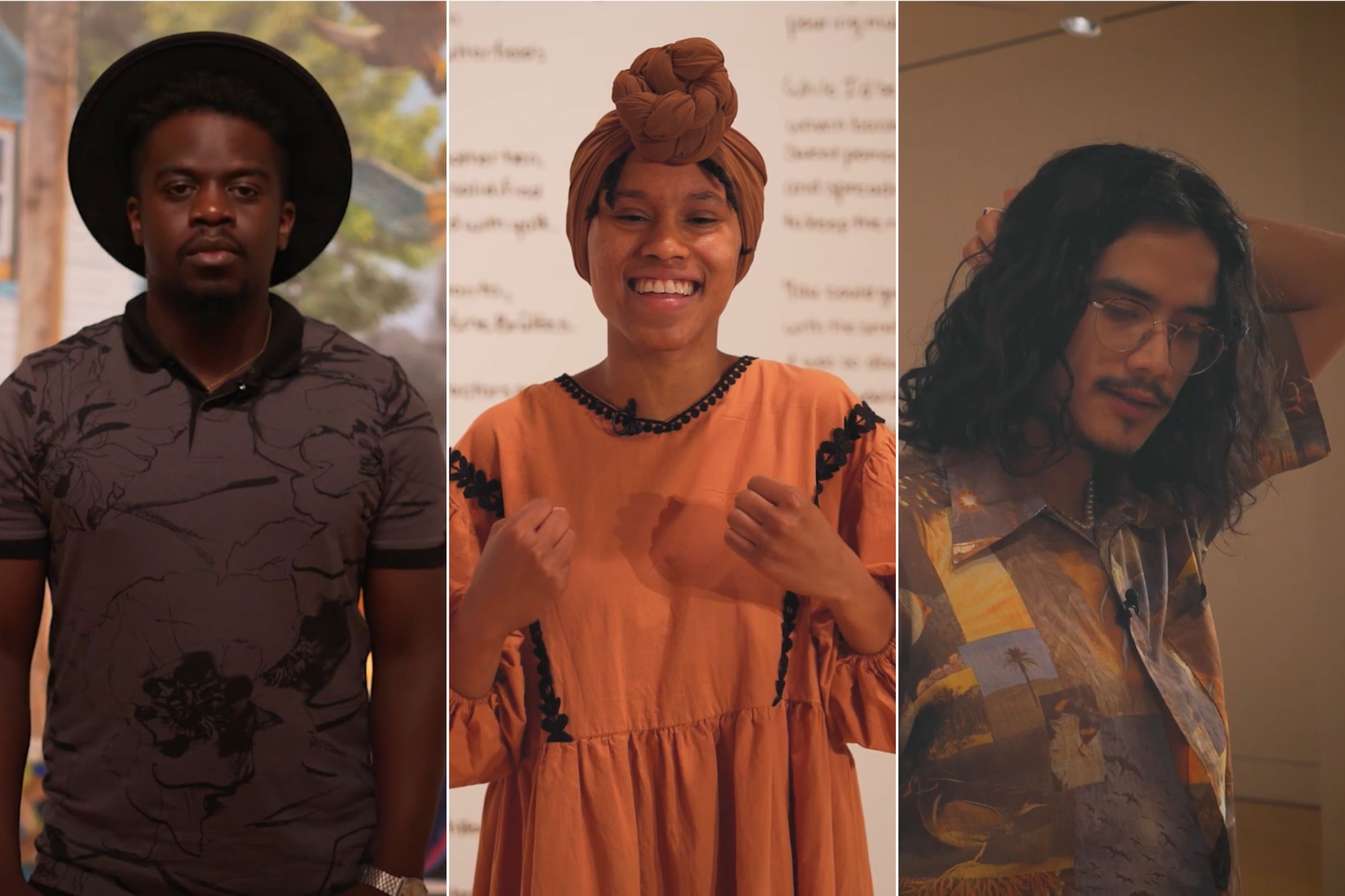 Eddie Lartey, Jaidyn Fenton and Paulo Leon (left to right) are three of the young poets featured in the exhibit
Connecting youth to the community
Adapting and making a traditional art experience relevant to a modern digital audience can be challenging. The AGH is bringing technology and digital connectivity to these works of art as a way of connecting young Canadian emerging talent to past generations of artists.
Related story: Inuit Artists Help the Winnipeg Art Gallery Find a New Way Forward, Together
There is also community building. Uniting emerging young artists from around the city and people from all over and all walks of life brings fresh voices to a broader audience.
"It's all about giving voices," says Amani Omar, another poet involved in the exhibition. "We all experience art differently, however, with this project we were able to give voices to pieces of art and add our own meanings to them. We were able to make our marks and tell our own stories using such interesting classic pieces."
In some cases, youth were literally making their mark on the gallery — many of the poems performed alongside the art pieces are also written on the gallery walls.
"Overall, it was such an eye-opening learning experience," says Amani. "Learning what goes into curating an exhibition like this, while also creating the work for it, is something not many artists get the chance to do."
This article is intended as general information only and is not to be relied upon as constituting legal, financial or other professional advice. A professional advisor should be consulted regarding your specific situation. Information presented is believed to be factual and up-to-date but we do not guarantee its accuracy and it should not be regarded as a complete analysis of the subjects discussed. All expressions of opinion reflect the judgment of the authors as of the date of publication and are subject to change. No endorsement of any third parties or their advice, opinions, information, products or services is expressly given or implied by Royal Bank of Canada or any of its affiliates.