There's no question that this is a difficult time for everyone, and making the best of it can seem like a challenge. But, if you can generate quality family moments in the middle of it all, you can boost the mood in your home and turn this into a time of connection and creativity.
Here are ten things you can do with your family (including a few they can do on their own) to help keep spirits up, brains sharp and bodies active.
1. Get Your Home Classroom Set Up.
Kids need to keep learning, even as schools are closed, so setting up your children's home school curriculum feels like it should come first. While this may not seem like a whole lot of fun for kids, there are ways to make it a bit more engaging versus simply going over lessons around the kitchen table. For example, get their help in picking a name for your school, a mascot, motto and school colours. Offer extra credits for walking the dog, taking out the garbage or emptying the dishwasher. For your part, try to create a class schedule that aligns to the work they have and build in breaks throughout the day (you'll need recess too).
Tip: Need an idea for a school motto? How about, "Wash your hands."
2. Bake with the Kids.
Getting kids involved in the kitchen is a great way to: a) keep busy, b) teach them something new, and c) have something new to snack on while regular grocery store visits are no longer part of your routine.
You can make cookies, brownies and muffins from a few pantry staples (butter, flour, sugar, cocoa), or you can get creative with unusual (and non-perishable) ingredients that many bakers swear by — such as cornflakes, tomato soup or soda pop.
Have some food colouring stored at the back of the cupboard? Add some colour to your recipe for cheerful, unexpected desserts.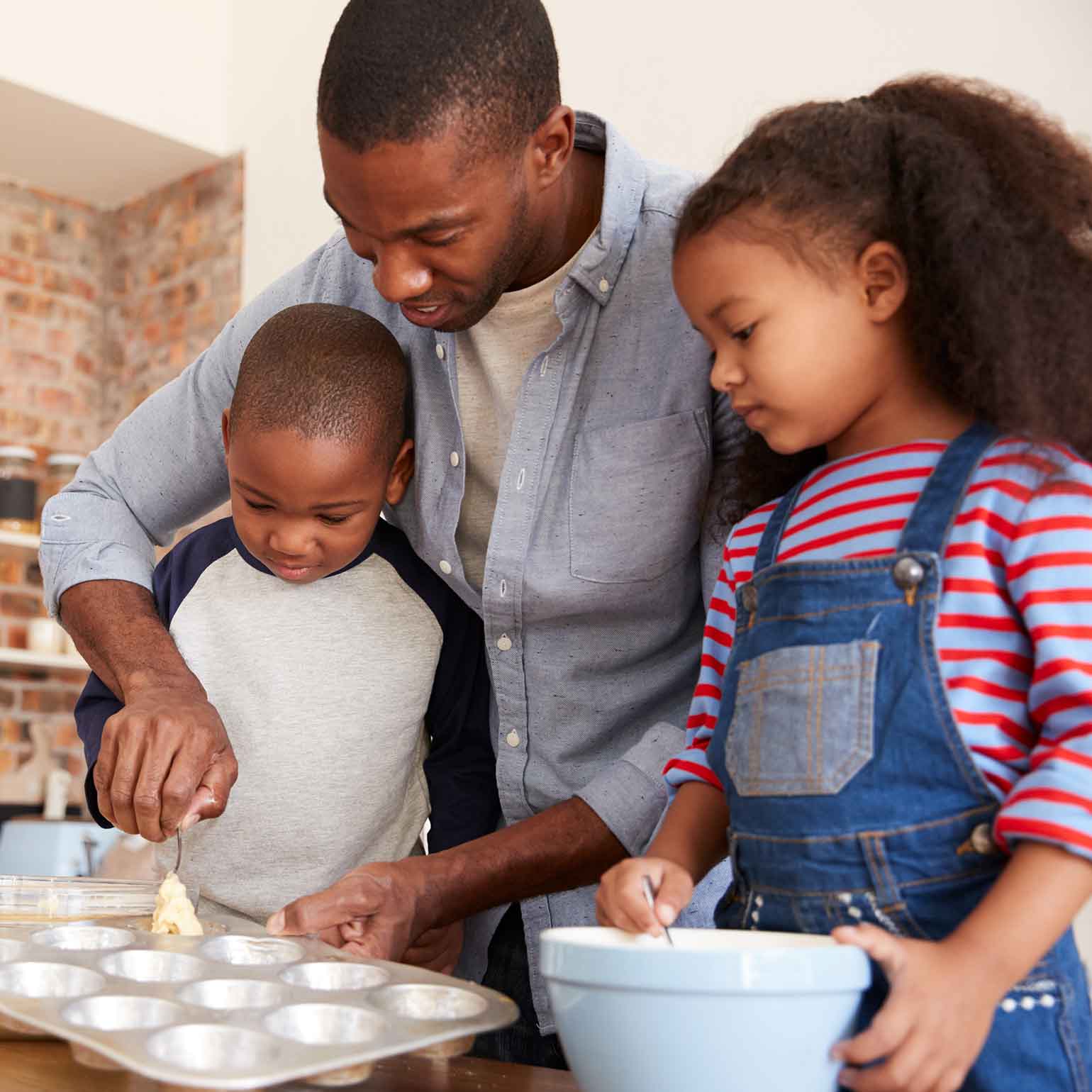 3. Learn New Games.
Lives are typically so busy that sitting down to learn something new (outside work and school) doesn't often rise to the top of the list. If you're into cards, Crazy Eights, Go Fish and Snap! are great games for kids as young as four or five to learn. If you've got older kids at home, Rummy, Euchre and Hearts are classics that can help keep the brains sharp during this time. Whether you want to teach yourself a new game or need a refresher on an old favourite, the Bicycle Cards site has rules and tips for hundreds of games.
More of a board game family? Whether you're looking for a 30-minute diversion or a days-long strategic marathon (or anything in between), there's a game for that. From Snakes & Ladders to Clue to Settlers of Catan, a great board game can bring the family together over some good old-fashioned competition.
4. Teach School-aged Kids How to Type.
Many kids across Canada have been completing work online and submitting projects electronically via sharing services for some time now. Given physical distancing measures, virtual schooling may be how kids get taught in the near term.
So why not get them more proficient at a key skill, such as typing? There are plenty of kids' typing games to be found online — and for your teens and tweens, more advanced programs can get them learning new skills in no time.
5. Tackle Overdue Home Projects.
When was the last time you (or your kids) cleared out their desk, closet, dresser or under the bed? This is a great chance to purge old clothes, toys, games, books and those craft projects from preschool. Set your kids up with some tidying strategies, recycling bags and donation boxes, and get them to sort the gems from the junk to give their rooms a fresh start (and possibly a fresh scent).
Tip: If your teens are the helpful sort, see if they can tackle bigger projects like a room under your stairs or the garage. (They did say they were bored, right?)
6. Go for a Bike Ride.
Bike riding is the perfect outdoor activity — it means getting exercise while remaining a safe distance from others. Get some fresh air with family and friends with no contact required. Explore new paths, cruise the neighbourhood, or set up challenges for an extra dose of fun.
7. Have a Family Movie Night.
You may all have your favourite TV shows, but try to find a movie all of you will like and enjoy some screen-time of the family-bonding variety. Make some popcorn, break out the cozy blankets, and turn down the lights to make it a special event.
8. Take on an Art Project.
Plenty of art and crafts stores have cut down on their shipping costs and/or minimums to promote creative play at home. Order a canvas, a bird house, some clay or a model airplane … or anything else that can be painted, built or shaped. Let inspiration guide you!
9. Make Conversation.
These days, conversation topics might feel limited to viral issues. Challenge yourself and other family members to find something new to talk about at dinner — whether it's a news item (that's not related to COVID-19), a funny joke, or an update from a friend. This mini task will give everyone something to research throughout the day, and may encourage a phone call or two to friends and family.
10. Start a Journal.

These are circumstances unlike any experienced in modern times. Encourage your family (yourself included) to write a bit each day about the experience, including questions, anxieties, ideas and reflections. It may be something remarkable to look back on, and share with future generations.
This article is intended as general information only and is not to be relied upon as constituting legal, financial or other professional advice. A professional advisor should be consulted regarding your specific situation. Information presented is believed to be factual and up-to-date but we do not guarantee its accuracy and it should not be regarded as a complete analysis of the subjects discussed. All expressions of opinion reflect the judgment of the authors as of the date of publication and are subject to change. No endorsement of any third parties or their advice, opinions, information, products or services is expressly given or implied by Royal Bank of Canada or any of its affiliates.