Medical and nursing students across Canada are stepping up to help their healthcare mentors fight the COVID-19 pandemic, and gaining invaluable experience along the way.
Medical students across Canada are stepping up to help their healthcare mentors fight the COVID-19 pandemic and gaining invaluable experience along the way.
Post-secondary students are being deployed to different assignments, from frontline patient care to the mobilization and administration of critical resources.
Their work is providing much-needed support to healthcare workers during the public health crisis. Through their participation, students are also discovering the healthcare specializations they may want to pursue when they graduate. Here are just two examples of how students in Canada are helping out.
Providing Critical Personal Protective Equipment (PPE)
Two students at the Northern Ontario School of Medicine (NOSM) created an initiative called Northern Ontario PPE for HCP (healthcare providers). The goal is to help provide PPE for healthcare workers in their area.
The campaign sources PPE such as N95 masks, face shields, gowns, gloves and medical goggles from a range of businesses, including those closed during the pandemic, such as dentists, research labs, construction companies, hair and nail salons.
The PPE collected is then distributed to frontline healthcare professionals in the region. The team finds out where there are gaps in the supply chain — such as a shortage of masks at one hospital in the region and gowns at another — and aims to temporarily fill them through the donations.
The initiative was created by Sarah Mavin, a fourth-year student in Sudbury and Alannah MacLean, a second-year student in Thunder Bay. They were brought together after both reached out to the NOSM student council president to find out what they could do to support healthcare workers in their areas.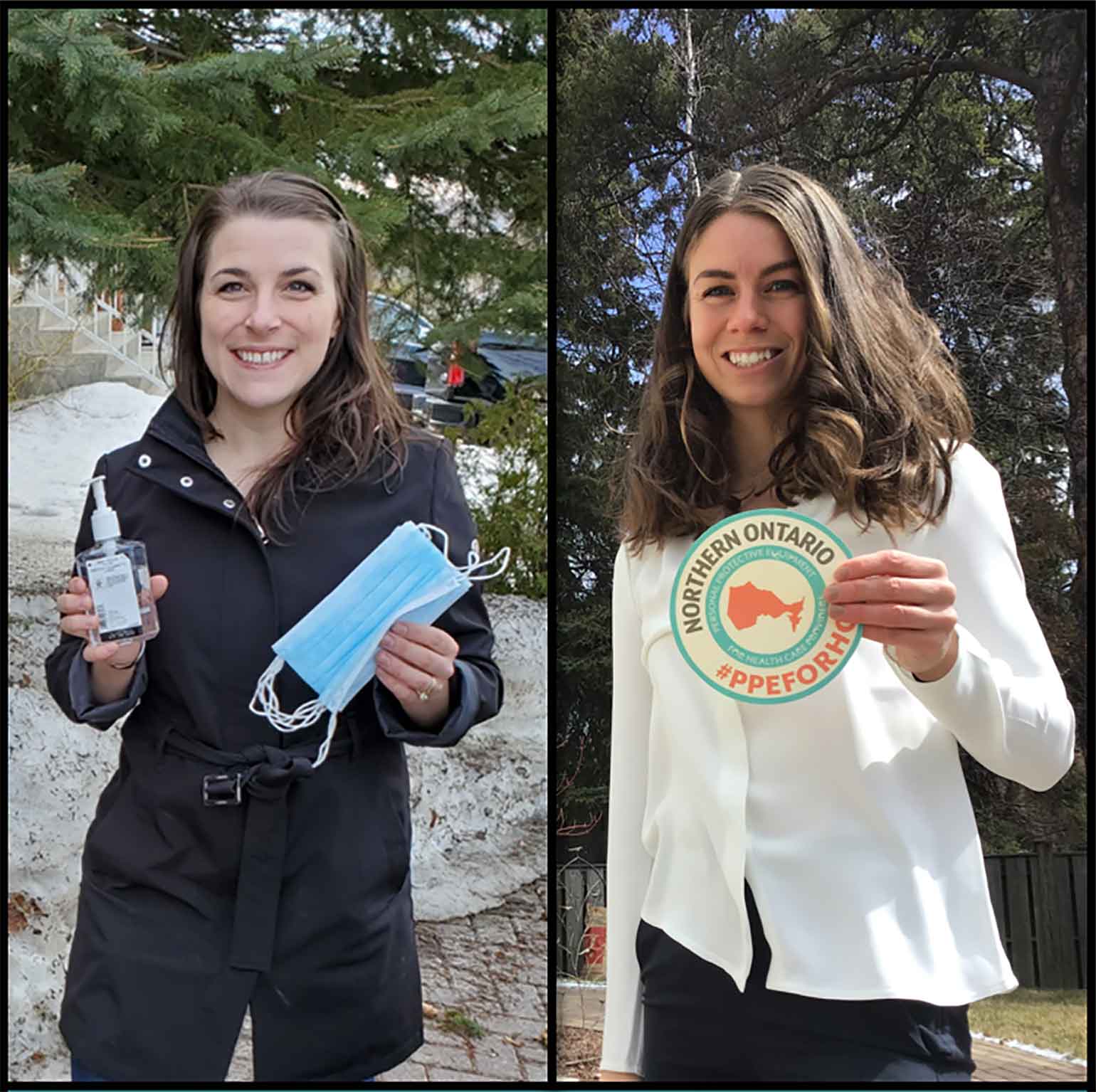 The anxiety about all healthcare workers doctors, nurses, respiratory therapists, all of them being on the frontlines unprotected was the fire that motivated me into action.
"We were both wandering around our homes wondering what we were going to do with our anxiety and our time," says Mavin, whose husband is a nurse in an intensive care unit. "The anxiety about all healthcare workers — doctors, nurses, respiratory therapists, all of them — being on the frontlines unprotected was the fire that motivated me into action."
The campaign launched on the last Tuesday in March and by the weekend had more than 100 student volunteers across both campuses. Volunteers sourced donations, managed media and communications, and helped with web development, fundraising and financing.
As of late April, the PPE drive has led to the donation of approximately:
13,000 pairs of disposable gloves
1,300 surgical masks
More than 1,000 N95 masks
100 cloth and handmade masks,
7,000 dusk masks and,
Hand sanitizer, surgical gowns, boot covers and safety glasses.
The group made it happen by organizing PPE drives in more than 30 communities in northern Ontario. They also set up a database of sewing groups to provide gowns, caps, and masks, and aligned with findthemasks.com, a global mapping tool and interactive directory for PPE needs.
To address the scarcity of face shields for healthcare facilities, the group created an automated distribution platform for 3D printed face shields and ear savers. Created in partnership with university maker spaces, engineering departments and libraries in Thunder Bay, the program has an estimated production capacity of 5,000 face shields per week, and will be expanding across Northern Ontario once logistics are fine-tuned. These face shields and ear savers are being provided for free to clinics, hospitals and long-term care facilities.
Mavin and MacLean say it has been a challenge to keep up the momentum, but they've been moved by the community response.
"What I've seen and been so humbled by is how everyone has just been able to come together," Mavin says. "I've never seen strangers from all walks of life come together and be so supportive with this collaboration that's inter-professional and respectful — and so fast. I think it's shown what can truly be done when we work together … It has also shown us the power of grassroots initiatives to get things done."
The Northern Ontario PPE for HCP assessed the needs of more than 90 healthcare facilities across Northern Ontario, while researching and seeking recommendations from medical associations and government on how and where to donate PPE. The group also created an ethical framework and algorithm for its regional PPE lead volunteers to use as a guideline for PPE distribution.
Providing Critical Patient Support
Other students are working directly on the frontlines, helping their peers assess patients during the pandemic. For instance, University of Manitoba nursing student Thomas Koop recently landed a role as a screener with Manitoba's Health Links, a 24/7 telephone health information service.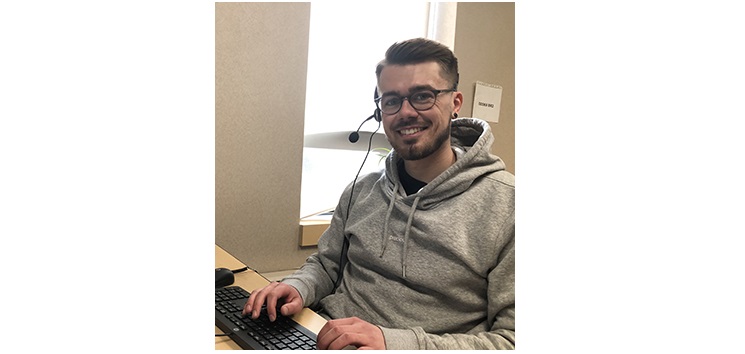 Koop started in the role in March after finishing his community health rotation which started at Learning Disabilities Association of Manitoba and ended with a placement at Health Links.
"I wanted to get involved as much as I could and do anything I could to help out," says Koop, who became interested in a nursing career after meeting a nurse on a church mission in Mexico during his final year of high school. "He specifically worked in trauma. I thought, 'that seems like a really cool job; one that seems challenging and where I won't get bored.'"
His education started in 2016 and Koop has just finished his fourth year. The only thing left to do is his summer practicum, which has been delayed due to the pandemic.
Still, Koop says working during a pandemic has been a huge learning experience in itself.
His job includes assessing people over the phone to determine if they should self-isolate, monitor systems or get tested for the virus. He says it can be stressful, especially as information and guidelines change rapidly, sometimes even while he's on a shift.
"People are anxious," Koop says. "A lot of times, at the end of the call, people say they feel better just having talked to someone about it."
But providing additional help for healthcare workers during this crisis has taught all the students more about the importance of empathetic care and teamwork. Whether it's distributing critical PPE equipment or assessing people over the phone, serving those in need during this crisis has provided valuable work lessons for these medical students and has helped underscore their decisions to enter the medical field.
This article is intended as general information only and is not to be relied upon as constituting legal, financial or other professional advice. A professional advisor should be consulted regarding your specific situation. Information presented is believed to be factual and up-to-date but we do not guarantee its accuracy and it should not be regarded as a complete analysis of the subjects discussed. All expressions of opinion reflect the judgment of the authors as of the date of publication and are subject to change. No endorsement of any third parties or their advice, opinions, information, products or services is expressly given or implied by Royal Bank of Canada or any of its affiliates.