Although powwows were cancelled this year due to COVID-19, the singing, dancing and gathering didn't stop. Thanks to a few people who had the idea to move the celebrations online, an important tradition continued.
This article originally appeared on the RBC Diversity site on May 25, 2020.
---
Powwows come in all shapes and sizes. In some cases, powwows are made up of 30 people dancing and singing, while others may involve thousands of people in one place. Regardless of the details, powwows are celebratory gatherings for laughing, dancing, singing and uniting. For many, it's the only time folks can see their family members, and people will travel across the country to celebrate their culture with loved ones.
More than a party, however, powwows are avenues for carrying language and traditions, and are a place where a great deal is taught from one generation to the next. They're also a place where many artists sell their creations – and the powwow marketplace is often their primary source of revenue for the year.
So the cancellation of physical powwows 2020 due to COVID-19 threatened to bring about both significant financial and cultural losses. Fortunately, Dan Simonds, Whitney Rencountre and Stephanie Hebert stepped in to create the Social Distancing Powwow – a Facebook group that set out to keep the tradition going.
A Humble Beginning
Dan Simonds, a well-known artisan for his wompum work, had the original idea create the Social Distancing Powwow. On March 16th, he posted a video with his intentions, hoping to create a venue for dancers to dance, vendors to recoup their losses, and a forum to bring about a sense of community that powwows are so famous for.
Stephanie Hebert, a beadworker, dancer and member of the Mi'k Maq community was intrigued by the idea and reached out to ask if he needed a hand. They brought in Rencountre as an emcee and third co-founder to really get the group off the ground. By March 20th they had 50,000 members and by the third weekend 145,000 people in the group. Today, the group is 170,000+ strong, with members joining from around the world.
An Overwhelming Response
With so many people following the group, it has more than achieved the response the founders were hoping for. Dancers are out there dancing, and the group got big enough to launch a 9,000 strong marketplace for the thousands of vendors who are now participating.
"This is Indigenous innovation at work – and an especially important story to tell that shows us how Indigenous knowledge and tradition carries profound meaning and relevance in the modern context," says Dale Sturges, National Director, Indigenous Financial Services at RBC. "It's exactly the type of story we like to share each year in our annual publication, A Chosen Journey RBC"s Indigenous partnership report."
Vendors have messaged the founders to let them know that the Social Distancing Powwow has saved their business for the year. It has kept the lights on and roofs over their heads. Dancers, meanwhile, are posting performances from every province in Canada, every state in the U.S., almost every region in Mexico, and even in some parts of South America. Spectators hail from every European nation, as well as China, India, Australia and New Zealand.
The group has been approached by over 70 news outlets – from tribal, national, regional and international. "Even Vogue magazine covered us," says Hebert, demonstrating that this is a story appeals so far beyond the Indigenous community. "The powwow has been raising a lot of social questions," says Hebert. "It is opening social doors that have been shut."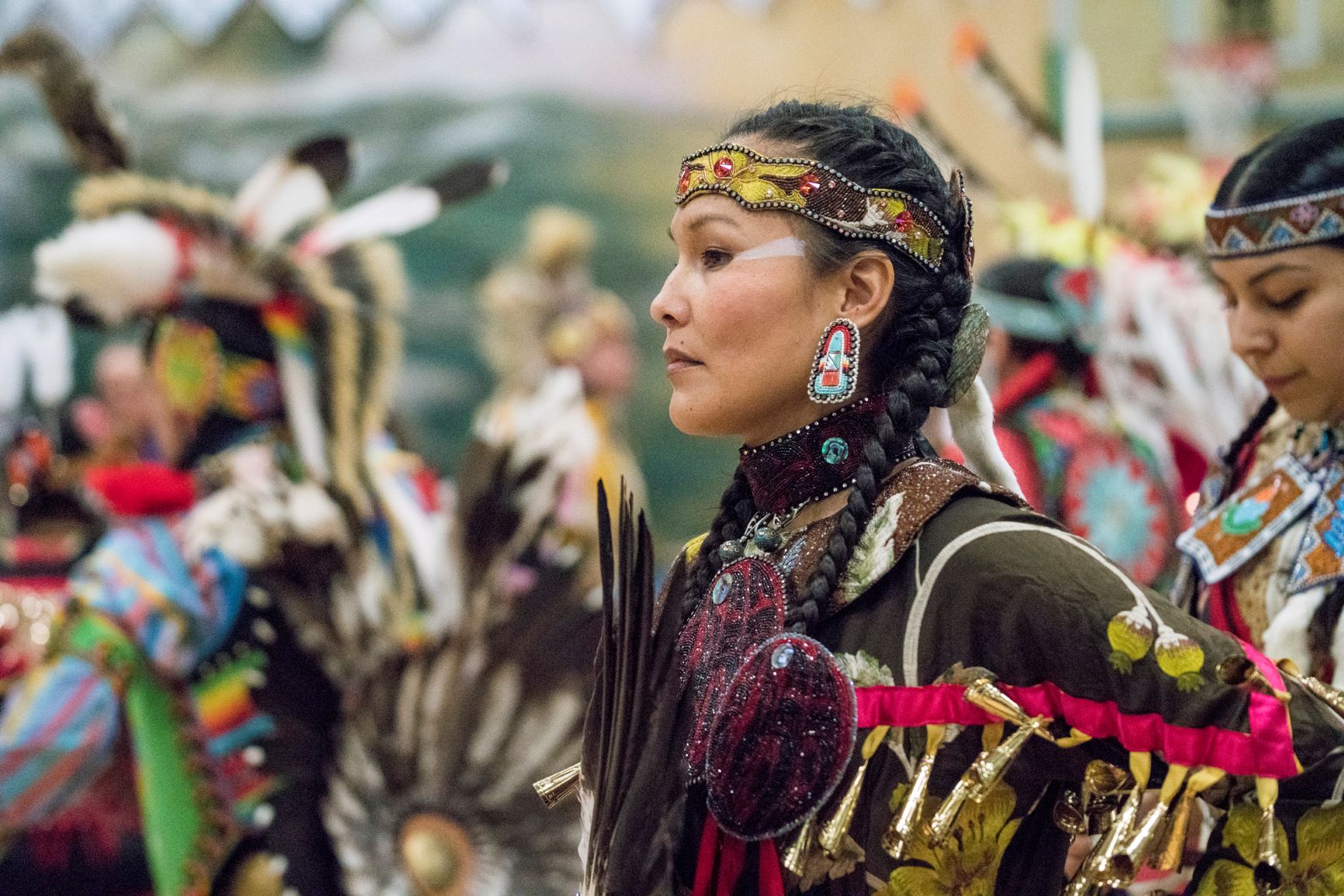 A New Way Forward
"Our culture in general is centered around togetherness," says Hebert. "To not be connected strikes a basal chord." Connectivity across generations is extremely important, which makes powwows so vital to maintaining the spirit of the community.
Physical powwows are certainly the preferred way to gather. But Hebert admits that the success of the virtual model can't be ignored. "I think this will open a new avenue of accessibility," she says. "If someone is ill or unable to travel, this may continue. I think it's a premise that can be applied to in-person and well-established powwows – a new angle to a physical event."
For now, the Social Distancing Powwow continues to live stream every weekend, bringing singing, dancing and a sense of community to people as they isolate in their homes. It is an important representation of the resilience of the Indigenous people, demonstrating that the culture will continue to be celebrated and acknowledged, even as the world changes.
And the group's tremendous following reveals that the spirit of the powwow is stronger than the physical barriers faced today – togetherness can in fact be achieved even as people remain apart.
This article is intended as general information only and is not to be relied upon as constituting legal, financial or other professional advice. A professional advisor should be consulted regarding your specific situation. Information presented is believed to be factual and up-to-date but we do not guarantee its accuracy and it should not be regarded as a complete analysis of the subjects discussed. All expressions of opinion reflect the judgment of the authors as of the date of publication and are subject to change. No endorsement of any third parties or their advice, opinions, information, products or services is expressly given or implied by Royal Bank of Canada or any of its affiliates.