Simone Elizabeth Saunders' work seeks to mend fractures in the social and cultural fabric of communities by celebrating female beauty, strength and resilience.
As a biracial child growing up in Calgary, Alberta, Simone Elizabeth Saunders noticed 'fractures' in the cultural communities that made up her world. She dreamed of creative ways to repair them. Today, Saunders is developing her own distinctive aesthetic, amplifying her political voice and projecting her vision for social justice through the brilliance of Art Nouveau and perfecting self-taught punch needle and tufting techniques.
"Creating art that depicts Black joy and showcases the beauty, strength and resilience of Black women in institutions that have been traditionally white-washed is vital community-building activity," Saunders says. "Offering young people positive reflections of themselves and their potential gives me a sense of fulfillment and artistic purpose."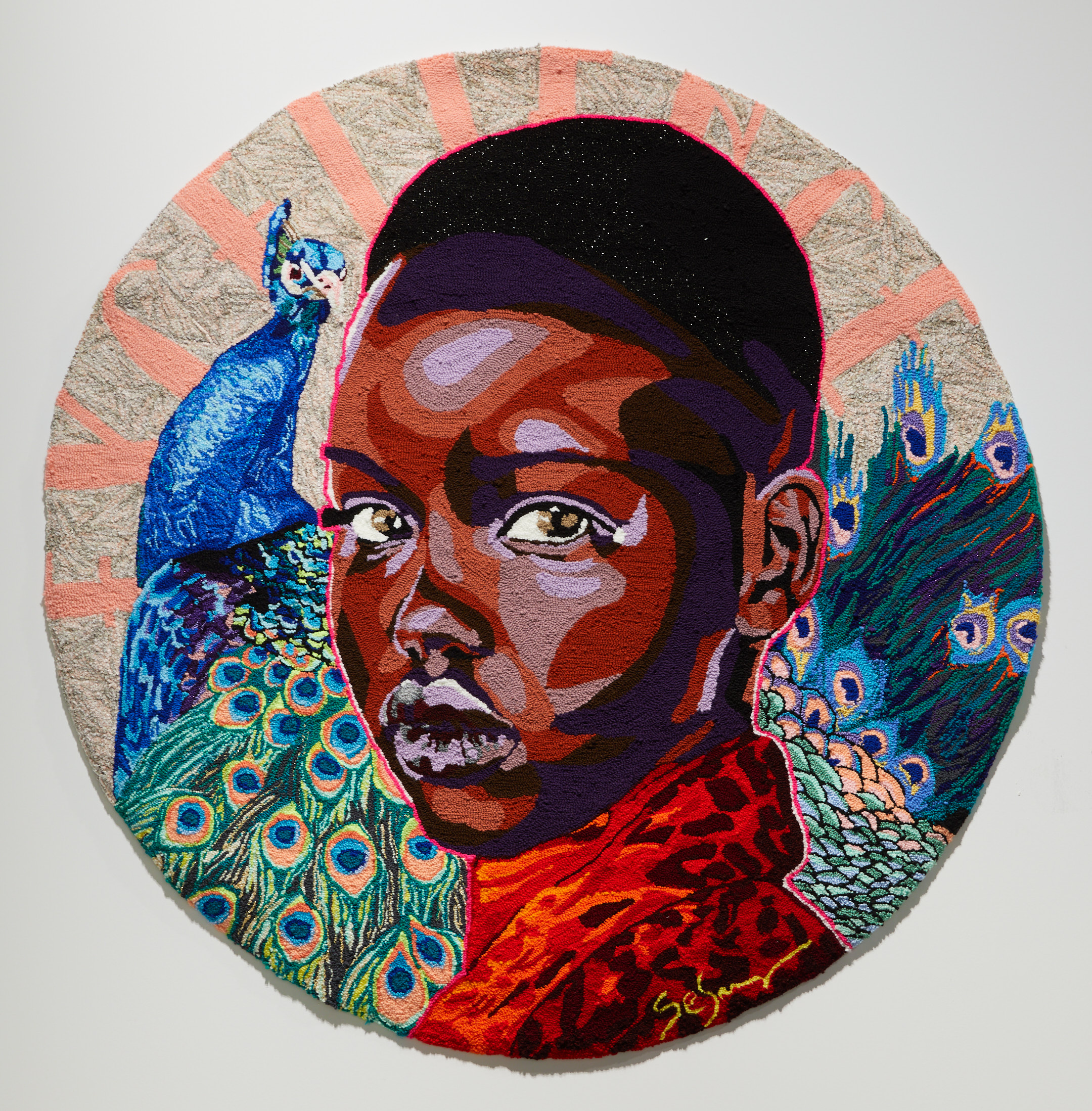 Image courtesy of Simone Elizabeth Saunders.
Saunders says both of her parents nurtured her evolution as an artist and activist. "My mother encouraged and supported my learning of various art forms — piano, painting, dance, drama — and encouraged me to explore their interconnections," Simone says. "My father's Jamaican heritage—Bob Marley, Black Uhuru, Peter Tosh — along with the soulfulness of Stevie Wonder and Al Green provided the musical soundtrack to my most cherished memories of home and my extended family. His lifelong devotion to Calgary's Black community helped me navigate the community fractures I encountered, shaped my understanding of the Black Diaspora and galvanized my commitment to female empowerment."
Saunders launched her artistic journey with a drama degree from the University of Alberta. Her passion for Shakespeare and Moliere led her to work in Toronto as an actor and set designer. But, smitten by the visual impact of set design, Saunders decided to pursue a second BFA in fibre arts at Alberta University of the Arts.
There, Saunders says, weaving and tufting captivated her: she found joy in the tactile nature of the process. Saunders also discovered her love of the punch needle–a tool commonly used to make rugs and pillows and cushions—and decided to use it for creating wall art. The punch needle technique was not offered in her program. So, by watching videos online, Saunders taught herself.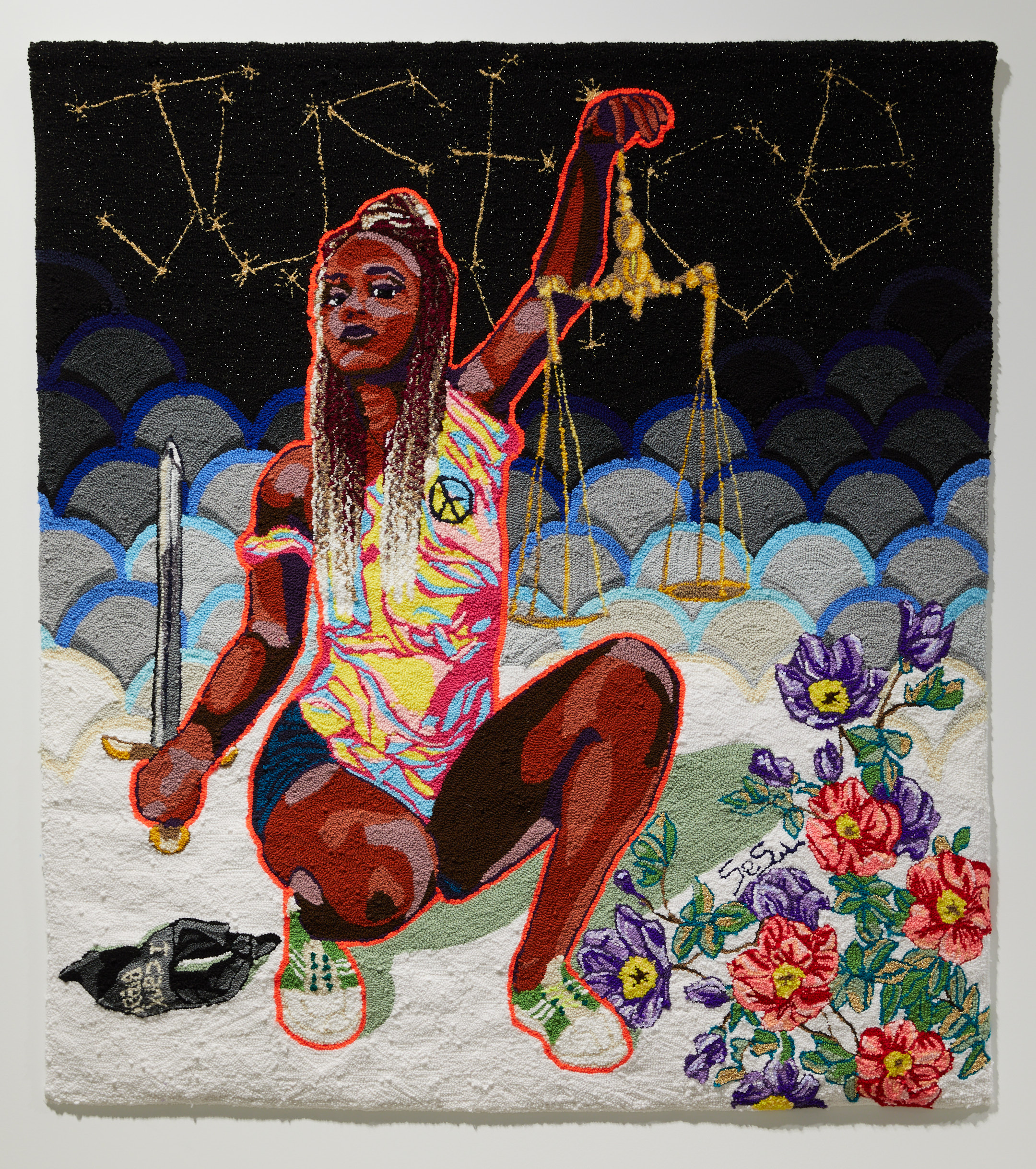 Image courtesy of Simone Elizabeth Saunders.
Creating her distinctive style: Black Nouveau
Stylistically, Saunders says her work reflects a constantly evolving process of adapting the effervescent colour traditions of Art Nouveau to create her own distinctive approach — Black Nouveau.
"For me, it is painting vibrantly and joyfully with thread," Saunders explains. "It integrates weaving with my love of drawing."
Since graduating with distinction from the Alberta University of the Arts in 2020, she's won $15,000 in a national First Art competition, had her work showcased by the CBC and appeared in Canadian House and Home Magazine as well as various media outlets in the United States, England and the Netherlands.
Contemporary Calgary mounted Saunders' exhibition u•n•i•t•y earlier this year through RBC's Emerging Artists program. The Textile Museum of Canada will host a showing in the fall of 2022, in Toronto. And a new presentation is being planned for New York early next year.
"I want women in general — Black women in particular — to be seen, heard and respected," Saunders says, articulating a vision to mend fractures and rejuvenate the various artistic communities. "I want to see women fairly represented in mainstream institutions whose curators, directors and leaders are still the predominantly white, male voices from my youth."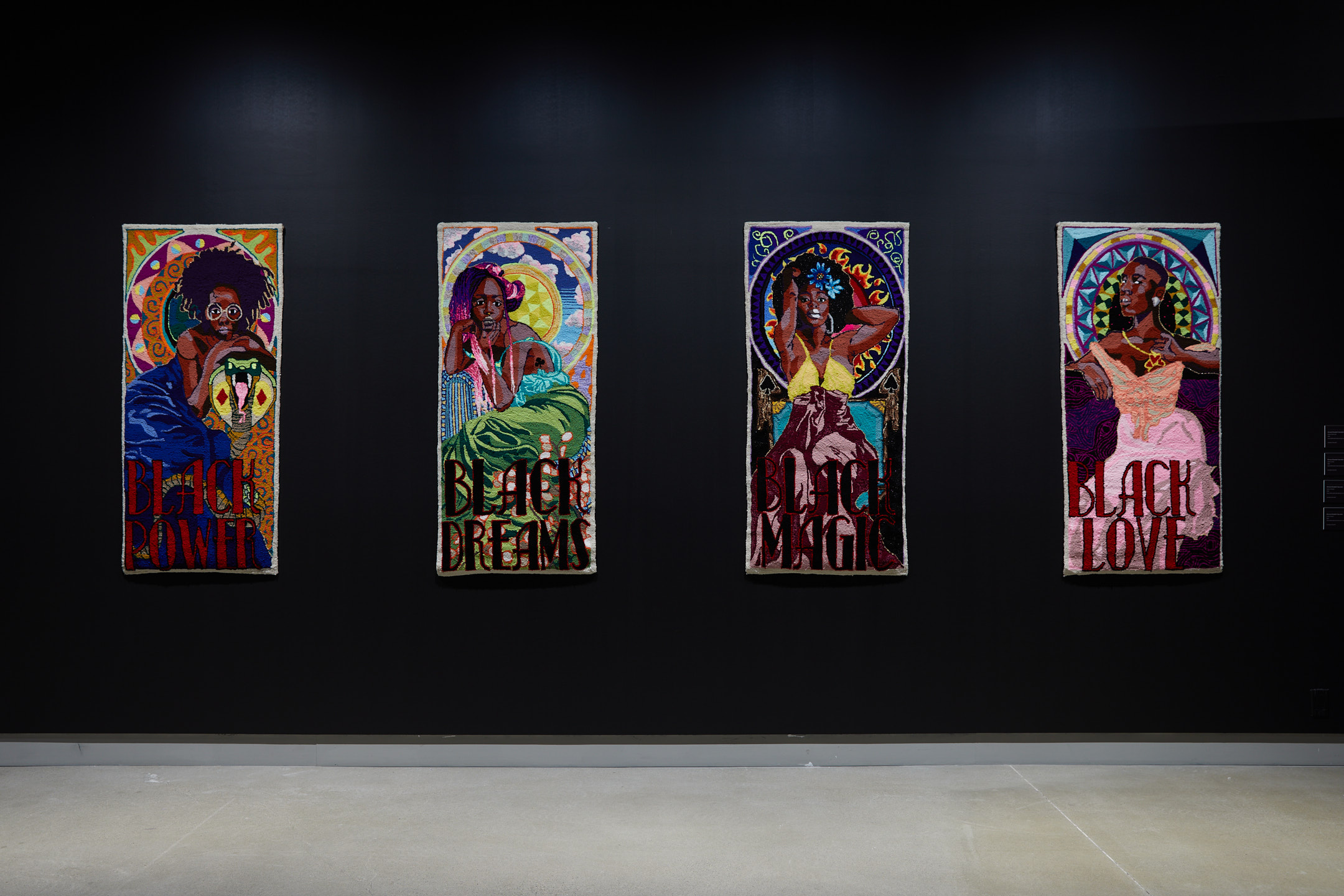 Image courtesy of Simone Elizabeth Saunders.
Saunders says a more diverse community of visionaries in the arts could become an unstoppable force for cultural renewal, igniting sparks of hope and vitality in marginalized communities while inspiring other mainstream leaders to help pave a smoother, more equitable path to social justice.
"My art celebrates Black leaders, champions and advocates for social justice. I explore colour and culture to honour Black women who defy historical racialized and sexualized narratives, resist injustice and show the power and beauty within us," says Saunders, describing her iconic portraits of artists such as Alicia Keys, Beyoncé, Serena Williams and Nina Simone—a small sampling of masterpieces currently captivating audiences locally and internationally.
"My textiles are designed to foster political activism — encouraging young people to look ahead and strive for change."
Learn more about how RBC supports the art community and deeply values the role of artists as innovators through the RBC Emerging Artists Program.
This article is intended as general information only and is not to be relied upon as constituting legal, financial or other professional advice. A professional advisor should be consulted regarding your specific situation. Information presented is believed to be factual and up-to-date but we do not guarantee its accuracy and it should not be regarded as a complete analysis of the subjects discussed. All expressions of opinion reflect the judgment of the authors as of the date of publication and are subject to change. No endorsement of any third parties or their advice, opinions, information, products or services is expressly given or implied by Royal Bank of Canada or any of its affiliates.