While the pros may have made the headlines at this year's RBC Canadian Open, off the fairway, golf programs for youth continue to work to provide greater opportunities and access to the sport.
With its 2022 return, Canada's premier golf tournament provided many exciting golf moments. Defending champ Rory McIlroy successfully kept his championship title amidst competition from golf luminaries like Justin Thomas, Corey Conners and Tony Finau.
Even though the 111th Canadian Open is a family event — providing entertainment and recreation for Canadians from all walks of life — many don't know about the special youth initiatives making the RBC Canadian Open more than a championship.
Youth Empowerment & The Game of Golf
While the game's biggest names were chasing the $8.5 million purse, a youth development non-profit, First Tee Ontario, offered virtual golf simulators, a putting green and expert training to anyone between 6-18.
Empowering youth and helping them develop life skills and resiliency through golf is First Tee's mission.
"Golf is the perfect sport to explore life skills like honesty, respect and sportsmanship. First Tee is using golf as a vehicle to build game-changers within kid's communities," says Kelly Dowdy, community relations manager at Golf Canada. First Tee provides six- to eight-week programs that teach the game's fundamentals to young golfers. In the process of learning the art of a good backswing or bunker shot, First Tee helps motivates young players to pursue their goals while growing through challenges and collaborating with others.
Improving Access For Under-Represented Communities
First Tee also aims to remove barriers that can prevent access to the sport. First Tee's locations are chosen in communities with a greater density of low-income families and under-represented populations versus the national average.
But location is only one half of the accessibility equation: affordability is the other. That's where Youth on Course comes in. Youth on Course subsidizes rounds of golf for young people, lowering greens fees to $5 or less on more than 1,700 courses. In addition to greens fees, They provide career prep, leadership and scholarship programs for youth.
The RBC Community Junior Golf initiative is working to combine the First Tee and Youth on Course programs at golf courses across the nation, pledging $1 million in funding over the next three years to help underprivileged Canadian youth learn the joys of golf at an affordable price.
On Wednesday, pro golfer and Team RBC ambassador Harold Varner III made a surprise appearance at the First Tee tent to hang out with the kids and support RBC Community Junior Golf's mission.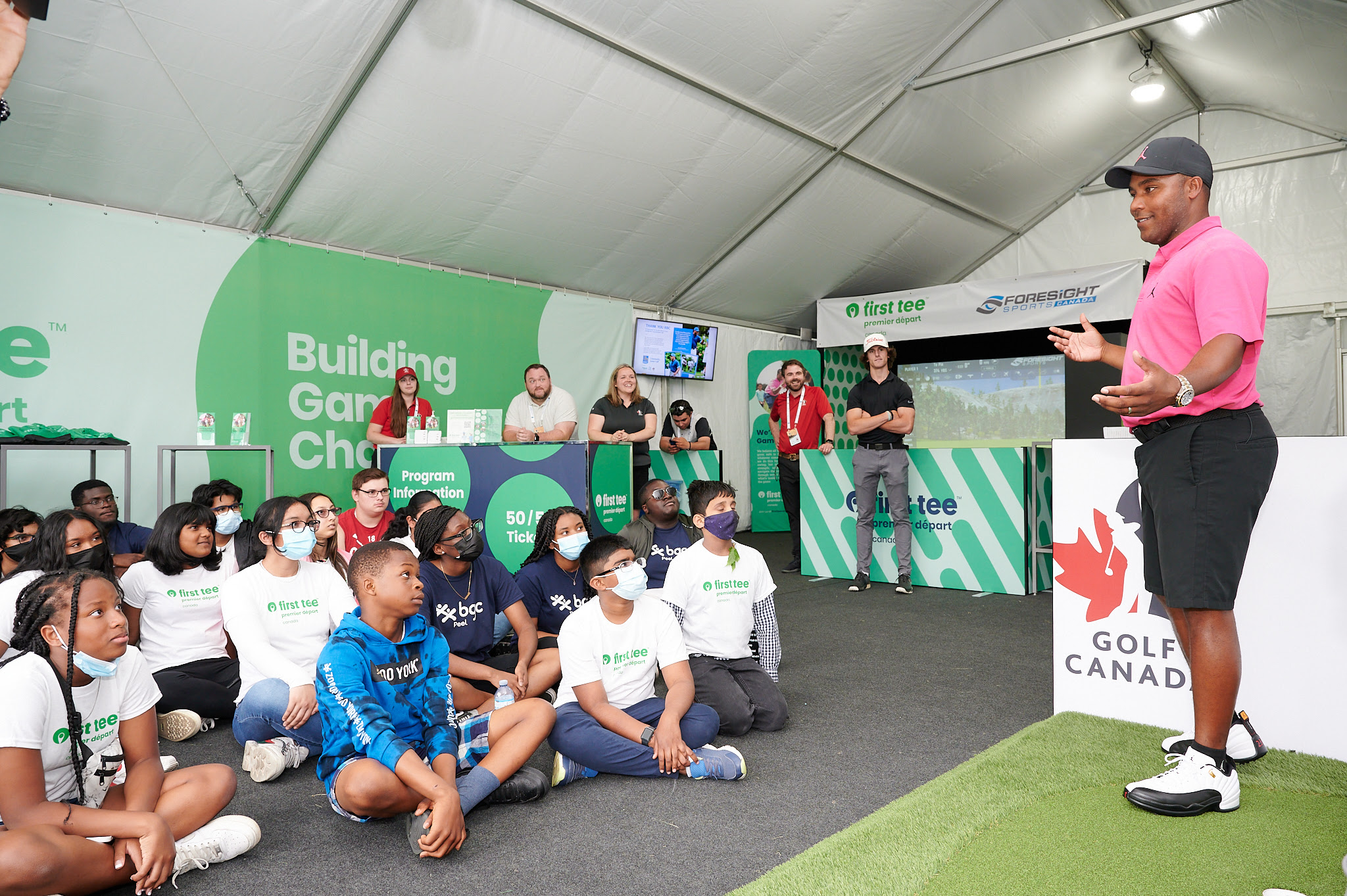 PHOTO: FIRST TEE — ONTARIO
Pro golfer Harold Varner III makes a surprise appearance to speak with the youth participants at the First Tee tent during the RBC Canadian Open.
"I've always been passionate about introducing young people to golf, and it's really special to give back during my first Canadian Open on Team RBC," Varner says. "Interacting with the group today, and seeing how excited they were to learn more about the sport, only ignited that passion more. I'm proud to be a part of RBC Community Junior Golf, which is providing greater access to the sport to young people in underrepresented communities across Canada."
With help from RBC & Golf Canada, the goal is to create First Tee and Youth on Course chapters at golf courses in every region of the country by the end of 2022 — providing better access and helping grow the game of golf across Canada.
"A lot of these courses are just signing up and getting ready. They might be starting their first First Tee sessions in the fall," Kelly Dowdy says. "We're on a rocket ship, and we've just launched."
This article is intended as general information only and is not to be relied upon as constituting legal, financial or other professional advice. A professional advisor should be consulted regarding your specific situation. Information presented is believed to be factual and up-to-date but we do not guarantee its accuracy and it should not be regarded as a complete analysis of the subjects discussed. All expressions of opinion reflect the judgment of the authors as of the date of publication and are subject to change. No endorsement of any third parties or their advice, opinions, information, products or services is expressly given or implied by Royal Bank of Canada or any of its affiliates.