One local non-profit lifts up both youth and community to address Canada's housing crisis.
Thousands of homeless Canadians off the streets, hundreds of youth employed, and a social housing model that's self-sufficient, eco-friendly and economically beneficial?
It may sound ambitious, but Canadian non-profit Raising the Roof has developed an initiative program to help turn this vision into reality. Called Reside, the program aims to repurpose vacant properties into long-term, low-income housing.
Demand for Housing
Up to 35,000 Canadians experience homelessness on any given night according to a 2016 study by The Homeless Hub. Over 5,000 people in the Greater Toronto Area (GTA) alone experience homelessness — either temporarily or regularly — and these numbers may be increasing.
"My guess is, with the housing crunch that we have, rising costs and different systems that are broken, that number has increased significantly," says Raising the Roof CEO Michael Braithwaite.
Reside's goal is to source and renovate 10 homes over the next three years, training and employing at-risk youth to help with the builds. Once complete, each location will house 20-25 people, with the average person staying an estimated four years. The revenue generated will, in turn, fund future homes, thus helping to sustain the program.
It's a powerful combination — Canadian youth receive training and employment, homeless Canadians find access to affordable housing, and local communities create new ways to fight against homelessness.
A Stepping Stone for At-Risk Youth
Reside has partnered with Building Up, a social enterprise which hires and teaches young people ages 18 and older to learn trades through construction contracts. Building Up will use the Reside homes as training opportunities for Canadians who have faced barriers to employment, instructing them on everything from demolition and drywall installation, to painting and plumbing.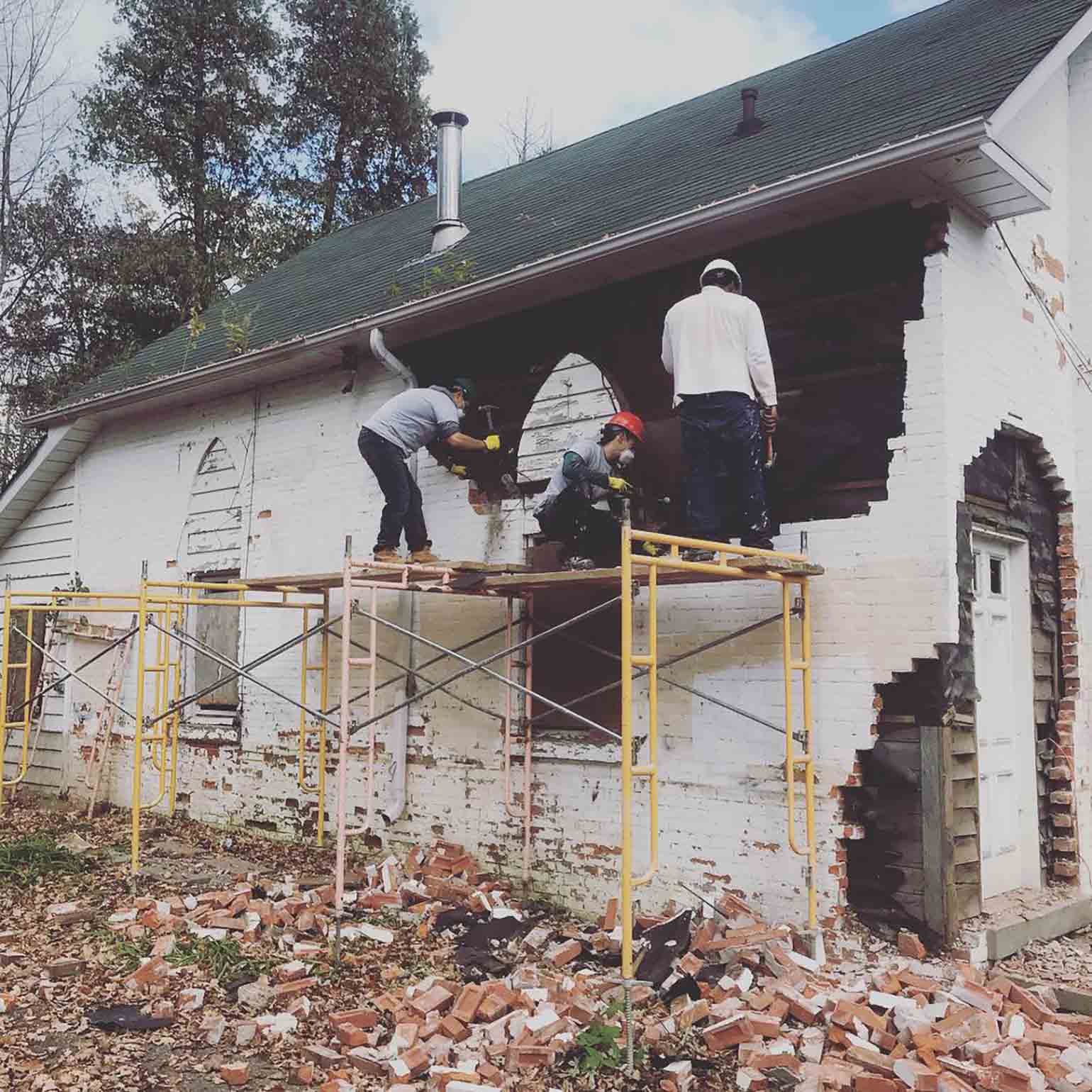 "You're creating affordable housing, you're creating youth employment, and with that you're preventing youth from falling into homelessness," says Braithwaite.
Participants also takeaway important lessons in teamwork, communication and leadership, valuable skills that reach far beyond the toolbox. Perhaps most important of all is their newfound confidence.
"For a lot of these youth, they've never had respect from an adult in their life," says Braithwaite. "They've been criticized, or brought down, or maybe some of them had a troubled past. Reside gives them the opportunity to interact with adults and feel good."
In addition, the homes will be environmentally friendly and participants receive the benefit of learning green skills around insulation, septic systems, solar energy and more, giving them a potential "leg up" on others in the industry.
What Goes Around Comes Around
Two of these homes are currently under development by Raising the Roof in Toronto, with plans to scale the program nationally beginning in Winnipeg in 2019. Braithwaite notes there's an important financial benefit to consider, too.
"When you go into emergency shelters it's extremely expensive. When you get checked into a hospital it's extremely expensive," he says. "Anyone who funds Reside, like RBC does, is saving the economy money on the prevention of anyone having to spend time on the streets."
While the program is still in its infancy, it's already making an impact on those involved. Braithwaite recalls a full-circle moment where one participant, Daniel, expressed his gratitude.
"He said, 'This program is going to help me live comfortably and have a life. But the fact that the work I'm doing, is doing the exact same for someone else, is an incredible feeling. I've always wanted to give back, but thought I'd never have the means, and this is giving me that opportunity.'"
How to Join the Cause
If you own a vacant property, Reside certainly offers a unique way to put your idle investment to great use in your local community. But there are other ways to assist the cause as well — consider offering your time and talents to help turn these houses into homes.
"It's a great team-building exercise," says Braithwaite, "Because at the end of the day, you've done something that's going to change the lives of people for a long, long time and it brings your group closer together."
Groups can volunteer their time helping to build, garden or paint homes, or help raise money to purchase furniture.
Individuals can teach the program's youth new skills.
Wholesalers might consider donations of roofing supplies, furnaces, appliances and more to help the organization further save on costs.
Want to get involved? Connect with Raising the Roof to get started.
This article is intended as general information only and is not to be relied upon as constituting legal, financial or other professional advice. A professional advisor should be consulted regarding your specific situation. Information presented is believed to be factual and up-to-date but we do not guarantee its accuracy and it should not be regarded as a complete analysis of the subjects discussed. All expressions of opinion reflect the judgment of the authors as of the date of publication and are subject to change. No endorsement of any third parties or their advice, opinions, information, products or services is expressly given or implied by Royal Bank of Canada or any of its affiliates.