As Pride Month gets underway, RBC connected with Pride at Work Canada to learn more about the ways they empower employers to build safe and inclusive workplaces through programming, events and targeted guidance.
This article originally appeared on Diversity & Inclusion.
---
Pride at Work Canada is a member services agency for employers, which offers education and guidance to organizations that make a commitment to supporting LGBT+ inclusion. Their vision is a Canada where everyone can achieve their full potential at work, regardless of gender expression, gender identity and sexual orientation. In a recent discussion, Executive Director Colin Druhan shares the work the organization does to help LGBT+ individuals enter and remain in the workforce by engaging and educating Canada's employers.
Druhan, who has seen first-hand some of the struggles that LGBT+ people have endured in entering and succeeding in the job market, is passionate about breaking down barriers to employment. "I often get asked by employers what they can do to help LGBT+ people enter the workforce," says Druhan. "I always say: You can hire them. There is no magical solution."
Indeed, it's in the hands of employers to create workplaces that celebrate and include all employees – from the point of recruitment to providing opportunities for advancement. Recent data compiled by McKinsey shows that many LGBT+ employees face discrimination, discomfort, and even danger in the workplace, despite growing emphasis on workplace Diversity & Inclusion initiatives. And the 2020 Trans Pulse Canada Survey shows that while 89% of trans people have at least some college or university education, about half make $30,000 per year or less.
This is where Pride at Work Canada comes in, aiming to eliminate inequity for LGBT+ employees and job seekers. "Employers have a lot to learn," says Druhan. "Fortunately, there are a lot of employers who want to learn, as our organization works with over 170 national and regional members, collectively employing over millions of people across Canada.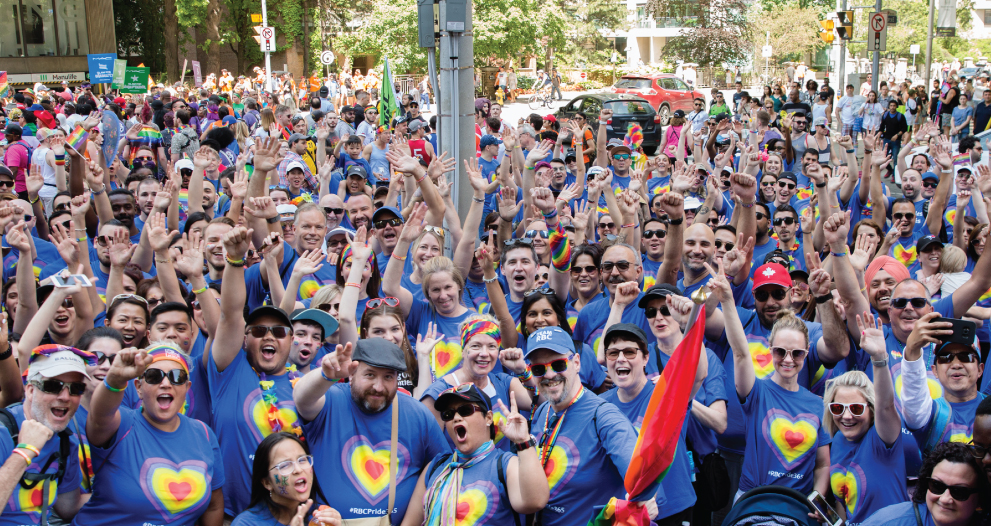 Providing practical solutions
Pride at Work Canada is known for providing practical solutions and programming that that share best practices, provoke thought and inspire action. "We have community partners who offer more celebratory events, and we refer employers to them when they're looking for social activities. We focus on delivering productive content and bringing Diversity, Equity and Inclusion (DEI) experts to the table."
While a lot of their content is relevant to a broad audience, Druhan explains that there isn't a one-size-fits-all approach to employer engagement. "We work with corporations, hospitals and unionized manufacturing organizations," he says by way of example. "Each one of those workplaces propose different challenges, so we have to be agile and understand how to deliver value to different types of businesses." They provide customized guidance whenever it's needed, working one-on-one with employers to identify the solutions that would be right for them.
They also maintain connections with community groups and independent consultants to complement the expertise they have in house, making sure members get a well-rounded view. For instance, last year their most-attended event ever focused on two-spirit inclusion in the workplace, and the team worked with two-spirit organizations to put the event on. "We want to ensure we bring in the right expertise," explains Druhan.
Measuring success
Druhan and his team are often asked about how to measure DEI success. "Organizations know how to benchmark success in a sales context," says Druhan, "but it's more difficult in the contexts of Diversity, Equity and Inclusion." He advises companies to set objectives. "If you don't, you're never going to know whether or not you're successful in your initiatives. It's not enough to put up a rainbow flag in June – there's no way of measuring that effort to find out if it improved workplace inclusion or not."
So how does a company measure success? Druhan suggests that training is a good place to start, as a company can easily measure its impact, surveying knowledge before and after a training session, and asking specific questions such as "did this help you interact with customers and clients better? Are you better equipped to help people feel more included?"
He also recommends working with the demographic data of different departments and cross-referencing that with compensation data – the same way one would do a pay equity analysis on gender. "You want to find out where you stand with queer and trans employees," he says. "Do you have good representation in some departments versus others? Do you know why? Are there different strategies in place that are working better than others? These are the types of questions you want to find the answers for."
He acknowledges that demographic data by department may not be readily available and encourages employers to find out how their employees identify. "A lot of companies tend to default to 'how many people from X community do we have on the website," he says. "That's not always helpful as their gender expression, gender identity or sexual orientation may be visible or not. We want employers to find out who their people are."
Virtual ProPride 2021: Beyond Diversity, Equity and Inclusion
Colin Druhan and his team are always looking at what's next for their discipline, and the conversations they've been having over the last year have focused on the evolution of Diversity, Equity and Inclusion. This year, in their virtual ProPride series, they will address the movement beyond DEI to Belonging, Dignity and Justice, with a virtual panel series that aims to bring to light how these principles can reach into the workplace.
They offer four public events: Beyond Inclusion Towards Belonging, Beyond Diversity Towards Dignity, Beyond Equity Towards Justice, and Towards Belonging, Dignity and Justice (French) as well as a number of sessions exclusively for members.
One of the members sessions Druhan is most excited about centres around effective Pride communications, which focuses on making sure that challenges for the most marginalized communities are moved to the forefront. "We often hear these really arresting stats, which are followed by a footnote that shows that conditions are even worse for women, or even worse for Indigenous communities or for people with disabilities. We want to move that footnote to the front and address the most urgent problem first," he says, explaining that BIPOC, women and bisexual people face the most discrimination.
They're also aiming to hold practical sessions on Pride and create engaging activities that have more impact. "Gone are the days of rainbow cupcakes," says Druhan. Rather, their team is focused on both educating people about the challenges but also celebrating achievements. "We don't want to be all doom and gloom," he says. "We want to give people the tools they need to have better, more positive interactions at work. We want everyone to take part in creating an inclusive environment."
Around the world, Pride is celebrated in various forms – from parties to parades to panel discussions. And while the majority of celebrations take place in June, Pride month has evolved in both theme and timing. Pride at Work Canada is running sessions from June to August, aiming to keep organizations engaged – whether they're current members or employers simply interested in learning about some of the most important topics in LGBT+ workplace inclusion.
In other words, everyone is invited.
This article is intended as general information only and is not to be relied upon as constituting legal, financial or other professional advice. A professional advisor should be consulted regarding your specific situation. Information presented is believed to be factual and up-to-date but we do not guarantee its accuracy and it should not be regarded as a complete analysis of the subjects discussed. All expressions of opinion reflect the judgment of the authors as of the date of publication and are subject to change. No endorsement of any third parties or their advice, opinions, information, products or services is expressly given or implied by Royal Bank of Canada or any of its affiliates.