RBC's IDEA Lacrosse Festival is helping build inclusivity for under-represented youth in Nova Scotia by reflecting the cultural diversity in the province.
Two years ago, Mervat Adel Ismail knew nothing about lacrosse. Her husband and children told her a lot about soccer, basketball and hockey. But she and her family knew nothing about lacrosse. Today, she's an avid lacrosse player with aspirations to become a referee and coach.
Mervat's efforts were instrumental in making Lacrosse Nova Scotia's first IDEA (Inclusion, Diversity, Equity and Anti-Racism) Lacrosse Festival a success. She's leveraging her community leadership skills to help break down barriers for racialized and marginalized communities.
Creating stronger, healthier communities
The two-day RBC IDEA Lacrosse Festival was created to welcome potential participants — primarily parents and children from Indigenous, Black, LGBTQ+, Francophone, Muslim and other marginalized communities — to watch or try the sport. "Inviting everyone to share an enjoyable experience is an effective way to teach communities to appreciate each other's differences and work together for a common purpose. Sports like lacrosse are a good way to do that."
Some marginalized groups may feel unwelcome, Mervat explains, because they were not always welcome historically. But lack of knowledge is a bigger barrier: information is not always available and people might not know where to find it.
"Outreach is key to starting the inclusion process," Mervat says. "Inclusion is vital to creating stronger, healthier communities for everyone — finding ways to stimulate two-way communication flows between mainstream and marginalized communities who may both be willing to engage but are not truly aware of each other."
Programs like the RBC IDEA Lacrosse Festival can be a step toward creating more cultural visibility within communities. Once the awareness bridge is crossed, other accessibility barriers such as finances or geography — making amenities available — need to be addressed. To sustain inclusion, communities need to develop the cultural competence to appreciate differences and preferences in dress, customs, and language.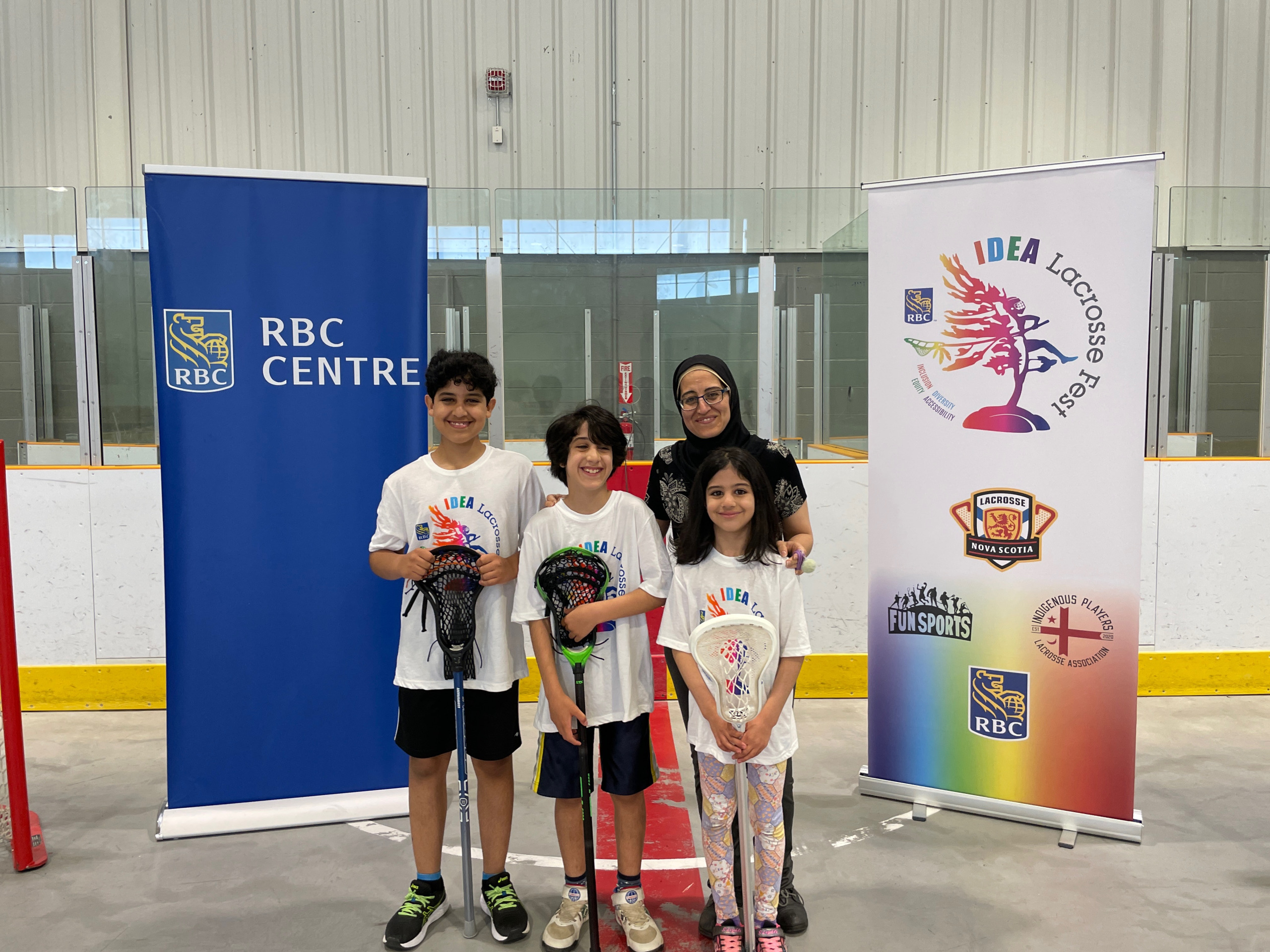 Image: Yassin, Sadn, Noor and Mervat Adel Ismail; Lacrosse Nova Scotia
New Canadians are vital to community health
Mervat and her husband Ahmed moved to Canada from Egypt 15 years ago. Their sons Yassin, 13, Sadn, 10, and Noor, 7, were born in Canada. Their family has been in Nova Scotia for the last 8 years after living in Montreal and Gatineau. But they had never encountered lacrosse.
"Lacrosse is fast-paced and exciting. You can't look away for a second," Mervat says.
After a provincial lacrosse team visited Sadn's school and gave away tickets to one of their games, he attended a game. It sparked his interest. He persuaded Mervat to accompany him to recreational tryouts. The family became hooked on lacrosse.
Mervat now volunteers on the Board of Lacrosse Nova Scotia and helped develop the festival after wondering why lacrosse — which has Indigenous origins — was not attracting more Indigenous players. The challenge was a perfect match for her skill set: Fluent in three languages — English, French and Arabic — Mervat had worked in the school system as well as in the Francophone and Newcomer communities, helping students and their families feel welcome, oriented and ready to succeed.
Promoting a sport she's passionate about is a bonus
Both Yassin and Noor have joined Sadn, and all are now avid box and field (outdoor) lacrosse players. Mervat herself hopes to get more experience playing lacrosse, perhaps with other women her age, before trying refereeing and coaching. Now that she knows her lacrosse path is mapped, she feels her next challenge is getting Ahmed — and many other enthusiastic spectators like him — to play.
The RBC IDEA Lacrosse Festival is one blueprint for success: Parents can watch their children enjoy lacrosse and witness community inclusiveness in the making. "Inclusive community building is a rewarding step on the path to social justice," Mervat says, "A vigorous game of lacrosse is an exciting way to get there."
Creating a positive social impact is integral to how we do business. Learn more about how RBC apart is how we bring our company and our networks together to tackle the big issues of today and tomorrow:
This article is intended as general information only and is not to be relied upon as constituting legal, financial or other professional advice. A professional advisor should be consulted regarding your specific situation. Information presented is believed to be factual and up-to-date but we do not guarantee its accuracy and it should not be regarded as a complete analysis of the subjects discussed. All expressions of opinion reflect the judgment of the authors as of the date of publication and are subject to change. No endorsement of any third parties or their advice, opinions, information, products or services is expressly given or implied by Royal Bank of Canada or any of its affiliates.