The 19th Annual RBC Canadian Painting Competition brings the country's top talent together.
For the young artist, creation hinges on seeking out new perspectives. As Brian Hunter, the Winnipeg artist and winner of last year's RBC Canadian Painting Competition explained, surviving as an artist is very similar to producing the artwork itself.
"You're always trying to approach it from another angle, to figure out how it's going to work," said Hunter. "But you want it to be a challenge – that's what makes it interesting."
This year's RBC Canadian Painting Competition pulls together new perspectives from 15 emerging artists across the country, connecting them with finalists and past winners, opening the doorway for cross-pollination and collaboration as well as creating a forum for their unique artistic vision. The finalists were selected by an expert panel consisting of seven respected members of the visual-arts community: Mireille Eagan, Daisy Desrosiers, Frances Loeffler, Sky Glabush, Michelle Jacques, Joseph Tisiga and Sascha Braunig,
Now in its 19th year, the RBC Canadian Painting Competition, with support from the Canadian Art Foundation, has been a cornerstone for the RBC Emerging Artists Project – which aims to foster the talent of emerging Canadian artists in the early stages of their career with financial support, mentorship and exposure.
"It not only provides much needed financial support but it also offers a tremendous opportunity for artists to exhibit their work at prominent galleries across the country," David Balzer, Canadian Art's Editor-In Chief and Co-Publisher said during the announcement of the finalists. "We continue to be impressed by the emerging talent in this country and are thrilled with this year's finalists."
This ecosystem of support, made up of curators, patrons and gallerists, goes beyond just impacting the artists themselves; it filters out to Canadians on the whole. According to a report by Hill Strategies (the most recent data on the impact of culture in Canada), Canada's culture industries generated $61.7 billion in 2014, which works out to 3.3 per cent of the country's GDP, and employs over 700,000 people.
If a dynamic culture is the underpinning of national identity, then the 15 finalists for the RBC Canadian Painting Competition are bastions of Canada's artistic future.
Here's a preview of the 15 young artists and their works which have been selected to be exhibited at the National Gallery of Canada between September 1 and October 22. Stay tuned for the winner's announcement on October 17.
Michael Freeman Badour
Patrick's Boots, 2017
Oil on muslin
48 x 36 inches
Michael Freeman Badour has focused his eye on the limits and biases of language, and how representation can be used as a tool for understanding. His piece Patrick's Boots is inspired by a photograph of his brother's childhood boots and Van Gogh's paintings of his own boots. "I believe that a pair of old boots is a great symbol of past communication between one man and the world," he writes, "and a symbol for how the world and it's objects come into one's existence."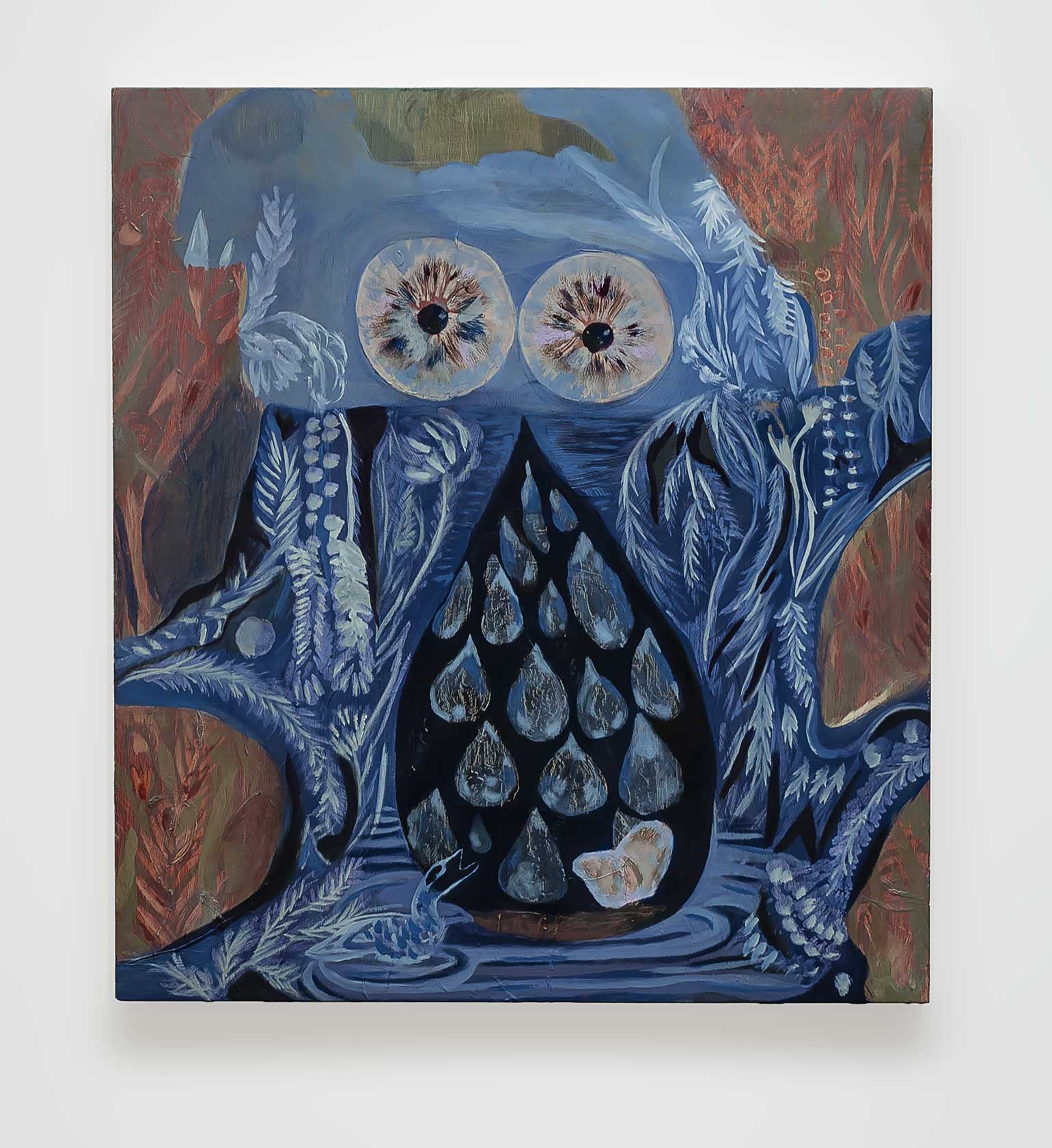 Amanda Boulos
Duckie Wants Water, 2017
Oil on panel
28 x 25 inches
Palestinian misplacement and nomadism are key themes in Amanda Boulos' work, with the artist looking to visually reproduce broken and fragmented dialogues from the Palestinine people as surreal and chilling paintings. "My work emphasizes the complicated, diverse and ever-changing nature of Palestinian history and identity," she writes. "I believe that painting provides a plural space with the flexibility to intervene in conversations about Middle Eastern politics, Palestinian identities and the diaspora."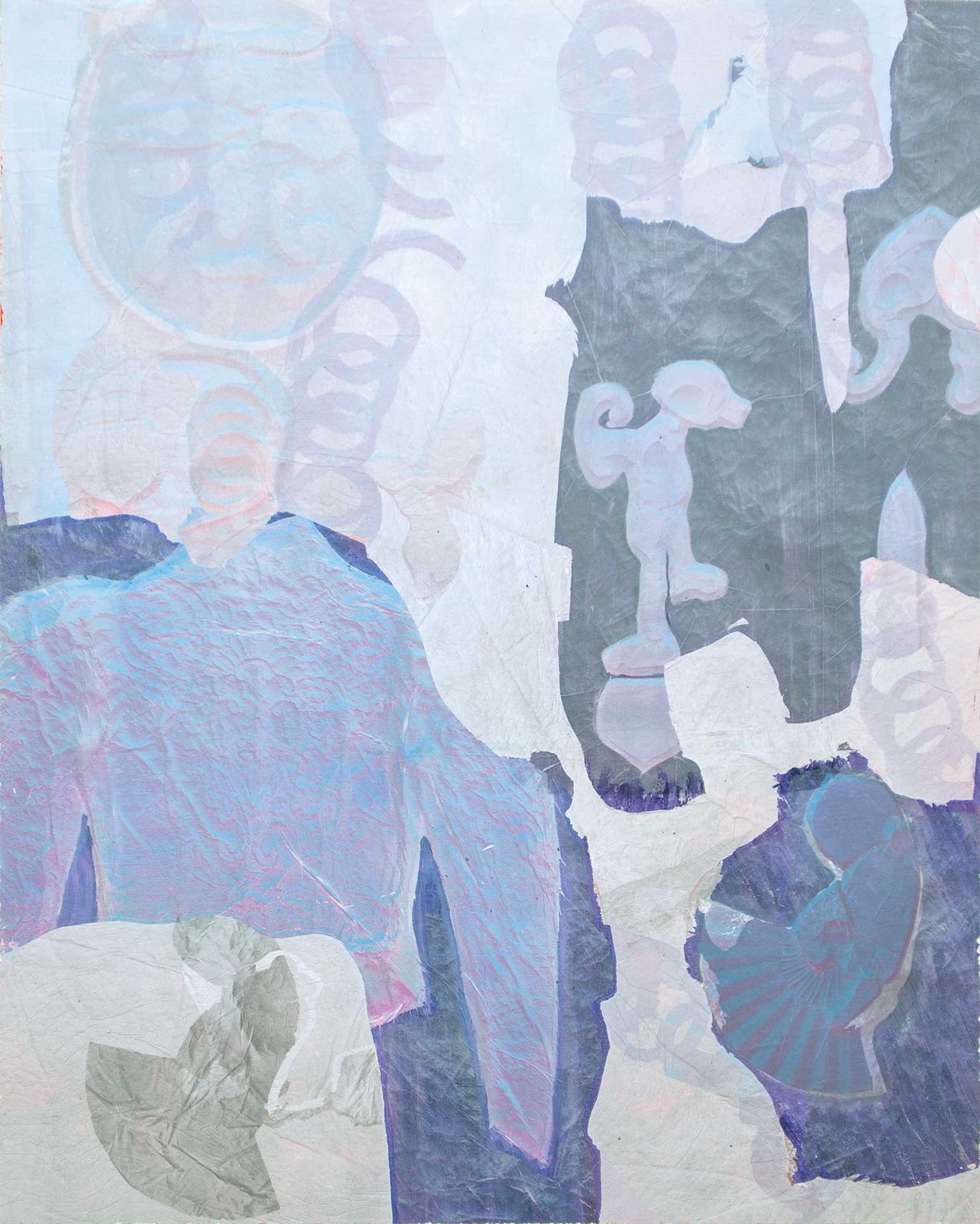 Teto Elsiddique
neckrings, a breezy thing, 2017
Acrylic on canvas
60 x 48 inches
Teto Elsiddique is a past finalist of the RBC CPC having contributed in 2014. Drawing from his experience as a "child of globalization" – he was born in Manchester and raised in Sudan and Canada – Elsiddique's paintings draw from artifacts of life: children's developmental toys, model train tracks, wed dinging dresses and other heirlooms, evoking the "fragmentation of collage. "My work," he writes, "wrestles with the index of past cultural identifiers that have transgressed borders, leaving echoes in our everyday language, gestures, and material existence."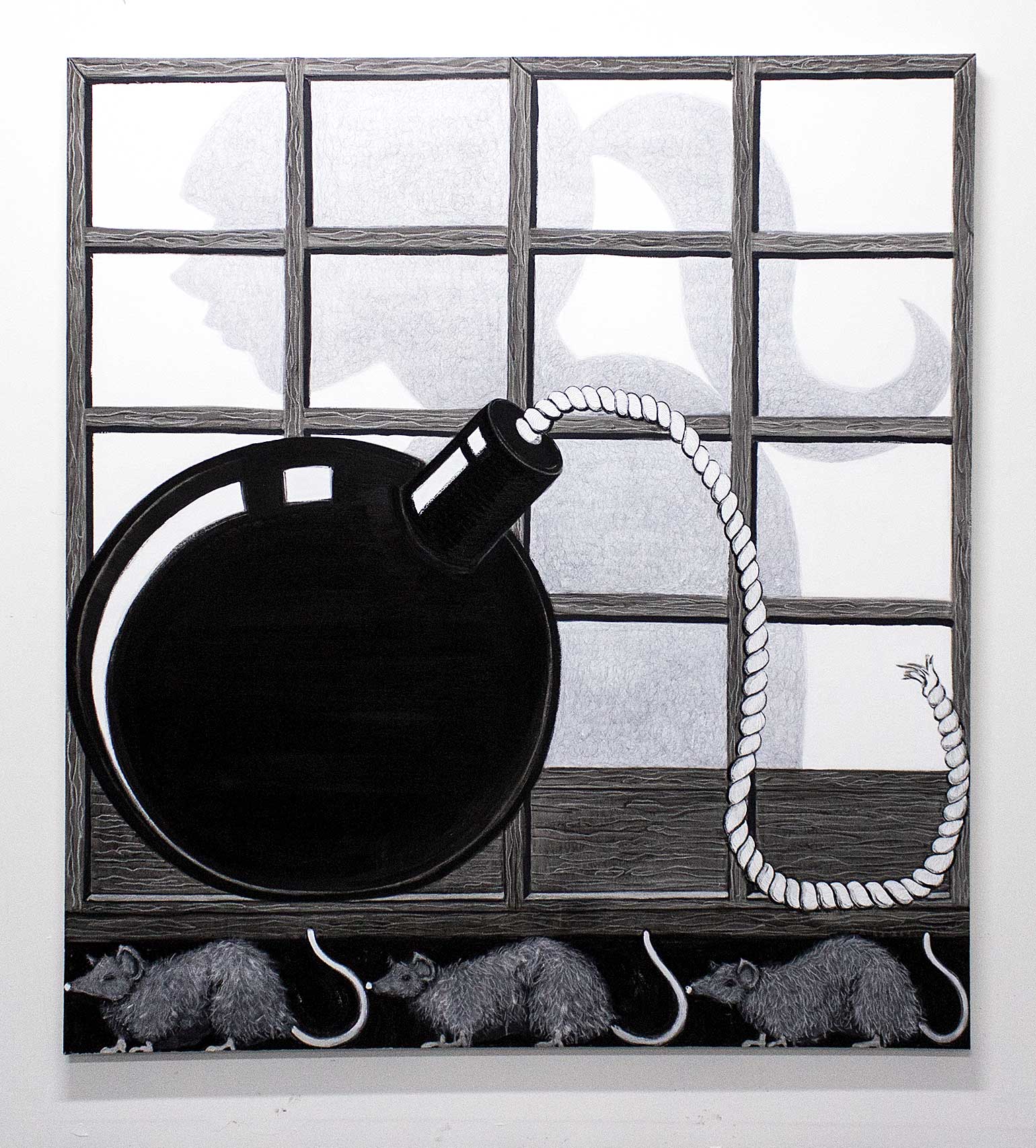 Cindy Ji Hye Kim
Conspiracy Theory, 2017
Acrylic, ink, pastel and oil on canvas
68 x 62 inches
With a background in illustration and animation, Cindy Ji Hye Kim most recent body of work – inspired by Korean folk-art traditions and East Asian cinema – explores "the psychological space of perception and memory." "Playing with pictorial depth and visual symbols," she writes, "I'm interested in stepping in and out of the picture as an observer, a voyeur, and a witness." Conspiracy Theory is from a graphite and ink drawing series entitled Foot Steps.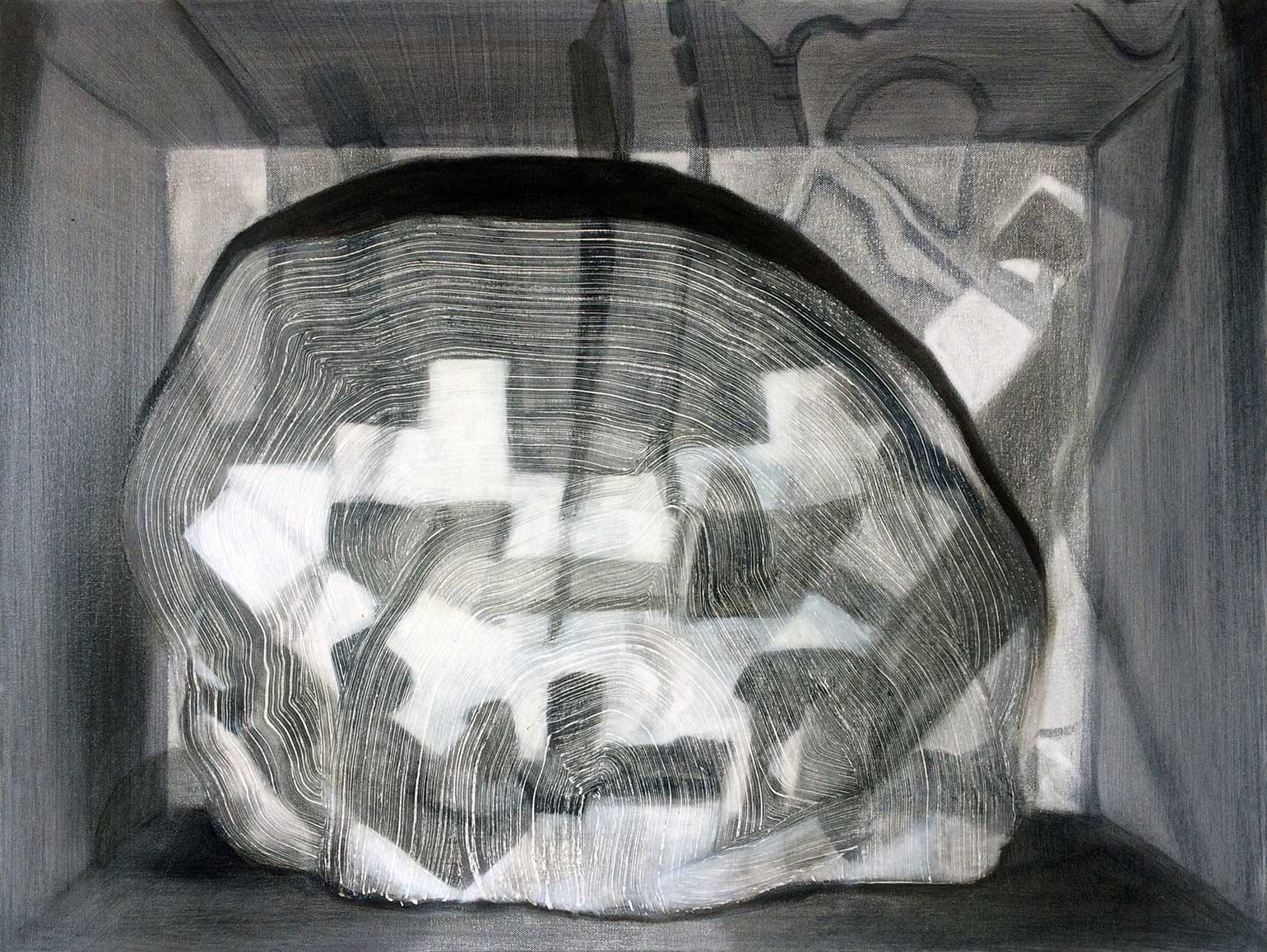 David Kaarsemaker
Portage 1, 2017
Oil and acrylic on canvas
24 x 32 inches
Distortion and the "dichotomy between illusory depth and material surface" inform David Kaarsemaker's work as he projects and re-projects images onto cardboard models during the creation process. The end result is an abstract work like Portage 1 – simultaneously distant and present. "This peripatetic life has allowed me to be a part of many places, but from a removed perspective and this paradox of distance and proximity is something that I look to convey in my paintings," Kaarsemaker, who's moved around a lot, told Canadian Art.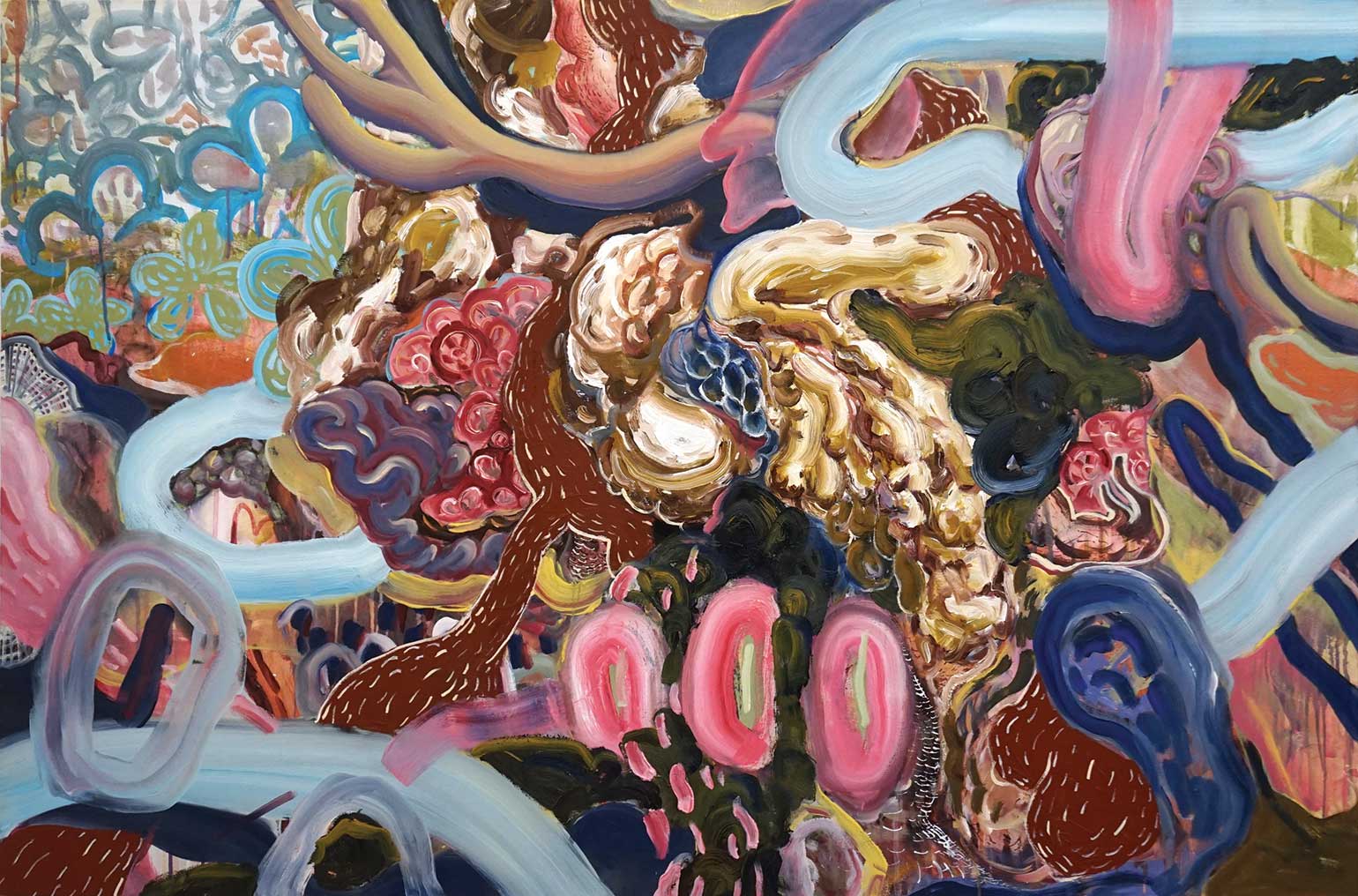 Wei Li
Obsessiveness and excitement, never growing out of them, 2017
Oil and acrylic on canvas
40 x 60 inches
Wei Li's chaotic and vibrant paintings are a byproduct of her process which emphasizes exorcising both internal and external conflicts of the body. "As an immigrant as well as an artist," she writes, "I believe it is important to visually address the experience of living in this hybrid and dynamic society. The canvas itself functions as a vehicle to carry the painter's moment of emotion, memory and energy, and the end result is often visually complex."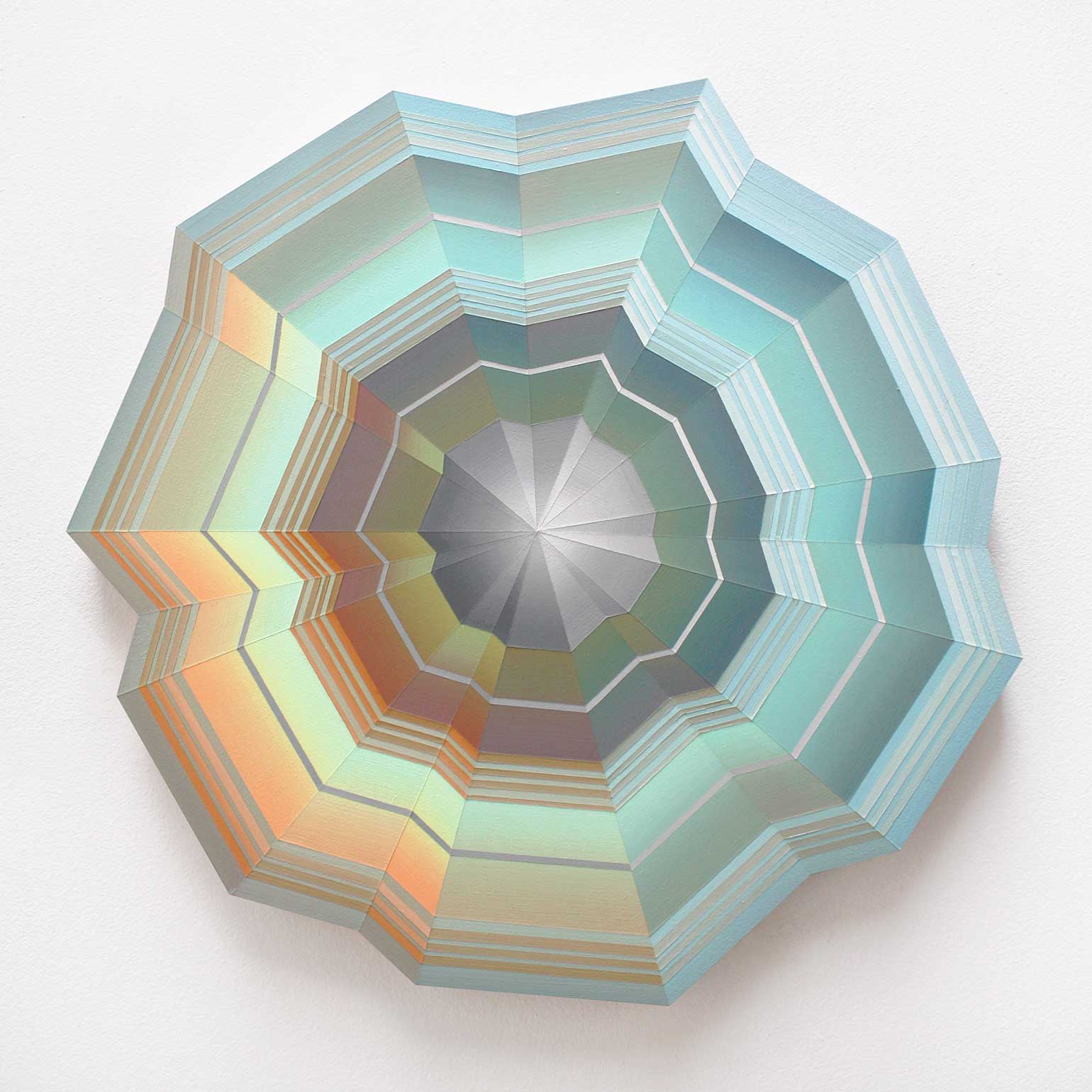 Laura Payne
Enneadec II, 2017
Acrylic on panel
18 x 18 inches
While Laura Payne's artwork leans heavily towards the painting realm, she draws inspiration from the role electronic media plays "from light to documentation to dissemination." Payne blends digital experimentation, the study of coloured light on coloured surfaces and the interplay between illuminated screen and acrylic paint to create her work. Payne, who has exhibited across Canada, says she is "interested in how evolving forms of media, outside the tradition and practice of painting, continually inform the trajectory of contemporary painting."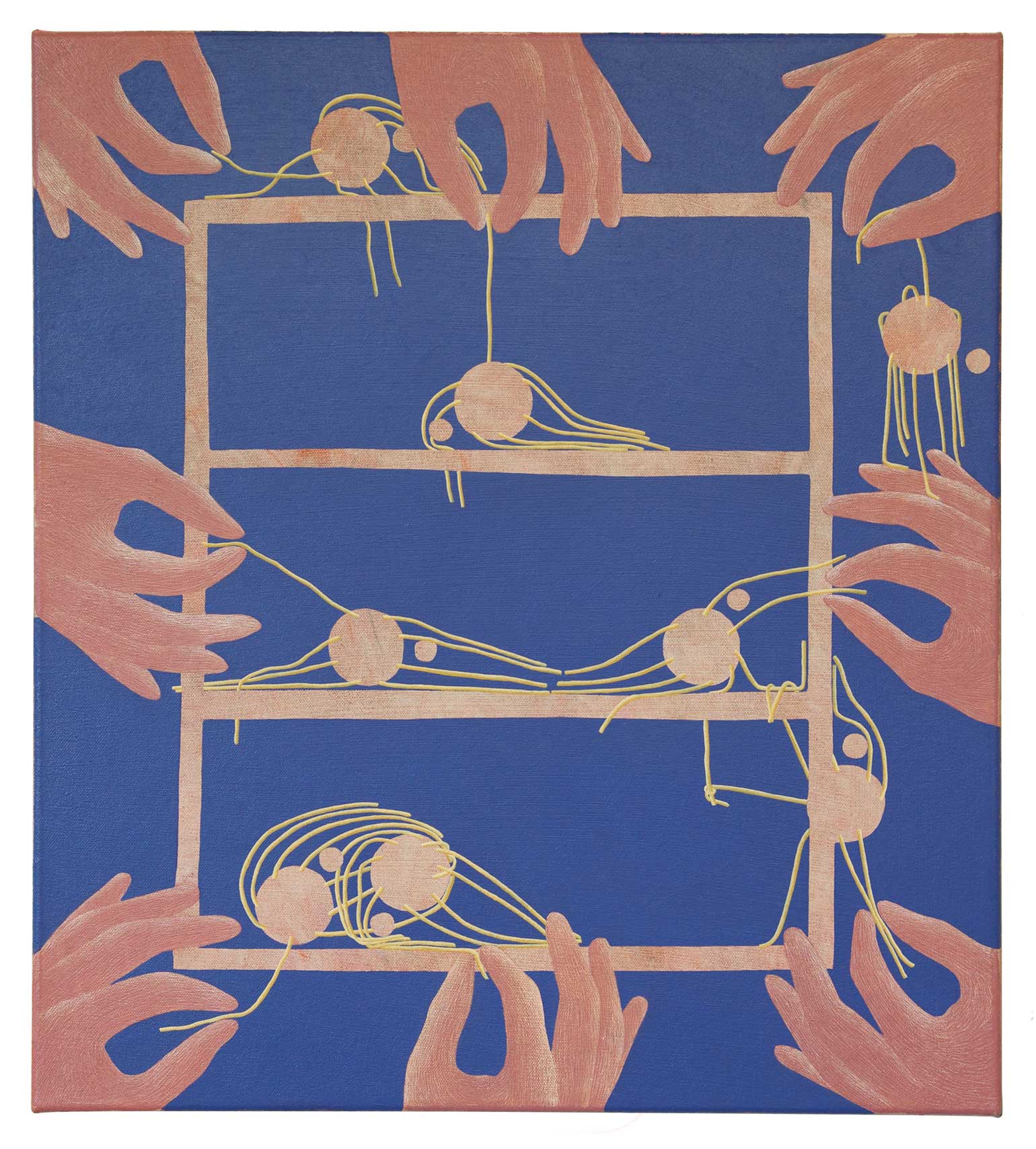 Veronika Pausova
Typography, 2017
Oil on canvas
20 x 18 inches
Born in Prague but calling Toronto home, Veronica Pausova refers to her process as a kind of "mathematical surrealism," experimenting with paint as part of the "drawing" process rather than planning with drawing. Her paintings, like Typography, often repeat past imagery from other works, part of her creative lexicon. "I'm interested in the materiality of paint and how color, texture, and pattern can be conceptual," she writes.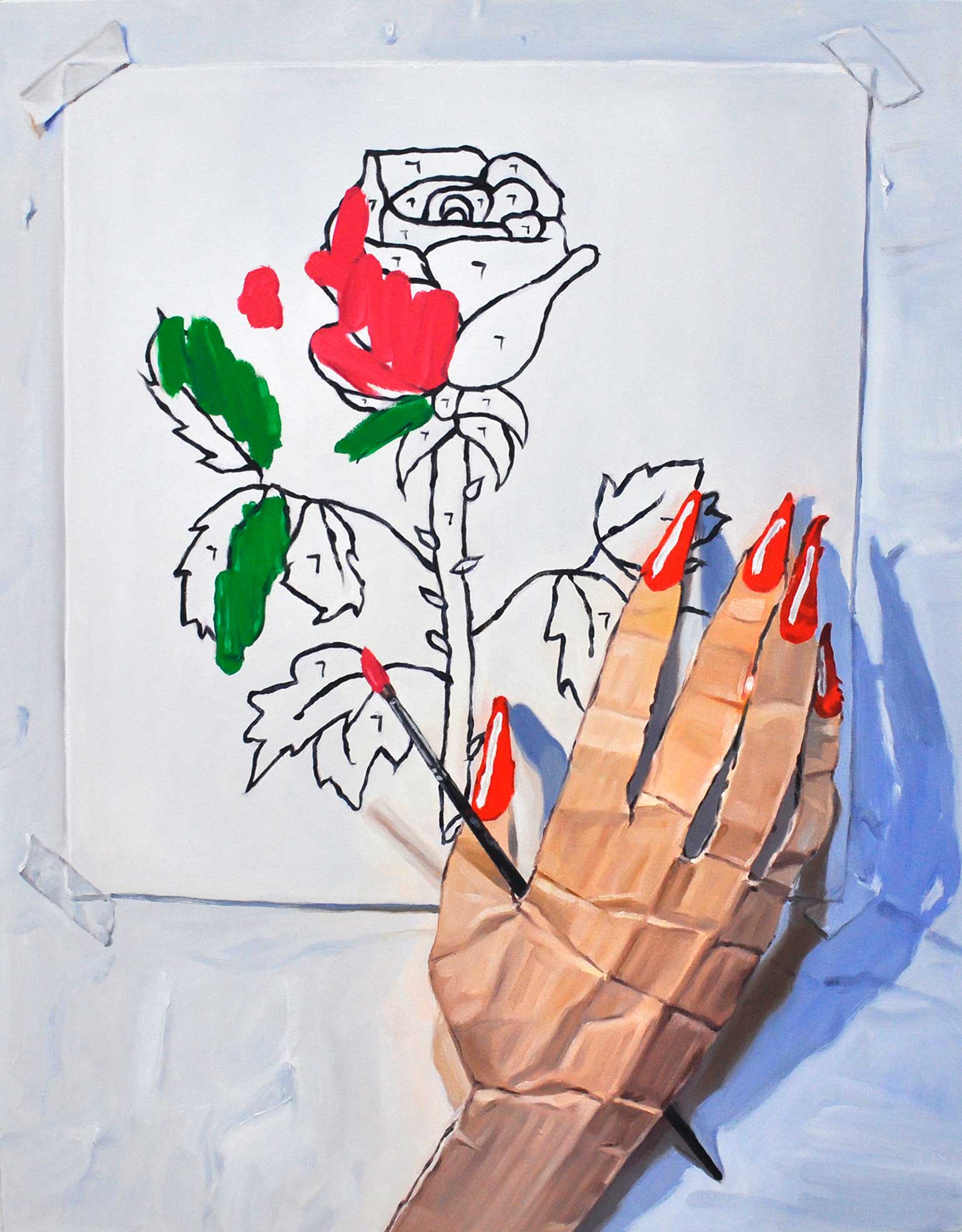 Laura Rokas-Bérubé
Paint by Number 7, 2017
Oil on canvas
36 x 28 inches
Inspired by the relationship between artists and their work, Laura Rokas-Bérubé uses symbols to create both a sense of confusion and familiarity."Painters must keep up with their ever-changing role by navigating social constructs while remaining faithful to their practice," she writes. "Although I am an unabashedly representational painter, I am continually inspired by several different media, allowing them to change my perception of what painting means to me and of contemporary painting as a whole."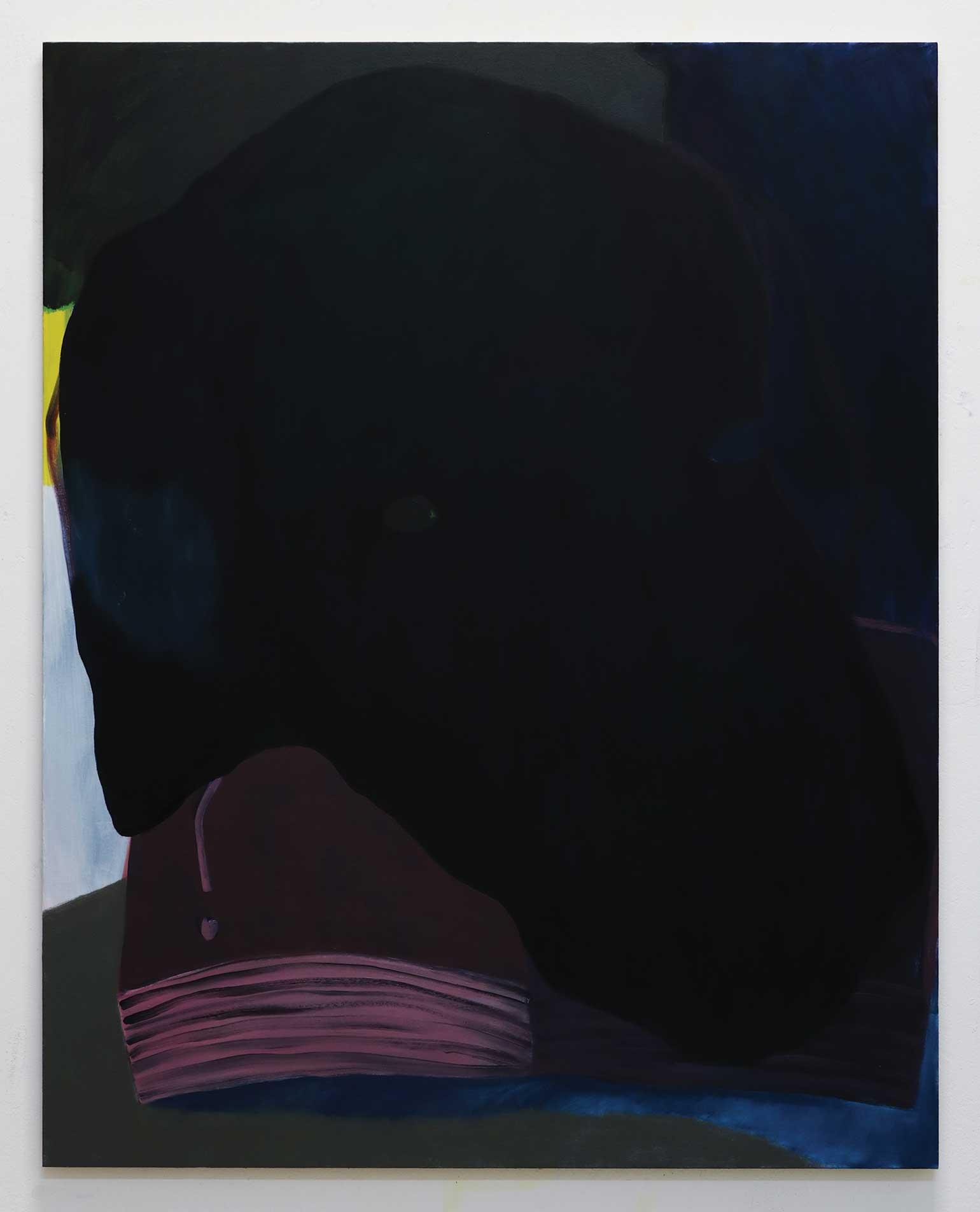 M.E. Sparks
Hollow Dog, 2017
Oil on canvas
59 x 47 inches
A past finalist in the RBC CPC, M.E. Sparks's interest revolves around "how individuals engage with visual information and give meaning to form." Hollow Dog and the body of work it fits within, calls into question "our predisposition to name and classify in order to understand and, ultimately, to possess the things around us." The work aims to drown the familiar, holding the viewer at a distance and keeping the subject beyond reach.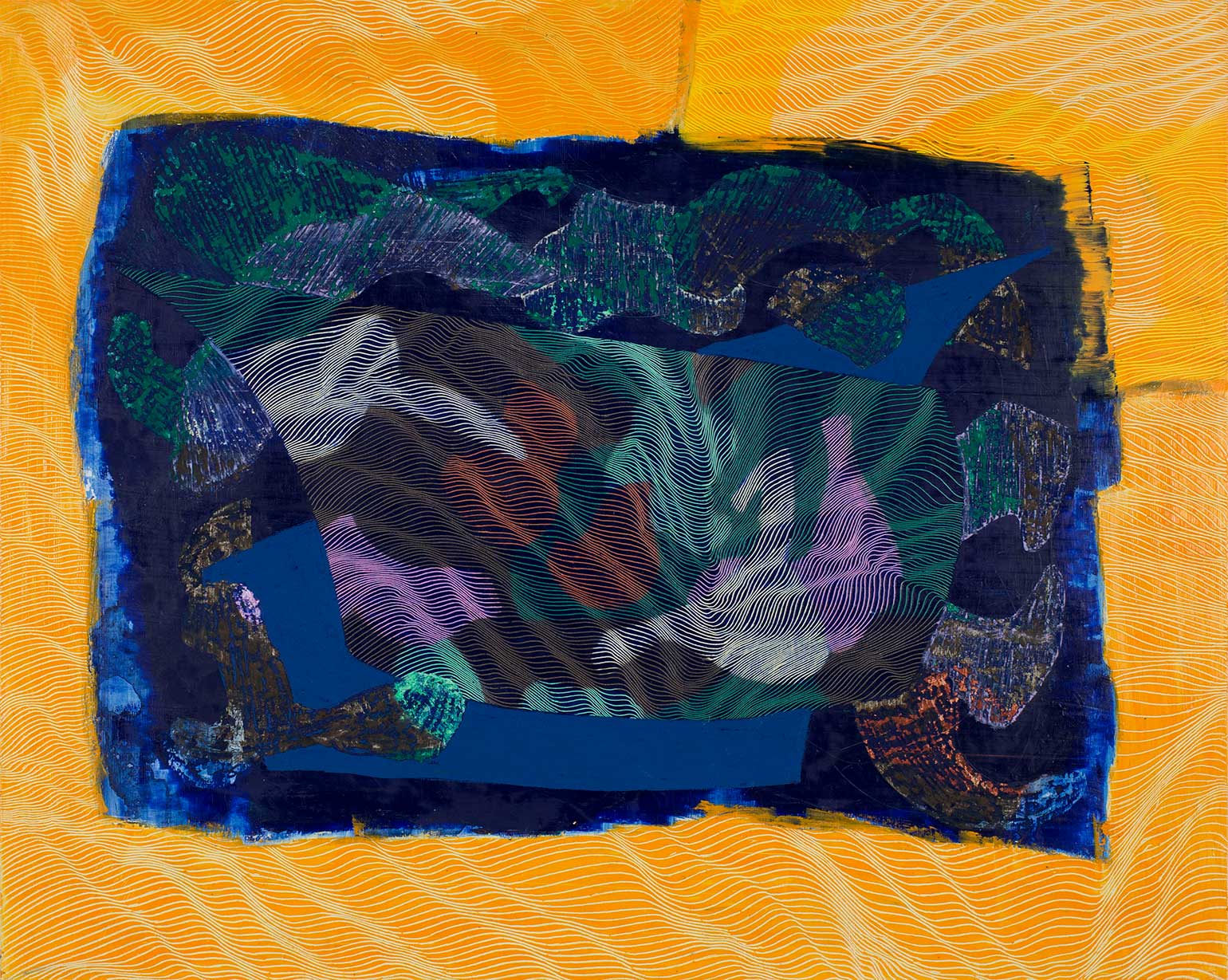 Kizi Spielmann Rose
Sun and a Tide Pool, 2017
Acrylic, oil pastel and oil stick on panel
24 x 30 inches
For Sun and a Tide Pool, Kizi Spielmann Rose's contribution to the 19th annual RBC CPC, the artist used oil stick over oil pastel, creating a work of weaving, almost vibrating, lines. "My contribution to contemporary painting," he writes, "involves a tightrope walk between process driven formalism and ambiguous illusionism. A history of abstract formalism is present in my work, but equally important is the evocative play of light across waves and the distortion of submerged forms beneath a liquid surface."
Angela Teng
Line Dance (Pink and Black for Mary Heilmann), 2016
Crocheted acrylic paint on aluminum panel
21 x 17 inches
Another former finalist of the RBC Canadian Painting Competition in 2016, Angela Tang employs a variety of innovative techniques including drying acrylic paint into long strips and crocheting them into wall works or pushing paint through canvases of crocheted string, in an attempt to re-envision how paintings are traditional created. Teng also notes that the process for her work Line Dance (Pink and Black for Mary Heilmann) nods to conversations surrounding craft and gender.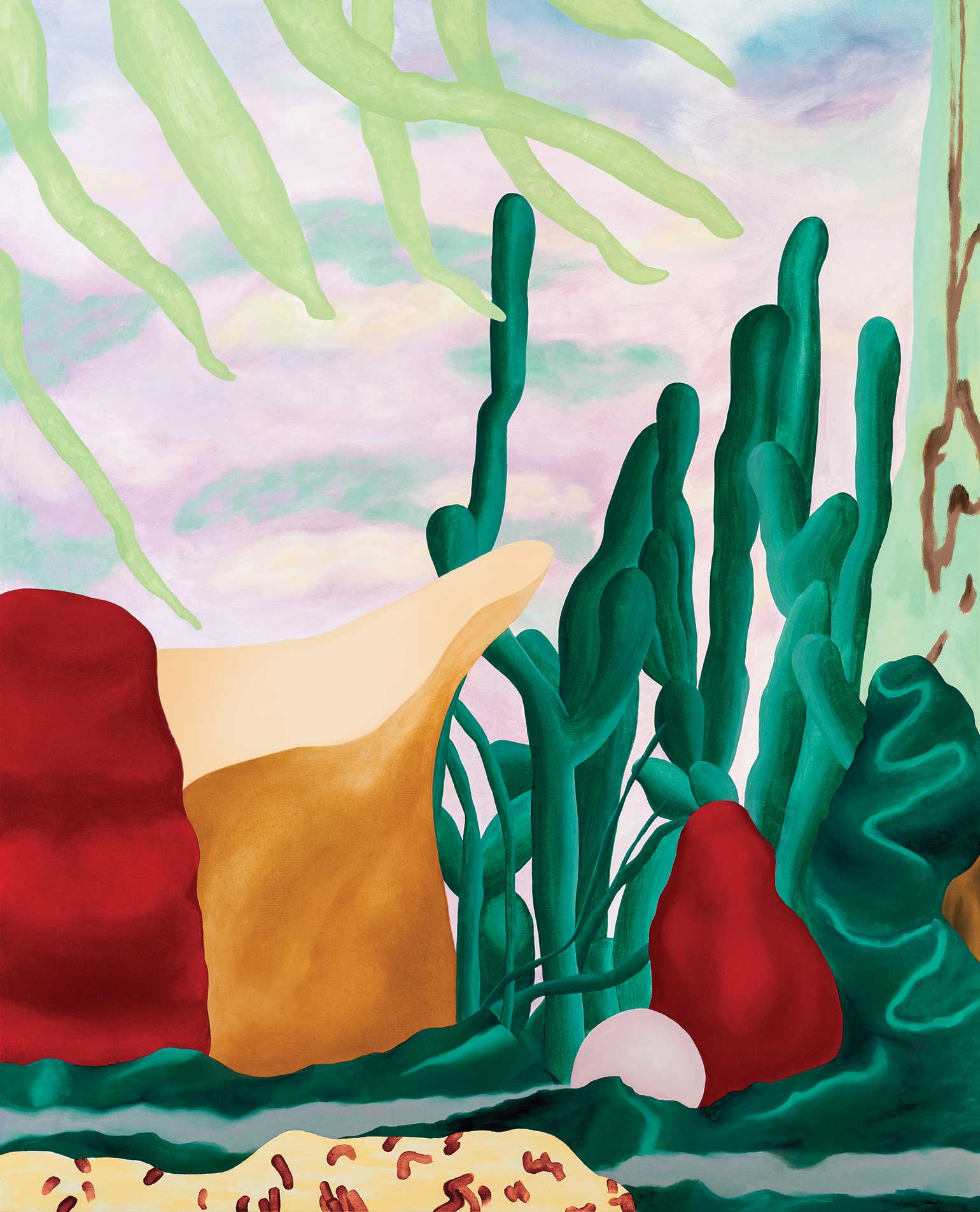 Joani Tremblay
The Lure of the Local Senses of Place in a Multicentered Society, 2017
Oil on canvas
44 x 36 inches
Drawing from her fascination with place, landscape and flora, Joani Tremblay's work – a body made up of drawing, painting and installation – is dreamy and vibrant, straddling the line between abstraction and representation. "I paint utopias, illusory places imagined as pleasure states, or a feeling of a place, tangling between abstraction and representation," writes the Montreal-based artist of her work. "In a time of fear, hate, and populism, pleasure and beauty become a form of resistance."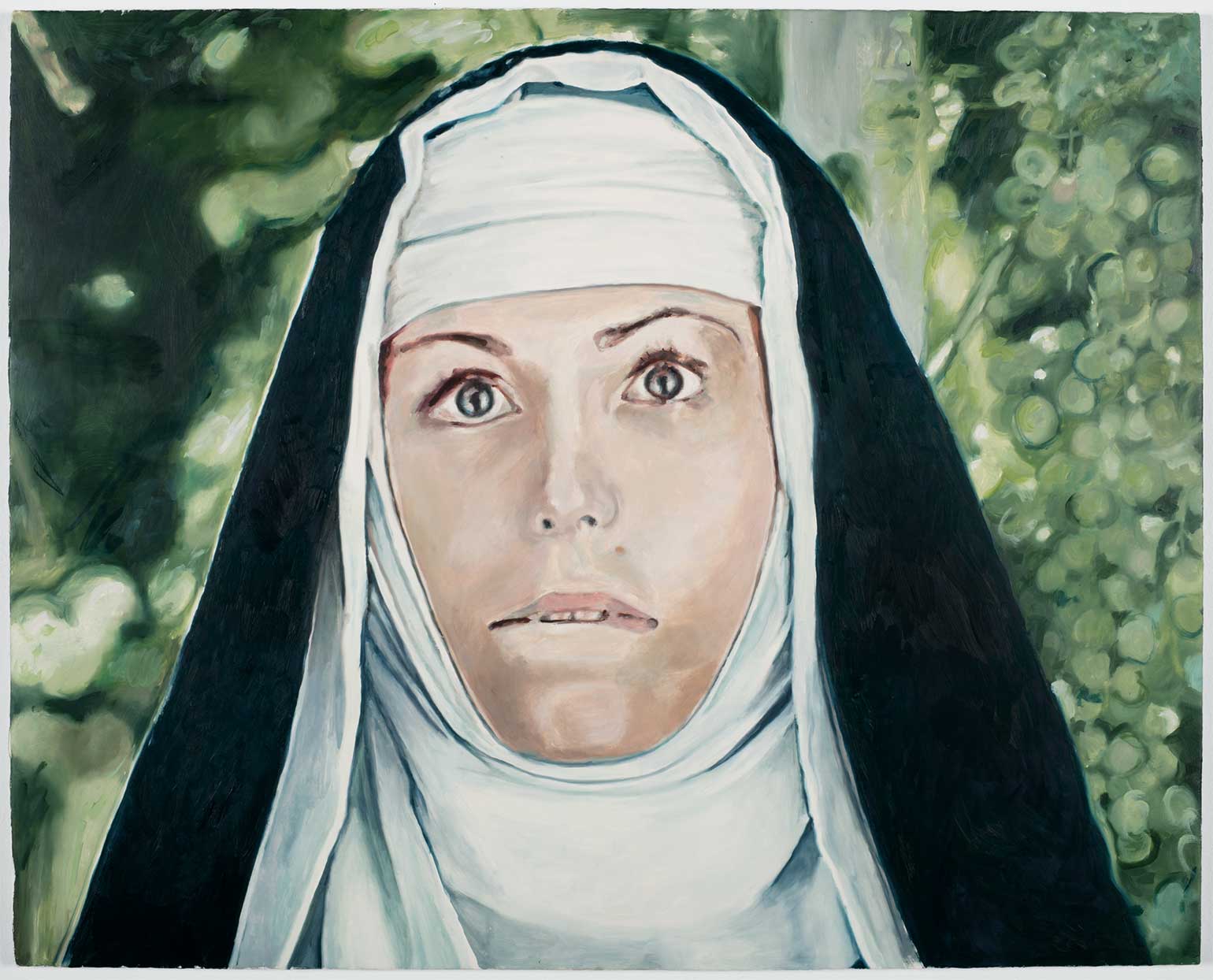 Tristan Unrau
Nun, After Pasolini, 2017
Oil on Canvas
29 x 36 inches
A former finalist in the 2015 RBC CPC, Tristan Unrau's work oscillates between abstract and photorealistic. His painting Nun, After Pasoliniis inspired by Pier Paolo Pasolini's 1971 film Decameron, features a nun biting her lip and staring beyond the image. "My paintings find their precedents somewhere along a history of painting," Unrau writes of his work. "Painting can be a way of thinking, to paint is a kind of telling and you can do all sorts of things with that."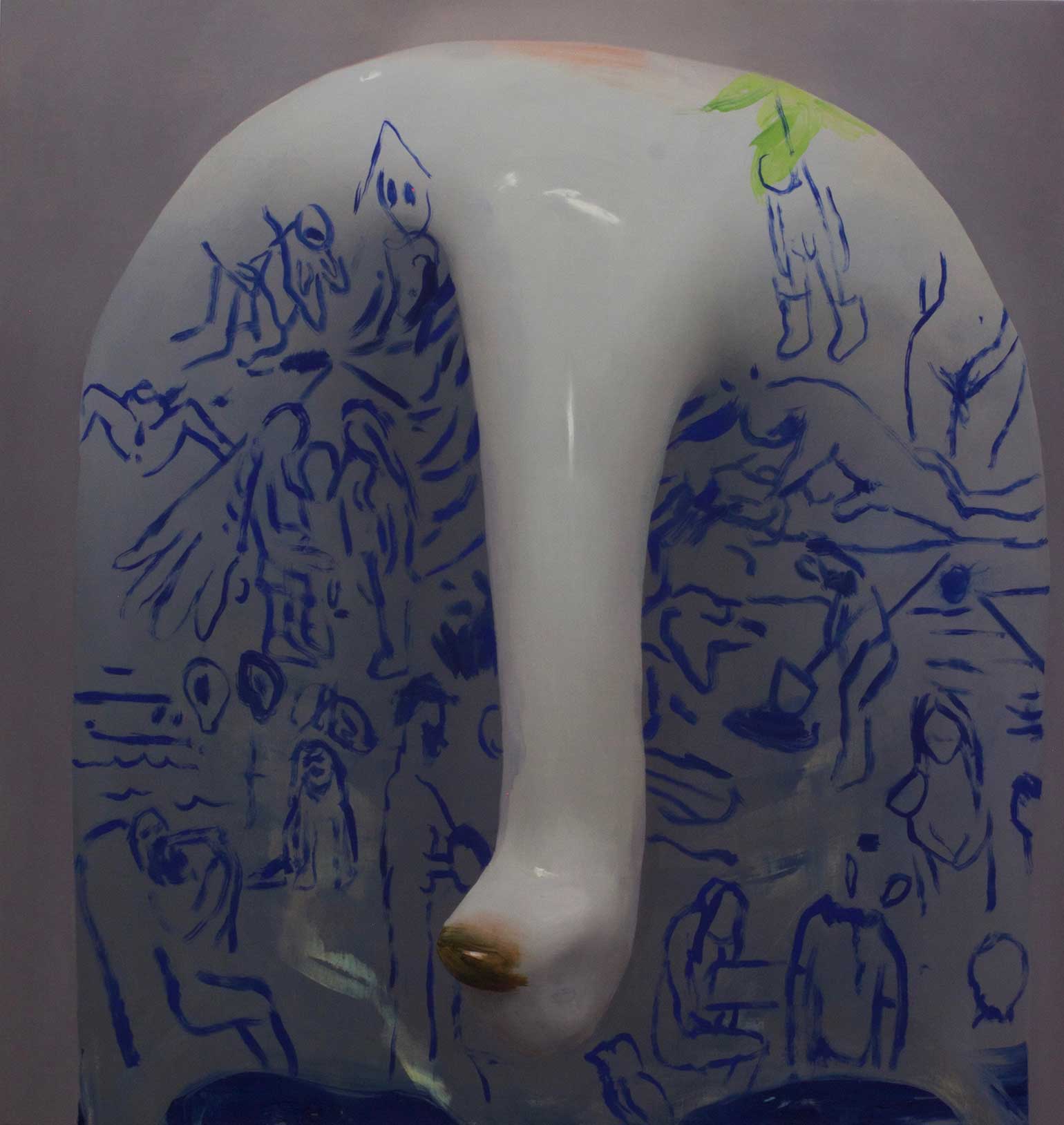 Ambera Wellmann
Temper Ripened, 2017
Oil on wood
39 x 35 inches
Lunenburg-born Ambera Wellmann uses figuration, with translucent clay bodies recurring throughout her work, in an effort to explore gendered subjects. Another former CPC finalist, her work explores "the experience of violence and eroticism that underlies realism, and critically reflects upon how those sensations are rationalized as representations of women" evoking a sense of disorientation and "vulnerability over knowledge, and feeling over explanation."
This article is intended as general information only and is not to be relied upon as constituting legal, financial or other professional advice. A professional advisor should be consulted regarding your specific situation. Information presented is believed to be factual and up-to-date but we do not guarantee its accuracy and it should not be regarded as a complete analysis of the subjects discussed. All expressions of opinion reflect the judgment of the authors as of the date of publication and are subject to change. No endorsement of any third parties or their advice, opinions, information, products or services is expressly given or implied by Royal Bank of Canada or any of its affiliates.