Volume 4 of Ensemble launched on March 1st at the WE Global Learning Centre in Toronto.
Ensemble brings leaders, thinkers, entrepreneurs and business-builders together through quarterly events — called "volumes" — that deliver physical, digital, tactile and social experiences while supporting a charitable partner.
2018's kick-off event, Volume 4: Keeping Pace with Innovation in Toronto, was designed to discuss and deconstruct Toronto's emergence as a global tech and innovation centre, while the city gears up to be Google's first smart city and Uber's driverless car pilot.
Engage with people, address legitimate human needs, and create holistic solutions.
Fuelling Innovation
Moderated by Ensemble founding collaborators Mike Girgis and Baron Manett, the theme for the evening's discussion was kicked off by PwC Canada's Conor Holler speaking on ways to fuel innovation in Toronto. Highlights included:
Doubling down on diversity.
Taking more risks.
Reducing bureaucracy.
Making sure you maintain an ecosystem supporting small business, and
Solving the right problems: engage with people, address legitimate human needs, and create holistic solutions.
Holler also noted that starting a business in Canada is "relatively easy" – which can lead to a gradual decline in innovation and risk-taking, "When the initial excitement of a business idea has worn off." He challenged participants to dig into how to create a local ecosystem that fosters and supports innovation, which in turn will bring "customers, financing and scale" to home-grown initiatives.
Delivering Change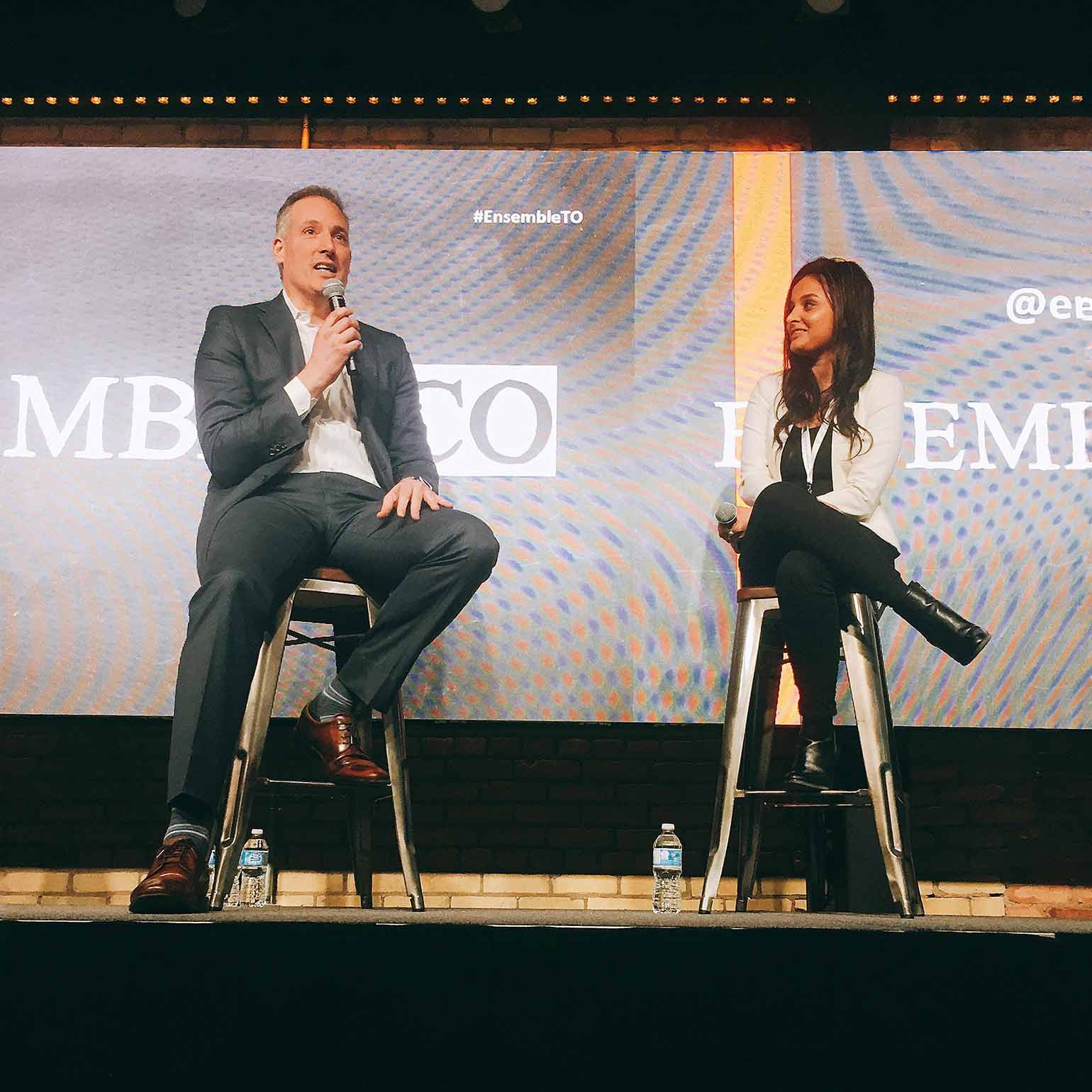 Next the audience was treated to a fireside chat between Fatima Zaidi, VP of Business Development at digital and PR agency eightyeightagency and Peter Aceto, former CEO of Tangerine Canada and co-founder and co-CEO of eQuoshift, a community platform in the Ontario technology and innovation sector.
Aceto, who was marking his one-year anniversary in his new role, shared driver's-seat insights from his time building a culture of "people-first" management at Tangerine, where the desire to be "different on the inside" allowed the bank to break down barriers to innovation, and create a culture in which "everyone can contribute." His comments echoed the insights from Holler, as Aceto encouraged listeners to "build a culture of trying, learning and testing — persevering and supporting each other through the inevitable bumps in the road that come with creating something new."
Find your people and go make stuff, because the world is waiting for your innovations.
Solving the Talent Gap
The night's agenda was rounded out with a four-member panel moderated by Amber Mac and featuring Alison Gibbins, Global Lead RBC Technology Community Engagement, Douglas Soltys, Editor-in-Chief of BetaKit , Richard Wong, VP Marketing & Creator Relations, #paid, and Matt Di Paola, Managing Director, Digital Innovation and Partner at Sid Lee.
Mac started the panel (and audience members) off with a challenge to complete the sentence, "Toronto is the next…" Di Paolo responded, "Toronto is what everyone else could be getting right — we can show the rest of the world what could be."
Discussion then turned to how Canada's overall "niceness" vibe may lead to a culture that shuns risk and, as a result, can be closed to outsiders. It can be easy to feel good about Toronto's successes in the spotlight, commented Soltys, "But let's be honest and real about diversity and inclusion, where there's a lot of work to do."
Suggestions from the panel on how to solve for diversity while leveraging existing accomplishments ranged from the half-joking, "Bring your Uber driver into events with you," from Di Paolo, to Gibbins's, "Have your organizations sponsor people who haven't had direct access to the same opportunities as you." Wong added, "Talk to people who aren't like you — and if you're over 21 and a university graduate, you should be mentoring someone." Ultimately, participants were called on to, "Find your people and go make stuff," by Di Paolo. "The world is waiting for your innovations."
Delivering on the Ensemble Promise
As the formal part of the evening drew to a close, participants were encouraged to stay for DJ- and refreshment-enhanced networking before they walked out the door with a complimentary copy of Aceto's Weology: How Everybody Wins When We Comes before Me. Volume 5 of Ensemble is scheduled for May 31, and is focused on the growing importance of cannabis in the Canadian economy and opportunities for pot entrepreneurs.
At the end of the day, Ensemble's Volume 4 delivered lively discussion by opinion-shapers in the technology, small business and venture space, all while supporting connection and collaboration (Volume 4's charitable partner is the international youth organization WE.org)
This article is intended as general information only and is not to be relied upon as constituting legal, financial or other professional advice. A professional advisor should be consulted regarding your specific situation. Information presented is believed to be factual and up-to-date but we do not guarantee its accuracy and it should not be regarded as a complete analysis of the subjects discussed. All expressions of opinion reflect the judgment of the authors as of the date of publication and are subject to change. No endorsement of any third parties or their advice, opinions, information, products or services is expressly given or implied by Royal Bank of Canada or any of its affiliates.