Every young person deserves a chance to succeed at school. But many face difficult circumstances getting in the way of reaching their potential.
In Grade 7, Maria didn't care much about her education. She didn't take school seriously, and thought of it as unimportant. She put little effort into her work, and would often pretend to be sick so she could stay home.
And despite knowing that the lack of a high school diploma can significantly impact a young person's prospects of finding meaningful employment, her parents didn't have the resources to afford a tutor or send her to after-school centres to get homework help.
Maria's classmate Kashifa didn't care about school either and would find any excuse not to do her homework.
Not surprisingly, both girls' marks reflected their lack of motivation.
Thousands of young Canadians drop out of high school each year, but they don't leave school suddenly. Life comes with its share of obstacles — and some youth have additional challenges heaped on them from an early age. For many at-risk youth, completing high school can feel like an insurmountable challenge. And the risk factors are multiple and extend well beyond the boundaries of school.
So how did Maria and Kashifa avoid the dramatic and long-term impacts that can come with dropping out of school? Both girls were fortunate to find Raise the Grade (RTG), a national after-school program at the Boys and Girls Clubs of Canada (BCGG).
Raise the Grade uses mentors and tutors as well as access to technology and outside-the-classroom opportunities, to promote academic engagement and increases a youth's potential for not just completing high school, but for joining extra-curricular activities, participating in their communities, and continuing their education at college or university.
Helping Youth Overcome Stress and Adversity
"Youth from lower socioeconomic backgrounds in particular do not have the same opportunities to learn the skills required for the workplace of the 21st century." says Mark Beckles, Senior Director, Youth Strategy and Innovation. "And girls face an even greater risk of not finding meaningful employment without those skills"
While two-thirds of Canadian men aged 25-34 without a high school diploma are employed, that number drops to just over 40 per cent for young women without a diploma.1
Kashifa found out about RTG in Grade 9, when the Boys and Girls Club came to her school and advocated for the program. Kashifa had heard about Raise the Grade, but knew she needed to experience it for herself.
The staff and tutors at RTG saw Kashifa's leadership abilities, and recommended that she apply for the BE BOUNDLESS international exchange to Ghana with Boys' and Girls' Club of East Scarborough. She became the youngest student selected.
"I didn't want to apply, but the staff believed in me and pushed me outside my comfort zone. They motivated me and encouraged me — I was so surprised and shocked when I was chosen."
RBC invests in Raise the Grade because of the impact it can have on students like Kashifa, helping lift hundreds of students above critical barriers. It's one of many programs they support through RBC Future Launch, a $500 million 10 year commitment to help youth get work experience, grow their network and gain new skills.
The program has contributed to many success stories and today, Raise the Grade is currently helping 900 youth overcome stress and adversity in 43 communities across Canada.
"This skill gap, along with the proliferation of technologies and innovations that are transforming jobs, makes it more important than ever to ensure all young people have access to skill-building tools, technology and mentors to help them prepare for the future of work." says Beckles
Since joining the program, Kashifa has begun to understand her potential. "I was very insecure as a teenager. I never had the confidence. I never thought I was smart. Raise the Grade acknowledged my capabilities and showed me all that I can do," she says.
For Maria, it was like a light bulb clicked on in her mind when a representative from RTG came to her school to present the benefits of the program. "I thought, finally, there is a resource being offered to me. And it's my responsibility to take advantage of it," Maria says.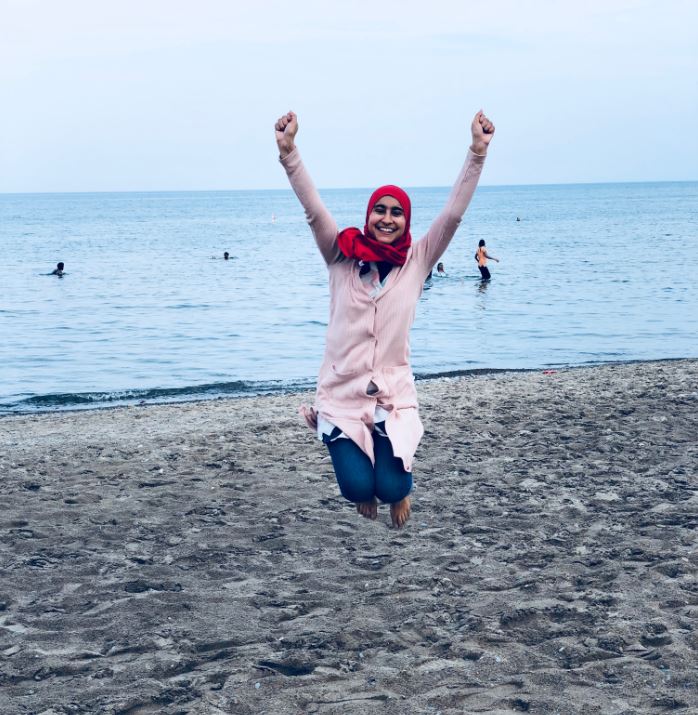 "Once I started coming to Raise the Grade, I got homework support. I would bring in my work, and staff and tutors would help me out. They would explain concepts in a way that was very easy to understand, so I could successfully do my homework. Plus, they offered various skills and tips in terms of study habits. And because the overall atmosphere was very encouraging and welcoming, I was really motivated to do something. It opened my eyes to the significance of getting an education."
The result? Maria worked hard in school and attended every RTG session to make sure she fully benefited from the program. She applied the skills she learned there to her everyday life at school, and a year after joining RTG, Maria was named valedictorian of her Grade 8 class.
But she didn't stop there. A year later, Maria continued to apply herself at both school and RTG, making the honour roll in her first year of high school with a 90 per cent average.
Beyond Marks
Raise the Grade is not just about academics and getting good marks. By supporting all aspects of a teenager's life — academically and personally — RTG looks to help youth overcome a number of obstacles. Youth participating in RTG are supported and encouraged to achieve:
Insights about their personal interests and how to pursue them.
A sense of discovery and excitement about the possibilities of knowledge.
Career aspirations that match their personal interests, goals and abilities.
Credits and grades strong enough for the post-secondary program of their choice.
The Road Ahead
Graduating high school is no small accomplishment. It's a critical milestone in a young person's life, and contributes to their ability to become independent, confident and self-sufficient.
Today, Maria has her sights set on being high school valedictorian. "It's a really big dream – we come from a very big school with a lot of students. But I believe if I put my mind to it — and with Raise the Grade by my side as my secret weapon — I know I can do it."
When it comes to life after high school, both Maria and Kashifa are aiming to pursue post-secondary education at Harvard or Oxford, with the goal of medical careers in the future. The goals are grand, but they are well-planned.
"Raise the Grade has shown me how to define clear goals for myself. But they have also taught me how to be flexible with my approach to my future. If something doesn't work out, you figure out what else to do. Life isn't over. Things don't always go the way you plan – I have learned how to find solutions when that happens," Maria says.
With the support of Future Launch, this June, over 150 young people graduated from the Raise the Grade program and are looking to pursue their next opportunity. With this level of social commitment, young Canadians like Maria and Kashifa don't have to face adversity alone.
Source: 1. Study: Young men and women without a high school diploma, 1990 to 2016; Statistics Canada, May 4, 2017
This article is intended as general information only and is not to be relied upon as constituting legal, financial or other professional advice. A professional advisor should be consulted regarding your specific situation. Information presented is believed to be factual and up-to-date but we do not guarantee its accuracy and it should not be regarded as a complete analysis of the subjects discussed. All expressions of opinion reflect the judgment of the authors as of the date of publication and are subject to change. No endorsement of any third parties or their advice, opinions, information, products or services is expressly given or implied by Royal Bank of Canada or any of its affiliates.