Orange Shirt Day began in 2013 to honour Residential School survivors and their families, and to remember those children who didn't come home.
This article originally appeared on RBC Diversity & Inclusion on September 25, 2020.
In May 2013, Chief Fred Robbins of Esk'etemc First Nation brought together Chiefs, Councils, elected officials, RCMP officers, schools, churches as well as Indigenous and non-Indigenous residents of Williams Lake and the Cariboo region as part of the St. Joseph's Mission Residential School Commemoration Project. It was his vision for reconciliation, which involved having all people remember and learn about what had happened at this school, to honour and help the Survivors to recover from their experiences, and ultimately reconcile together.
His vision for reconciliation began when he realized that many non-Indigenous residents of Williams Lake and the Cariboo area were completely unaware that St. Joseph's Mission Residential School had been operating in their midst. The community needed to know what happened.
"Everything that ever happened to First Nations people across Canada started with these schools," he said during one of the Project's events. "Physical, sexual, mental abuse, discrimination, genocide, treason… Everything started with these schools."
It is estimated that 150,000 Indigenous children attended government-sponsored Residential Schools. Records show that 6,000 children died in these schools, but it's believed far more never came home.
Phyllis Webstad, Northern Secwepemc from Stswecem'c Xgat'tem First Nation, (Canoe Creek/ Dog Creek Indian Band) and a former student at the St. Joseph's Mission Residential School, was asked to speak at a press conference promoting reconciliation events of the project. There, she courageously shared her personal and traumatic experience.
Phyllis' Orange Shirt Story
Not used to public speaking, Phyllis asked her friend Joan Sorley to meet for coffee, to help her figure out what she would say at the event. But while in line, it clearly came to her. She would talk about her first day at Residential School.
She was just six years old in 1973 when she went to Residential School for the first time. Like many kids around the world, she was excited to go to school, and her grandmother bought her something new to wear for her first day.
"My grandmother probably couldn't afford it, but she always bought a new set of clothes for all kids going to the Mission, and I was no exception," Phyllis explains. "It was really exciting. I picked out an orange shirt and it was really shiny and it just sparkled."
When she arrived, however, she was stripped of her clothes and her orange shirt was taken away, never to be worn again.
Since that day, the colour orange had always symbolized to Phyllis that she didn't matter. "Orange has always been to me… not mattering to anyone," she says. "Nobody cared that we had feelings. So to me, that's what orange meant."
During her speech at the commemoration event, as she shared her story, she wore a new orange sweater she bought at her favourite clothing store. "It took me 40 years to wear the colour orange again."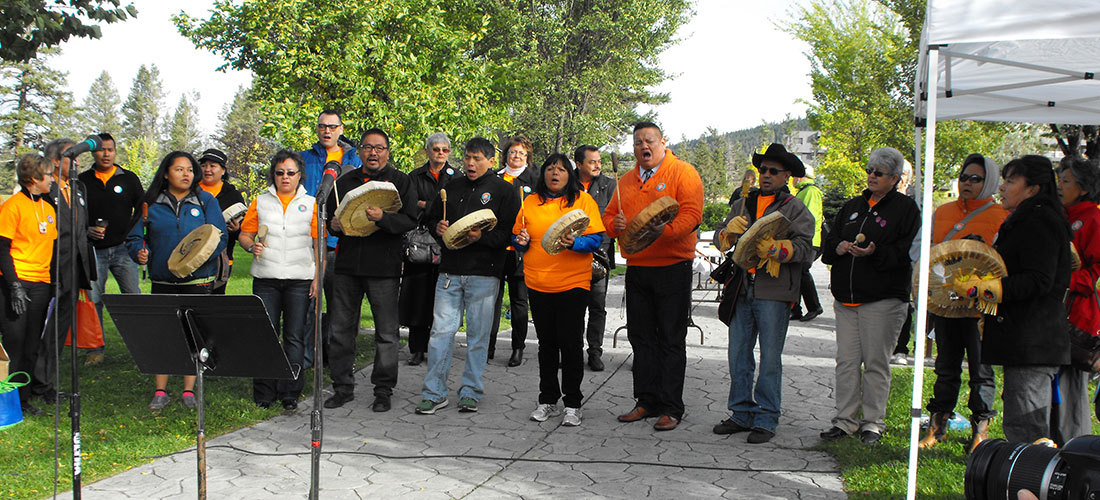 Marking the Beginning of a Movement
Phyllis didn't want the commemoration event be the end of her story, but rather the beginning of ongoing conversations and the devastating impacts of Residential Schools. Through the efforts of Phyllis Webstad, Joan Sorley, Chief Fred Robbins and many others, the first Orange Shirt Day was acknowledged on September 30, 2013, and events were held across Canada and beyond.
At the events, Indigenous and non-Indigenous local communities came together to support the creation of a new legacy for Indigenous people. At the 2013 TRC event in Vancouver, allies distributed 5,000 handouts they had created, which included a the address for a dedicated Facebook page. Because of the page, the event went viral from the beginning, and it's been gaining momentum every year. Today, the page has 18,899 followers.
"The annual Orange Shirt Day on September 30th opens the door to global conversation on all aspects of Residential Schools," explains Phyllis. "It is an opportunity to create meaningful discussion about the effects of Residential Schools and the legacy they have left behind."
Phyllis points out that she doesn't represent Residential School Survivors. She does not speak for them. Every child who attended Residential School has a story of how their clothes were taken away, their hair cut, their names erased.
Rather, she offers her story in a gentle way as a conversation starter – a door opener to discussion about all aspects of Residential Schools.
Orange Shirt Day today provides an opportunity to involve people, businesses, schools and communities to involve themselves in the reconciliation journey. Through the day, people are beginning to understand and acknowledge the painful truths that have affected Indigenous families and communities.
Orange Shirt Day has also inspired wide-spread curriculum change within Canadian schools in order to include the truth of Residential Schools and Indigenous cultural genocide.
Change Begins with the Children
"Every child matters," said Chief Fred Robbins in May 2013. "It's that next generation that we have to start teaching. We need to start creating a new legacy."
Last year, the Orange Shirt Society partnered with the Royal Canadian Geographic Society to form a school tour. From her home in B.C. Phyllis went as far east as Nova Scotia and as far north as Whitehorse, crossing the country and telling her story.
Phyllis has spoken to children as young as four years old. "Anywhere from Kindergarten to everybody," she explains. "I tell the really young ones that I was six years old when this story happened to me. I was your age."
The re-telling of her history takes a toll, emotionally and physically. And while this year she is presenting virtually, she is booked every day in September to share the story behind Orange Shirt Day.
But the effort is worth it, as Phyllis and others recognize that change will begin with the next generation – as it's today's children who are educating their parents.
"When I meet people, I ask if they have heard of Orange Shirt Day. If they haven't, it's usually because they don't have children. Many students go home and parents have no idea what they're talking about."
Children have become messengers of the story.
"The seed of reconciliation is being planted in schools across Canada," added Phyllis in a recent discussion. "It will be interesting when students get out of school, and what a difference it will make in society – them knowing the history of Residential Schools and the impact they had. I look forward to the different treatment of Indigenous people by society in the future."
While the colour orange used to symbolize to Phyllis Webstad that she didn't matter, today it represents hope that Indigenous families and communities are healing. It has become a symbol of defiance and a commitment to a better future. The orange shirt now represents hope and reconciliation.
This article is intended as general information only and is not to be relied upon as constituting legal, financial or other professional advice. A professional advisor should be consulted regarding your specific situation. Information presented is believed to be factual and up-to-date but we do not guarantee its accuracy and it should not be regarded as a complete analysis of the subjects discussed. All expressions of opinion reflect the judgment of the authors as of the date of publication and are subject to change. No endorsement of any third parties or their advice, opinions, information, products or services is expressly given or implied by Royal Bank of Canada or any of its affiliates.