50 Black students explore STEM fields and entrepreneurship in a unique U of A program with hands-on learning and work-integrated training.
A young immigrant and University of Alberta undergraduate physiology student, Imani Murray moved to Canada when she was 12. "Since being here in Canada, I never saw many other Black students, and also didn't see myself reflected in the fields I was interested in," she recalls. For Imani, an "ELITE" opportunity offered a chance to explore her area of interest, STEM (science, technology, engineering, and mathematics), alongside passionately curious people like her.
Imani was one of 50 young Black Canadians who explored opportunities to learn and grow in a unique U of A program supported by RBC. The ELITE program (Experiential Learning in Innovation, Technology, and Entrepreneurship) for Black Canadian youth aged 15-22 offers hands-on learning and work-integrated training in STEM fields and entrepreneurship.
Tailoring mentorships and support to student needs
As paid interns, students work on projects for 8 to 16 weeks, some of which include STEM work opportunities like neonatal transportation, app development, brain-computer interfaces, research in both malaria and energy policy as well as electrical system infrastructure. Students also worked in roles supporting health programming, intimate partner violence prevention, and accounting.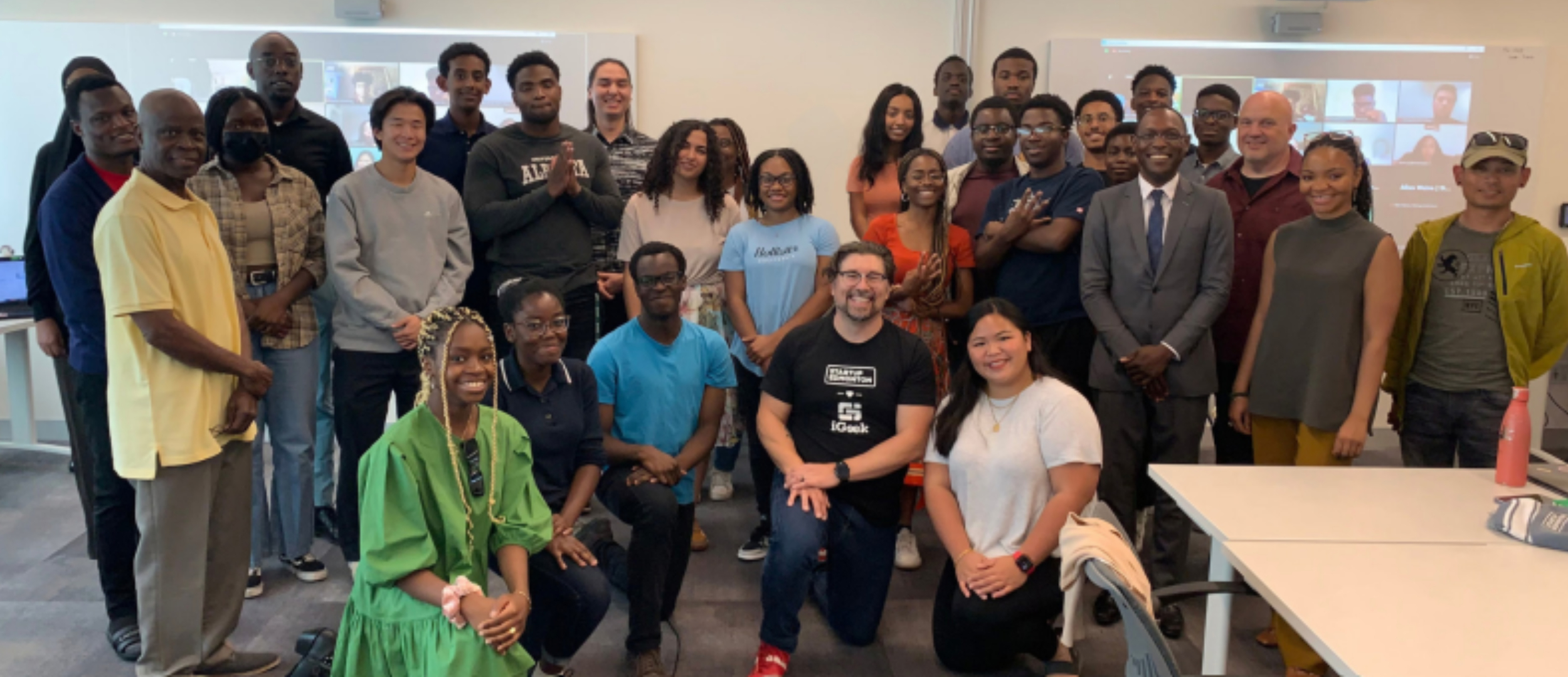 ELITE Program participants and leaders.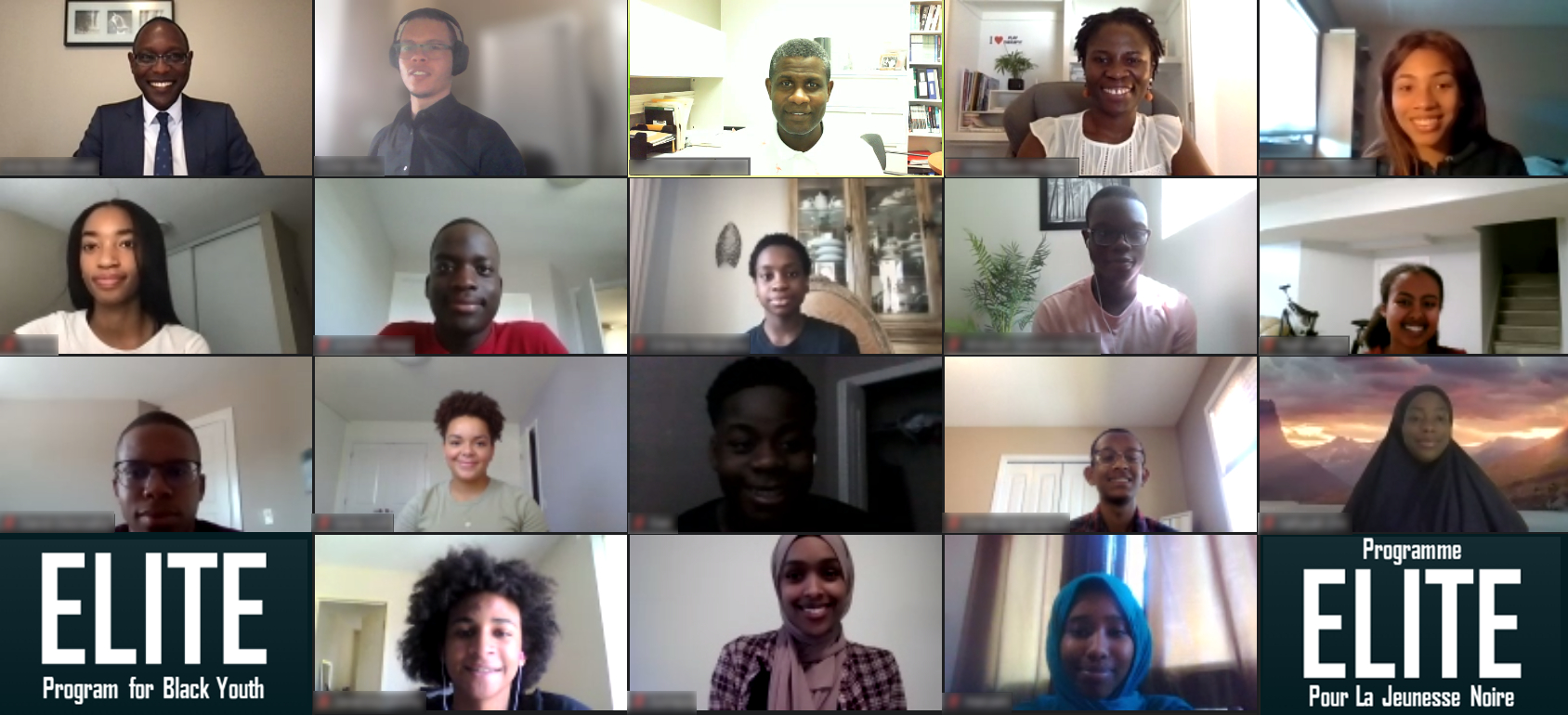 Beyond the work experience, participants received training in entrepreneurship and wellness coaching to help them learn important career-related coping skills. The entrepreneurship component of the program was developed in partnership with Edmonton Unlimited, the Black Business Ventures Association, and RBC, which also provided funding for the program that enriched these talented young Canadians.
Steering Council Co-Director, Health Sciences Program Lead, and University of Alberta Professor Adetola Adesida says the program stands out because "The ELITE Program really does create an opportunity for Black youth to not only see other opportunities, but they can also experience them. And that's a big difference."
Opening doors to opportunity
"It was very nice to be a part of something like this and have other students who looked like me and had the same interests as me and build a community around that. I looked forward to work every single day because you never knew what else you're going to learn and how it was just going to impact you," Imani says.
"My experience in the program is one that has changed my whole perspective of what it means to be a student in STEM. From my first internship in a biomedical engineering laboratory to now working in the larger healthcare organization of Alberta Health Services, I have seen that you can grow in your focused field of study by doing work outside of your field," Imani says. "While it may seem conflicting or contradictory, I understand that by accumulating a diverse skill set, you can do and accomplish unimaginable things that will ultimately be of use to you and your future endeavours."
Exploring new interests and career options
Imani's peers experienced transformation, too. High school student Wisdom Sanouvi-Awoga says, "I don't think I can thank them enough. They gave me a chance to do something productive over the summer, to learn about my own interests and figure out how I want to pave my future. They've really boosted my love for science and technology."
High school student Yanela Gonzalez Sanchez walked away with a vision for her future. "It really helped me make my decision about my career. I decided to go into pharmacology," she announced. Also inspired, undergraduate engineering student Damola Akinola shared his story, "Before this program, I hadn't been in any formal work experience … I got some programming experience, some testing experience and I got to know a lot about the brain."
Educational experiences engineered for the future
André McDonald developed the ELITE program thinking about the barriers he faced, working part-time while juggling a heavy university course load. Many of his colleagues had similar stories to share.
McDonald wanted to offer something different for today's youth, explaining, "We're teaching young people. We're providing them with jobs and training setting them up for professional fields of their choice, supporting their upward mobility, and reducing youth unemployment in Canada."
André McDonald, developer of the ELITE program.
He points to the research on why paid internships are so important.
If you take a young person and you give them their first job, even before they graduate with a diploma, they will have a 50 per cent higher chance of getting a better job for their next job. It really does pay off in dividends, big time. - André McDonald
The calibre of applicants impressed McDonald and their employers. Internship host Keenan Pascal, CEO and co-founder of Token Naturals, says, "ELITE Program interns are very impressive. Right from the off, they're very well-rounded and open. You can see that they appreciate the time and effort the business is putting into them — so they're very respectful on that side — and it shows how eager they are to get their hands dirty."
The program recently expanded to Carleton University in Ottawa, welcoming five undergraduate interns from Carleton's Faculty of Engineering and Design to participate in this innovative programming. Five Ph.D. students supported this expansion, recipients of Indigenous and Black Engineering and Technology (IBET) fellowships. They piloted peer-to-peer engagement activities with the interns, serving as mentors throughout the series.
Building bridges toward tomorrow
The reality is that Black youth face unique challenges. The ELITE Program for Black Canadian youth delivers unique solutions and opportunities to develop the skills and gain the experience needed to push past systemic barriers toward success while building a supportive community.
Resilient, skilled and empowered youth are the future of Canada's workforce.
With the help of the University of Alberta and RBC Future Launch, these youth are moving up and branching out towards a brighter tomorrow — with more job options and meaningful work experience.
Learn more about how RBC is helping empower young people for the jobs of today and tomorrow through RBC Future Launch.
This article is intended as general information only and is not to be relied upon as constituting legal, financial or other professional advice. A professional advisor should be consulted regarding your specific situation. Information presented is believed to be factual and up-to-date but we do not guarantee its accuracy and it should not be regarded as a complete analysis of the subjects discussed. All expressions of opinion reflect the judgment of the authors as of the date of publication and are subject to change. No endorsement of any third parties or their advice, opinions, information, products or services is expressly given or implied by Royal Bank of Canada or any of its affiliates.