For 40 years, Gary Corcoran has nurtured his passion for cooking. He loves every part of it — reading, experimenting, prepping with friends and family and enjoying the fruits of their labour. When he was diagnosed with ALS, he began writing a cookbook filled with great recipes and great memories.
A proud Newfoundlander, master at-home chef, and veteran investment advisor, Gary Corcoran recently celebrated his 30th anniversary with RBC Dominion Securities. Since he was 15 years old, he wanted to be in the investments industry and spent his entire career helping people manage their money. He also developed an interest in cooking at a young age, which grew to become a lifelong passion.
Gary's two passions — while seemingly worlds apart — complement each other perfectly. "I'm fortunate because I loved the work I did and I also loved to cook as a way to relax in the evening after working all day and on the weekends — and I got to cook on my own terms," he says. "My work provided me an amazing opportunity to connect with clients and community, help people with their investments, and lead an incredible team that became like family." At the same time, it afforded me the opportunity to travel, entertain and create team-building events centred around food.
A born advisor — in the office and in the kitchen
While Gary would spend his days advising clients about their finances, his love for cooking became a central part of his life away from the office — and legendary among his friends, family and colleagues.
He would spend entire days engrossed in creating a meal, either in someone else's kitchen or his own. Wherever he goes, he seems to find himself in the kitchen. On a business trip a few years ago, he found himself cooking behind the stove at Charlie Trotters restaurant in Chicago. He even spent an evening in the kitchen at Raymond's Restaurant. He assisted a team of Newfoundland chefs at the James Beard House in New York City and was invited to cook for a group of NATO Naval Officers in Washington D. C. not once but twice.
If you think your house has a lot of appliances, consider this: Gary has two kitchens, two dishwashers, three electric ovens, a wood-fired oven, two freezers, a dry-aging meat locker, four refrigerators and a walk-in cooler.
For Gary, getting someone to attempt a dish they haven't tried before is a big win. And if they're stuck, he's always there for support. "Over the years I have become a bit of a 'dial-a-friend' service for advice on cooking. Friends and family call me with all kinds of questions. I love helping them create a meal to remember."
The power of a pivot
About two years after he was diagnosed with ALS, Gary could no longer work in the kitchen. But fuelled by his love of cooking, he turned his focus to writing a cookbook: In the Kitchen with Gary Corcoran.
Until then, Gary's recipes were a collection of his chicken scratches, tucked into favourite recipe books, scrawled across multiple notebooks, and jotted down on recipe cards hidden away in drawers. Having cooked for so long on the fly, or without recipes, it was a real challenge to capture his favourite dishes in writing: from specific ingredients and amounts, to cooking times and all the little things that made each recipe special.
"Going through my notes reminded me of recipes I had forgotten about. It was a bit like travelling back in time," he explains. "Writing the book brought back so many memories and so I include a story about why I cooked the dish or why I loved it with each recipe. The book almost became my memoir."
New day, new way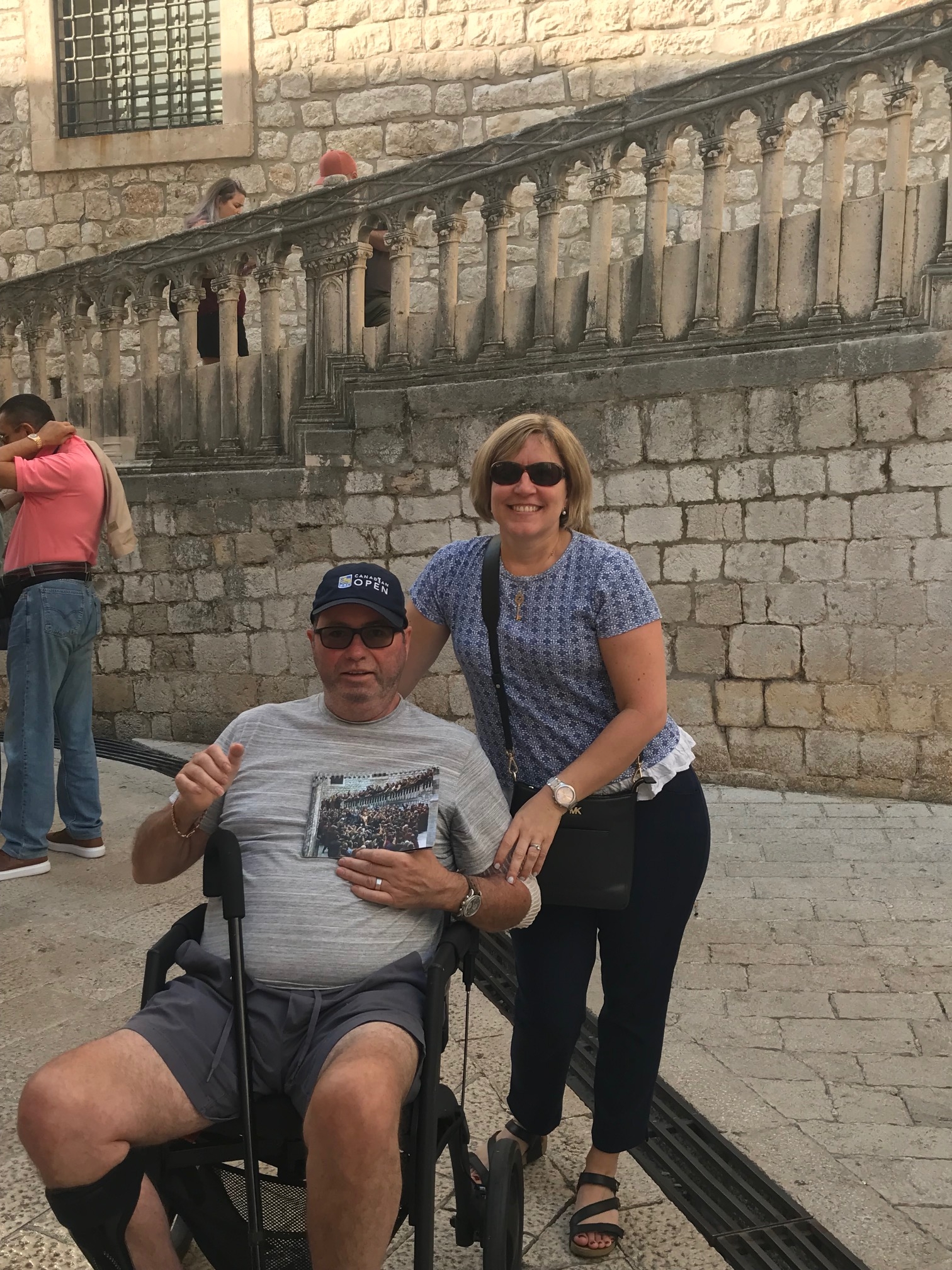 The cookbook became a coast-to-coast project, involving his wife Gayle, as well as friends and family members across Canada helping test and photograph the recipes once Gary had written them down.
For Gayle, also an RBCer, spending time in the kitchen was a big shift. She admits to having cooked dinner only a handful of times in the fifteen years she and Gary have been together. "I was always the chief bottle washer and cleaner-upper," she says.
So when Gary could no longer cook, Gayle became the family chef. Her duties grew as Gary started to assemble the cookbook: Gayle was responsible for testing and photographing many of the recipes before publication, with Gary at her side offering advice and encouragement. "I am still nowhere near Gary's level of cooking. I describe myself as the 'good-enough' cook," Gayle laughs.
As of today, Gary can no longer walk. He has a hard time talking, breathing and moving his limbs. He uses the knuckle on his index finger to type. But his mind is active, and he continues to challenge himself to keep going. "I force myself to engage in ways that I don't need my body — like writing new recipes and reading about new styles of cooking from all over the world."
Gary tried to include all of his favourite recipes in his cookbook, which stands at over 300 pages. "I won't be able to do a 'Part Two,' so I figured this was my only chance to include all of my favourite creations in one place," he says. But even after submitting the manuscript, he was reminded of other recipes that he missed, so he started a website www.corcorancooks.com to house the overflow.
Gary and Gayle's experience is a life-lesson in resilience, in how to transition gracefully from one passion to another. It hasn't always been easy, but being open and flexible really helps.
"Over the past 2 years, we've had to constantly change how we approach both Gary's care and his passion for cooking," explains Gayle. "The one phrase we hang onto is 'new day, new way.' No matter the situation, you can always take a new approach or find a different way of managing, as long as you recognize that each day is a fresh start. You just need to keep an open mind to how you tackle that day or each situation."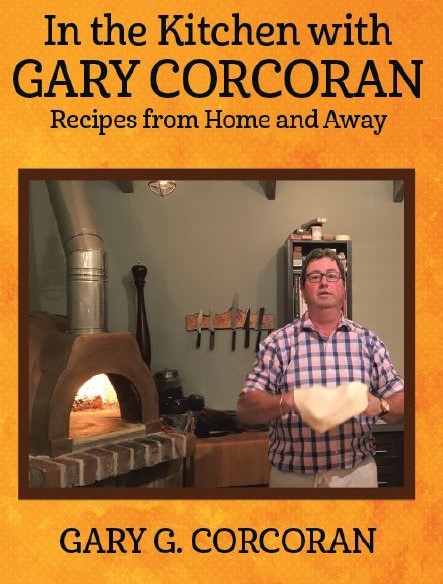 In the Kitchen with Gary Corcoran has pre-sold 3,800 copies to date, and Gary's goal is to sell 5,000 books. He is donating 100% of the proceeds from the sales of the cookbook to charity: half to ALS Research at Sunnybrook Hospital to find a cure for sporadic ALS, and half to his Stokers Group of the St. John's Rotary Club.
In the Kitchen with Gary Corcoran can be pre-ordered today on Gary's website. You can also follow him on Instagram at corcoran_cooks.
This article is intended as general information only and is not to be relied upon as constituting legal, financial or other professional advice. A professional advisor should be consulted regarding your specific situation. Information presented is believed to be factual and up-to-date but we do not guarantee its accuracy and it should not be regarded as a complete analysis of the subjects discussed. All expressions of opinion reflect the judgment of the authors as of the date of publication and are subject to change. No endorsement of any third parties or their advice, opinions, information, products or services is expressly given or implied by Royal Bank of Canada or any of its affiliates.