Joelle Charlie grew up in the remote town of Inuvik, Northwest Territories, and she is using her RBC Future Launch Scholarship to acquire the skills and knowledge needed to bring sustainable farming to her First Nations community.
This article originally appeared in Northern News Services on March 8, 2021.
---
Growing up Inuvik, NWT, Joelle Charlie has overcome many obstacles in her life. Leaning on the advice taught by her elders, Joelle views these challenges as opportunities to become stronger, and channels this strength towards achieving her goals.
Her current objective is improving food sustainability and security in her First Nations community.
"I really want to promote growing sustainable, organic food that is grown locally," said Charlie. "In a lot of these arctic towns, food security is a huge issue that really needs to be addressed."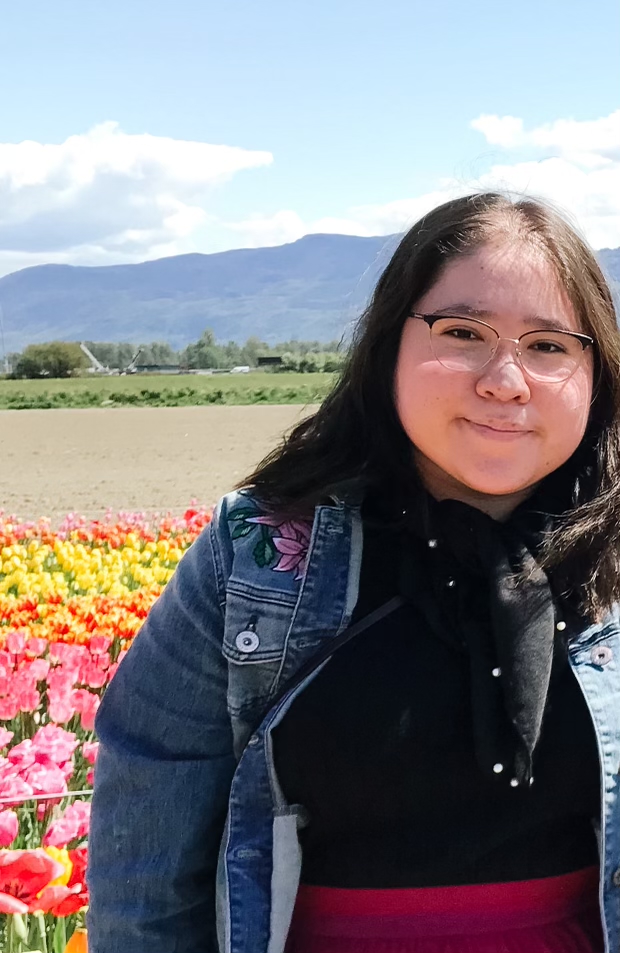 Joelle Charlie
Food security and sustainability
Charlie believes that focusing her efforts on food security and sustainability can help yield positive environmental outcomes for her remote community. Lessons that can also be applied to other rural areas experiencing similar challenges.
"I think producing local food is one thing that we can do to reduce our carbon foot prints," said Charlie. "It can also mitigate climate change and the concerns that our residents in rural locations may have over their food supply."
Charlie knows her community is up for the challenge.
"I come from very strong and resilient people who had to be resourceful and adaptable in the extremely harsh climate they inhabited," said Charlie. "I believe there is a lot we can learn from the traditional knowledge and sustainable practices that our ancestors passed down to us."
Education is the first step
Her long-term goal? Charlie hopes to start her own farm one day, on Kaska traditional territory. As a first step, she plans to attend the Tsawwassen First Nation Farm School to learn the necessary skills and expertise. She is particularly interested in learning about how to develop sustainability practices, while promoting biodiversity on her farm.
I have always recognized the value of education, I did not expect to pursue an education in agriculture, but that is where I feel my path leading me, and I view building this farm as a stepping stone for myself.
"I am really interested in learning as much as I can from this program," said Charlie. "I love how indigenous knowledge is integrated into the programming that Tsawwassen First Nation Farm School offers."
Charlie received an RBC Future Launch scholarship to put towards her schooling expenses, she is one of more than 500 recipients who will be awarded a $1,500 RBC Future Launch scholarship in 2021. She has decided to defer her scholarship a year, and will begin her program next year.
"I have always recognized the value of education," shared Charlie. "I did not expect to pursue an education in agriculture, but that is where I feel my path leading me, and I view building this farm as a stepping stone for myself. I will also be able to invest my time and effort into helping my nation become a more vibrant, healthy, and self-sustaining community."
As for the future, Charlie is encouraged by her community's support of sustainable farming practices, which she believes will lead to employment opportunities for not just her, but others as well.
Could $1,500 make you more future ready?
The RBC scholarship program is open to Canadians between the ages of 15 and 29, and unlike most scholarship programs, this scholarship is for youth who are not yet enrolled in school, or those who attend part-time.
RBC Scholarship recipients are selected based on their drive, excitement for lifelong learning, and on how the funds will generate a new future in a burgeoning career.
This article is intended as general information only and is not to be relied upon as constituting legal, financial or other professional advice. A professional advisor should be consulted regarding your specific situation. Information presented is believed to be factual and up-to-date but we do not guarantee its accuracy and it should not be regarded as a complete analysis of the subjects discussed. All expressions of opinion reflect the judgment of the authors as of the date of publication and are subject to change. No endorsement of any third parties or their advice, opinions, information, products or services is expressly given or implied by Royal Bank of Canada or any of its affiliates.