How does someone who specializes in data analytics and reporting at RBC get to meet with Olympic gold medalists and watch the Games ring side?
For Shanti Suppiah, it started when she asked her parents to enroll her in an ice skating class at the age of 10. As a recent immigrant to Canada from Singapore, Shanti knew nothing about ice skating. But that was all the rage with her new friends. Her parents were all too happy to enroll her in an activity that they hoped would keep their very active daughter preoccupied and out of trouble.
Shanti's skating coach noticed how well she was doing and asked her to consider taking her newfound skills to the next level. That meant trying figure skating, which she did. "Performing for parents and friends was a pretty big deal," says Shanti. "I saw what I could achieve by practicing, and it gave me a taste of the life of a competitor."
Her skating took a back seat when she needed to focus more on her studies. After completing grad school, she wanted to give back to the sporting community. She clicked on the icon for volunteers on Skate Canada's website and filled out an application. "I wasn't fussy about what they might have for me to do," says Shanti. "I just wanted a way to stay connected to the sport and give back."
She was assigned to the media room — a role that introduced her to the behind-the-scenes logistics of orchestrating interviews for athletes.
A love of numbers and problem-solving
"It actually played into my business skillset," says Shanti. "I love numbers and a big part of looking at data is problem-solving. Volunteering in media operations involved a lot of problem-solving."
When an athlete left the ice, Shanti would know which media outlet had dibs for a first interview. "If it was a Canadian athlete, I'd usher them to the first Canadian media on the list. If it was a U.S. athlete, I knew where to direct them next, and when one interview ended I knew who was up next for an interview."
She did so well that she was called back for the next international competition and this time as manager of media operations, managing the shifts of a group of volunteers.
Making a name for herself by volunteering
The director of communications with Skate Canada encouraged Shanti to make the most of her time volunteering by getting to know people in the business — namely the Canadian Olympic Committee (COC).
"I didn't realize that the COC put a call out for volunteers before each Olympic Games," says Shanti, "So I met everyone I could at the COC to tell them of my interest in volunteering for the next Games — that was Sochi, Russia in 2014. Enough people had heard of my volunteering efforts at skating competitions that they contacted me to ask whether I wanted to join them in Sochi as part of the social media team."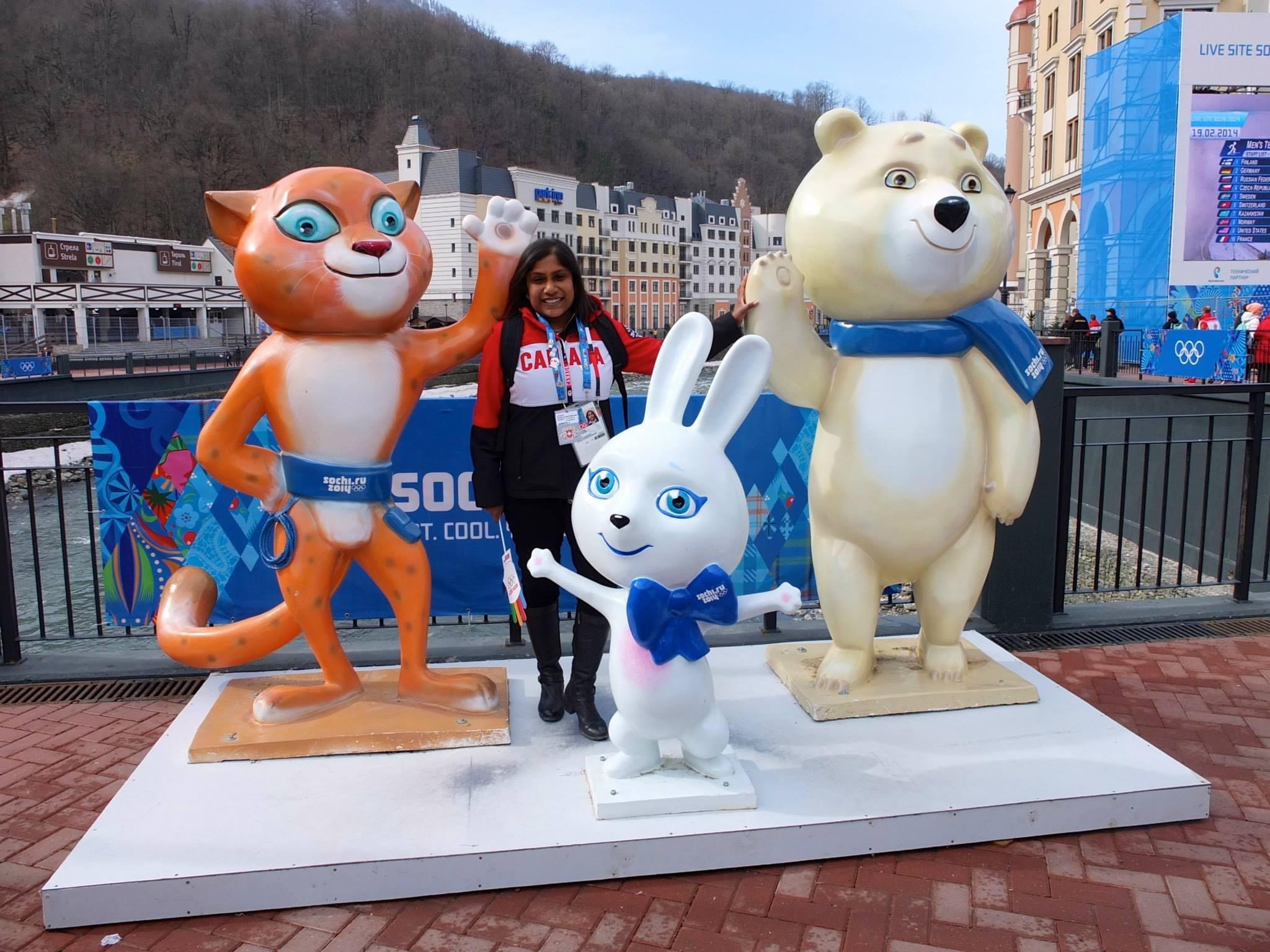 Shanti's first multi-sport volunteering stint was at the Sochi Olympic Games in 2014.
Volunteers would need to make all necessary arrangements on their own dime — that means among other things booking travel and getting accommodations in the host city. "My family was excited for me but they were also concerned for my safety. I was a bit apprehensive, too. There were protests in the news, among other things. But I thought – if I'm going to do this, it's now or never. I would make it work." Shanti says she wore her Canada uniform wherever she went. "I quickly realized that people liked Canadians."
Becoming part of the international family
Her stint in Sochi led to volunteering at the PanAm Games in Toronto in 2015, then Rio de Janeiro, Brazil in 2016, the Invictus Games in Toronto in 2017, and PyeongChang, South Korea in 2018.
"As volunteers, we started to form a community," says Shanti. "We would keep in contact between Games which made it easier to travel and look for housing together, and look out for each other when we were onsite."
Shanti continued to usher competitors to their media interviews. "It's one thing to escort a gold medalist to an interview. It is heartbreaking to come alongside an athlete who just misses the podium but still has to face the cameras. It taught me about facing my own discouragements. I see their faces and often their determination to try again."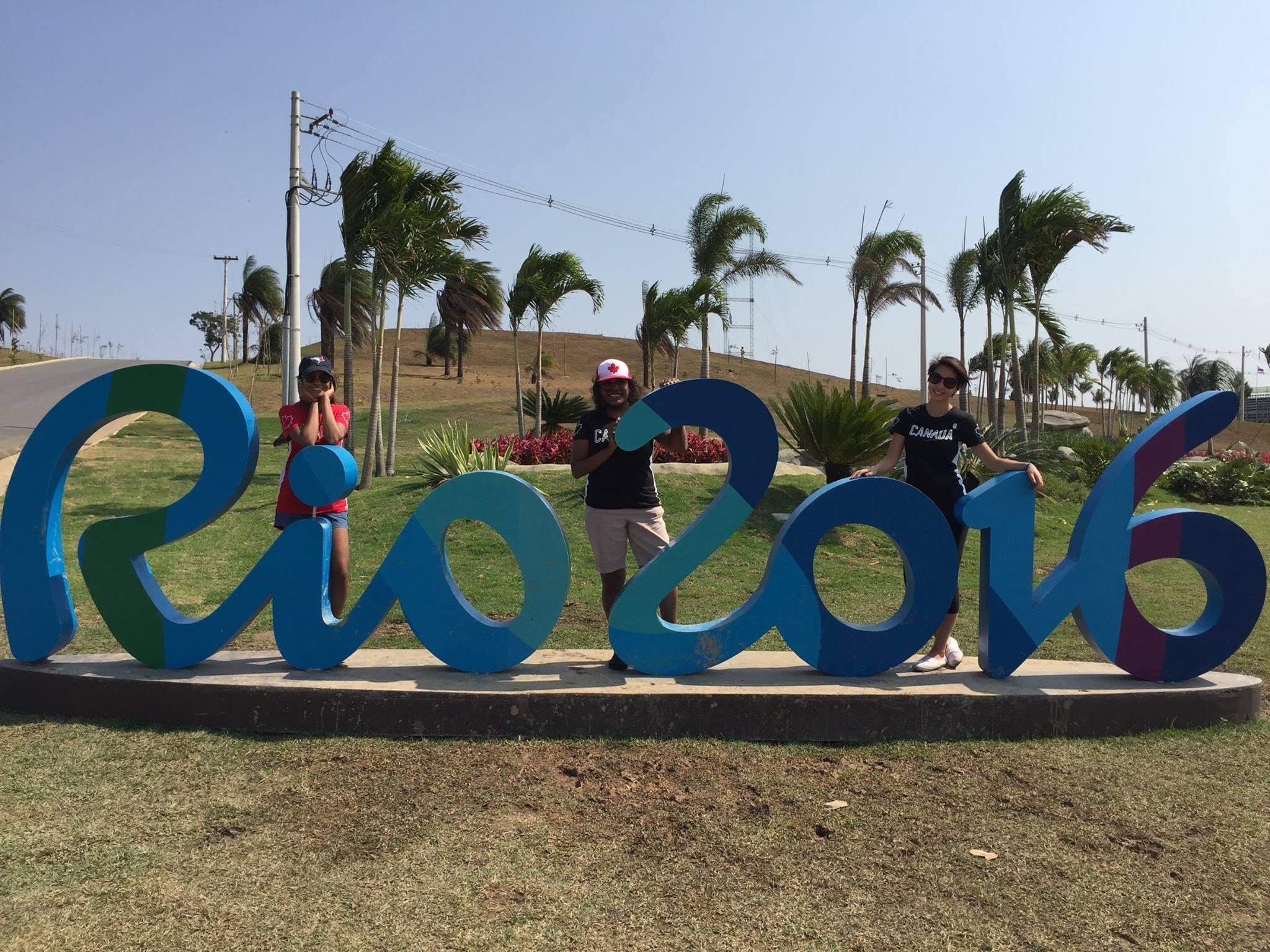 You would think that being onsite offered many opportunities to get autographs and pose for selfies with Olympic stars, but that was out of bounds for volunteers. "There is to be a clear distinction between volunteers and fans." But Rio gave her a brief taste of life in front of the cameras. "We are on a constant adrenaline rush during the Games. One night I got some time off and went to the High Jump competitions. I took a huge Canadian flag with me and waved it proudly to cheer on every Canadian athlete — which was all caught by CBC cameras. I started getting texts from friends and colleagues that they were watching me on television."
The road to Tokyo, Japan
The road to Tokyo includes more processes and protocols unlike anything she has experienced, and understandably so.
To prepare for her Olympic turn, she says she buckled down and read through all the protocols. And when she knew where she would be stationed, she read up all she could about the sport.
She'll be joining the CBC TV crew, not as a volunteer but temporary staff member. "I keep listening to the news for developments. The biggest change I think will be the lack of family and fans onsite including volunteers so I am going as staff. There are pandemic lockdown protocols to follow. We must stay in our bubbles and move only from our accommodations to our workstations and back. We will not be able to use public transportation, only the transportation allocated for us. I have learned a lot over the years and I feel ready to give it my best."
As a long-standing supporter of the Canadian Olympic movement, RBC is proud to support Team Canada athletes heading into the Tokyo 2020 Olympic Games, including our very own RBC Olympians and RBC Training Ground program graduates.
---
This interview was written for RBCnet by managing editor Linda Sadlowski.
This article is intended as general information only and is not to be relied upon as constituting legal, financial or other professional advice. A professional advisor should be consulted regarding your specific situation. Information presented is believed to be factual and up-to-date but we do not guarantee its accuracy and it should not be regarded as a complete analysis of the subjects discussed. All expressions of opinion reflect the judgment of the authors as of the date of publication and are subject to change. No endorsement of any third parties or their advice, opinions, information, products or services is expressly given or implied by Royal Bank of Canada or any of its affiliates.