RBC celebrates and applauds the simple acts of kindness demonstrated in our Caribbean communities. While we may not be able to give back to our communities in large ways, it is the simple acts that can make an unforgettable difference in someone's day. During this holiday season and pandemic, giving back to community in small ways will help us all get through this together. #Caribbeanstrong #Actsofkindness
Eric Hassell Shipping Ltd. is a Barbadian family-owned shipping company that has always been involved in charity work. When the pandemic hit, they were moved to partner with other companies and engage in community outreach efforts to provide families in the St. Michael parish with 40 hampers of food and other essential items. Families were appreciative of the assistance which mitigated the severe impacts of the pandemic.
Eric Hassell Shipping Ltd. is one of the three companies in the Eric Hassell and Son Ltd. Group of Companies and the current Managing Director, Ms. Erica Luke, is a third-generation member of this family-owned company. The culture of family and community has always been evident in the running of the business and is the foundation of their charity work over the years.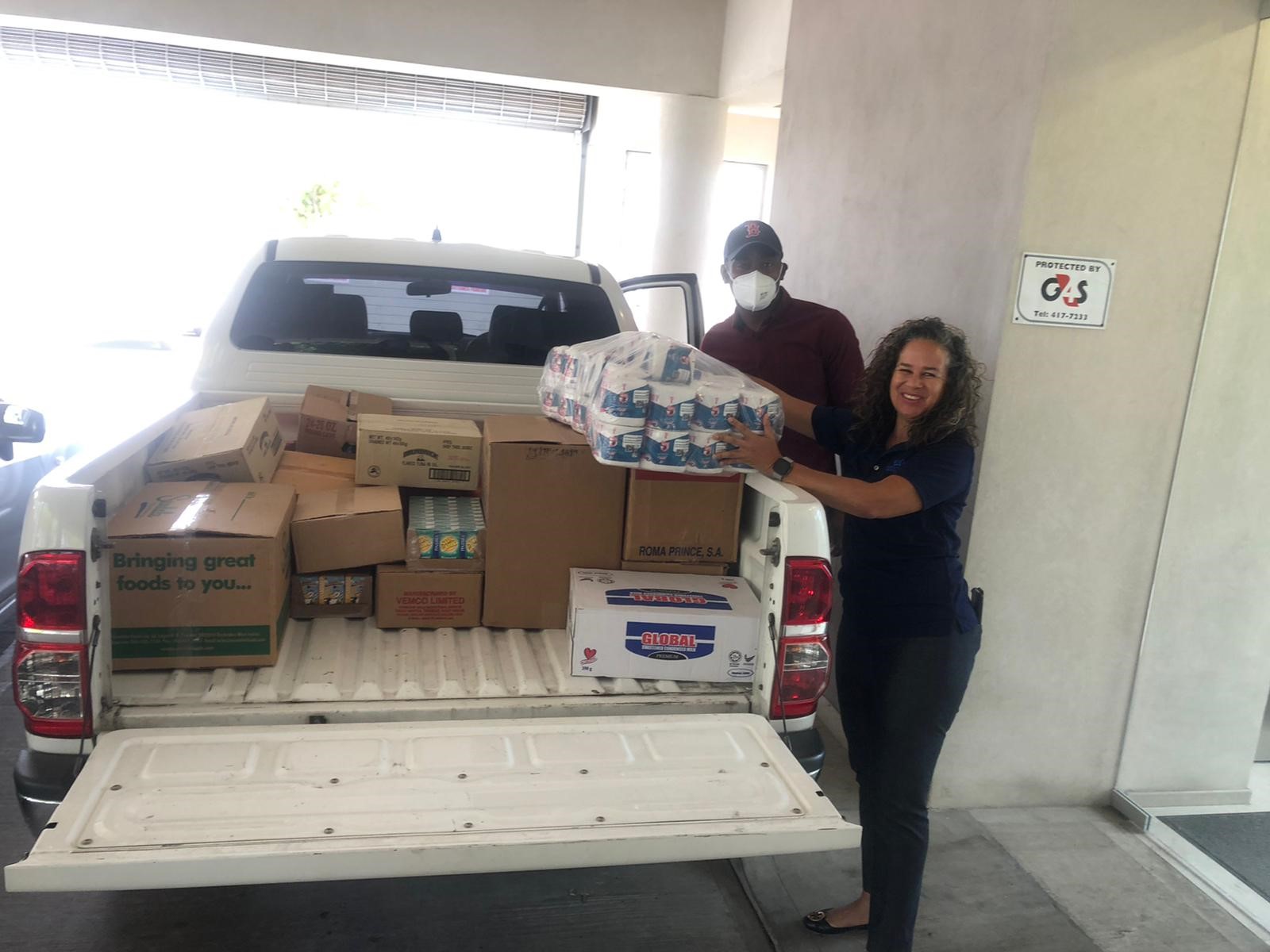 Erica Luke, Managing Director at Eric Hassell Shipping Ltd and Minister of Maritime Affairs, Kirk Humphrey
Many directors at the company are active members in civic organisations and lead by example as they encourage staff members to play their part. "From inception, the company has been conscious of its role in giving back to the community not only in terms of monetary contributions but also in terms of service." said Ms. Luke
In the past, they've collaborated with St Nicholas Abbey to gift a new state of the art incubator to the Queen Elizabeth Hospital's Neo-natal intensive care unit, donated to various NGOs, and painted the Wesley Hall Junior School.
In April 2020, many families had already begun to face various difficulties as a result of the COVID-19 pandemic. Due to reduced economic activity, many became unemployed and found it difficult to provide for their families and manage their monthly expenses. The company and its directors recognized the effects of the unprecedented circumstances of the pandemic and its social responsibility towards the community and their automatic response was to lend a helping hand.
At that time, Mr. Kirk Humphrey, the Minister of Maritime Affairs and the Blue Economy, along with the Barbados Labour Party (BLP) St Michael South Branch embarked on an initiative to help those affected by the pandemic. They aimed to reach out to families in the St. Michael parish, namely the areas of Brittons Hill, Bay Land and Dalkeith Village. When Eric Hassell and Son Ltd. Group heard of the initiative, they decided to partner with Mr. Humphrey and the BLP. As a shipping company, they were able to mobilise the necessary resources to get the job done. Minister Kirk Humphrey was on hand to assist volunteers in collecting the donated items from Eric Hassell Shipping's Managing Director, Erica Luke. A total of 40 hampers were given to families which included food, sanitary care products and other essential items.
Ms. Luke mentioned that during the Company's monthly meetings they continue to discuss various options for on-going projects and initiatives. "We plan to reach out to and collaborate with our business associates and Partners on future projects of this nature." she added.
Even in the face of difficulties brought on by the pandemic, Ms. Luke remains optimistic about the future. "We will continue to partner with staff and other companies to make a positive contribution to the community."
---
"All expressions of opinion reflect the judgment of the authors as at the date of the publication and are subject to change. This article is not an express or implied endorsement of any third parties or their initiatives by Royal Bank of Canada or any of its affiliates."
This article is intended as general information only and is not to be relied upon as constituting legal, financial or other professional advice. A professional advisor should be consulted regarding your specific situation. Information presented is believed to be factual and up-to-date but we do not guarantee its accuracy and it should not be regarded as a complete analysis of the subjects discussed. All expressions of opinion reflect the judgment of the authors as of the date of publication and are subject to change. No endorsement of any third parties or their advice, opinions, information, products or services is expressly given or implied by Royal Bank of Canada or any of its affiliates.