You've heard the buzz: people are calling electric vehicles the "vehicles of the future." Here's the inside scoop on the EV industry and why helping Canada go electric could be the right call for your career.
Whether you're looking to pursue post-secondary education or transition to another field in your career, one of the fastest-growing industries to consider is electric vehicles (EVs). Some call EVs the "vehicles of the future," and Canada's commitment to going electric requires the proper infrastructure, creating demand for skilled workers to fulfill their promise.
Here are five reasons why the green-collar work of ushering in a new, cleaner age of the automobile in Canada might be the right choice for you.
1. The skills revolution
On June 29, 2021, Canada passed the Net Zero Emissions Accountability Act, officially committing to an economy that produces zero greenhouse gasses or offsets its emissions by 2050.
A typical gas-powered vehicle emits about 4.6 metric tons of carbon dioxide annually. EVs emit zero. Modernizing the existing gas-centric infrastructure to accommodate and encourage the switch to electric will be a step towards a healthier future.
As the workforce transitions towards this goal, an estimated eight major economic sectors will be affected, according to RBC Economics and Thought Leadership's climate report, "Green Collar Jobs."
The Net Zero Emissions Accountability Act is one of the more ambitious climate objectives in the world, which means there will be major technological and operational changes in the near future. Canada needs an adaptive, nimble workforce to meet the demands of a rapidly evolving economy and accomplish its environmental goals.
2. More job opportunities
Over the next decade, there will likely be an increased demand for skilled workers in the EV industry. RBC's Green Collar Jobs climate report estimates that between manufacturing and utilities, sales and service, and trades, transport and equipment, the EV industry will add more than 75,000 net jobs by 2031.*
Educating and preparing this new wave of EV workers is an important focus for the Southern Alberta Institute of Technology (SAIT) in Calgary, Alberta. Through RBC Tech for NatureTM, RBC is supporting three projects in Alberta related to electric vehicles, including an $850,000 gift to the SAIT. RBC is also supporting projects with Green Learning Canada Foundation to train Calgary students on how to build and maintain EV charging stations and the Pembina Institute to study the data gaps and systemic challenges in measuring EV capacity, reducing greenhouse gas emissions, and optimizing EV charger locations through a pilot of physical EV charger installations.
According to Jim Szautner, Dean of the School of Manufacturing and Automation and School of Transportation, this burgeoning industry should catch the eye of young people looking to launch their careers.
"What we're seeing is a significant amount of opportunity for young people to get into the transportation industry," Szautner says. "There's more product out now than ever. More options means more complexity, and that requires more highly skilled technicians that can understand the different systems and inputs. It can be a very rewarding career."
3. Engaging experiential learning
Learning the skills necessary to join the EV industrial workforce can be a dynamic, engaging experience. In most schools, theory and hands-on work blend together as students get to know these new vehicles inside and out, both in the classroom and in the garage.
"What you're learning through the textbook in the morning, you're doing in the afternoon," Szautner says. "From bumper to bumper, there's not a component in the vehicle that the students aren't touching."
That kinetic and exploratory learning is a hit with curious students like Joshua Severson, who is currently completing his final term of the Automotive Service Technology program at SAIT.
"I really enjoy it," Severson says. "Every day, we're given a component of the vehicle to study. Sometimes we're given an assignment, and sometimes we get to go in there and find out for ourselves how stuff works."
Severson isn't alone in his appreciation for SAIT's applied teaching style. He says many of his classmates enjoy their learning curriculum's flexibility. The cherry on top? Your work isn't just contributing to your own professional growth, but towards the greater cause of environmental sustainability as well — a point of pride for Severson and his peers.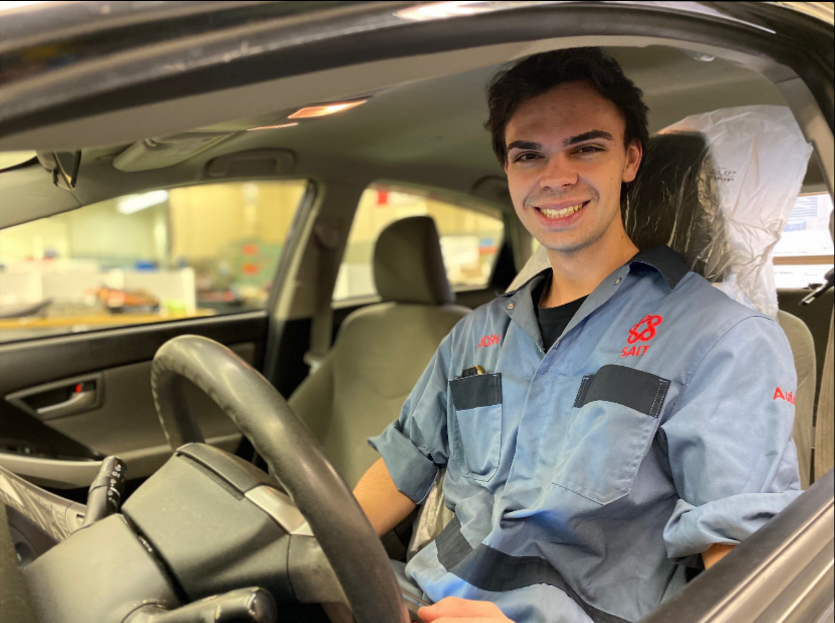 4. Revolutionary new technology
It's exciting to be at the forefront of a new age in automotive technology. The process of tweaking and modifying the latest EV models to optimize them for mass consumption is ongoing. And today, coding is at the front for many of the newest developments.
"Vehicles today are so sophisticated that pretty much every component that you can change requires some type of electronic calibration," Szautner says. "That goes all the way down to some things you may not expect, like your windshield."
That means there's a huge demand for computer-oriented students and workers within the industry.
"There are new layers coming into the industry," Szautner says. "We also need people who are as comfortable handling computers as they are with a wrench in hand."
5. Transferable skills from other fields
There are many opportunities available in the EV industry. Those with a background in mechanical, electric, or automotive engineering, sales, computer programming, business and much more may find roles within the industry that cater to their skills and interests.
"[The EV field] is very innovative and creative," Severson said. "If you come into it with an open mind, you may find it rewarding."
As government policy and technology continue to change, students and professionals alike within the EV industry will have to adapt. The existing infrastructure centred around gas-powered vehicles took over a century of evolution to get to where it is today. Still, the transition to electric will need to happen much quicker. That's why a willingness to learn is Jim Szautner's number one requirement for students in his programs.
"You need to be a lifelong learner," Szautner says. "We're at a point in time where a large amount of knowledge needs to be understood. We need to make sure what is on the road is safe and is being properly maintained. And now we're layering on new technology, and students need to learn that as well."
For more information about our strategy to support our clients in sectors across the economy in a socially inclusive transition to net-zero, and the risks and opportunities we face, please visit rbc.com/climate.
*RBC Economics, EDSC COPS, O*NET, Green Collar Jobs
This article is intended as general information only and is not to be relied upon as constituting legal, financial or other professional advice. A professional advisor should be consulted regarding your specific situation. Information presented is believed to be factual and up-to-date but we do not guarantee its accuracy and it should not be regarded as a complete analysis of the subjects discussed. All expressions of opinion reflect the judgment of the authors as of the date of publication and are subject to change. No endorsement of any third parties or their advice, opinions, information, products or services is expressly given or implied by Royal Bank of Canada or any of its affiliates.