At this month's TechTO, three nuggets of wisdom rose to the surface: Do what you love, persist through the struggles, and stop watching Netflix. (oh, and go to TechTO. But that goes without saying)
It was one of those hot, sticky nights of the summer. The air was thick outside, a little stuffy inside, but nonetheless more than 600 people descended on RBC WaterPark Place for the July edition of TechTO. A little humidity wasn't going to hold these tech enthusiasts back.
Those in the know headed for the less-busy bar and spacious mingling area at the back of the reception area. Imagine their surprise and delight when happening upon the Office Coffee Solutions kiosk offering up free iced coffees — like an oasis in the desert.
Once guests were seated in the sold-out auditorium, the evening began as usual: Opening remarks from hover-boarding host Jason Goldlist, a few sponsor announcements — RBC Ventures company Ownr had a special offer for attendees, Rogers was offering up business consultants to support startups, and PwC promoted their Tech Hub — and the Community Spotlight where Tiffany from Rumie asked the crowd to donate their previously-loved Android devices, so to continue helping underserved communities access free digital education.
The Community Open Mic followed — an increasingly popular segment of the evening, during which dozens of attendees get 10 seconds each to announce, promote and introduce whatever they wish, including new apps, tech services, skills for hire and more. This evening, we learned of apps to cure snoring, book entertainment and visualize your home's walls and floors. Attendees met a keen young software developer looking for work, and learned that the Ontario Business Achievement Award is currently accepting nominations. Wouldn't it be cool if it was a tech founder?
The presentation portion of the evening kicked off with Nancy Peterson, Founder & CEO of HomeStars.com. TechTO co-founder Alex Norman introduced her proudly as an inspiration in the tech industry. Nancy started her journey before there was a robust community or ecosystem in place. She's one of the pioneers.
Nancy focused her talk on the ups and downs of starting a business. She left a high-paying corporate job with a company car, stock options, and a big team, for a great idea. She went for it, believing in her simple, single-minded idea. What happened next? In the first month, her company was sued for defamation. In their first year, HomeStars had a term sheet from a leading VC that they couldn't close. Her husband, who had been supporting the family, lost his job. Both her parents fell ill. She was inclined to stop — most people would have. But she persisted through the ups and downs, recognizing that the really difficult times were part of the journey.
She shared the Startup Curve, which accurately sums up the trajectory of a startup — including the sometimes agonizing mix of sorrow and frustrating moments of false hope. She explained how she learned a lot about liable and defamation law in Canada, and how to protect homeowners when they want to write a negative review. She revealed how she raised money from friends, family, institutional angels, and that her husband found another job. She made it through.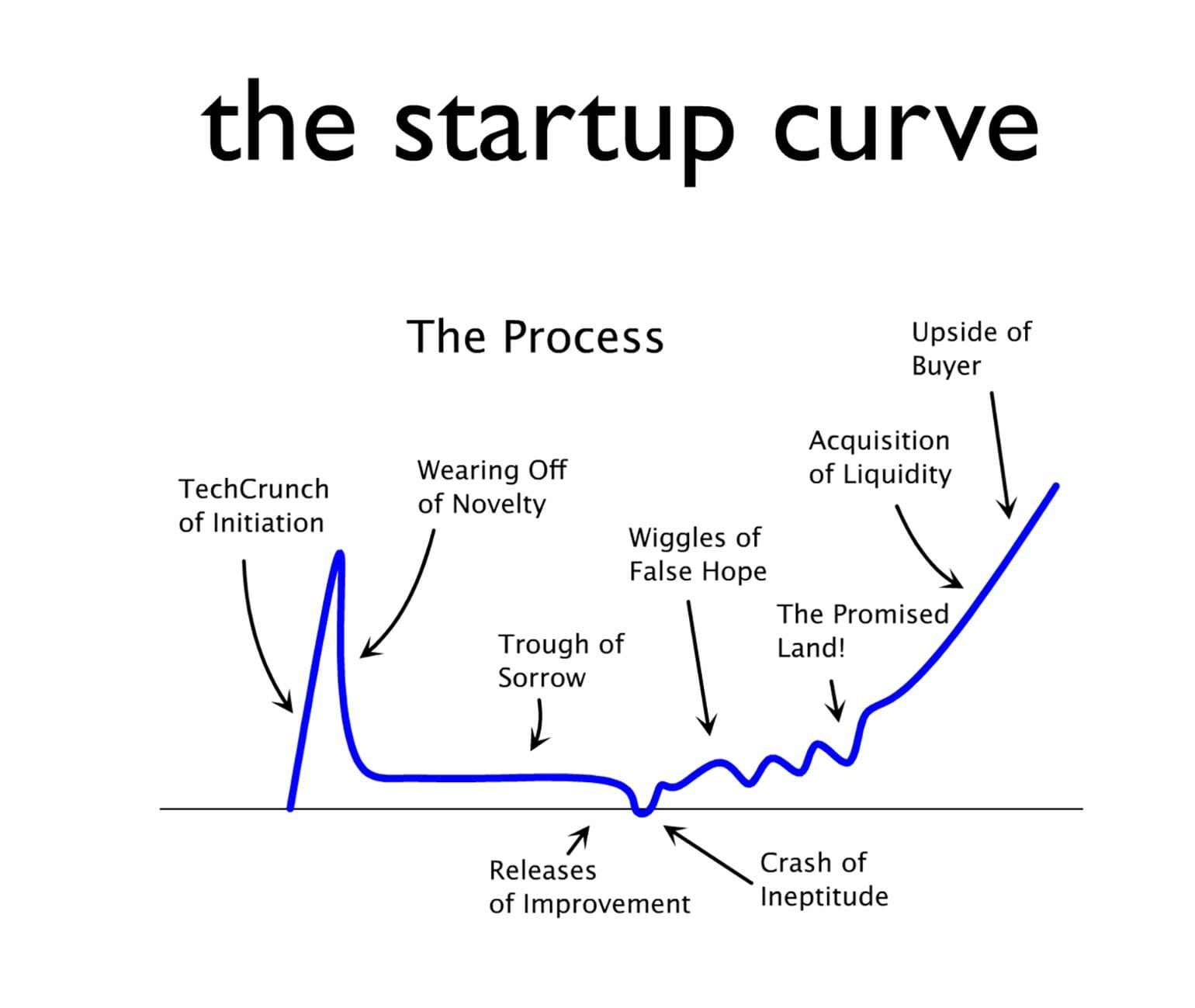 Fast forwarding to a few weeks ago, Nancy was writing 35 cheques to angels that had supported HomeStars through the years — one of the best feelings an entrepreneur could have, she says — to say thank you to the people who supported them.
She closed her talk with a quote by Amelia Earhart: "The most difficult decision is to act. The rest is merely tenacity."
Next up was Muneep Mushtaq from AskforTask. Muneep is an ambitious guy — he sold his first business when he was 19 and is now running 2 businesses (which he can do, he claimed, because he's not married yet).
Muneep focused his talk on the importance of a mission. His mission is to empower others. In his company, he follows three guidelines:
Build a family, not a team. You want people around you who are committed to you and your idea, people you can laugh with, cry with.
Seek feedback. It's important to empower others to give you constructive input — it will help you grow.
Volunteer and engage in causes. Always make sure you set aside some time to contribute to the community.
Muneep also emphasized the importance of empowering yourself to launch a business, with advice to start small and to never give up. He further cautioned against starting a business just to make money: "You need to have a vision that you want to spend a decade building," he said.
He advised not to watch that Netflix show in your spare time. Instead, spend your free hours figuring out what you want to build and how you can build it.
"Try fast, fail fast, repeat," he said. You'll notice that some things stick … try as many things as possible to see which one works."
Next it was the demo portion of the evening, featuring Flexday. Less than a year old, the Flexday app uses the excess capacity of Toronto-area restaurants and offers a space to work, unlimited coffee and tea, enterprise-grade wifi, and the promise of a power outlet nearby. The app connects users to the closest restaurants with their available work hours, and a simple way to book a seat. Currently with 50 locations throughout the city, Flexday is the biggest co-working solution in Toronto (with an eye to expanding nationally and internationally).
Mark Ang from Second Closet (a service that picks up, stores and returns your stuff) followed the networking portion of the event. Mark launched his business with his brother when he was just 17 years old — 14 months ago. Already with 35 employees and $2.5 million raised in seed funding, Second Closet is expanding to Vancouver shortly.
Mark talked about how their company has managed to grow so fast in 14 months. Part of the success is understanding that there will be temporary growing pains (human capital and talent constraints, work/life balance). The other part is being able to differentiate between the temporary issues and those problems that are less fleeting – such as product or market fit, pricing, or a blurred vision. When faced with those, Mark said, it's time to re-set, take a step back and determine how to adjust course.
Other secrets to fast growth he said? Giving up Netflix and social balance, and doing something that's really meaningful to you.
"A lot of us work 7 days a week because we do what matters to us, and we want to see it through." Stranger Things will have to wait.
The final speaker of the evening was Elias Torres of Drift, who was there to share how his company managed to raise $107 million in funding in just a few years.
His secret? Books. Reading books. Lots of them. His co-founder had been telling him for 10 years that he needed to read more. Elias felt he didn't need to, he'd say "I don't need to read, I know everything." At the same time, he continually admired his co-founder for his vision and creativity, not realizing where his ideas were coming from. As it turned out, it was from the amazing books that we all have at our fingertips. Four years ago, Elias started reading.
Now he reads voraciously. "If you want to raise $100 million you have to be able to share a vision with investors – a vision that is large enough to have people believe in you."
That's why he recommends three must-read books that offer insights from other founders: Inside Home Depot by Chris Roush, Made in America by Sam Walton, and The Everything Store by Brad Stone, which documents the rise of Amazon.
Here's a more complete list of recommended reads by Drift co-founder David Cancel. You can also download his Seeking Wisdom podcast for more big ideas.
So turn off your subscription-based streaming service, define your vision, read a book and save a little money on that startup budget by getting an early bird ticket to next month's TechTO (August 13, 2018). Guaranteed it will be time well-spent.
This article is intended as general information only and is not to be relied upon as constituting legal, financial or other professional advice. A professional advisor should be consulted regarding your specific situation. Information presented is believed to be factual and up-to-date but we do not guarantee its accuracy and it should not be regarded as a complete analysis of the subjects discussed. All expressions of opinion reflect the judgment of the authors as of the date of publication and are subject to change. No endorsement of any third parties or their advice, opinions, information, products or services is expressly given or implied by Royal Bank of Canada or any of its affiliates.