They say distance makes the heart grow fonder. If you have a cherished U.S. destination or a vacation property that's been sitting empty for a while, chances are you're aching to get back. Once you do, here are some great options to help you re-discover your favourite spots.
Dreaming of long, warm, sunny days outdoors? While today the Canadian/U.S. border remains closed, it's not too early to start planning for the fun you'll have when travel restrictions are lifted.
When the time comes to get back to the U.S., you'll likely still want to be mindful of maintaining physical distance and other preventative measures for the foreseeable future.
The good news is, there are many activities you can do once you head south of the border that allow you to explore, have fun and stay active, while staying two metres apart from those outside your circle.
Tennis and Pickleball
If you're a fan of racquet sports, tennis and pickleball are great socially-distanced activities, whether you're playing singles or doubles, they're automatically distanced, no-contact sports. If you're playing someone new, just skip the handshake and take a moment to disinfect your hands and your racquets or paddles before and after each game. You may also want to consider wearing gloves to handle the balls or have a spare can on hand for each player.
Golf
Golfers rejoice! Golf has been deemed a low-risk sport during the coronavirus pandemic by Golf Canada since it's outside, a non-contact sport, and is played among small groups of people. Given the exceptional variety and quality of golf courses across the U.S., this is great news for those who love the game.
Every course will have its own protocols and, in many cases, riding is restricted to one golfer per cart (push carts recommended). To further enhance the safety, pack an extra sleeve of balls and tees so you're not borrowing from a playing partner. And, if you're not 100 per cent sure that Titleist off the green is yours, drop a new one just in case.
Hiking / Walking
Wherever you go in the U.S., hiking options abound — from heart-pounding, invigorating climbs to pleasant strolls along beachfront boardwalks, and leafy paths that let you explore flora and fauna.
Try to stick to trails that aren't that busy — either by picking somewhere off the beaten path, or hiking during non-peak times to avoid getting too close to other hikers. In doing so, you'll be able to take part in a low-risk activity that gets you moving and enjoying the great outdoors. Ready to start exploring?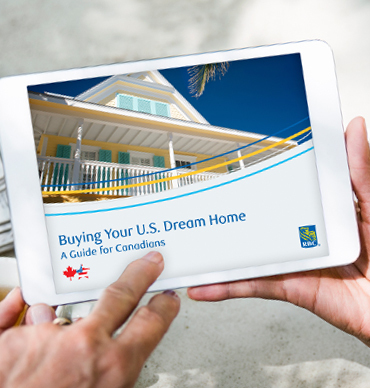 Get Your Free Guide to Buying Your U.S. Dream Home
Your one-stop resource for your U.S. home buying journey – finding a Realtor, financing your purchase, cross-border tax and legal experts and more.
Fishing
Fishing offers both the serenity of being out on the water and the challenge of reeling in a great catch. A wonderful activity to do with family or close friends within your social bubble — or alone, if you so choose — fishing allows you to stay away from crowds. Whether you're a fan of freshwater or saltwater fishing, many states offer robust options regardless of your experience.
Boating
Whether you prefer a sailing, kayaking, jet skiing or motor boating, there may be no better feeling than pushing off shore to enjoy a day out on the water. It's easy to paddle, sail, cruise or play at your own pace and at a safe distance from others.
To help reduce pressure on emergency responders, be sure to always wear a life jacket, double check your safety gear, and ensure your craft is in good working order before you leave land.
Brighter days are ahead and your favourite U.S. getaway spots will soon be ready to welcome you back when the border reopens. Until then, hone your golf and racquet skills at home, get your hiking gear ready or plot out your boat trips so you're ready to hit the ground (or water) running!
This article is intended as general information only and is not to be relied upon as constituting legal, financial or other professional advice. A professional advisor should be consulted regarding your specific situation. Information presented is believed to be factual and up-to-date but we do not guarantee its accuracy and it should not be regarded as a complete analysis of the subjects discussed. All expressions of opinion reflect the judgment of the authors as of the date of publication and are subject to change. No endorsement of any third parties or their advice, opinions, information, products or services is expressly given or implied by Royal Bank of Canada or any of its affiliates.