Maddy Price is a Canadian Olympian and professional 400m and
4 x 400m
relay sprinter. Off the track, she's a motivational speaker, mentor to female athletes, food and travel lover and athlete mental health advocate. In a recent conversation, she shares her inspiring story.
Madeline (Maddy) Price has always dreamed of competing in the Olympics. An elite runner through high school, she ran and studied at Duke University. She graduated in 2018 with six All-American Honors, two years as Captain and a Master's of Management Studies from Duke's Fuqua School of Business.
The Road to the Olympics
While Maddy's goal was unwavering, her road to the Olympics and running full-time was a bumpy one. Months after missing the 2016 Rio Olympic Team, her father passed away from cancer. Twelve months out from Tokyo 2020, she underwent foot surgery for a chronic issue – then the global pandemic postponed the games, disrupting training and presenting several challenges for athletes like Maddy.
After her foot surgery in August of 2020, Maddy focused on her recovery and building strength. She and her training partners turned her back porch into a gym – lifting weights for strength and cycling for cardio were the only training she could do for months. With only six months to go before the Olympics, she had laced up her spikes only twice. But she approached training with a gritty, day-by-day attitude, rebuilding her power and speed on the track in early 2021. On July 3rd 2021 – three weeks before the start of the Olympic Games – she found out she had earned a spot on the Canadian Olympic team as a participant in the Women's 4 x 400 metres relay. Despite the odds, she helped lead the team to a fourth-place finish, narrowly missing the podium and the Canadian record by six-tenths of a second. "Far more important than the accomplishment of becoming an Olympian is how I approached the process," Maddy says, adding, "after all, the journey is the true reward."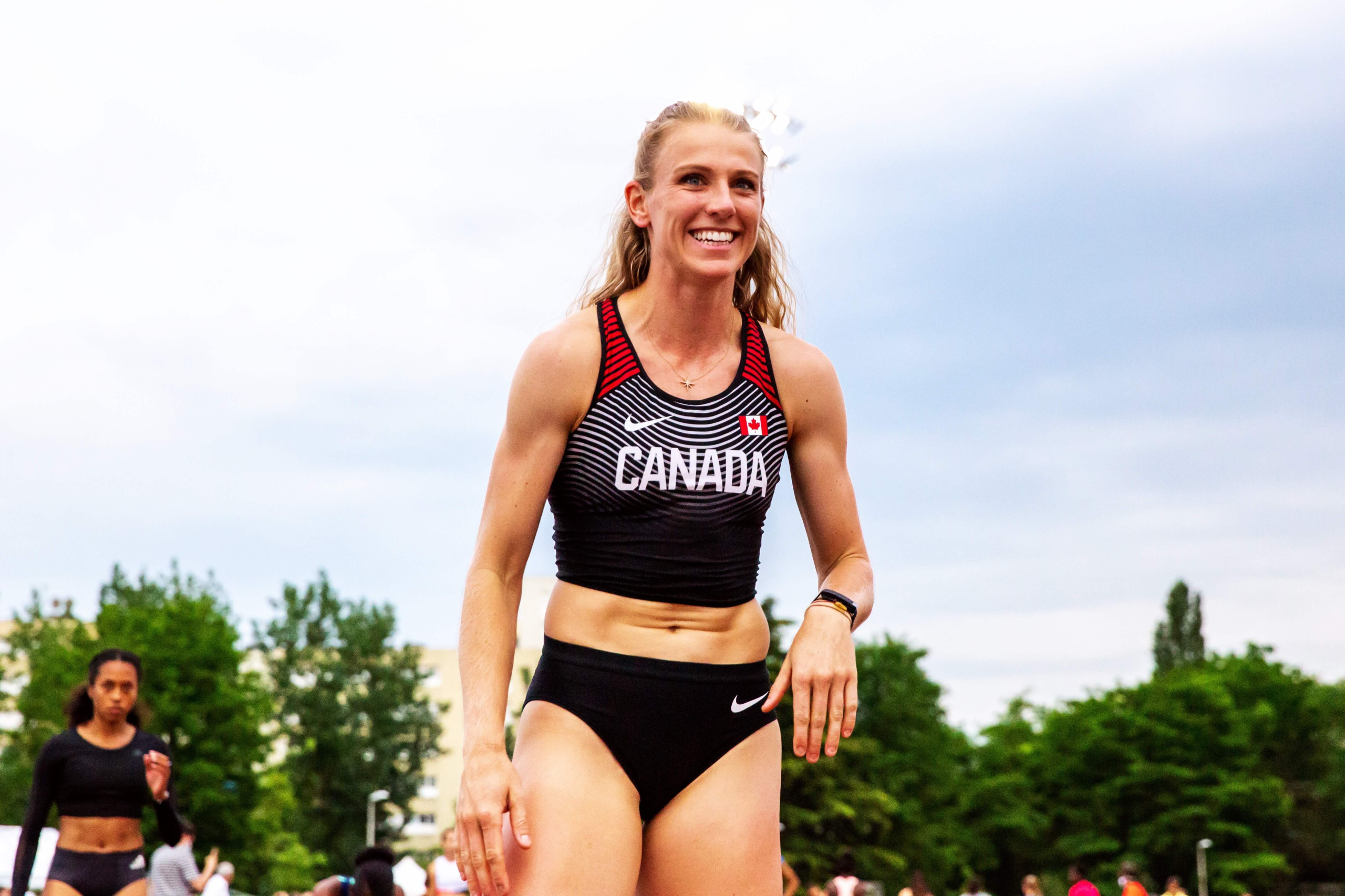 Making a Difference off the Track
When she's not training or competing, Maddy is a motivational speaker and mentor to female athletes. Through the volunteer coaching system at Duke, she discovered a love for providing guidance to the next cohort of young sprinters. Every week, Maddy mentors female athletes ages 13 to 23 through the online platform Voice In Sport. "We have open discussions geared toward female-athletes that are too often unspoken, including training through menstrual cycles, tailoring your nutrition to your body's needs, and body image. We talk about the importance of optimizing sleep, creating a nightly routine and maximizing the body's opportunity to recover. I know when I was in high school, I would have loved to have access to collegiate and pro athletes to ask questions on topics like these," says Maddy.
She finds mentorship to be a continually rewarding and challenging process. She loves working with and inspiring young women to excel in sport, especially because she gets to give back to her community, paying forward some of the incredible guidance she's received throughout her career.
5 Things Maddy Price Can't Live Without
With the results Maddy has earned for Team Canada, she qualifies for carding, which allows athletes of international caliber to receive financial assistance with their training and competition needs. "This carding is super important, especially for a sport like track where there are very few big contracts for athletes – unlike the NFL or NBA," explains Maddy. "Many athletes, including myself, have to work other jobs and side hustles to get by, so this support from Canada goes a long way."
While Maddy competes for Team Canada, she lives in North Carolina to continue mentoring, speaking and training, which she can do year-round in the U.S. climate. "While living and training in the U.S. is great because of the warm weather, I previously didn't have an efficient or easy way to utilize the Canadian support I was receiving without dealing with big wire transfer fees or the complications of transferring money from Canada to the U.S.," she says.
Before becoming a Team RBC Ambassador, Maddy and her grandmother visited a local RBC branch on a trip to Toronto. They sat down with an advisor to discuss finding a better way of receiving the support from Canada and using the funds in the U.S. as intended. That's when RBC Cross-Border Banking was introduced. "I haven't looked back since," says Maddy.
With her ability to easily transfer money between Canada and the U.S., she can use the support from Canada to help her pay for the things that will make her the best athlete and person she can be. Maddy shares the top five things she can't live without.
Sports psychology. Maddy has been with the same sports psychologist, Steve Portenga, since 2016. They've been together through her first attempt to make the Olympic team, her father's passing, and her preparation to perform under pressure at the Tokyo Olympic Games. The effect on her mindset is invaluable.
Physical therapy. For Maddy to consistently perform at the highest level, she invests a significant portion of her time on physical therapy. She predominantly focuses on strengthening exercises and receiving manual therapy such as joint mobilization and muscle fascia release.
Massage. As a result of sprinting, Maddy builds up lactic acid in her legs which is most efficiently flushed through massage. It's a key part of her recovery protocol, plus it's very relaxing!
Nutrition. Maddy loves all food, but as an elite athlete she recognizes the need to eat healthy… most of the time. Her two favorite things to eat are her mom's spaghetti and morning oats topped with Big Spoon Roasters nut butters.
Her downtime. Maddy is a big fan of movies that celebrate the human spirit (Rudy is one of her favourites) and the TV show Ted Lasso. When it comes to music, she loves listening to J Cole to get fired up and LÉON to relax after a long day.
Access to the essential resources listed here helped Maddy Price make her first Olympic team and compete for Team Canada at the Tokyo 2021 Olympic Games. There, she ran her lifetime best and Canada's 4 x 400 metres relay team ran faster than any Canadian team had run in 30 years. Her determination, passion, strength and support network all helped Maddy achieve a goal she had nurtured since childhood. The financial guidance she's received from RBC has made the journey just a little bit easier.
This article is intended as general information only and is not to be relied upon as constituting legal, financial or other professional advice. A professional advisor should be consulted regarding your specific situation. Information presented is believed to be factual and up-to-date but we do not guarantee its accuracy and it should not be regarded as a complete analysis of the subjects discussed. All expressions of opinion reflect the judgment of the authors as of the date of publication and are subject to change. No endorsement of any third parties or their advice, opinions, information, products or services is expressly given or implied by Royal Bank of Canada or any of its affiliates.