Digital Therapeutics promise greater personalization of treatments and adherence to prescriptions. Despite recent set-backs, regulators, investors and large-pharma companies remain committed to realizing the potential.
The full version of this article originally appeared on RBC Capital Markets.
---
In the broad and diverse field of digital health, one sector garnering increased attention from pharma companies is Digital Therapeutics (DTx). Digital therapeutics treatments are defined by their industry trade alliance as "evidence-based therapeutic interventions that are driven by software programs to prevent, manage, or treat a broad spectrum of physical, mental, and behavioral conditions."
The alliance is understandably keen to set a higher bar to differentiate digital therapeutics against a plethora of some 318,000 health-related apps. To qualify as a Digital Therapeutic, treatments have to gather evidence of efficacy, be approved by the regulator and be prescribed by a doctor.
Efficacy beyond cognitive conditions
Many high-profile digital therapeutics treatments are based on cognitive behavioral therapy and treat substance abuse or cognitive conditions. For example, in June last year, the FDA approved the first prescription video game, EndeavorRx from Akili Interactive, as a treatment for children with attention deficit hyperactivity disorder (ADHD).
It's a significant breakthrough given that the US spends $14bn in treating ADHD patients and EndeavorRx may appeal to parents who are reluctant to medicate their children. As Akili's senior vice president of medical devices, Scott Kellogg said, "The clearance of EndeavorRx marks the culmination of nearly a decade of research and development and was fueled by the commitment of our team and collaborators to challenge the status quo of medicine."
But such treatments paint only part of the picture. Digital therapeutics approaches are increasingly being licensed for a far broader range of therapeutic areas.
Diabetes and hypertension treatments have received the most interest from investors. For example, digital health company Livongo, which started with diabetes treatments, went public in 2019 having raised $237m in funding. Many more will follow in the next 24 months.
Propeller Health's digital platform helps patients with persistent asthma and chronic obstructive pulmonary disease (COPD) record medication, review symptoms and receive personalized information about their condition.
And Voluntis' partnership with Astra Zeneca initially focused on a digital therapeutic for women undergoing treatment for ovarian cancer. Today, its Oleena therapy is the first FDA Software-as-a-Medical Device approved for use across all cancers.
The promise of personalization
Digital therapies promise a number of benefits for patients, as well as wider care stakeholders.
For patients, digital therapeutics treatments offer greater personalization, with patients taking control of their treatment programs and receiving support with lifestyle changes. For example, Omada Health's digital treatment platform for Type 2 diabetes adapts personalized recommendations based on variations such as user demographics, self-identified barriers and data from a connected glucometer and blood-pressure cuff.
Digital therapeutics also promises increased adherence for prescribed treatments. It's a significant problem, as failure to complete prescriptions is estimated to lead to $289bn in waste and cause up to 10% of all hospitalizations.
Keen to foster such innovation, the FDA has encouraged digital therapeutics firms to follow the De Novo pathway that aims to streamline regulatory approval for such treatments. "The FDA is committed to providing regulatory pathways that enable patients' timely access to safe and effective innovative digital therapeutics," said Jeffrey Shuren, director of the FDA's Center for Devices and Radiological Health."
It has buoyed growth forecasts, with the global digital therapeutics market predicted to be worth $9bn by 2025, up from $2bn in 2019 according to CB Insights, and deals and funding, which reached a peak in 2018, but has since levelled off with $600m raised across 50+ deals in 2019.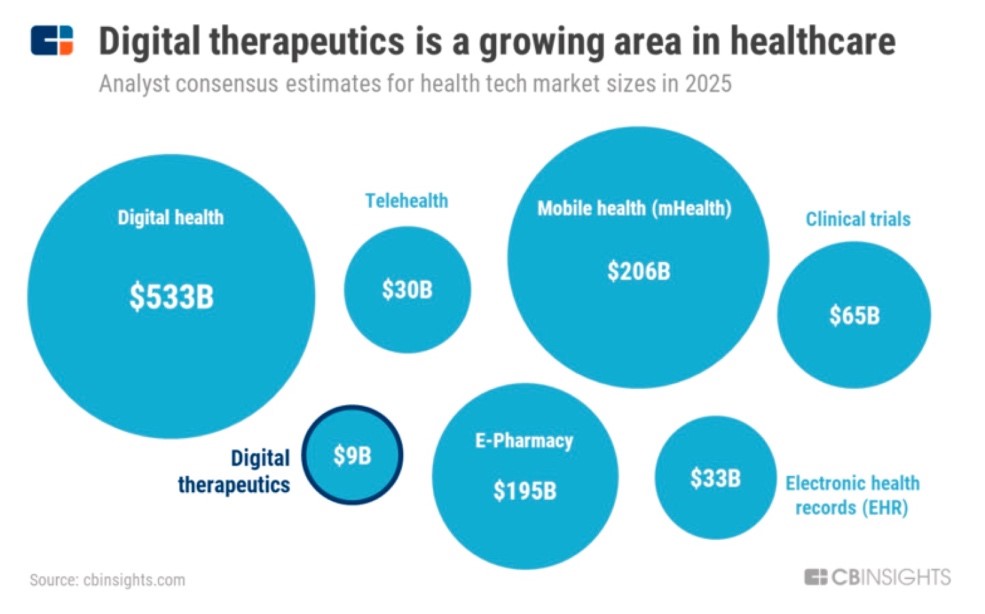 Headline setbacks
However, the digital therapeutics sector has lately faced a number of high-profile setbacks.
In October 2019, Sandoz, the generics division of Novartis, ended its commercialization agreement with Pear Therapeutics to develop prescription smartphone apps for treating substance abuse disorders. This was followed in November by Sanofi's CEO Paul Hudson announcing plans to pull back Onduo, the firm's diabetes management joint venture with Verily.
And in June 2020, former investment unicorn Proteus Digital Health filed for Chapter 11 bankruptcy protection having failed to secure further funding after pharma partner Otsuka reassessed their commercialization agreement. However, while a set-back for the company, the pharma giant was keen to stress that this won't affect its continued delivery of Abilify MyCite – a sensor-enabled version of Otsuka's schizophrenia drug developed though the collaboration. "Otsuka remains committed to building a successful digital healthcare business that includes digital medicine as well as digital therapeutics," a representative said.
There have been a number of reasons cited for the recent stumbles.
For companies like Proteus, improving treatment adherence in the mental health field has been notably tough. Indeed, the company has been pivoting to fields where the pharmacologic therapy is key to the outcome and has launched its first digital cancer chemotherapy treatment.
Across the sector, it also highlights the underlying challenge of how to prove the value of such innovative therapies for all stakeholders. To persuade potentially reluctant insurers to take the risk of covering an expensive new service, a number of innovators have responded by trialing 'outcomes-based contracts', with payment directly tied to how well patients do on the treatments.
Taking the longer view
It is also informative to step back and view the sector's evolution through a longer lens.
"There are set-backs with every new modality," says Greg Wiederrecht, Managing Director in RBC Capital Markets' Healthcare Investment Banking Group. "It's a well-documented phenomenon illustrated by Gartner's Hype Cycle where an initial trough of disillusionment heralds a steadier plateau of productivity. We've seen this story play out many times in fields from gene therapy to RNA Therapeutics."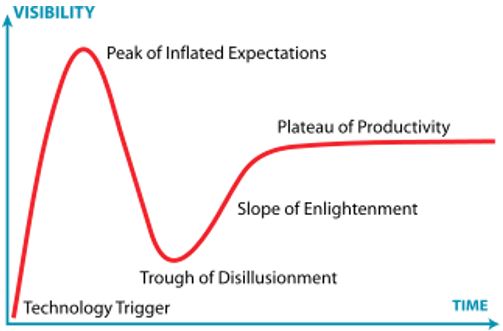 It's a view echoed Chris Hogg, Chief Commercial Officer at Propeller Health, "It's kind of inevitable that certain things won't work, and certain things will work. So, it's not really surprising to me that maybe some of these partnerships haven't worked out the way people thought they would."
The message has been heeded by the pharmaceutical companies who continue to embrace the potential of digital therapeutics. Over the same period that Proteus struggled, Bayer inked a significant new partnership with Sidekick Health for a digital solution to address Peripheral Arterial Disease and Voluntis and Novartis partnered for a digital therapeutics platform to support breast cancer patients.
This article is intended as general information only and is not to be relied upon as constituting legal, financial or other professional advice. A professional advisor should be consulted regarding your specific situation. Information presented is believed to be factual and up-to-date but we do not guarantee its accuracy and it should not be regarded as a complete analysis of the subjects discussed. All expressions of opinion reflect the judgment of the authors as of the date of publication and are subject to change. No endorsement of any third parties or their advice, opinions, information, products or services is expressly given or implied by Royal Bank of Canada or any of its affiliates.