Data from RBC Elements™ indicates the peak of COVID-19 has passed for China. The data also shows that the recovery trend continues after the Lunar New Year.
A version of this article originally appeared on RBC Wealth Management.
Three months have passed since China's zero-COVID policy pivot. The latest COVID-19 wave seems to have ended, and the warnings of global health organizations about massive infections during the Lunar New Year turned out to be unjustified. Investors are no longer asking whether the reopening will reverse; instead, they want to know what is happening on the ground and whether reopening will boost domestic and global economic activity.
January and February are usually "data vacuum" periods in China. To avoid seasonal fluctuations due to the Lunar New Year, the Chinese government combines two months of data and announces them in March. Therefore, we leverage findings from our RBC Elements™ in-house data science team to examine the path toward normalization and its implications for China and global equity markets.
New COVID-19 wave unlikely anytime soon
The number of COVID-19 cases in China reached a peak on Dec. 22, 2022, and has been trending down since then, was the message delivered by Wu Zunyou, chief epidemiologist at the Chinese Center for Disease Control, at an early February conference. He added it is unlikely the country will experience another wave of infections in the coming months as the population's immunity level is at its highest after recoveries from the previous wave.
His announcement coincides with our observations. People with friends and family in China may have noticed that after the large number of infections in December, they seldom hear anyone say they "caught COVID" recently. People have started to return to work, travel, and gather with friends and family without concerns. In other words, we think the mental hurdle of "catching COVID" is behind China.
Strong mobility rebound even after Lunar New Year
RBC Elements' mobility data indicates the peak of COVID-19 has passed as daily metro ridership in major cities has picked up strongly since late December. The data also shows that the recovery trend continues after the Lunar New Year.
A surge in travel inquiries
As RBC Elements analyzed data from Chinese internet search engines, the team discovered travel keyword searches increased after the lockdowns ended and then "rallied in parabolic fashion." RBC Elements explained, "The recent eruption of searches directly follows Lunar New Year."
Chinese flights are also rebounding, with total flight counts recovering to 80 per cent of normal levels. RBC Elements expects the normalization trend to continue in the next few months, and the aggregate flight activity for the whole year "is on track to clock in at 5.2 per cent above 2019 levels."
Consumption likely tied to income expectations
Market participants are debating the degree to which Chinese households will spend their record-high excess savings.
The People's Bank of China recently disclosed that Chinese household savings surged by RMB 17.8 trillion (US$2.6 trillion) last year. We think economic uncertainty will likely lead Chinese households to maintain an elevated level of precautionary savings. But the key determining factors of consumption patterns should be peoples' expectations about future income prospects, in our view.
China domestic household deposits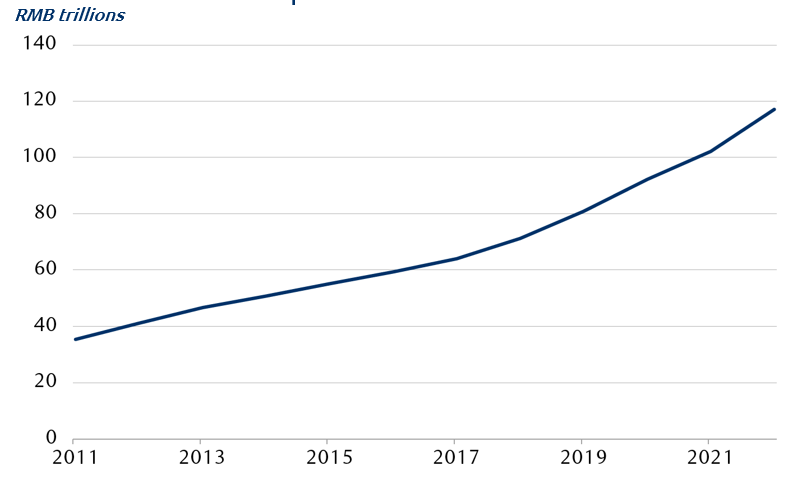 Line chart showing the strong growth of Chinese household savings for 2011 through 2022, which is at a record high level after the pandemic. The 2011 reading was 35, and deposits rose steadily for the period, with the final data for 2022 at 117.
Source: RBC Wealth Management, Bloomberg; yearly data through 2022
According to a survey conducted by Zhilian Zhaopin, a major Chinese employment recruitment company, in the four-week period after the Lunar New Year, hiring demand continued to improve sequentially without showing signs of peaking. By sector, transportation/driver, tourism, and restaurant/catering are among the top five in hiring demand growth, up 55 per cent, 50 per cent, and 40 per cent month over month, respectively, in the first month after the Lunar New Year.
We believe excess savings will be released gradually in H2 2023 as the economy recovers.
What to expect
Importantly, we expect more pro-growth policies and further measures to support consumption to be announced. In our assessment, these measures, combined with the release of excess savings, should boost consumer spending and drive growth this year.
Consumption will play an important role for the country's economic recovery, especially because export prospects are uncertain and property development is slowing. China's private consumption as a percentage of GDP increased to nearly 40 per cent in 2019 from around 35 per cent in 2011, but is still much lower than 60 per cent global average, according to International Monetary Fund (IMF) data. We think there is further room for consumption to grow as a share of the economy not only over the near term, but also over the medium to long term.
With the reopening progressing, RBC Global Asset Management's Chief Economist Eric Lascelles recently upgraded his 2023 China GDP growth forecast to 5.3 per cent from 4.4 per cent. China's recovery should be good news for the global economy as well, especially given the U.S. and Europe are expected to deliver below-average growth. Lascelles' GDP growth forecasts for the U.S. and eurozone stand at 0.1 per cent and -0.2 per cent, respectively, for the full year. The IMF expects the Chinese economy to contribute a third of global growth in 2023.
Equity market implications
In our view, the reopening is not only gaining momentum, but is also coming in at a faster pace than most global equity market participants and economists expected a month or two ago. The latest released February China purchasing managers' index, we believe, indicates a strong recovery.
The path toward economic normalization should support Chinese corporates' earnings growth and further market upside. The market has rallied meaningfully since November 2022. Yet despite the rally, we think many investors haven't fully realized how strong the reopening can be, and in our view, the market's valuation still seems attractive. It is trading at a price-to-earnings ratio of 10.6x the 12-month forward consensus estimate, lower than the 12.2x five-year average.
China's reopening should also benefit other economies, e.g., popular Chinese tourist destinations or countries that are natural resource exporters. Therefore, we think another option is to gain exposure to China indirectly by investing in the Asia region as a whole or in multinational companies headquartered in North America or Europe with meaningful revenues in China. We think such stocks should also benefit from China's reopening.
This article is intended as general information only and is not to be relied upon as constituting legal, financial or other professional advice. A professional advisor should be consulted regarding your specific situation. Information presented is believed to be factual and up-to-date but we do not guarantee its accuracy and it should not be regarded as a complete analysis of the subjects discussed. All expressions of opinion reflect the judgment of the authors as of the date of publication and are subject to change. No endorsement of any third parties or their advice, opinions, information, products or services is expressly given or implied by Royal Bank of Canada or any of its affiliates.