Travel hacks to make life easier.
Overpacking for a trip is easy — the excitement of a vacation can lead to bringing too much with you . But overpacking can mean extra baggage fees at the airport, having to leave stuff behind because there's no room to bring back new goodies or souvenirs, or having to laundry on clothes we didn't even end up wearing. Here are 12 tips to make sure you never overpack again.
1. Plan Ahead.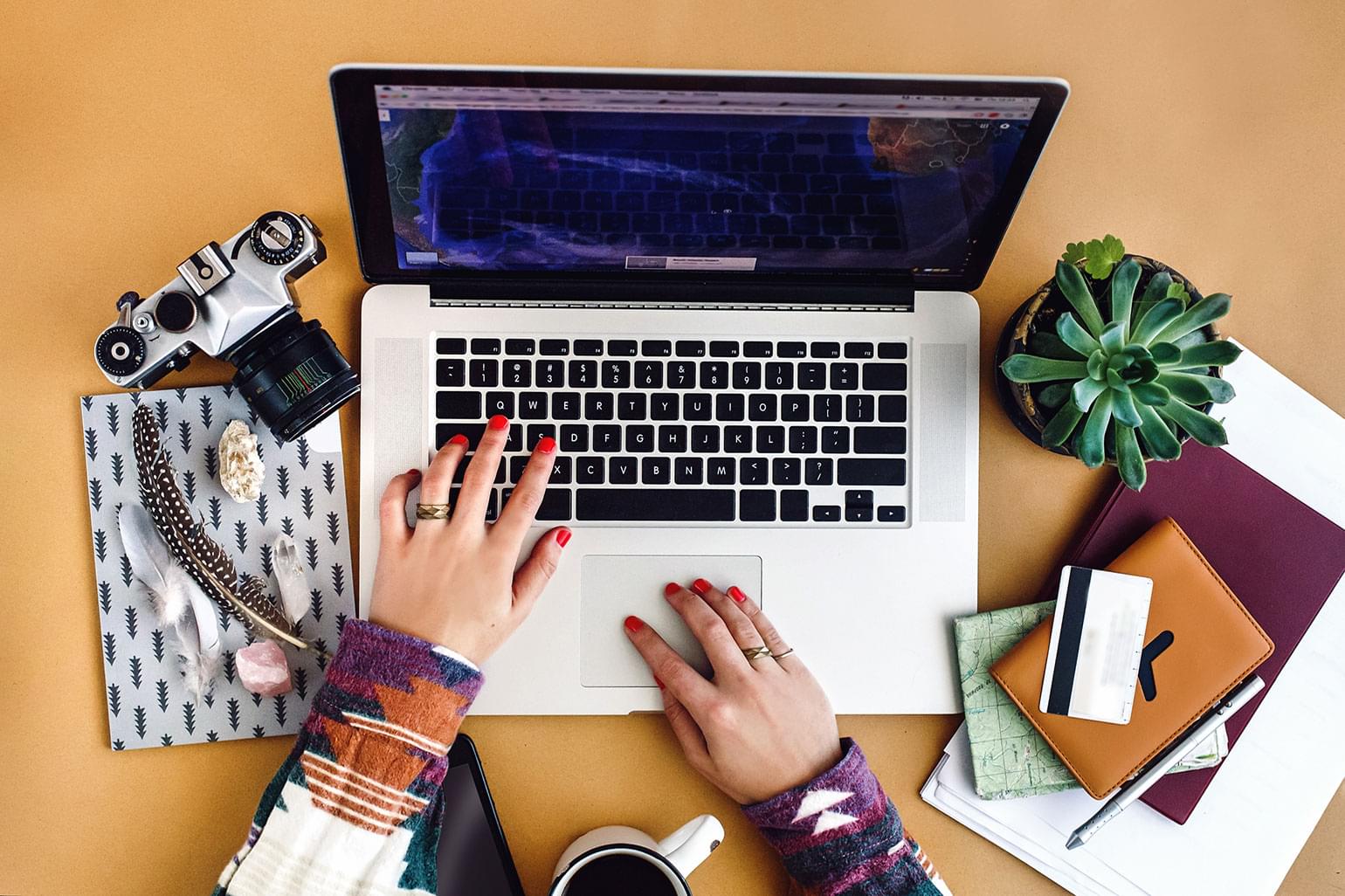 Understand where you're going and pack accordingly, perhaps taking a look at street style blogs for a feel for what locals wear. Also, check the weather forecast so you can hone in on the items you'll really need. If there's bad weather in store, you'll probably want to leave your flip flops at home.
2. Simplify Your Toiletries.
Leave what you can at home.
For your favourite lotions, empty pill bottles can be used to store small amounts of the ones you can't live without.
You can also pick up some travel-sized shampoo bottles and creams from the drugstore, and bring a few perfume or cosmetics samples that get handed out in department stores.
For cosmetics, multi-use products like cheek and lip stains, and BB creams with SPF, are your friends.
3. Roll, Don't Fold.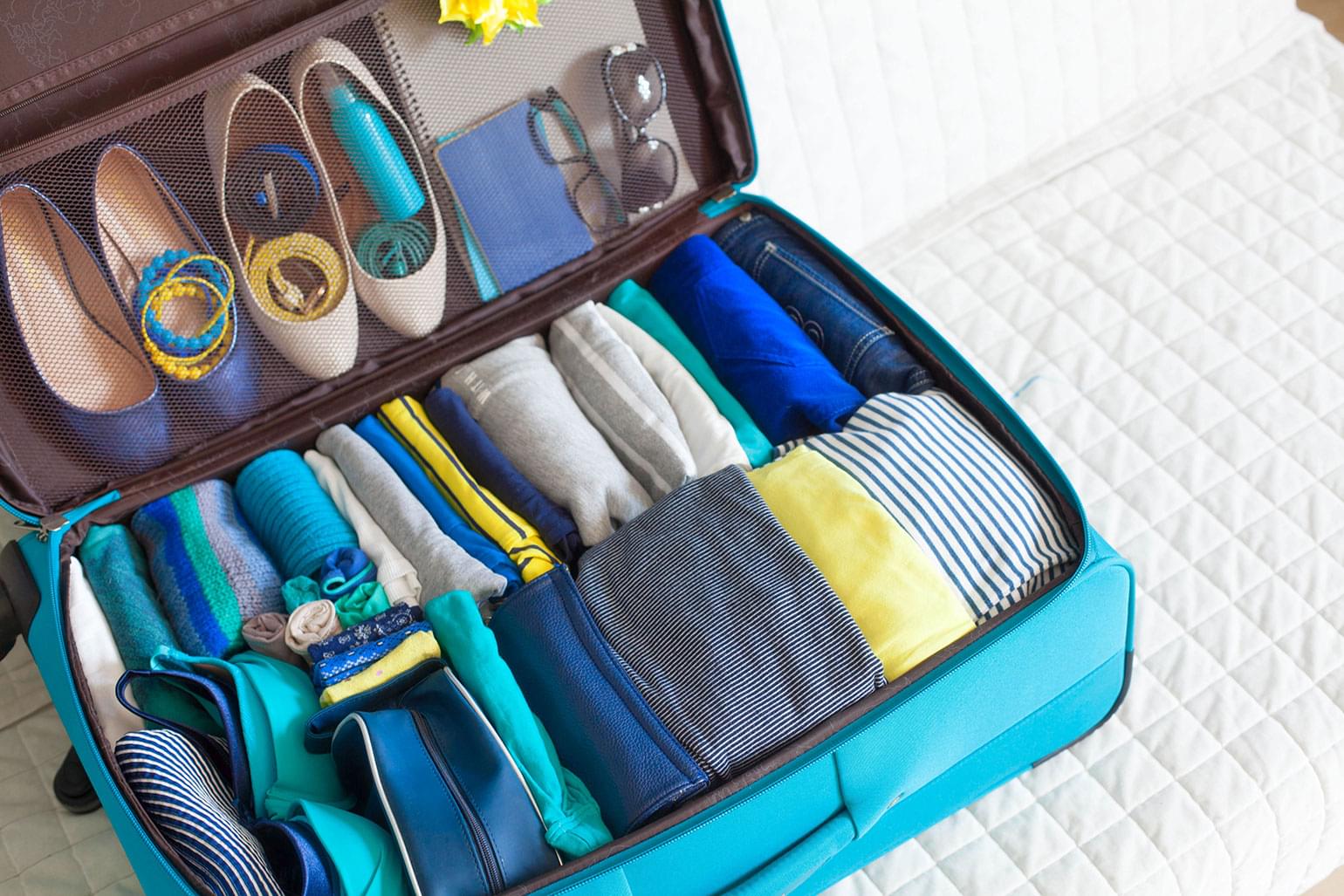 Stuff your shoes with socks or belts, and roll each item as tightly as possible to keep things small and wrinkle-free.
If you're feeling ambitious, try the KonMari Method™. Marie Kondo, bestselling author of The Life-Changing Magic of Tidying Up, advocates rolling your clothes into a triangle shape that allows your things to sit vertically rather than in flat rectangles. The method takes a little bit of practice, but it's great for traveling, allowing you to see all your clothes without having to root around in your suitcase, wrinkling everything in the process.
4. Scan Your Wardrobe for Adaptable Clothes.
Every item you pack should be able to be worn with every other piece of clothing. Think simple colour palettes, and plain over patterned. Once you're colour blocking like the best of 'em, use unique accessories — scarves, hats, ties — to keep your outfits exciting.
"When travelling with the kids it's easy to over pack! To avoid the excess weight baggage fees my advice is to make a checklist, it keeps you honest and grounded on what you really need and helps stop any last minute suitcase additions. Don't forget to review the checklist once you return home from your trip and make any notes on items that you forgot or didn't need so that you remember for your next vacation." Says Sarah Baeumler, a lifestyle enthusiast and proud mom of 4.
5. Make Your Airport Outfit Count.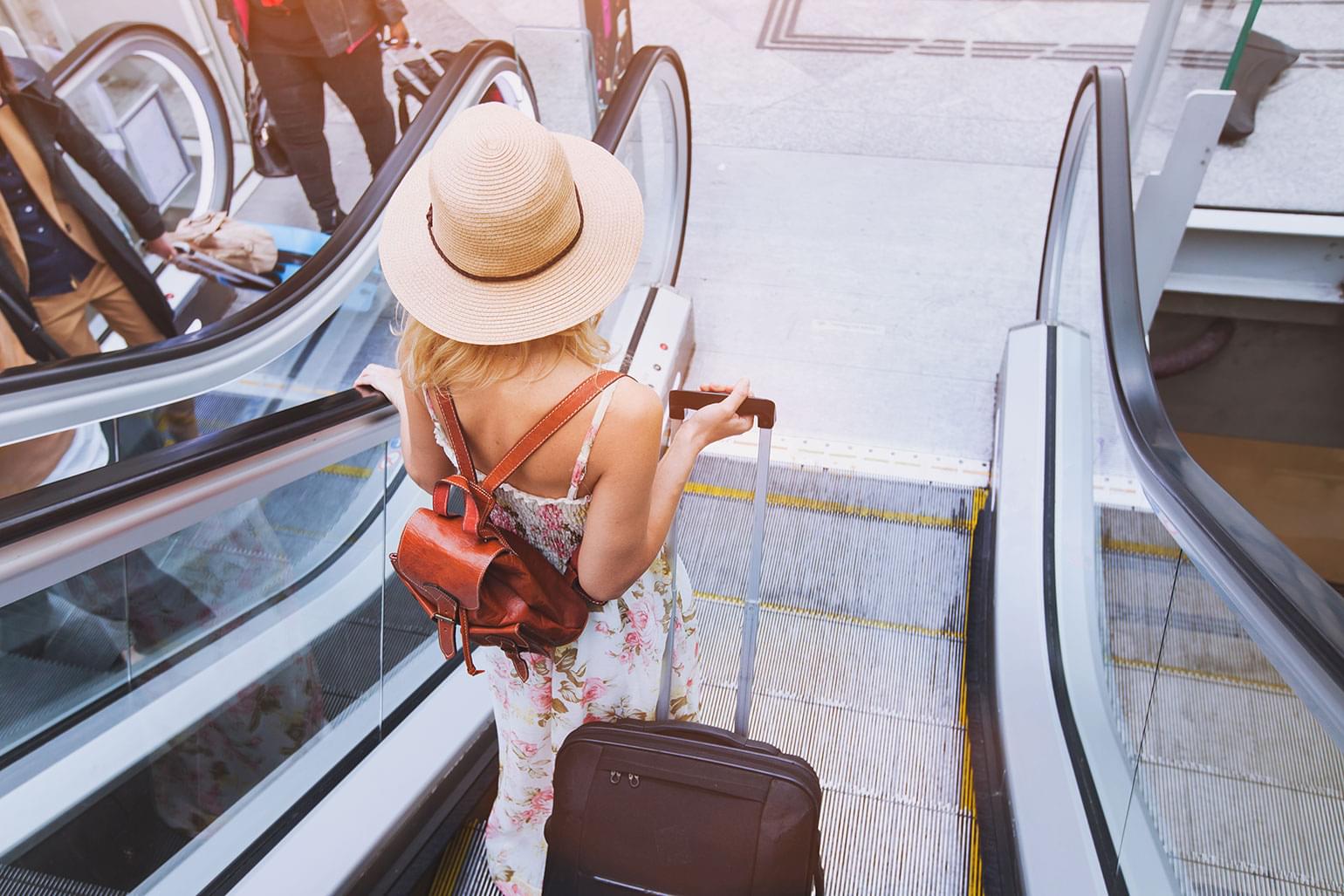 Wear something you'll want to wear again on your trip.
Also, layer up and don the items that would otherwise take up a lot of luggage space. You can take off the heavy boots you might be wearing as soon as you board, and your big jacket can double-up as a blanket if the plane's air-conditioning is cranked up.
6. Coordinate and Condense.
If you're travelling with others, make a plan so you can even out who brings shareable items like toothpaste and hairdryers. Speaking of which, will your hotel or Airbnb have one? Maybe call ahead to find out, or check the details on your booking confirmation.
Sarah suggests: "Invest in different sized suitcases. If you purchase a suitcase that is just the right size for your vacation whether it is a small weekender bag, or a suitcase suitable for 10 days – having a suitcase that fits just the right amount of clothing helps stop the urge to overpack."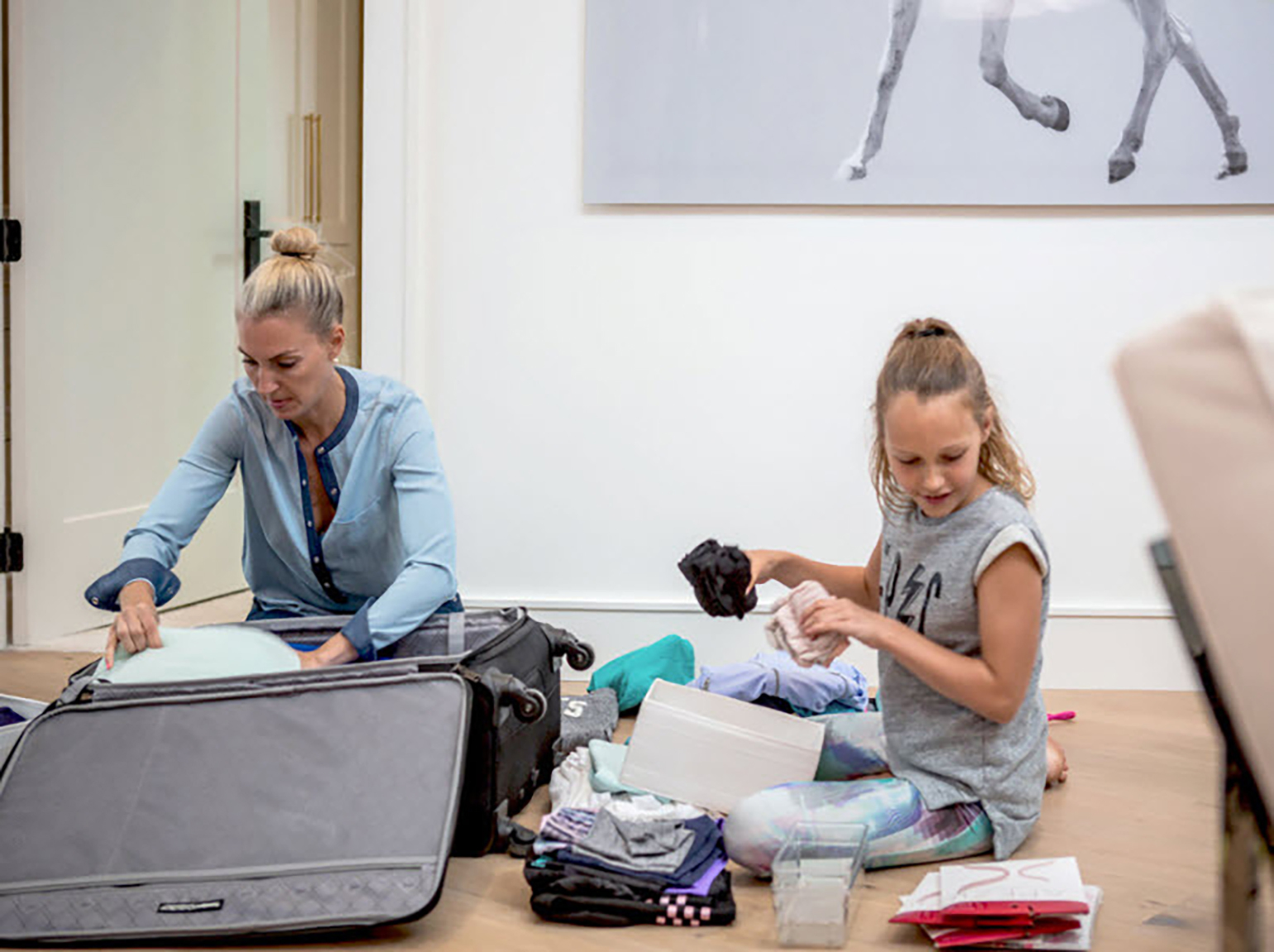 Also, if you and your pals all need to check-in with work at some point during your trip, see if you can share just one laptop or tablet between you.
7. Consider an E-Reader.
E-book readers may not smell like vanilla flowers and almonds, but they do weigh just a few ounces while having the capacity hold thousands of books.
8. Limit the Size of Your Luggage.
After all, a big suitcase is a heavy suitcase. If you're off on a week-long trip, you really only need a carry-on. It'll save time at the airport. Plus, you probably can avoid baggage fees.
Take a peek at the packing checklist we've created to help you gather the essentials.
9. Pack Ahead of Time.
And make a checklist of everything you're bringing. Break your list down into categories like clothes, toiletries, travel documents, and electronics to make things even easier. Then, at the end of your trip, use that same list to make sure you haven't forgotten any little things like travel adapters.
10. Use a Compression Sack.
These can wrinkle your clothes a bit, but they save so much space. Use one for your dirty laundry and you'll have extra room for any of the unique things you might have picked up on your travels.
11. Channel Your Inner Coco Chanel.
She always removed one accessory before leaving the house. Look at your luggage with a discerning eye and do the same.
12. And the Hardest Tip of All …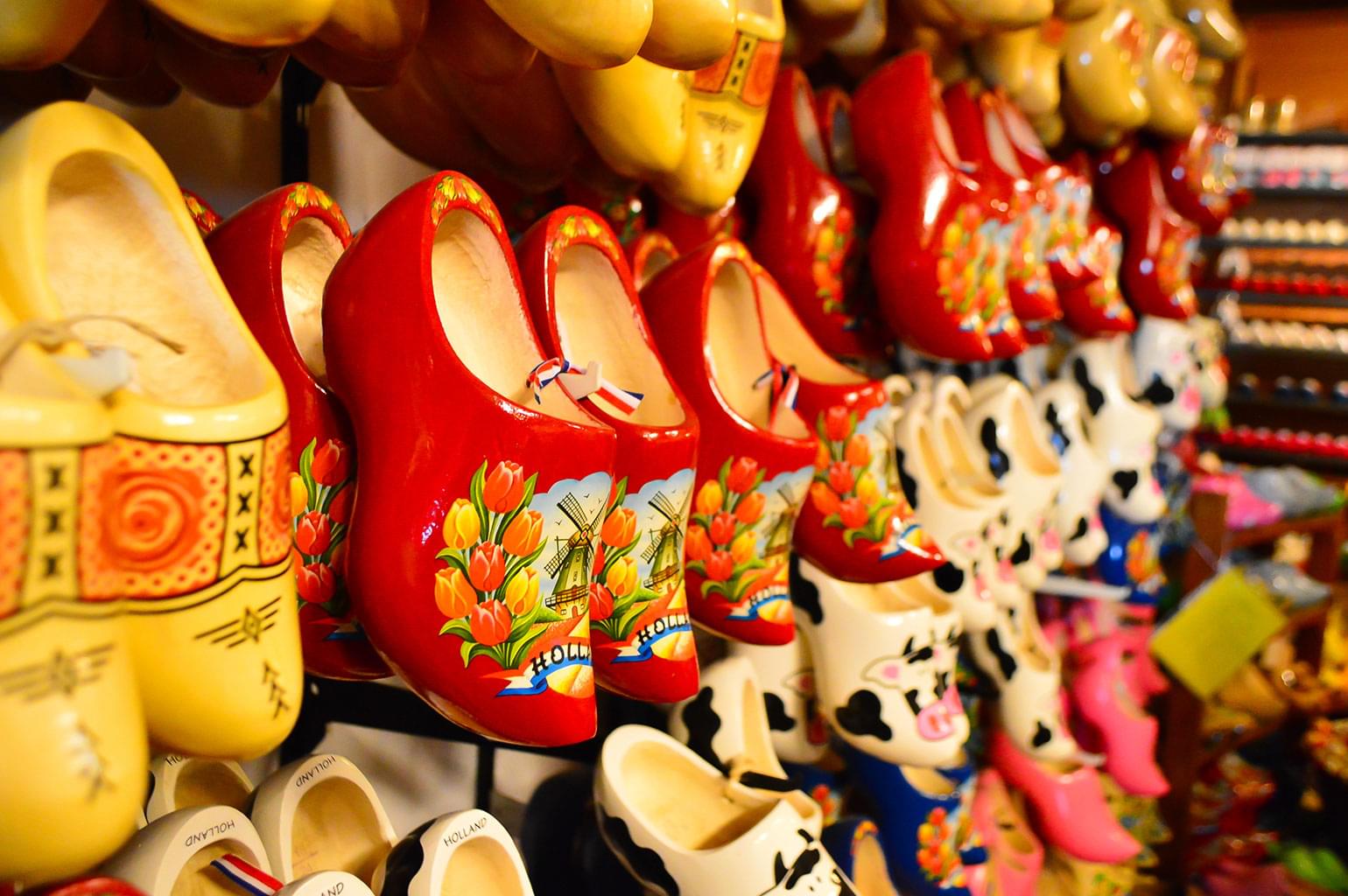 Leave at least 10 percent of the space in your luggage empty to fill with whatever your journey might have to offer. Have fun!
This article is intended as general information only and is not to be relied upon as constituting legal, financial or other professional advice. A professional advisor should be consulted regarding your specific situation. Information presented is believed to be factual and up-to-date but we do not guarantee its accuracy and it should not be regarded as a complete analysis of the subjects discussed. All expressions of opinion reflect the judgment of the authors as of the date of publication and are subject to change. No endorsement of any third parties or their advice, opinions, information, products or services is expressly given or implied by Royal Bank of Canada or any of its affiliates.