From coast to coast, foodies are in for one epic summer of eating and drinking.
From barbecued salmon cookouts to giant beer festivals — it's all kicking off in Canada this summer. Here are just a few of the brilliant food and drink events to make a beeline for in 2017.
British Columbia
When: July 1
Since 1945, the oceanside town of Steveston has celebrated Canada Day with salmon. More than 70,000 come to start the day with a big pancake breakfast followed by celebrations that involve floats, marching bands, and a giant salmon barbecue where more than 1,200 pounds of wild salmon filets are grilled over open fire pits.
Food trucks across the Okanagan
When: All summer
Brilliant local food trucks like Crasian Food Truck will be popping up at vineyards, orchards, and breweries across the region. Head to Kettle River Brewing Co. on August 6 for sriracha fries and tempura fish tacos to go with your "mini micro brew" at the brewery's vinyl pop-up party.
Alberta
When: June 3
The start of summer is rhubarb season, and from coast to coast there'll be festivals celebrating the country's favourite polygonaceae. Check out Calgary's epic rhubarb festival, now in its fifth year, for all the jammy pink pie you can handle.
When: June 2-3
Join 15,000 other beer fans to sample more than 300 types of beer from 70+ breweries, including Banff Ave Brewing Co. and Yukon Brewing. There'll be beer seminars, you can vote for your fave brew in the People's Choice awards, and you can get a round or three of food in from representing local restaurants like The Great Indian Factory — they'll be serving up perfect biryanis and kebabs at the event.
Saskatchewan
Great Saskatchewan Mustard Festival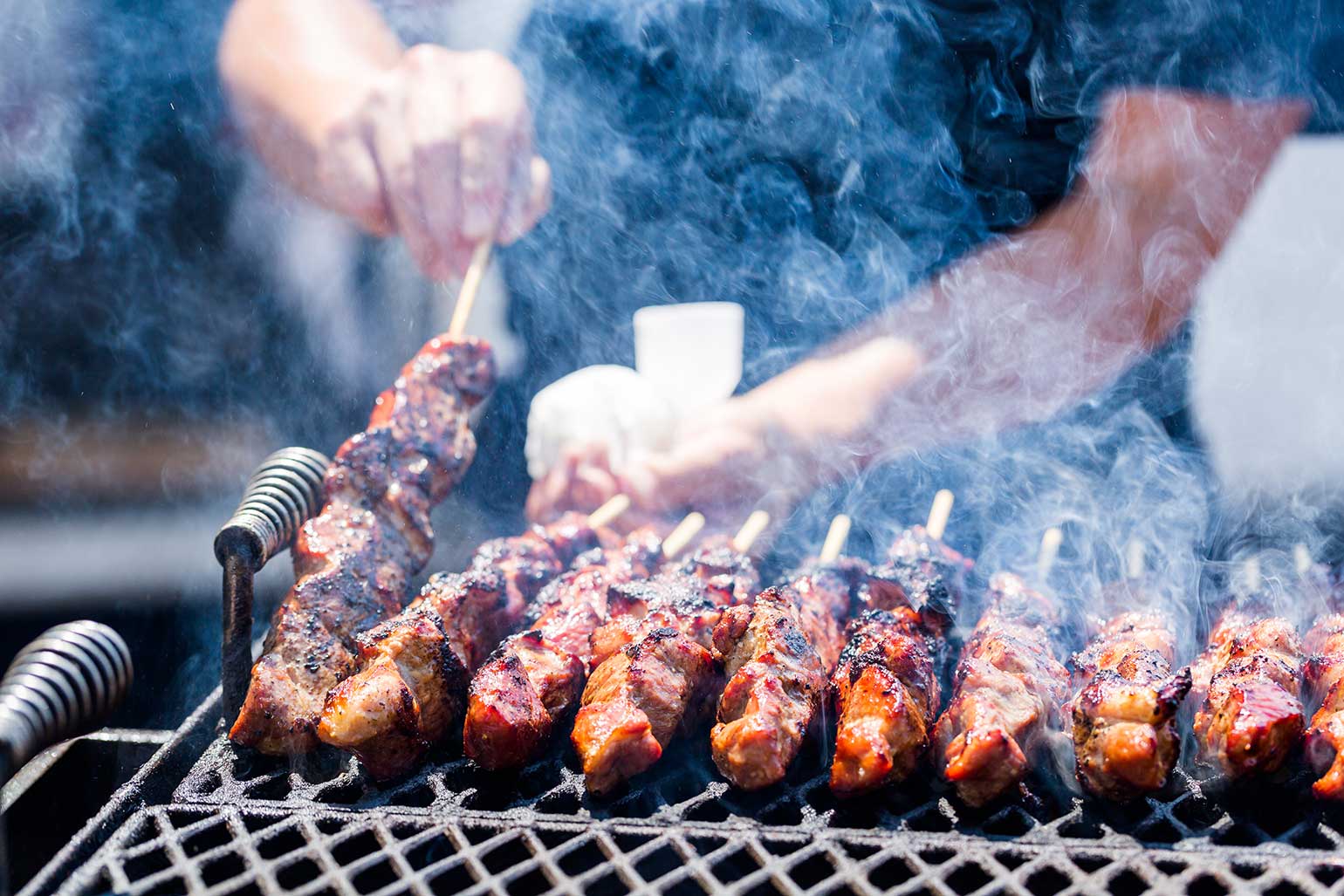 When: August 21
Fun fact: Saskatchewan produces four-fifths of the mustard grown for global export, hence this party where Regina's Wascana Park transform into a mustard mecca where 2,000 revelers vye for hot pork kebabs and cheddar and ale soup while live music plays. Tip: Don't knock mustard-cranberry cookies till you've tried 'em!
Manitoba
Canada's National Ukrainian Festival
When: August 4-6
Coming into its 52nd year, at this Dauphin festival you'll find all the borscht, pierogies, garlic sausage, cabbage rolls, and desserts you can handle. This is a massive long weekend celebration, and it's also known for its dancers, ceremonial horseback riders, arts and crafts.
Ontario
King City Craft Beer and Food Truck Festival
When: June 10
At this party, more than a dozen epic trucks serve up everything from fresh churros to gourmet tacos. Thirteen local breweries will be representing, plus there'll be live music by indie rockers The Elwins.
Toronto Creole Caribbean Food Festival
When: August
Celebrate the city's French-speaking Caribbean and African communities with reggae, dancehall, soca beats and — of course — Caribbean island cooking for sale.
Québec
Poutine Fest de Montreal
When: August 8 – 13
Poutine Fest de Montreal will see the city's chefs take fries, cheese curds, and gravy to a whole new level with toppings that include lobster and jerk pork. Every day of the festival, there'll be great live music and DJs performing.
When: August 25
The best farmers, musicians, brewers, fisherman, cooks, and craftsmen will come to Tremblant for an afternoon of slow-smoke hog barbecues, oysters, cornbread, crafted beer, and brilliant music in a wonderful taste of the South.
The Maritimes
Food trucks in Halifax
When: All summer
The Nova Scotia capital has a wicked food truck scene, especially in the warmer months. Look out for local favourites Gecko Bus for giant burrito bowl salads, and Lobster Jo's for, yes, super fresh lobster.
When: 25 June
If you can get yourself to this annual dinner in Lakeville, where the people that caught, cooked and prepared your shellfish will also serve your meal and eat alongside you, you'll be in for a brilliant time.
This article is intended as general information only and is not to be relied upon as constituting legal, financial or other professional advice. A professional advisor should be consulted regarding your specific situation. Information presented is believed to be factual and up-to-date but we do not guarantee its accuracy and it should not be regarded as a complete analysis of the subjects discussed. All expressions of opinion reflect the judgment of the authors as of the date of publication and are subject to change. No endorsement of any third parties or their advice, opinions, information, products or services is expressly given or implied by Royal Bank of Canada or any of its affiliates.