From grand museums to diminutive boathouses, some of Wright's best works are in New York state.
When Frank Lloyd Wright quipped, "I just shake the buildings out of my sleeves," he wasn't kidding. Designing more than 1,000 buildings across his 70-year career, an impressive number of his works can be seen via a road trip from Buffalo to New York City.
From Martin House to Fallingwater to the Guggenheim (and a gas station), here's a four-day road trip itinerary taking in many of Wright's best designs — with tips on where to eat and stay along the way.
Tailor the trip to suit your needs, and check out the Great Frank Lloyd Wright Road Trip for more ideas.
Day one: Buffalo, New York. Mausoleums and museums
New York state's second-biggest city has four Wright sites worth visiting, including a mausoleum.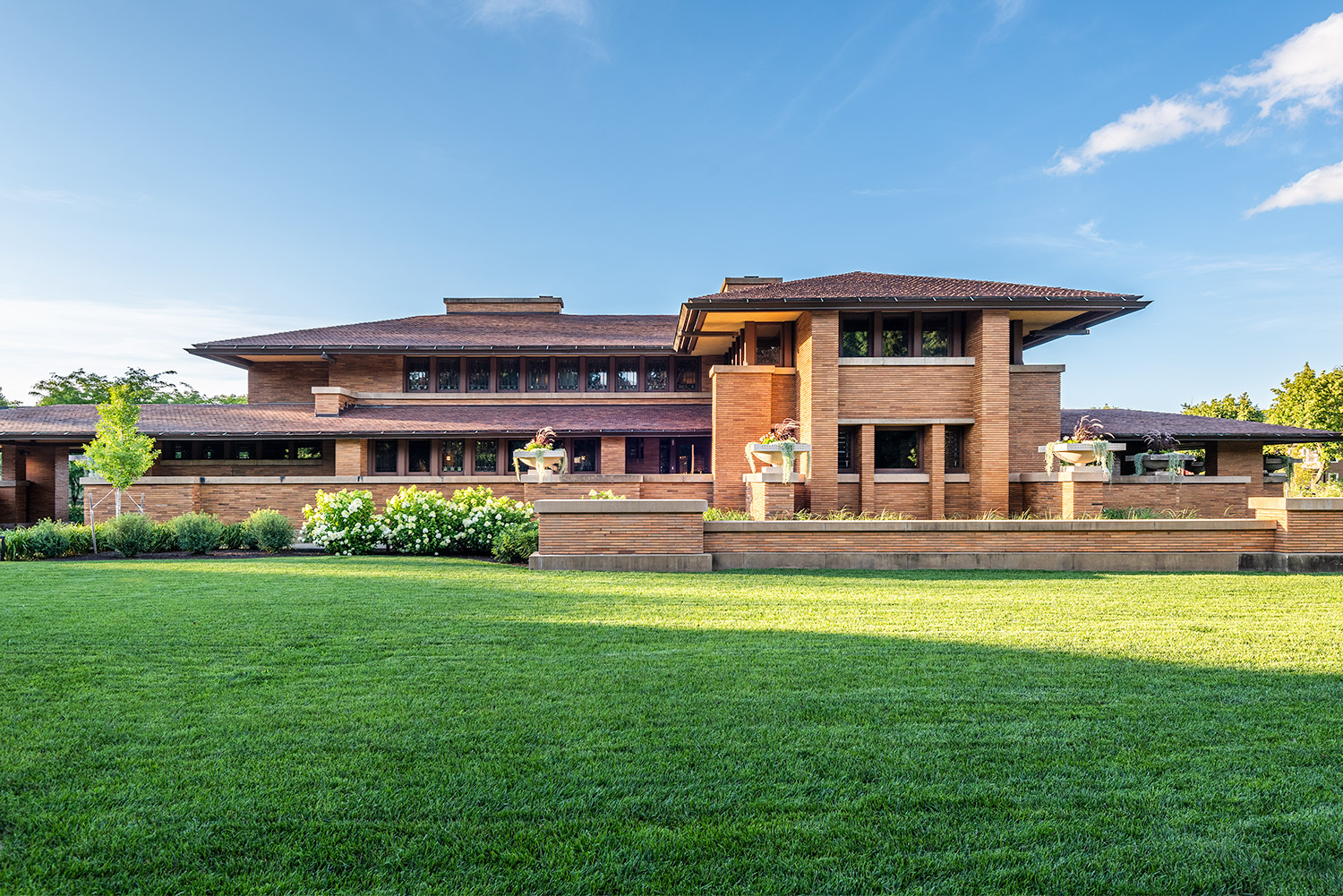 Photo credit to Matthew Digati via Martin House
1. Martin House
Built 1903-1905
A 1.5-acre complex and National Historic Landmark, Martin House is a classic Prairie House designed by Wright for one of his wealthiest patrons. In Wright's words, the complex is "married to the ground" in the way the long, low undulations of the American plain are — with elegant rooms flowing into one another like a river.
Considered one of the most important works of his career, the complex houses chauffeur's quarters, stables, and a lofty 100-foot pergola.
You'll experience warm woods and impressive art glass windows on a visit. Also, don't miss the handcrafted Wisteria mosaic fireplace that forms the grand centrepiece of the main house. It's many visitors' favourite part of a building.
In Buffalo, you may also want to spend time with these other Wright designs:
2. The Filling Station at the Pierce-Arrow Museum to see the grand copper roof and take in those soaring totems;
3. Blue Sky Mausoleum to experience a modernist monument amid the graves at Forest Lawn Cemetery;
4. The Fontana Rowing Boathouse to experience the only boathouse "America's greatest architect" ever designed.
Where to stay: The Mansion on Delaware Ave for downtown luxury; The Roycroft Inn for an Arts and Crafts-style stay. Hotel Lafayette Buffalo if you prefer Art Deco builds.
Where to eat: Five Point Bakery for a pastry breakfast with ingredients sourced from local farms; Gabriel's Gate for authentic Buffalo wings; Las Puertas for upscale, Mexican-inspired seasonal fare (think kale chicharron with roasted pears).
Day two: Lake Erie. Graycliff and Wright's office
Stay another night in Buffalo, and make the 20-minute drive to Graycliff in the morning. Then follow the I-90 W along Lake Erie's shores to visit the architect's former office before ending the day near Fallingwater.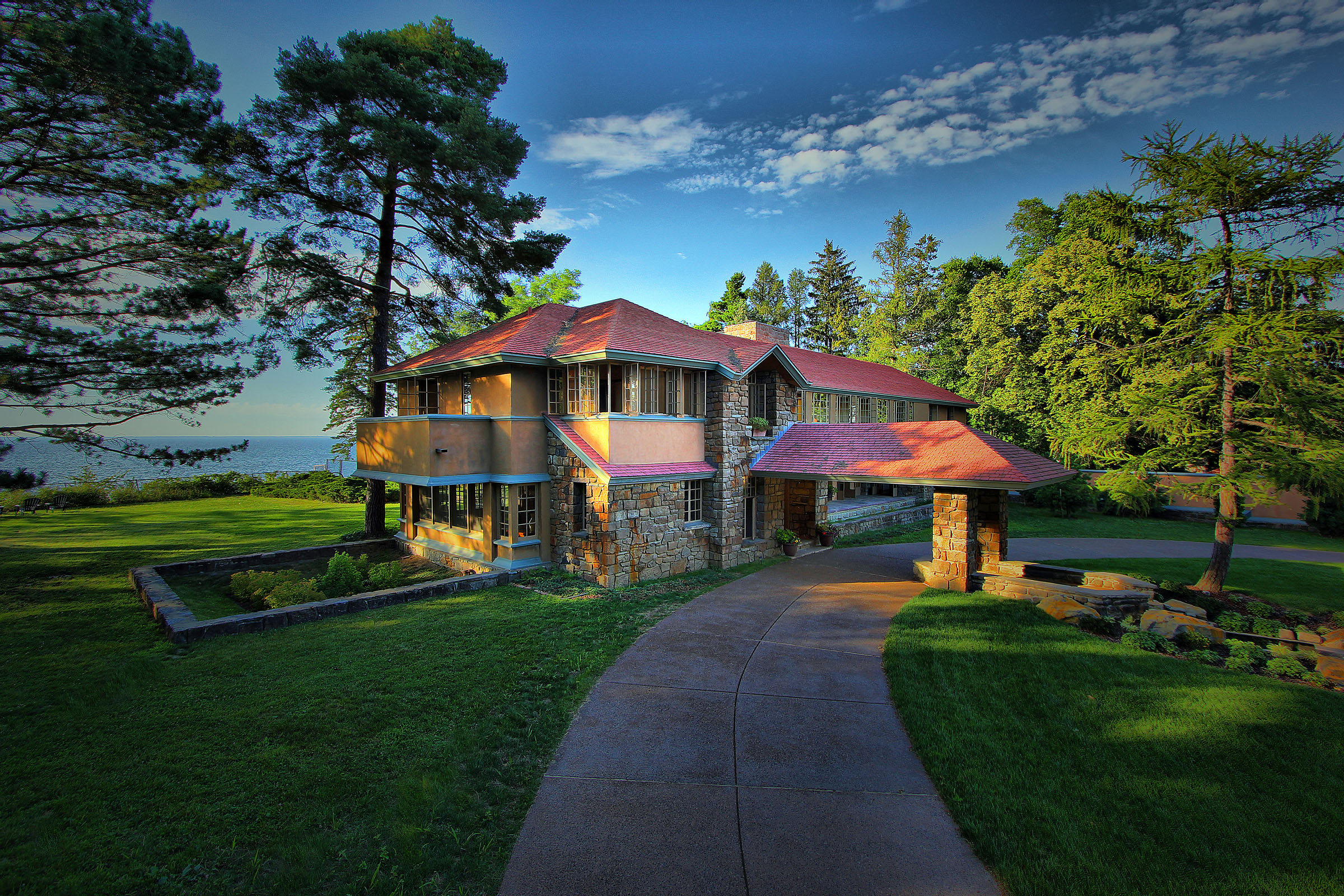 Photo credit to Patrick Mahoney
5. Frank Lloyd Wright's Graycliff
Built 1926-31
Perched on a seventy-foot cliff overlooking Lake Erie, Graycliff is one of the grander summer homes Wright designed.
Built for his patrons, the Martins, this spot showcases Wright's philosophy of organic architecture: The walls rise naturally from their surroundings, like a plant. The stucco is formed from local beach sand, and the limestone comes from Erie's shoreline.
Wright's ethos was
"No house should ever be on a hill or on anything. It should be of the hill. Belonging to it. Hill and house should live together, each the happier for the other."
Visit Greycliff, and you'll see that philosophy come to life.
6. Frank Lloyd Wright's office at the Erie County Historical Society-Hagen History Center
Opened in 1951
Wright's office originally stood on Grant Ave in San Francisco. A warm, wooded studio used until his death in 1959 is a glowing space showcasing Wright's belief that "form and function should be one, joined in spiritual union."
Where to stay: Summit Inn Resort is three hours from Erie County Historical Society-Hagen History Center — so a bit of a drive — but you'll wake up close to tomorrow's destinations in the Laurel Highlands (dining is available at the resort).
Day three: Sidetrip to the Laurel Highlands
If you're willing to leave NY for a day, there are 2 great buildings by FLW in Pennsylvania. Follow the meandering roads of western PA to visit Fallingwater and Kentuck Knob. Then stay overnight in a Frank Lloyd Wright home in Polymath Park.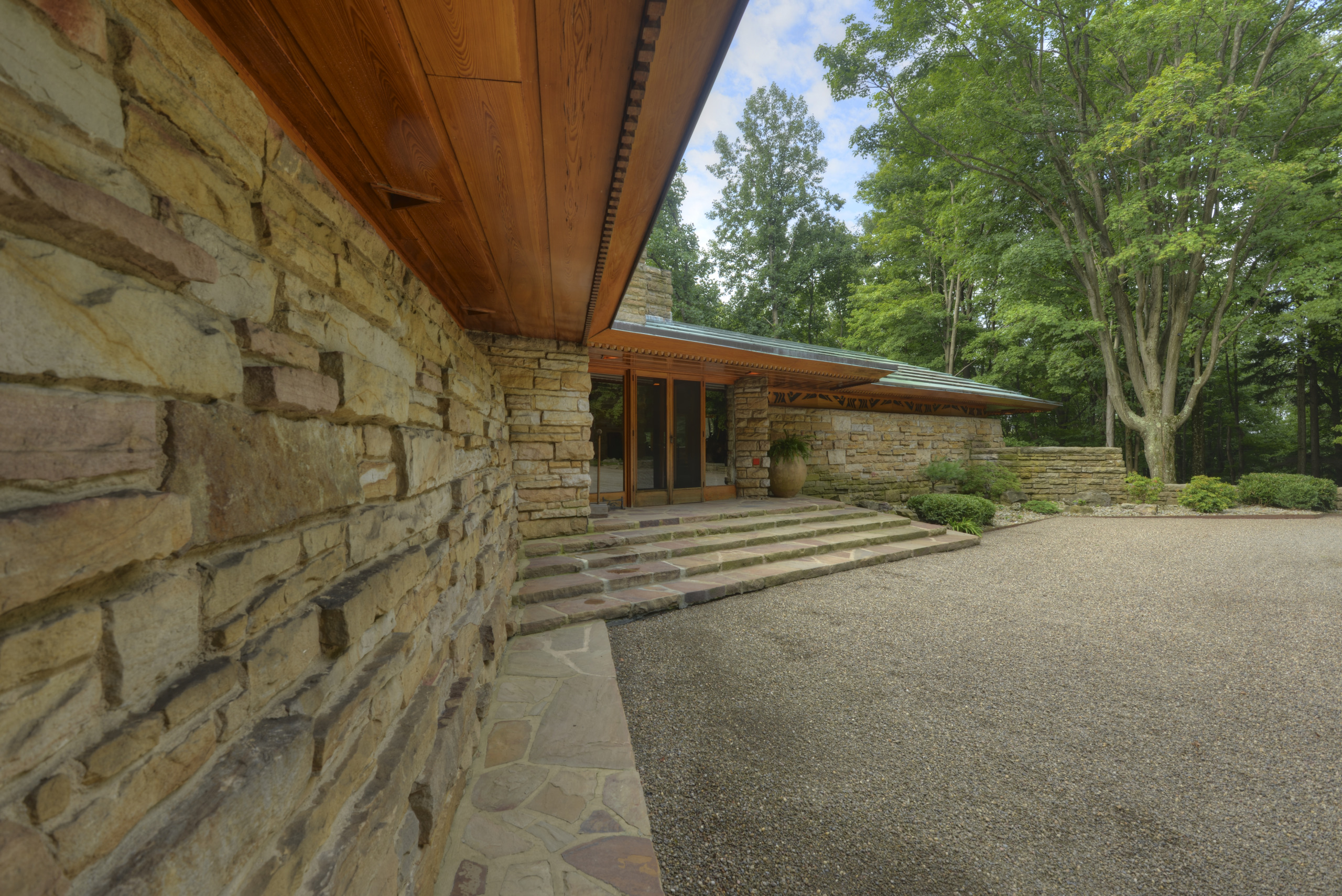 Photo credit to Laurel Highlands Visitors Bureau
7. Kentuck Knob
Built 1953-1956
A red cypress and sandstone house nested below the crest of Chalk Hill, Kentuck Knob is a classic example of Wright's Usonian vision — that is, this was a home he intended to be affordable for the average American. Visitors often comment that, compared to Fallingwater, Kentuck Knob feels liveable. A National Historic Landmark, come and decide for yourself.
Note: Your tour ticket includes entry to the sculpture meadow on Kentuck Knob's grounds.
8. Fallingwater
Built 1936–1939
Just north of Kentuck Knob, Fallingwater was named the "best all-time work of American architecture" by a poll of American Institute of Architects members (a magnanimous choice, given that Wright refused to join the Institute in his lifetime).
Originally built as a grand private residence, these days Fallingwater is a museum and UNESCO World Heritage Site that can be visited on a tour with docents. Marvel how the house and the rocks around the waterfall blend. Check out the pool, fed naturally by Bear Run's waters. Stay as long as you can. Then, if you have time, take on one of the leafy hiking trails in the surrounding Bear Run Nature Reserve.
Where to stay: Twenty-three miles from Fallingwater, for the ultimate overnight experience, you can stay in a Wright-designed house at Polymath Park. There are four accommodations in the 125-acre park to choose from: two are by one of Wright's original apprentices, Peter Berndtson. Duncan House and Mäntylä are the ones you'll want to try and book — they're by Wright himself.
Where to eat: For lunch, grab some seasonal, sustainable produce at the Fallingwater Café. Dinner is available in treetop-style dining pods in Polymath Park.
Day four: The best of Museum Mile
Day four involves a good stretch of driving (334 miles along the I-76 and I-78 E), but it's worth it. You'll drive through woods and small towns along the way, then into Manhattan for the final two road trip stops — the Guggenheim Museum and the Frank Lloyd Wright installation at The Metropolitan Museum of Art.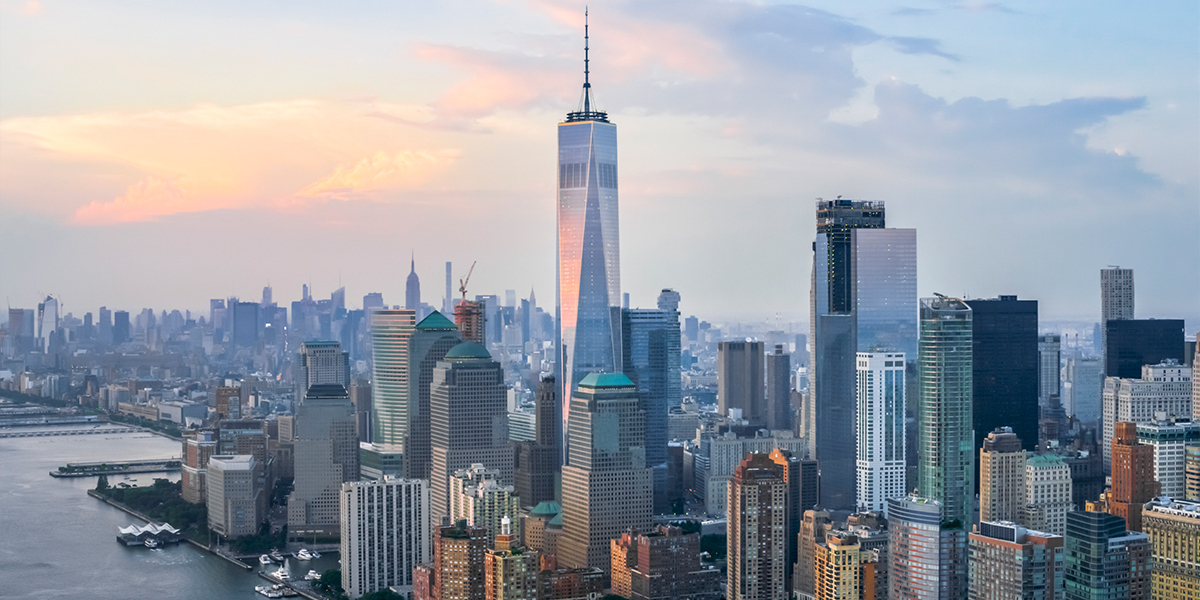 9. Solomon R. Guggenheim Museum
Built 1956-1959
The Guggenheim and its graceful ivory curves are an icon of the Upper East Side.
The highlight of the interior is the main rotunda, which swirls beneath a grand skylight for 96 feet from top to bottom. Wright's vision was that visitors would take an elevator to the top, then spiral down, absorbing the art on the walls as they descended.
Come early on a weekday, before the crowds, to experience the art and building as he imagined.
Fact: At one point, Wright was planning for the Guggenheim to be constructed from red marble (for he felt red was the colour of creation). Unfortunately for him, that idea was deemed too contentious to be built.
10. The Francis Little House II at the Metropolitan Museum of Art
Built 1912-14
The Metropolitan Museum of Art is big. Covering 2.2-million square feet if you include the measurements for each floor, this is one of the biggest art museums on Earth—featuring five-thousand years of work from across the globe. But you're here to see the Francis Little House II, which you'll find in Gallery 745 of the American Wing.
This room was initially an elegant living room in the Francis W. Little House in Minnesota. When the house was slated to be torn down in 1972, the Met moved in to save the design masterpiece.
Here, you'll see Wright's love of light and space exemplified by rows of leaded-glass windows running along the elegant walls.
Where to stay: Courtyard by Marriott New York Manhattan/Upper East Side and voco the Franklin New York are located near Museum Mile, meaning you can park and head to the Wright sites on foot if you wish.
Where to eat: Try Pastrami Queen on Lexington Avenue for pastrami on rye, Sushi Noz for Michelin-starred Japanese dishes, and the Met's Cantor Roof Garden Bar for cocktails overlooking Central Park during the warmer months.
Top photo credit to Matthew Digati via Martin House
This article is intended as general information only and is not to be relied upon as constituting legal, financial or other professional advice. A professional advisor should be consulted regarding your specific situation. Information presented is believed to be factual and up-to-date but we do not guarantee its accuracy and it should not be regarded as a complete analysis of the subjects discussed. All expressions of opinion reflect the judgment of the authors as of the date of publication and are subject to change. No endorsement of any third parties or their advice, opinions, information, products or services is expressly given or implied by Royal Bank of Canada or any of its affiliates.