There are currently some 811,200 Canadians working in information and communications technology — but that isn't enough. According to a 2015 report funded by the Government of Canada's Sectoral Initiatives Program, Canada is facing a talent crisis. By 2019, we'll be short 182,000 skilled techies.
The solution? Engage the younger end of Generation Z, the blanket term for those who were born between the mid-to-late 1990s and the early 2010s, and who are expected to enter the labour market in force over the next decade. Get Gen Z interested in tech disciplines such as coding when they're young, and we might begin to bridge the impending skills gap.
That's the reasoning behind the University of Ontario Institute of Technology's (UOIT) science camps, which are now in their 10th year. In 2016, the school added a series of formal coding camps due to demand, and overall enrolment grew to 925 kids from 625 kids the previous summer. The addition of camps dedicated to Minecraft — the wildly popular videogame that the New York Times Magazine recently called "a stealth gateway to the fundamentals, and the pleasures, of computer science" — didn't hurt, either.
"Kids who are into sports have a lot of day camp opportunities," says Sheila Rhodes, a member of UOIT's Education teaching faculty and organizer of the camps. "Science and tech kids, traditionally, less so."
The weeklong camps are for children aged seven to 14. Instructors are either current students in, or graduates of, the education faculty. The kids create video games or interactive stories.
"I'd walk into the room at five after 9 in the morning and every kid was totally engaged," says Rhodes. "They were doing some fairly sophisticated programming in a short period of time."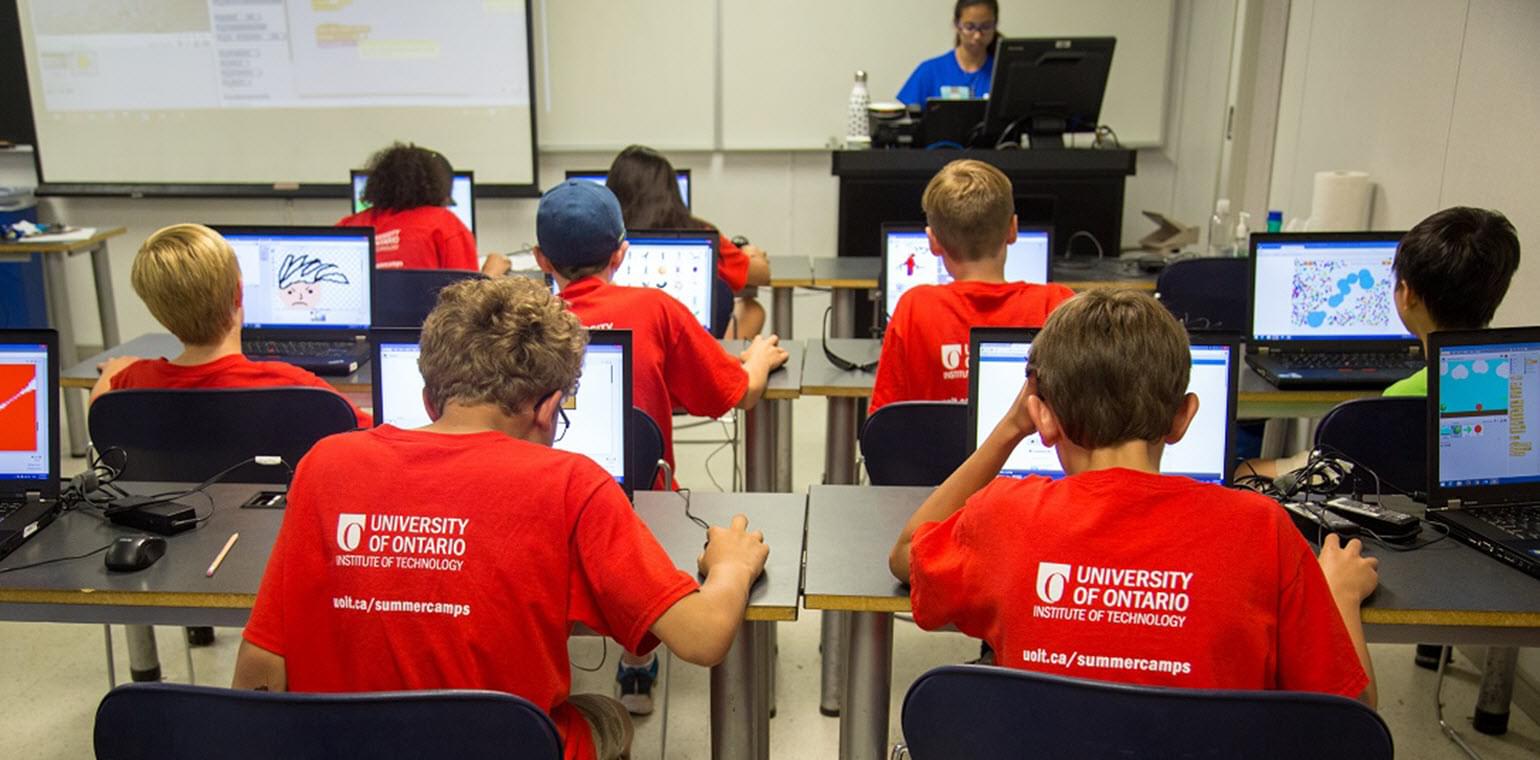 (Photo: Emily Rowsell/UOIT)
Engaging kids is good, but Rhodes says that engaging girls is particularly crucial. A 2015 report from the not-for-profit Information and Communications Technology Council says that women hold only 24.2 percent of tech jobs — despite making up 47 percent of the total Canadian workforce. Rhodes recently changed her marketing approach for a girls-only Lego robotics camp, spinning the curriculum as being about making wearable technology. Enrolment went from 10 girls to 40.
Melissa Sariffodeen, the co-founder and CEO of Ladies Learning Code, agrees that there needs to be an emphasis on young girls.
"Why we focus on women and girls is because they're so under-represented," Sariffodeen says. "Women use technology, but they're not making it. If you really want products and technology that serve everybody, everybody needs to have a part in building them, or at least understanding how they're built."
Since launching in 2011, 20,000 women have done courses through Ladies Learning Code, and the non-profit organization now runs digital literacy programs in 29 cities across Canada.
Its subsidiary, Kids Learning Code, offers everything from one-day workshops to after-school programs to summer camps for Gen Z tweens and teens. They've had almost 30,000 kids go through the various programs, including 10,000 this past summer alone. The organization offers co-ed programs, but has a particular focus on creating welcoming, supportive and inspirational environments that are just for girls.
Increasingly, Girls Learning Code graduates are using what they have learned to build their own projects —even if their bedtimes are before 9 o'clock. Lauren Voisin, an 11-year-old Calgarian, started her own company which brings introductory robot-building kits into classrooms, to teach her fellow Gen Zers the basics of soldering a circuitry board. Toronto's Abi Smithson, also 11, did an entrepreneurship and coding program; she launched her own line of sandals and is now the youngest participant in a business incubator run by the Digital Media Zone and Fashion Zone at Ryerson University.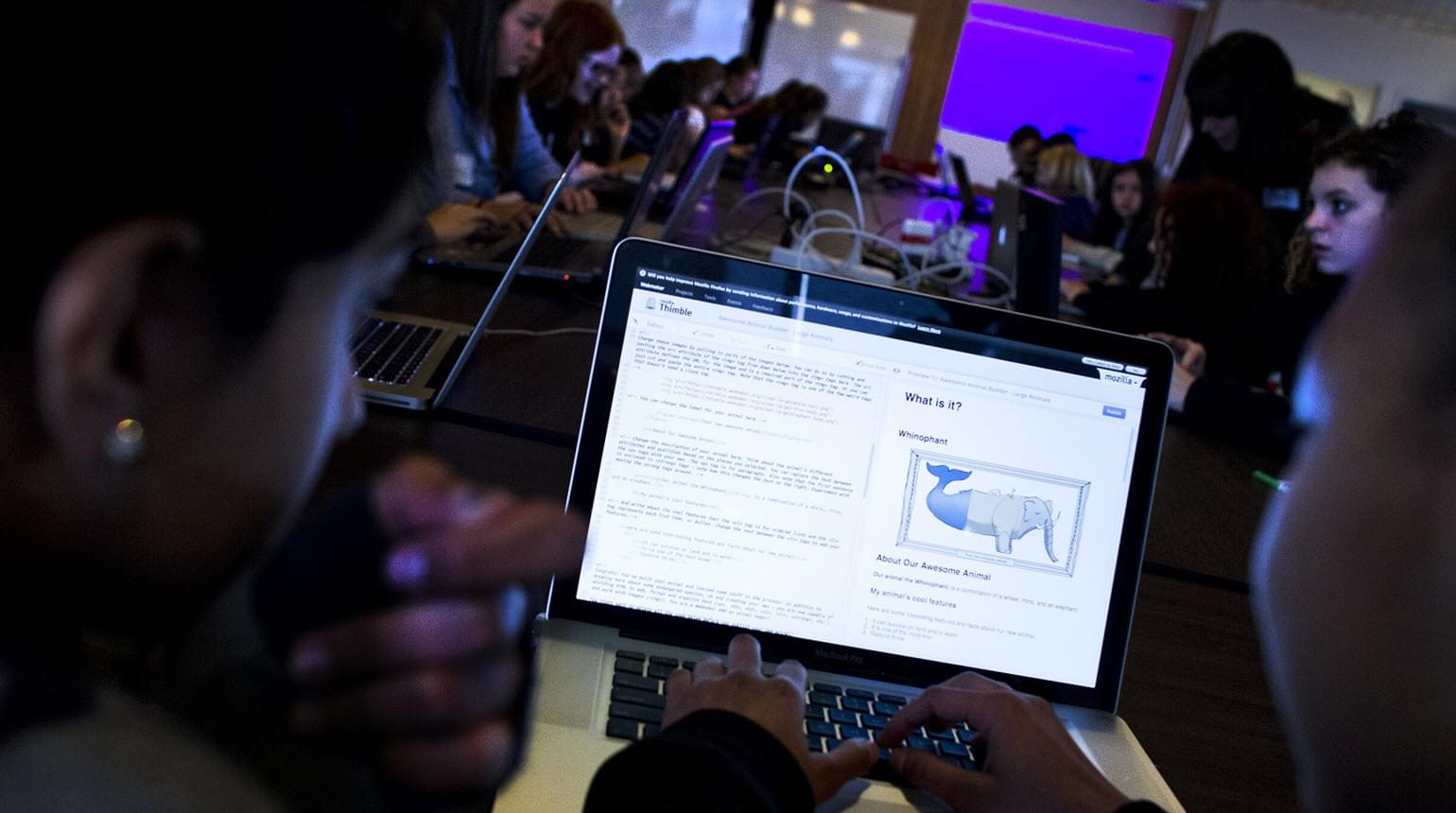 (Photo: Peter Power/The Globe and Mail)
Fun as it may be to build the code for your own online business, that kind of project is also good training for the job market.
Faisal Qureshi is an assistant professor of computer science in UOIT's Faculty of Science, which runs a co-op program to give its students the skills and experience that industry wants. He divides the software industry into two broad groups: big firms (Google, Apple) that give on-the-job training to hires with strong fundamental knowledge, and small firms (such as app developers) that want to hire people who can hit the ground running on projects with quick turnarounds and short shelf-lives. According to the federal government, more than 85 percent of Canada's 36,000 ICT firms employ fewer than 10 people.
"With so many of the old-school big companies now gone, like Nortel," he says, "students are getting more interested in start-ups and smaller firms. I'm also seeing more and more students learning other fields [in addition to computer science] so they can use their computer science skills in another domain."
There's much to-do about Gen Z as the first true digital natives. Even though coding is still not part of most Canadian grade school curricula, UOIT's Rhodes has noticed an increase in the skill levels of children coming to the science camps: "The children are coming in with the ability to use this technology in a different way than they could ten years ago."
If you really want products and technology that serve everybody, everybody needs to have a part in building them, or at least understanding how they're built.
Melissa Sariffodeen, CEO, Ladies Learning Code
Sariffodeen agrees. She's observed that kids "just don't have the extra computer-usage challenges that our adult users have." Because they're comfortable with the technology as users, they're more comfortable getting into the nuts and bolts behind it. "When you're coding, for example, switching to different paths is harder to pick up quickly when you're still struggling with the basic commands of the computer," says Sariffodeen. "The kids don't have to worry about that stuff, so they're getting right into the crux of the programming quicker."
Professor Qureshi, however, questions whether Gen Z is inherently better prepared for learning computer science. "Computer science is deeper than just operating your cell phone," he says. "It's a technical field. It has mathematics in it. It has programming in it. Like anything else, it requires perseverance. The question I'd ask is whether digital natives have higher perseverance than digital immigrants, so to speak. And I don't think they do. I'd argue that they might have less, because so many things are easy now. Back in the day, research meant going to the library, maybe getting an inter-library loan, now everything is a click away."
What may ultimately define Gen Z is not be digital aptitude, but digital attitude.
José Miguel Mendez is a Millennial who has gone back to university as a mature student; he already has a degree in biochemistry, and is now completing a computer science undergrad at UOIT. Even though only a few years separate him from the older end of Gen Z, he sees something distinct about how his new, younger peers approach technology — and it's infectious.
"I hang out with a lot of younger people, as well as students my age," he says, "and there's a push to [use those actions to] change the world around you for the better. Everybody has a side project that they're working on, and it's not money motivated."
Whether they revolutionize the world, or just make life easier for a few people, he says "These projects are about filling a need: 'There's a problem here. Let me write some code to make it better.'"
This article originally appeared in the Globe & Mail in October 2016.
This article is intended as general information only and is not to be relied upon as constituting legal, financial or other professional advice. A professional advisor should be consulted regarding your specific situation. Information presented is believed to be factual and up-to-date but we do not guarantee its accuracy and it should not be regarded as a complete analysis of the subjects discussed. All expressions of opinion reflect the judgment of the authors as of the date of publication and are subject to change. No endorsement of any third parties or their advice, opinions, information, products or services is expressly given or implied by Royal Bank of Canada or any of its affiliates.