Many Canadians consider hockey to be the national sport (both hockey and lacrosse are listed as national sports according to the
National Sports of Canada Act).
But Dan Pion, Director of Corporate Communications for Golf Canada suggests, "When you think of the qualities that define ourselves as Canadians, you think integrity, honesty and fair play. You think golf."
From coast-to-coast, there's no doubt that golf is a beloved Canadian past time. Almost six million Canadians, play 60 million rounds of golf each year, and the Canadian PGA is the third largest in the world (just behind the United States and Japan).
According to Pion, the sport is changing: The high price of real estate means some courses are being bulldozed for land value and new home developments and older Canadians question if an 18-hole round of golf can attract younger golfers to the sport. Here's a look at this beloved national sport and what its future may look like for you and your community.
Canada's True National Sport?
PGA Canada was established in 1911, making it the second oldest professional golf association in world. Golf went through a pronounced boom after World War II, and saw another huge rise in course development and surging popularity in the nineties – in a large part due to the Tiger Woods phenomenon, says Pion.
Despite the recent decline, golf remains the most popular sport in the country, with 21 per cent of the population hitting the greens throughout the year. The play rate is one of the highest per capita in the world! "There's not a lot of activities where one in five people participate," says Pion. Even with a small decline, the sport is still huge! Golf brings in $36.9 billion a year through direct and indirect spending, and employs 126,000 Canadians.
Golf's Community Impact
The real impact of golf may extend far beyond the game itself and into the surrounding communities. When it comes to giving back, golf is at the top of the sporting list. In it's most recent Economic Impact of Golf in Canada study, the National Allied Golf Associations (NAGA) found in one year there were 37,000 Canadian charitable golf events, raising a combined $533 million for a variety causes.
In terms of real estate, "Proximity to a golf courses increases the valuation of your home," says Pion. In part, he says, due to the community feeling they help foster and the valuable green space they provide the surrounding community.
While the financial pressure for residential development near city centres and major markets can lead to course closures, according to the Golf Facilities in Canada 2017 report from Golf Canada and PGA Canada, there have been 26 recent course openings, with 22 new Canadian courses currently in development. In total there are currently 2,298 golf facilities in Canada, second only to the United States. The report also found that golf attendance is on the rise, with a 1.6 per cent average increase in rounds played over last three years.
Along with these new courses come new developments Five-time major champion Phil Mickelson is lending his name and design prowess to one of the most anticipated openings – the Mickelson National Golf Club in Springbank, Alberta just 25 minutes west of downtown Calgary, Alta. The community hype surrounding it is huge, says Pion. A 1,700-acre community called Harmony is being built around the course and everyone in the neighbourhood will have special access to the private club. Mickelson also hopes his course will one day host Canada's RBC National Open Championship, bringing the event back to Calgary. The prestige of such an event can enhance the surrounding community.
Golf and Youth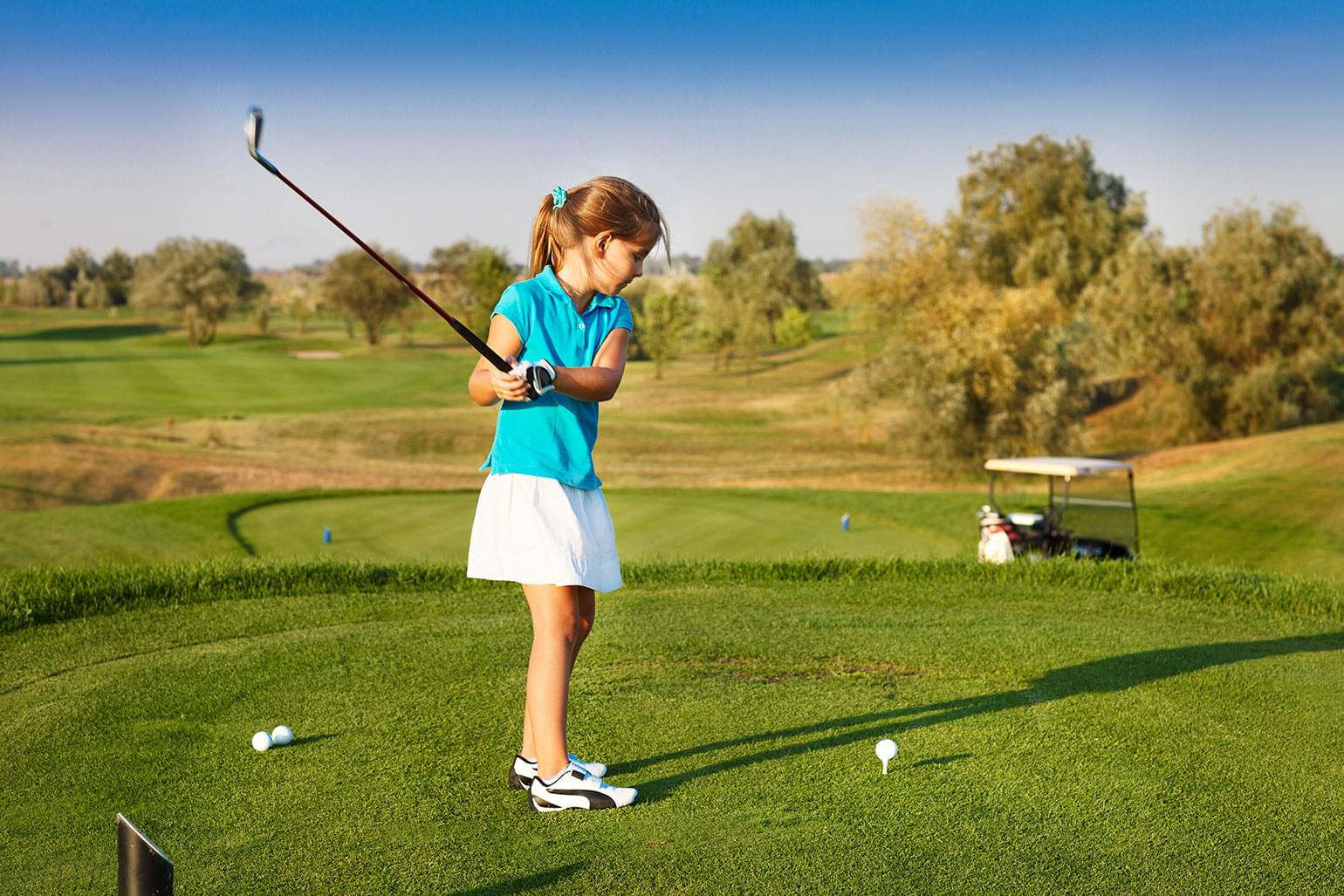 Golf is thriving at a youth level, and increasingly clubs are focusing on young player development and family events. "As a club, we have really been upping our youth golf game over the past few years," says Stephanie Sherlock, a former LPGA Tour player, who now leads golfer development and junior programs at her family's golf course Simoro Golf Links in Barrie, ON. For golf to retain its popularity in the long-run, she says, courses need to focus on getting kids involved in the sport from a young age. Thirty percent of all Canadian golfers took up game between the ages of six and 17, so potentially, if you get players interested while they're young, they'll stay interested for life she says.
Often people think of golf as an exclusive sport. However, according to the Golf Facilities report, there are 230 private courses in the country and 2,068 public ones. Eighty-four per cent of Canadian golfers are public players. The average green fees for a public course are $30 to $40 for 18 holes, with juniors being able to play nine holes for as little as $9. "Golf isn't as expensive as most people think," says Pion.
Making golf affordable and accessible for more families lead Sherlock to start, "Sunday Learn to Golf Family Nights" at Simoro Golf Links. From 3:00 p.m. until dusk kids of all ages can come to the driving range and receive help from two pros. Afterwards, kids can go out on the course and play with their parents for as many holes as they like. "We have some little kids come and do one or two holes, and some older ones come early and do an entire 18 holes," says Sherlock.
There are also a lot of great family events across the country, such as RBC Family Golf Days, where the entire family can come out and swing for free. You get a free bucket of balls and tips from a Golf Canada Pro.
Junior memberships are also more affordable than people think. Accordion to Pion, most clubs offer unlimited play via membership for a few hundred dollars. "Golf is great in that you can go out there and play with friends and family," says Pion. "It's an all-inclusive sport, which makes it appealing to such a broad range of people."
Golf In Schools is a program, developed by Golf Canada and the PGA with PHE Canada, that is currently in more than 3,100 schools across the country. More schools are being added all the time, with 236 new schools added in 2016.
An Exciting Time for Canadian Pros
In the last 10 years, Golf Canada has formalized their player development program. In 2015, they released a revised Long-Term Player Development Guide that focuses on multi-sports and physical literacy in the early years, along with building the fundamentals of golf. Around age 11 kids start to move into competitive golf, ultimately peaking in their early twenties.
There are currently 3,700 Canadian golf pros with the PGA, and there are a handful of Canadian golfers that are garnering worldwide recognition. At the top of the list is Brooke Henderson. The 19-year-old from Smith Falls, ON was LPGA rookie of the year in 2015 and has three career victories, including a major at the KPMG Women's PGA Championship. This win made Henderson the second youngest player in history to win an LPGA major championship. Twenty-six-year-old Mackenzie Hughes and 29-year-old Adam Hadwin also had impressive PGA wins so far in 2017.
With the possible exception of Mike Weir's 2003 Master's win, this stands to be one of the most exciting times for golf in Canada's history. And the new and improved structure of Golf Canada's youth training program promises that things can only go up from here.
Golf for Canada's 150th
"Golf resonates with who Canadians are and our Canadian values," reiterates Pion, so it makes sense that golf is playing a role in Canada's 150 birthday celebrations. There are 1.5 million golf activities planned this year, and the Canadian golf industry partnered with ParticipACTION to add golf to their 150 playlist challenge based on Canada's favourite activities. The British Columbia Golf Association is taking things one step further, and has set a goal of having 150,000 British Columbians taking part in 1.5 million golf activities in 150 days.
This article is intended as general information only and is not to be relied upon as constituting legal, financial or other professional advice. A professional advisor should be consulted regarding your specific situation. Information presented is believed to be factual and up-to-date but we do not guarantee its accuracy and it should not be regarded as a complete analysis of the subjects discussed. All expressions of opinion reflect the judgment of the authors as of the date of publication and are subject to change. No endorsement of any third parties or their advice, opinions, information, products or services is expressly given or implied by Royal Bank of Canada or any of its affiliates.