As a student, Sierra Siciliano found a way to indulge her spending habits while maintaining a reasonable budget and saving for her future. She is 22 years old and studies advertising and marketing communications management at St. Lawrence College in Kingston. Before she moved away for school, Sierra wasn't keeping track of her finances and was surprised to learn how much she was spending.
"When I was at home I worked three jobs and I had nothing to show for it. I had no savings," she says. "I really had no idea how much I was spending on food and shopping. When I started keeping track of it, it was a lot more than I thought."
Now in her third and final year of school, Sierra works two jobs to cover expenses. She is a server at a busy restaurant and a banquet captain at a hotel. She makes enough money in wages and tips to pay for groceries, rent, clothes, gas for her car, and the occasional weekend trip. Her parents pay for her tuition, cell phone and car insurance. The agreement is that she will take responsibility for all her expenses once she graduates in April.
Sierra sets savings goals for herself. She takes several trips throughout the year and loves shopping and eating out. To stay on track, she tracks her spending in an Excel spreadsheet every month.
"I used to make really unrealistic goals for myself and I found it's better to set benchmarks," she says. "There are things you have to spend money on and things you don't realize how much money you spend on. You just feel worse if you don't reach your goals so I think it's better to set benchmarks and reach that halfway point."
Sierra aims to put aside at least $1500 a month split between her TFSA and her RRSP. She also meets with her financial advisor every two months to go over her budget.
Check out a complete breakdown of Sierra's monthly budget below. The RBC Student Budget Breakdown series will compare how different students across the country are managing their money. Want to see how your budget stacks up? Try the RBC Student Budget Calculator. Download RBC mobile banking apps to take advantage of useful tools like NOMI to help you summarize and categorize your spending. NOMI also uses predictive technology to learn your transaction patterns and put aside extra money for your savings.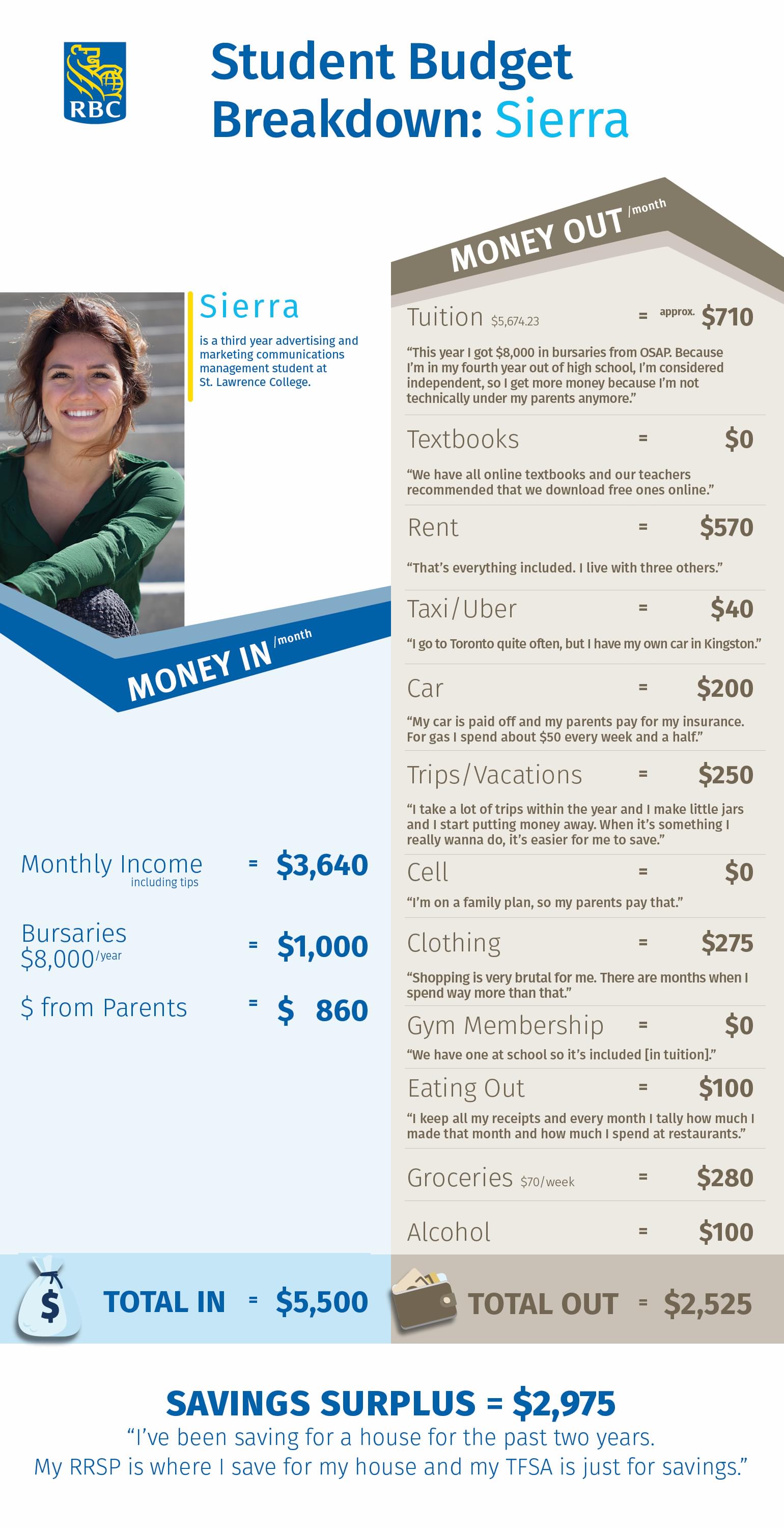 MONEY IN:
MONTHLY INCOME: $3640 including tips
MONEY FROM PARENTS: $860/month
BURSARIES: $8000/year = $1000/month
TOTAL IN: $5500/month
–
MONEY OUT:
Rent: $570 "That's everything included. I live with three others."
Tuition: $5,674.23 = $2,850/semester = approx. $710/month "This year I got $8000 in bursaries from OSAP. Because I'm in my fourth year out of high school I'm considered independent, so I get more money because I'm not technically under my parents anymore."
Textbooks: $0 "We have all online textbooks and our teachers recommended that we download free ones online."
Groceries: $70/week = $280/month
Eating Out: $100/month "I keep all my receipts and every month I tally how much I made that month and how much I spend at restaurants."
Taxi/Uber: $40/month "I go to Toronto quite often, but I have my own car in Kingston."
Alcohol: $100/month
Cell Phone: $0 "I'm on a family plan so my parents pay that."
Gym Membership: $0 "We have one at school so it's included [in tuition]."
Car: $200/month "My car is paid off and my parents pay for my insurance. For gas I spend about $50 every week and a half."
Clothing: $275/month "Shopping is very brutal for me. There are months when I spend way more than that."
Trips/Vacations: $250/month "I take a lot of trips within the year and I make little jars and I start putting money away. When it's something I really wanna do it's easier for me to save."
TOTAL OUT: $2,525 Savings
Surplus: $2,975 "I've been saving for a house for the past two years. My RRSP is where I save for my house and my TFSA is just for savings."
More from the Student Budget Breakdown Series:
This article is intended as general information only and is not to be relied upon as constituting legal, financial or other professional advice. A professional advisor should be consulted regarding your specific situation. Information presented is believed to be factual and up-to-date but we do not guarantee its accuracy and it should not be regarded as a complete analysis of the subjects discussed. All expressions of opinion reflect the judgment of the authors as of the date of publication and are subject to change. No endorsement of any third parties or their advice, opinions, information, products or services is expressly given or implied by Royal Bank of Canada or any of its affiliates.