20-year-old Noshin Rahman became interested in personal finance during her first year studying psychology at Carleton University.
She says her parents were not always the best budgeters, and she needed to learn how to manage money while living away from home. She researched online and read several of how-to guides on personal budgeting. Noshin later got a job working in the Carleton Financial Services office where she became a regular contributor to the CU Money Blog.
"Responsibility and learning how to manage priorities … learning to budget really teaches you both of those things," she says
In her second year, Noshin switched to York University in Toronto, though she continues to publish her blog on the Carleton website, and says she is motivated by a desire to help other students through her writing.
Noshin says the biggest mistake students can make when it comes to budgeting is not getting started in the first place. "Once you get started budgeting, it's actually really easy to get going. All you have to do is open up the calculator on your phone and start counting."
Technology can help with motivation to maintain a budget and Noshin has written several reviews of budgeting apps on her blog. Another useful tool is NOMI, which is available through the award-winning RBC Mobile banking app. NOMI helps you manage your day-to-day spending by summarizing your activity, categorizing your spending and notifying you of any unusual purchases. There's also NOMI Find & Save which uses predictive technology to learn your transaction patterns and automatically put extra money into savings so you can meet your financial goals faster.
While studying, Noshin isn't working, but she is living off of savings from her summer job, as well as OSAP funds, a student line of credit and some money from her parents.
Her best piece of advice for students just starting out with budgeting is to stay optimistic, particularly in the first month of school when expenses can be much higher.
"Go easy on yourself," she says. "I just let myself spend whatever I need to — and from the second month onwards, that's when I become more strict on myself."
Check out a complete breakdown of Noshin's monthly budget below.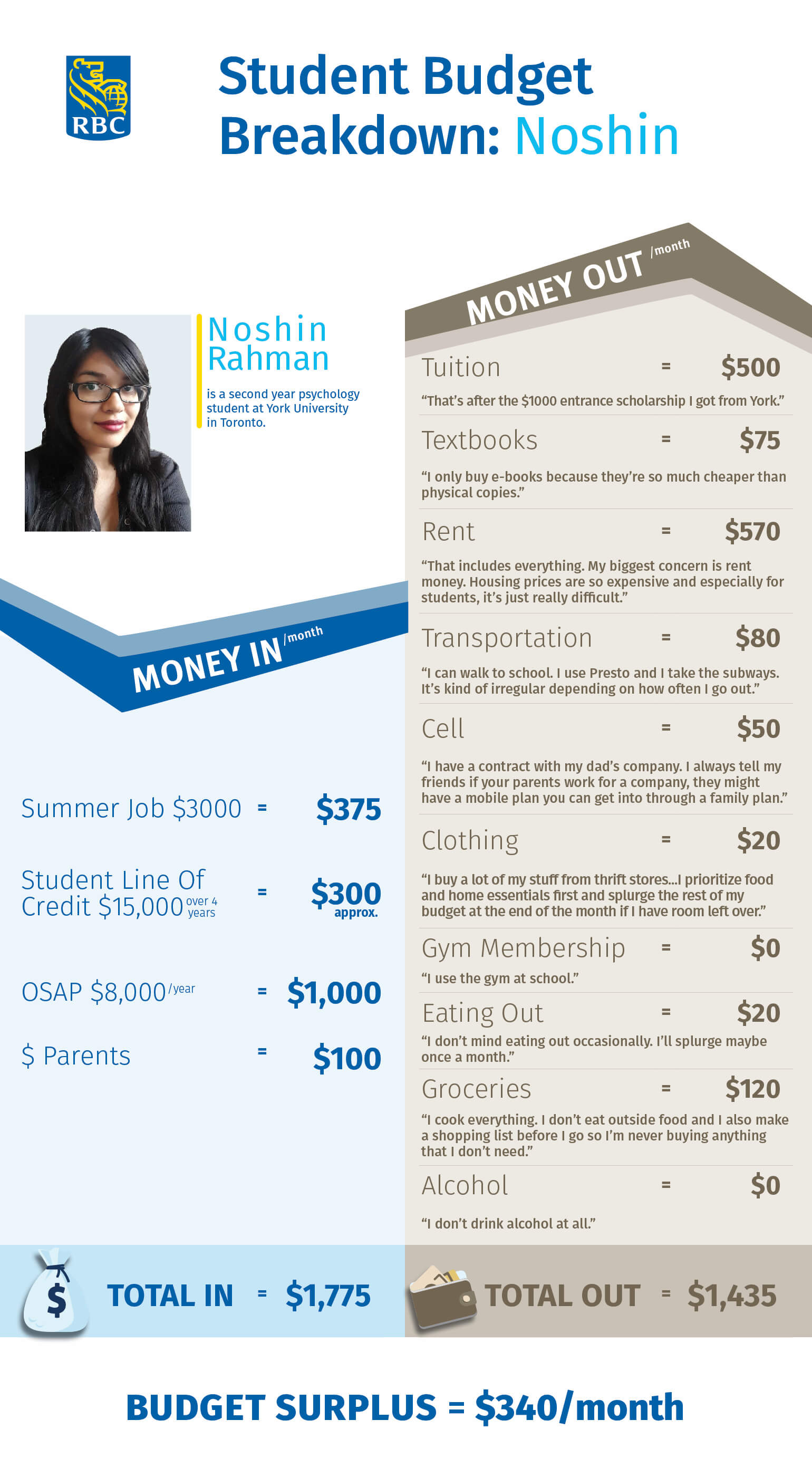 Student Budget Breakdown: Noshin
Noshin Rahman is a second year psychology student at York University in Toronto.
MONEY IN$ FROM PARENTS = $100/month
STUDENT LINE OF CREDIT = $15,000 over 4 years = approx. $300/month
SUMMER JOB SAVINGS = $3000 = $375/MONTHOSAP = $8,000/year = $1,000/month
TOTAL IN = $1,775/monthMONEY OUTRent = $570/month "That includes everything. My biggest concern is rent money. Housing prices are so expensive and especially for students, it's just really difficult.
—
Tuition = $2000/semester "That's after the $1000 entrance scholarship I got from York.
Textbooks = $300/semester "I only buy e-books because they're so much cheaper than physical copies."
Groceries = $120/month "I cook everything. I don't eat outside food and I also make a shopping list before I go so I'm never buying anything that I don't need.
Eating Out = $20/month "I don't mind eating out occasionally. I'll splurge maybe once a month.
Alcohol = $0/month "I don't drink alcohol at all.
Cell Phone = $50/month "I have a contract to my dad's company. I always tell my friends if your parents work for a company, they might have a mobile plan you can get into through a family plan.
Gym Membership = $0/month "I use the gym at school.
Transportation = $80/month "I can walk to school. I use Presto and I take the subways. It's kind of irregular depending on how often I go out."Clothing = $20/month "I buy a lot of my stuff from thrift stores…I prioritize food and home essentials first and splurge the rest of my budget at the end of the month if I have room left over.
TOTAL OUT = $1,435/monthSavings Surplus = $340/month
More from the Student Budget Breakdown Series:
This article is intended as general information only and is not to be relied upon as constituting legal, financial or other professional advice. A professional advisor should be consulted regarding your specific situation. Information presented is believed to be factual and up-to-date but we do not guarantee its accuracy and it should not be regarded as a complete analysis of the subjects discussed. All expressions of opinion reflect the judgment of the authors as of the date of publication and are subject to change. No endorsement of any third parties or their advice, opinions, information, products or services is expressly given or implied by Royal Bank of Canada or any of its affiliates.