If you, like many snowbirds, are staying in Canada this winter, you may be wondering what to do about your U.S. property. Should you just leave it vacant? Sell it? What about renting it out?
Moving into the winter months, many Canadians have accepted the recommendation to steer clear of their winter homes in the States. If you're not using your U.S. property this year, you might be wondering just what to do with it. Here are some ideas to make it work for you.
Selling your U.S. home — or accessing your equity
If your U.S. property is sitting unoccupied, you might feel tempted to sell it; however, think about if you'll regret giving up your warm, sunny winter getaway when the borders reopen. Will you miss the sandy beaches and year-round golf? In addition to the loss of lifestyle that comes with selling, there's the cost to consider:
Agent fees. You might pay 5-6% of the selling price of the home to your real estate agent.
Capital gains. If you sell your home for more than you paid for it, you may have to pay tax on the difference, minus some expenses.
Closing costs and other expenses involved with selling

You may be able to access the equity in your U.S. home without the hassle and expense of selling it. With a U.S. HELOC or mortgage refinance,1,2 you can access up to 80 per cent of your home's equity. Use it to cover your U.S. expenses and debts or pay for repairs or renovations on the property. Or take advantage of the favourable exchange rate and move the money back to Canada3.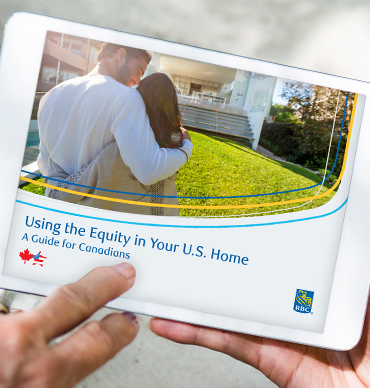 Use Your U.S. Home Equity to Your Advantage
Your one-stop resource for using your U.S. equity to fund your U.S. lifestyle, more money back to Canada, renovate your home and more.
Renting your U.S. home
Renting out your U.S. home may be a great way to generate U.S. cash flow while you're not there to enjoy your property. There are a few things to think about before you open your doors to renters.
1. Know the Tax Rules
While you live and pay taxes in Canada, you're obligated to report your U.S. rental income to the Internal Revenue Service (IRS). While this part of the rental process is a bit complex, the good news is you may be able to deduct certain rental property expenses to reduce the amount of taxes you ultimately pay. Make sure to talk to a cross-border tax or legal advisor as you make your plans.
2. Protect Yourself with Insurance
You likely already have homeowners insurance in place to protect your property and contents. But if you're renting out your home, you'll also want to consider personal liability insurance that covers you if one of your tenants gets hurt on the property.
3. Understand Your Condo Rules
If your property is part of a condominium or club, be sure to check the rules about renting out your property — they may have restrictions on how many times you can rent out your property during the year, the minimum rental period, if you need approval of your rental contract, and more. The county in America may even have their own set of rules and guidelines, particularly around short-term rentals.
4. Consider a Local Property Manager
Even during "normal" times, a good property manager can help you find and manage renters, handle any issues your renters may have, and inspect your property after they leave. They can also take care of your home while it's vacant and ensure it's ready for you when you return.
If you rent out your U.S. property from Canada, the services of a property manager can be invaluable. They can check your property is ready for showing, set up appointments for viewing and let in prospective renters. They may also handle the paperwork when you find the right tenants.
5. Set up a Virtual Tour Online
Online virtual tours are nothing new when it comes to property searching, but it's become a vital tool during the pandemic. These online tours give prospective tenants a comprehensive view of your home — including photos, floor plans and neighbourhood views — which means those who come to see the property in person will likely be serious about renting it.
No doubt you're be missing your time in the sun this winter. But there are brighter days on the horizon, and soon you'll be able to enjoy your vacation home again. Instead of letting it sit empty this season, accessing the equity in your U.S. home or renting it out can help you earn some extra U.S. cash in the meantime.
---
RBC Bank, Equal Housing Lender.
1 Mortgages and Home Equity Lines of Credit (HELOCs) are subject to approval, including verification of acceptable income, credit worthiness and property valuations. Minimum and maximum property values and maximum loan-to-value ratios apply. Homeowner's insurance is required for all loans and lines of credit and flood insurance is required if the property is located in a Special Flood Hazard area. Escrows may be required on mortgages. There are closing costs associated with mortgage products. In addition to a ½% Origination fee (with a $500 minimum and a $2,000 maximum) due at origination and a $50 annual fee, third party closing costs for Home Equity Lines of Credit may range from $900 to $9,000. Home Equity Lines of credit are not offered for properties in Texas. Home Equity Lines of Credit are not available for investment properties.
2 Refinancing not offered for properties in Texas.
3 Consult your financial, tax, legal, and other professional advisors prior to applying for a U.S. mortgage.
This article is intended as general information only and is not to be relied upon as constituting legal, financial or other professional advice. A professional advisor should be consulted regarding your specific situation. Information presented is believed to be factual and up-to-date but we do not guarantee its accuracy and it should not be regarded as a complete analysis of the subjects discussed. All expressions of opinion reflect the judgment of the authors as of the date of publication and are subject to change. No endorsement of any third parties or their advice, opinions, information, products or services is expressly given or implied by Royal Bank of Canada or any of its affiliates.