Jayne's Cottages is the brain child of Jayne McCaw — a long-time cottager who felt more people would enjoy a summer getaway to Muskoka if only cottage rentals were done differently. She built her idea — to help visitors with their Muskoka vacations — into a thriving business in under 5 years.
Ever wondered how successful entrepreneurs turn their dreams into reality? What drives them to push the envelope, create change and advance their industries? Canadian small business owners share how they transformed their ideas, goals and passions into realities.
Jayne McCaw, founder of Jayne's Cottages and winner of the Start-Up Award at the 2019 RBC Canadian Women Entrepreneur Awards (CWEA), shares how she built her business through trust, service, and minimal investment. A network of over 200 luxury rental cottages, Jayne's Cottages offers a win-win scenario for cottage owners and vacationers alike, thanks to a focus on end-to-end service, prioritization of owner satisfaction and always-on support for every detail.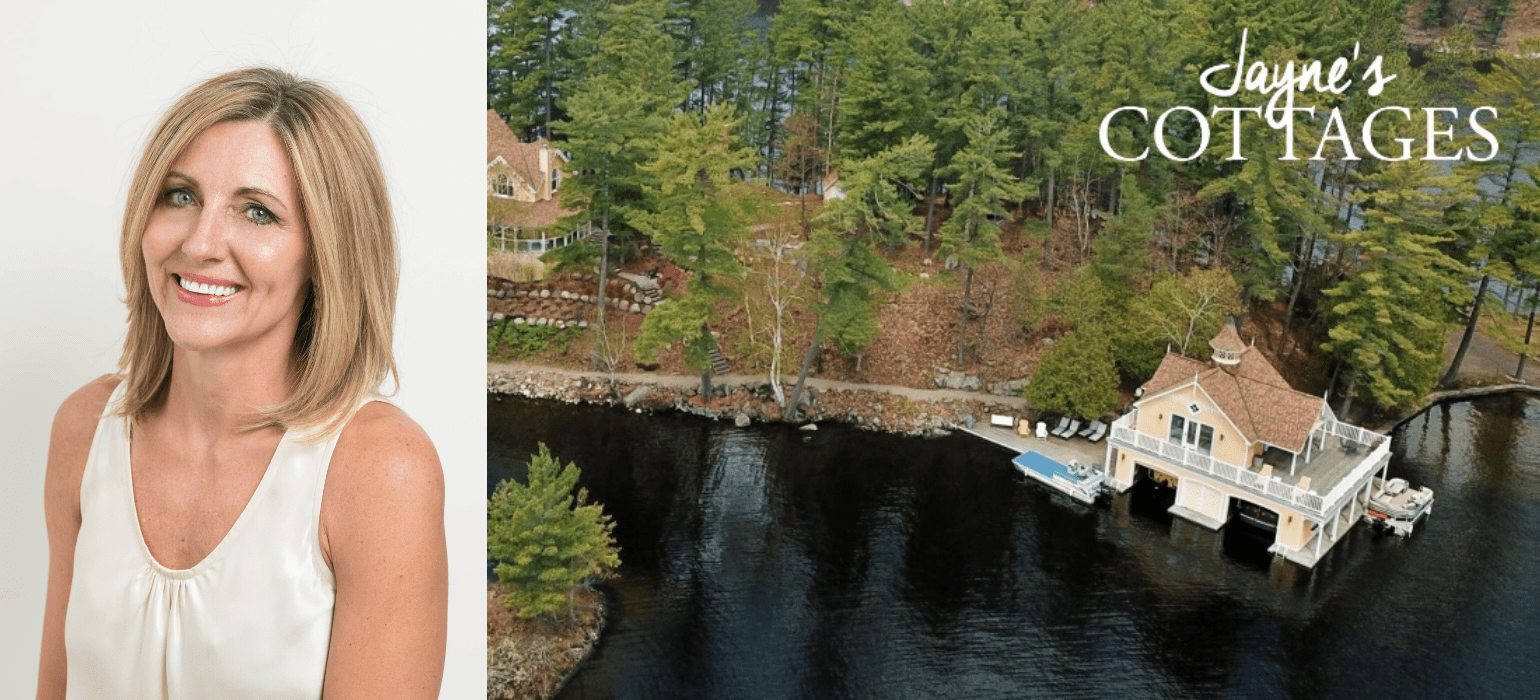 Q: What should people know about Jayne's Cottages?
McCaw: We provide a high-end luxury cottage rental service. Our guests receive a one-stop-shop experience for all their vacation needs, while the owners feel their cottage is being very well cared for. We help vacationers choose a cottage and offer concierge services such as a chef, boat rental, water trampoline or airport lift to Muskoka — it's all part of the reservation process.
Q: What motivated you to start your business?
McCaw: It was a convergence of a lot of small things. To start, I am very entrepreneurial by nature and I grew up in small town where my father was an entrepreneur. I believed that cottage owners would like to participate in the sharing economy if it was low risk and easy – if there was someone to take care of all the details for them.
It's clearly known that Muskoka is frequented by wealthy and famous people, and obviously there is some opportunity here. While I've always known that, I also know that owners don't want to rent their cottages to strangers on regular vacation rental sites – they only want to rent to people they can trust.
A trip to Provence booked with a full-service property company flipped a switch for me. The company owner had a glass of wine with us, shared invaluable knowledge about the area, and offered exceptional services to really make our stay special. That's when the idea really started germinating.
I wasn't happy in my tech job and was commuting from Toronto to Muskoka every weekend for over three hours. I was turning 50 and realized I wanted to take control of my life. I figured if I just had 15 cottages to rent I would be OK, and a lot happier with being my own boss – being able to use all my skills with no one to answer to.
Q: So how did you make the transition from idea to a viable business?
McCaw: I paid $10,000 to become a travel agency, put $300 into a website, and used all the best technology available. When I started the business 5 years ago there was a bit of Airbnb, a lot of VRBO, as well as other online rental companies – but they were more home-grown, not sophisticated, and very simple.
Because of my tech background, I made sure I was doing SEO and creating content the right way. The result was that I brought on 25 cottages to start, which turned into 60, 120, and now over 200.
Q: What is your key to strong online content and SEO?
McCaw: All of our content is created with the beautiful cottages we rent, which really speak for themselves. Plus, all the key words — fire pit, Muskoka room, Lake Rosseau — are always on the first page. So when someone is searching for beautiful Muskoka cottages for rent – our site is always a top result. This is one way the tech side of my career has really helped build and fuel the business.
Q: What other ways have you grown your business?
McCaw: Word of mouth is huge as far as owners and guests go. In Muskoka we added 90 cottages last year.
We are also growing through global vacation rental industry associations. For instance, we are very involved in the VRMA (Vacation Rental Management Association) and my properties are on those websites as well.
The Muskoka community really embraces their successful new small businesses and this summer we had over 75 staff — over 50 of whom are local Muskokans. We have contributed to the economy up here and the Chamber of Commerce and Economic Development Office of Muskoka Lakes have approached us to learn more about our business, and find out how they can provide us with the resources we need to grow.
Q: You received an Ontario Centre of Excellence technology grant for $75,000 to create a new software platform for Jayne's Cottages. How are you using it?
McCaw: We are developing custom software with the Big Data Analytics IT graduate program at Georgian College — it's software that will help us grow faster, and grow globally as well.
This is next-level technology. The school actually wants to take it further than I would have thought. We are launching in October, and are receiving another big grant for further integration, allowing us to create a mobile app and other types of software from this platform.
My vision is that this is a new standalone technology business based in Muskoka. Companies around the world would use our platform, making their business processes better.
Q: What is your strategy for growing globally?
McCaw: I have connections with people in this industry all over the world who are delivering a great product but who need support marketing their properties. I have identified people in the Alps, South Africa and Tuscany who are successful local property managers with a concierge service, and who deal with the types of guests that I have. I am expecting to have 15 more global locations by next year.
The idea is that when I am talking to guests and owners and find out where they want to vacation, I can help match them up in the future. I can say: "Check out one of Jayne's worldwide properties that is managed by Katie." Travellers trust me — and because I trust and recommend Katie — they will book with us.
Q: With popular services like Airbnb and VRBO, what is it that sets Jayne's Cottages apart?
McCaw: The biggest difference is you know at the end of the day that you're dealing with a responsible agency that has a couple hundred properties, with contracts and reviews and a trust network. That sort of thing sets us apart. With companies like Airbnb and VRBO you can't even talk directly to the person representing the property – so things may not be what they appear to be.
Vacation planning is stressful, and your vacation is a very special time. You've been planning it for six months — you want it to be perfect. You want to make the right decisions but there can be so much uncertainty with respect to what you're getting. People have a sense of relief with us knowing that someone is taking care of them.
Every step of the way – from making sure clients are selecting the property that best meets their needs to talking about what they want to do when they get there – we are there to help and deal with any issues.
Q: How do you balance work and life?
McCaw: My business has been an extension of myself: I like nice houses and have always been organized bringing up four kids and working full-time. My strength is execution and I like to have a lot going on. This is a very natural business for me. But work/life balance is hard as everything ends up with me – business problems, employees, legal issues, etc. The business is always on my mind and it's so hard to let go of it. It's really hard to balance work and life.
In November, 2019, 23 exceptional women were celebrated at the 2019 RBC Canadian Women Entrepreneur Awards(CWEA). Fueled by passion, entrepreneurial spirit and a relentless drive to challenge the status quo, these remarkable business owners have raised the bar on service, innovation and disruption.
More from the Canadian Women Entrepreneurs Series:
This article is intended as general information only and is not to be relied upon as constituting legal, financial or other professional advice. A professional advisor should be consulted regarding your specific situation. Information presented is believed to be factual and up-to-date but we do not guarantee its accuracy and it should not be regarded as a complete analysis of the subjects discussed. All expressions of opinion reflect the judgment of the authors as of the date of publication and are subject to change. No endorsement of any third parties or their advice, opinions, information, products or services is expressly given or implied by Royal Bank of Canada or any of its affiliates.