As COVID-19 and technological advancement accelerate a rapid shift toward Digital Health, a new class of healthcare technology companies are set to disrupt traditional models, paving the way for sizeable market opportunities.
This article originally appeared on the RBC Capital Markets website, capturing the key findings of its latest research report "Digital Health—Hitting Fast Forward".
---
The healthcare industry has been stubbornly resistant to large-scale technological disruption. But now, it appears that the elements necessary to advance a shift to Digital Health are finally falling into place.
Innovations in Big Data and AI, coupled with a healthcare environment increasingly digitalized by the COVID-19 pandemic, are driving this acceleration. Also, the healthcare sector can no longer resist pressure from Big Tech and well-funded start-ups, focusing on patient-centric models that will force traditional healthcare models to evolve.
It is not expected that the complex healthcare ecosystem to be completely upended. But by 2025, it is believed that the convergence of tech and healthcare will create a $92B market opportunity for tech companies in areas such as AI-enabled R&D platforms, digital therapeutics, and diagnostics and disease management.
Here are the key takeaways:
(1) Emerging models are changing traditional healthcare
The current healthcare system may best be described as heavily siloed and inefficient.
The major players in Digital Health—including large pharma, Big Tech, AI, and data—all contribute to developing drugs, treating diseases, and delivering healthcare. Patients—who are now the main drivers of healthcare decisions—sit at the center of this ecosystem and are surrounded by the traditional components, namely payers, providers, and pharmacies.
Emerging patient-centric models are now creating "cracks" in this façade, creating ample opportunities for Big Tech and start-ups to help address inefficiencies and patient outcomes.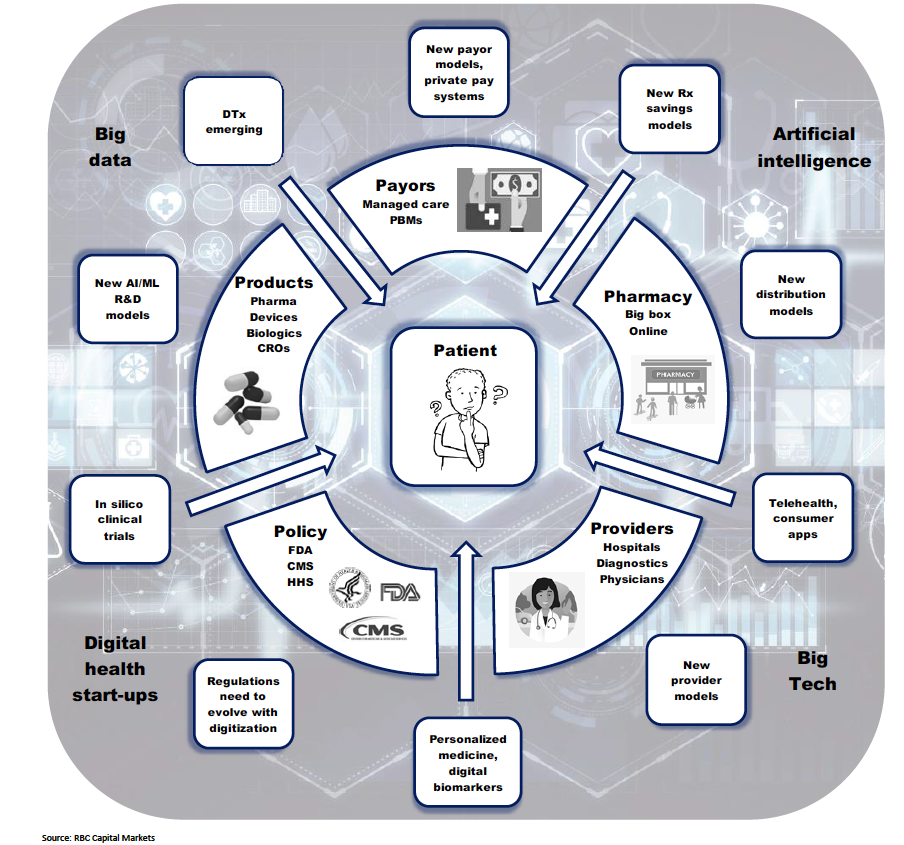 (2) New ways to improve efficiencies and reduce spend on chronic care
CMS expects U.S. healthcare spending to top $4T this year, and more than 5% growth per year through 2028, outpacing GDP. This growth creates ample opportunities for companies to improve efficiencies and reduce spend in areas such as chronic care management. For example, 60%+ of U.S. adults have at least one chronic condition and spending for these ailments adds up to ~$2.5T per year.But, healthcare is incredibly fragmented across the continuum of care. For instance, drug prices comprise 9% of total healthcare spending at ~$335B with a 10-year CAGR of 3.4%, which is notably below the overall growth of healthcare.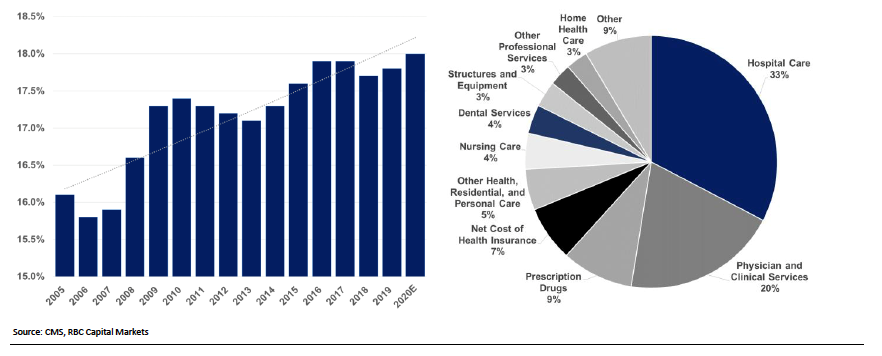 (3) Near-term opportunities for Big Tech may reach $92B in 2025
It is believed that the convergence of tech and healthcare will create ample opportunities in:
R&D/drug development
Digital medicine, including therapeutics (DTx) and other digital interventions
Devices, diagnostics, and disease management
Delivery of care efforts focused on improving access to and quality of care and the overall efficiency of payers and providers.
These four areas collectively comprise a $27B market that we expect to grow at a 28% CAGR to $92B in 2025.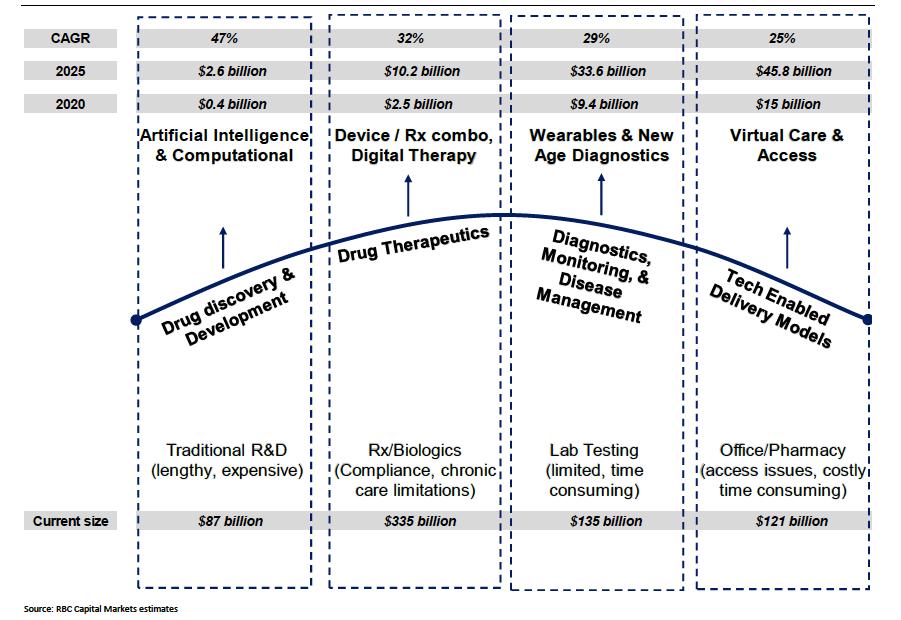 (4) A clear road to digitalization, with a few possible hurdles
Growing capital, record private investment, and pandemic-led changes in patient behavior may help healthcare digitalization finally take root.
But, it is also recognized that there's always room for potential "surprises" that can either accelerate or disrupt this evolution, such as a prolonged or unpredictable course for the pandemic, Big Tech acquisitions of traditional healthcare companies, or the expansion of existing workplace healthcare ecosystems.
See related story: The Healthcare Data Explosion.
This article is intended as general information only and is not to be relied upon as constituting legal, financial or other professional advice. A professional advisor should be consulted regarding your specific situation. Information presented is believed to be factual and up-to-date but we do not guarantee its accuracy and it should not be regarded as a complete analysis of the subjects discussed. All expressions of opinion reflect the judgment of the authors as of the date of publication and are subject to change. No endorsement of any third parties or their advice, opinions, information, products or services is expressly given or implied by Royal Bank of Canada or any of its affiliates.