How One Adventurous Couple Lives for Today and Invests for Tomorrow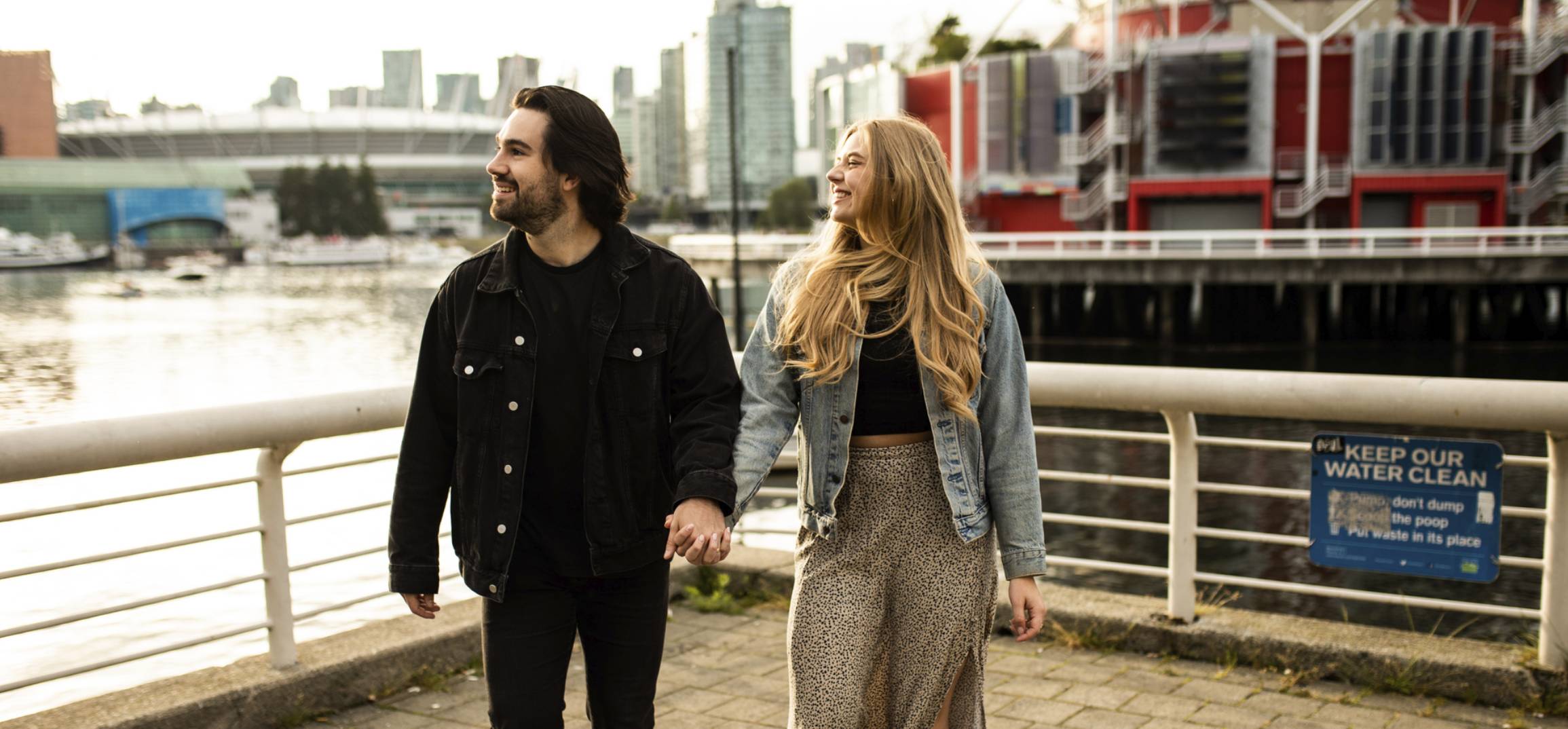 By Owen GuoMarch 2, 2023
Vancouver couple Lacey and Sean talk about what inspires them to save and invest and how they balance living in the now with planning for their future
For Lacey and Sean, saving for the future doesn't stop them from having fun.
In a whirlwind trip through Europe in 2022, the married couple had the time of their lives. They savoured hot wine at a Christmas market in Copenhagen. They posed at the Parisian café featured in a hit Netflix show. In a beach town in Greece, they wandered the cobblestone streets and watched the sunset.
It wasn't all play. While travelling, the couple never stopped working. Born and raised in Vancouver, B.C., Lacey, 27, and Sean, 23, were both employed full-time in the tech sector at the time. The ability to work remotely allowed them to explore their passion for travel.
In an interview, the couple spoke to us about their early learnings about financial matters and life goals. Their lifestyle is rooted in discipline and planning, a money philosophy that enables them to live in the now while planning for the future.
Getting started
The couple's financial journey started with curiosity.
For Sean, it was a book on investing that sparked his interest in money matters. That book ignited his curiosity about building wealth through owning different investments. It also helped him figure out where to start. "As I stumble across more information about personal finance, I've become more and more curious," he says.
Lacey admits she was a bit late to the investing world, but she's catching up fast.
Shortly before they got married, Lacey opened a Tax-Free Savings Account (TFSA). Now, they both invest within a TFSA and a Registered Retirement Savings Plans (RRSP).
"Money wasn't something that my family taught me when I grew up. I didn't even know what a TFSA was when I started dating Sean. Learning the ropes of investing and money together has been very helpful," she says.
As avid social media users and content creators, they also turn to YouTube and TikTok for ideas and motivation. "You can get inspired there by what other people are doing," Lacey says. "We've learned to take that inspiration and then do our own research to make sure information is accurate."
Learning to budget – and making it fun
Lacey learned the importance of budgeting in college. Back then, she worked part time to support herself financially.
"I had to make every dollar count. And I got really good at finding deals," she says. "Now that we're both building our careers and managing our budget, I still follow the same format as I did in university."
That format is a simple one. On a monthly basis, Lacey and Sean subtract their living expenses from their income. What's left over – it fluctuates sometimes – is "what we have to work with," the couple says.
For some, budgeting can bring a sense of dread. Not for Lacey and Sean. They've found a way to spice things up by making it into a game.
"If I bought something that's not a necessity but just a 'want,' it's considered a loss, and Sean gets bragging rights," Lacey says. Whoever stays within the budget gets spoiled with a nice dinner.
"It has really helped us keep our budgeting on track," Lacey says. "We gamified it because that competition works for us."
The couple says budgeting is the foundation on which they base many other financial decisions.
"The purpose of budgeting is that whatever we set aside, we want to make sure there's enough left for the future, whether it's for retirement or for other goals," Sean says. "If we can set aside even small portion of our income and let it compound, it can be powerful."
Saving for tomorrow, enjoying today
The couple says saving doesn't have to be restrictive. "We both value saving for experiences, rather than possessions," says Sean.
Case in point: They sold everything in Vancouver in late 2022 before starting a three-month trip across Europe. Using travel points from credit cards, Lacey and Sean booked one-way flights to Paris for only $100.
There are plenty of opportunities to save, Lacey says. "Do you really need paper towels from a name brand supermarket? You could go to a dollar store and buy them for a much more affordable price," she says.
Money saved in this way can then be invested or spent intentionally on things that contribute to the lifestyle or future they want. While working remotely in Copenhagen, for example, the health-conscious couple bought a one-month gym-membership to stay in shape. Regular savings also allowed them – both are foodies – to try out local cuisines and highly sought-after restaurants.
Financial future
The couple says they plan to keep exploring what life has to offer. That includes travel and maybe even moving beyond their hometown of Vancouver to try living somewhere new. "At the moment, we're focusing on investing our money consistently to grow it over time," says Sean.
One thing is certain, mapping out their future and living in the now go hand in hand. "We work in percentages a lot," says Lacey. "We put a certain percentage of our paycheques into retirement, saving and investing. The leftover money we can then use for, say, a weekend trip to California," she says.
Sean agrees. "I don't want to save all my travel for when I'm 70 and can't enjoy it as much."
+ Disclosure

Sean and Lacey are RBC clients. They have been compensated for sharing their story.

Investment advice is provided by Royal Mutual Funds Inc. (RMFI). RMFI, RBC Global Asset Management Inc., Royal Bank of Canada, Royal Trust Corporation of Canada and The Royal Trust Company are separate corporate entities which are affiliated. RMFI is licensed as a financial services firm in the province of Quebec.

This article is intended as general information only and is not to be relied upon as constituting legal, financial or other professional advice. A professional advisor should be consulted regarding your specific situation. Information presented is believed to be factual and up-to-date but we do not guarantee its accuracy and it should not be regarded as a complete analysis of the subjects discussed. All expressions of opinion reflect the judgment of the authors as of the date of publication and are subject to change. No endorsement of any third parties or their advice, opinions, information, products or services is expressly given or implied by Royal Bank of Canada or any of its affiliates.
Things our lawyers want you to know