It used to be that if you were terrified of the idea of just a sleeping bag between you and the ground, wild animals or outdoor bathrooms, camping was to be avoided at all costs. Glamping (A.K.A. glamorous camping) has been a huge gift for the nature newbie and has recently undergone huge innovations. With the advancement of luxury yurts, pods, teepees and tree houses, you can experience the wonders of the Canadian wilderness with modern comforts like hot showers, WiFi and comfy beds.
Here are the top glamping options across Canada this fall:
The Tree Sphere
Free Spirit Sphere in Qualicum Bay, British Columbia
If the Jetsons were to build tree houses, they would look like the Free Spirit Sphere. Part tree house, part space capsule, this resort is in the coastal rainforest of Qualicum Bay, Vancouver Island. The unique spherical tree houses are wired for power and heat, and come equipped with a kitchenette, dining table and sound system, as well as single or double beds. Secured by a series of ropes, these handcrafted spheres gently sway in the breeze while you relax. About 50 meters away from each sphere, is a heated "bathhouse" with a private toilet, sink and shower. While at Free Spirit, you can hike or cycle to Big Qualicum River and the Lighthouse Country Trail Network or sign-up for a memorable Adventuress kayak excursion with the Orcas.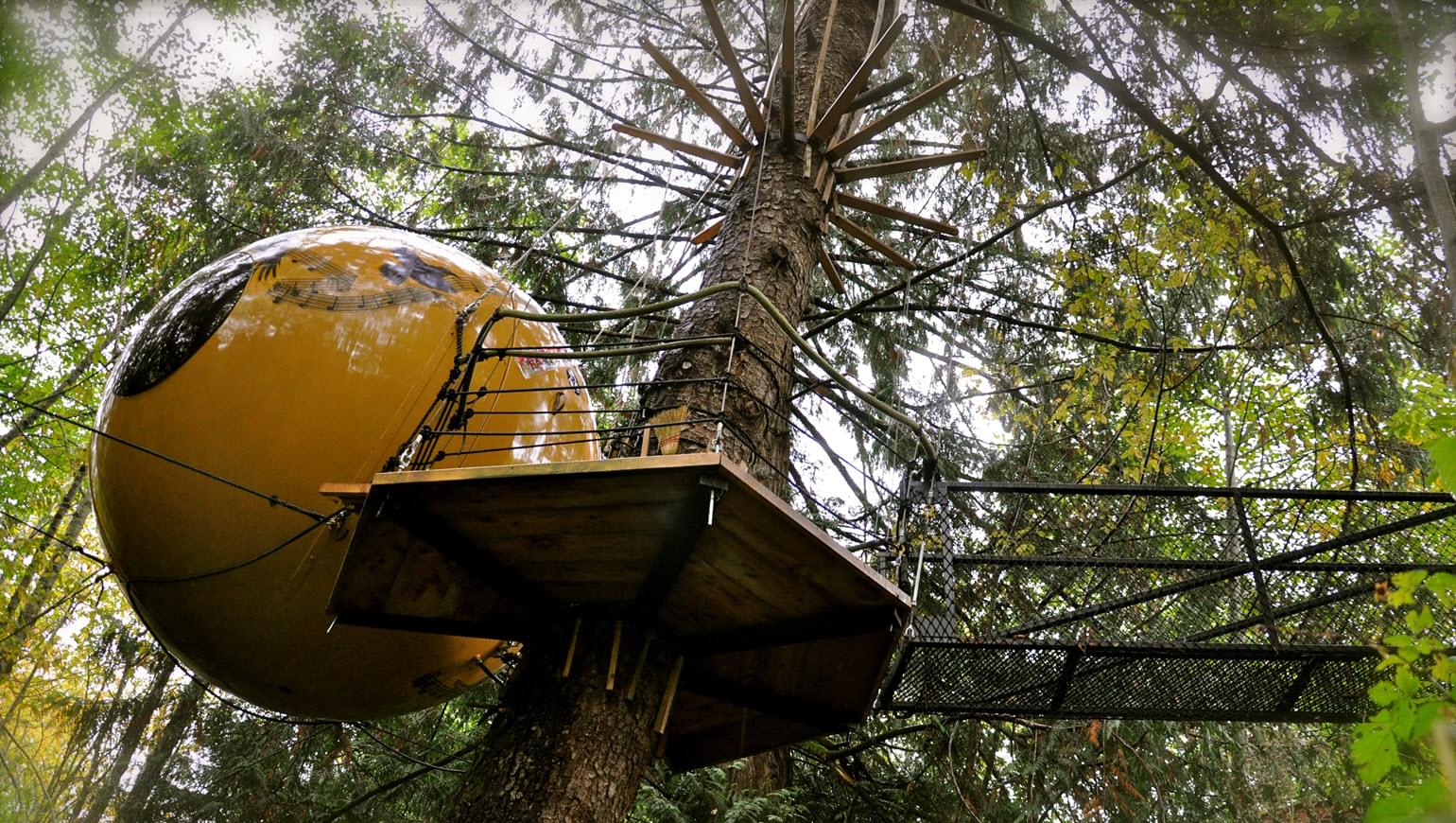 The Teepee
Sundance Lodges in Kananaskis Trail, Alberta
Located by the gorgeous Kananaskis River in the heart of the Rockies, just an hour's drive from Calgary, is Sundance Lodges. Sundance is the ideal place to stay for a unique glamping experience while on your way to Calgary or Banff. Stay in one of the twelve hand-painted traditional Sioux canvas teepees, which come with comfy wood-framed, foam mattress beds, wooden floors, kerosene lanterns and heaters. Available on-site are clean public hot showers, toilets, coin laundry, a horseshoe pit and two water wells. Bedding, towels, cooking utensils, and camp stoves can all be conveniently rented. Fun activities nearby include horseback riding and BBQ lunch at Boundary Ranch, whitewater rafting on the Kananaskis and Bow Rivers and rock climbing at Wasootch Creek.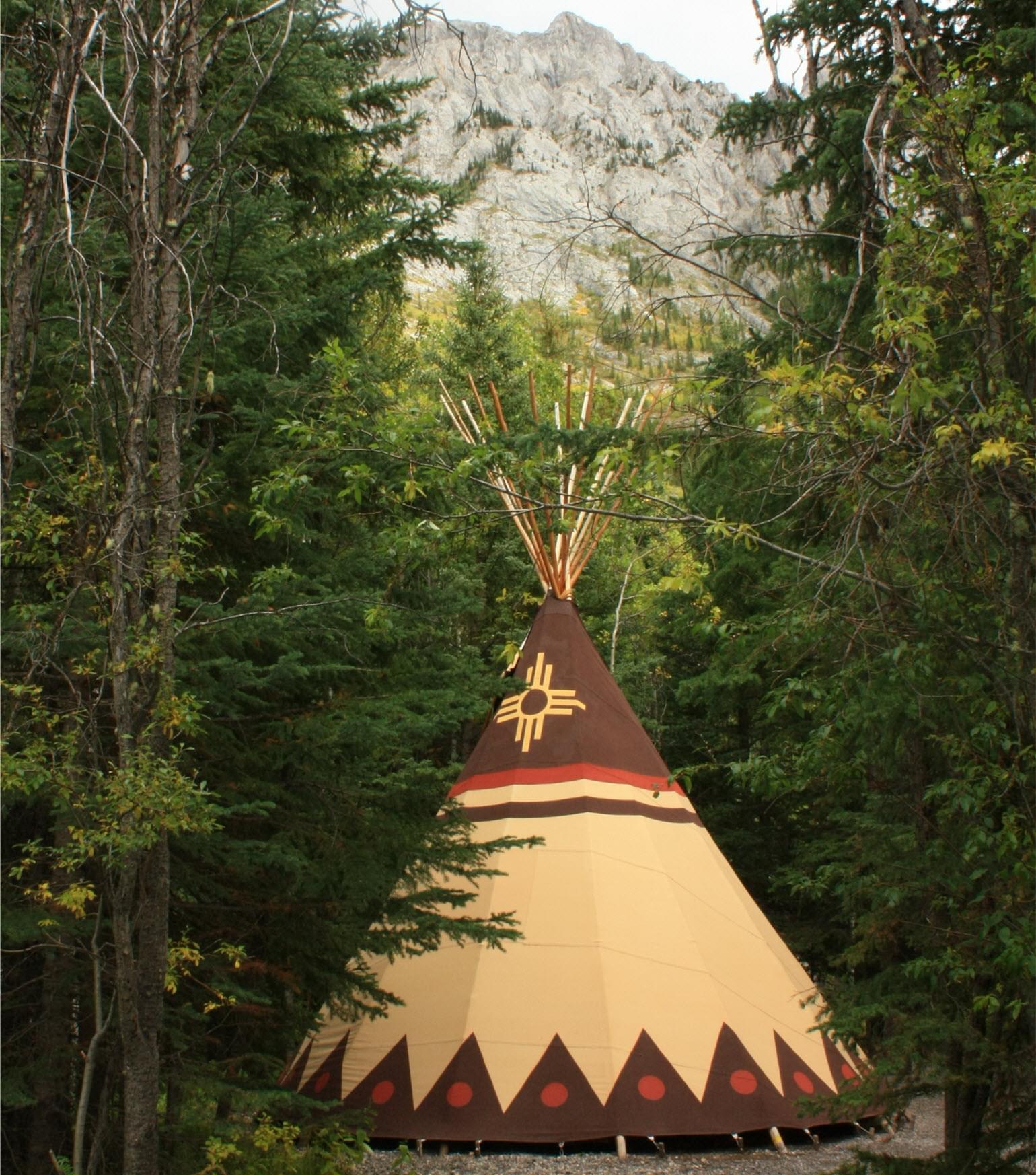 The Yurt
Flora Bora in Christopher Lake, Saskatchewan
For centuries, traditional yurts made of felted wool and animal skins were used as shelter for nomads in central Asia. Today high-end yurts, like the ones at Flora Bora in Christopher Lake, Saskatchewan, consist of durable fabric with high-tech insulation covering a sturdy wooden frame and topped with a clear dome to let in the sunlight during the day and view the twinkling stars at night. Flora Bora's yurts sleep up to four people and are equipped with a deck, private bathroom with bathrobes, fully equipped kitchen stocked with fair trade coffee and tea, dish soap, towels and queen-size beds topped with down-filled duvets. Located on over 30 acres of lush Boreal forest, Flora Bora is a breathtaking spot surrounded by fragrant spruce, birch and balsam firs. Just minutes away is Prince Albert National Park and the beaches of Emma and Christopher Lakes, where there are nature trails and shopping.
Traveling Light B&B in Whitehorse, Yukon
For a heartwarming yurt experience where you feel like you're staying with old friends, Traveling Light Bed and Breakfast on Airbnb in the Yukon is the perfect option. Traveling Light's handcrafted Mongolian yurt, which sleeps up to five and keeps warm with a charming wood burning stove, is set on a south facing wooden deck on 21 private acres of breathtaking Cowley Lake, where you can hike, bike and ski. If you happen to visit in the winter months, this deck provides incredible views of the stunning Northern Lights over the lake. With the family-friendly main house containing everything you need, from a yoga room to a washer-dryer, you will never want to leave this glamping dream, especially after you've tried Amanda's healthy and hearty breakfast using organic ingredients straight from the garden!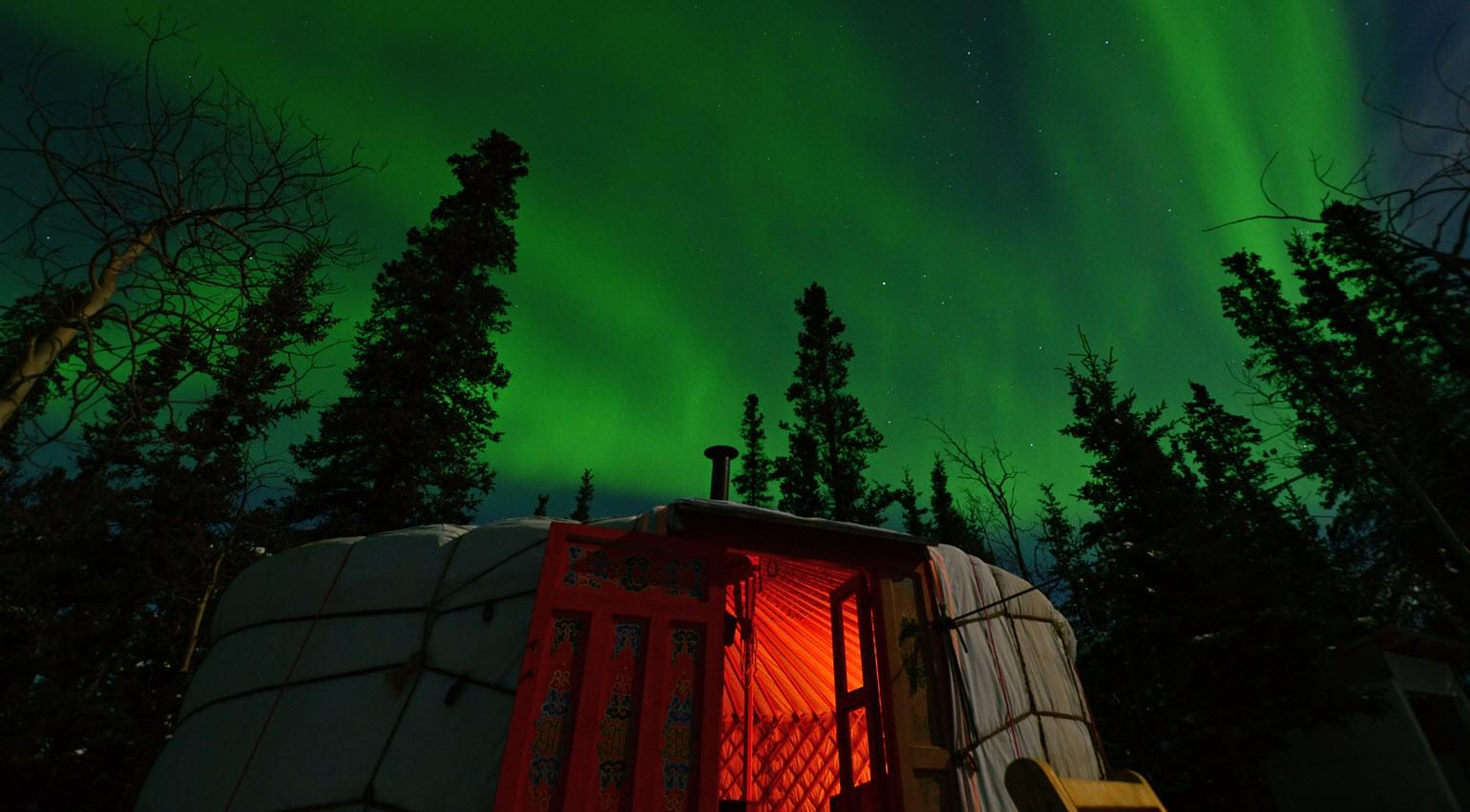 The Pod
Long Point Eco-Adventures in Norfolk County, Ontario
The pods at Long Point Eco-Adventures in Norfolk County provide cozy serenity along with private decks. Choice of pods range from five queen bed pods to five double twin bed pods, all with sturdy hardwood floors and shared bathrooms. Those looking to upgrade their experience can choose one of the wilderness suites, which offer private baths and king or queen beds. The activities concierge can arrange a variety of excursions including: fishing tours, fine dining, astronomical viewing at Long Point Observatory and a "Mushroom Foray" trip for foodies to forage for mushrooms.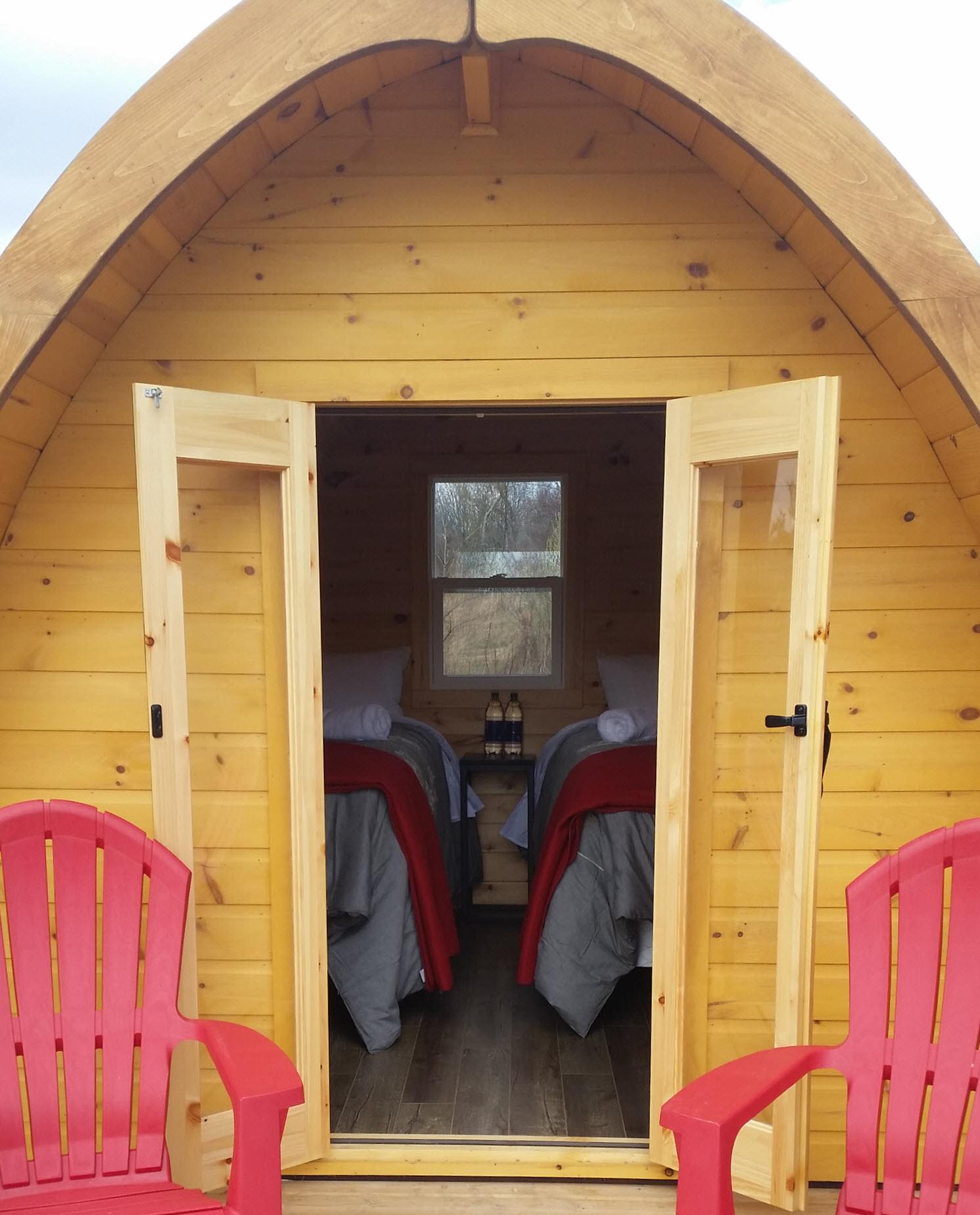 The Tent
Huttopia, Various locations, Quebec
Exquisitely designed in France, Huttopia tents are available in 17 of Quebec's 24 national parks, including those in Mont Tremblant, Gatineau and Quebec City. To accommodate the Canadian climate, the tents are modified to include a secure door, mosquito netting and a heating unit. Along with being fully furnished, Huttopia tents are on a raised wooden platform and come with a two-burner outdoor stove, small refrigerator, dishes, pots, pans, cooking utensils and an outdoor seating area. You will have to "rough it" and bring your own bed linens, bath towels, and soap, but each location has a welcome centre with a coffee bar, brick-oven pizzeria and full service bar (weekends only off-season).
Wherever you decide to try glamping, the RBC Avion card can help you get there!
This article is intended as general information only and is not to be relied upon as constituting legal, financial or other professional advice. A professional advisor should be consulted regarding your specific situation. Information presented is believed to be factual and up-to-date but we do not guarantee its accuracy and it should not be regarded as a complete analysis of the subjects discussed. All expressions of opinion reflect the judgment of the authors as of the date of publication and are subject to change. No endorsement of any third parties or their advice, opinions, information, products or services is expressly given or implied by Royal Bank of Canada or any of its affiliates.