Bankers aren't often top of mind as a support resource for newcomers to Canada. Heidi Hemdan, leader of RBC's Newcomer Advisor Team in Ottawa, wants to change this perspective.
Bankers aren't often top of mind as a support resource for newcomers to Canada. Heidi Hemdan, leader of RBC's Newcomer Advisor Team in Ottawa, wants to change this perspective.
When Hemdan walked into an RBC branch in Ottawa one summer day in 2008, she expected nothing more than the opportunity to open a bank account in her new country.
Today, Hemdan is a branch manager for RBC and was recently appointed to head up RBC's newly created Newcomer Advisor Team in Ottawa—one of eight teams across the country that have been helping newcomers to Canada virtually for more than two years. Her newcomer journey has led her to this moment: putting together a talented, multilingual team of advisors ready to provide the guidance, support, and resources newcomers need to feel at home in Canada.
Bankers helping newcomers
Hemdan's vision of bankers helping newcomers is rooted in her own personal experience. Over 14 years ago, she and her husband and their twin daughters arrived in Canada from Egypt. On the family's first outing in Ottawa, they saw an RBC sign. "We thought it would be a good time to open bank accounts," Hemdan says. "The advisor we met with was so friendly. He listened to our story. We felt like he really cared."
During this conversation, the RBC bank advisor learned that the couple hadn't found a place to live yet. "Even though he'd finished opening up our accounts, he took the time to show us areas that were good for families because of the schools," she says.
Then, in 2013, while talking with that same RBC advisor, she mentioned being a team leader at her job. Her advisor asked if she'd ever thought about working for RBC. "And I hadn't, up until then," she says with a smile. "So I gave him my resume, and he referred me for a job as a manager of client care. That's how I joined RBC. It was through a banker helping me, a newcomer. And now, with our Newcomer Advisor Team, we're helping newcomers the same way my advisor helped me."
No credit history, no references: challenges in renting a new home
While setting up their new banking life in Canada went smoothly, Hemdan faced other newcomer challenges as she and her husband settled in their new country.
Getting a new home was a priority because she wanted to minimize the disruption on her school-aged twin daughters. The rental process proved to be a challenge, however, with potential landlords asking for Canadian credit history and references, which neither Hemdan nor her husband had.
With time running out, they came across a rental maintained by a property management company. "They asked us if we'd be able to pay the rent," she says. "We said, yes, of course. We showed them our bank statements. We said, we don't have jobs yet, because we're newcomers. And we got the place."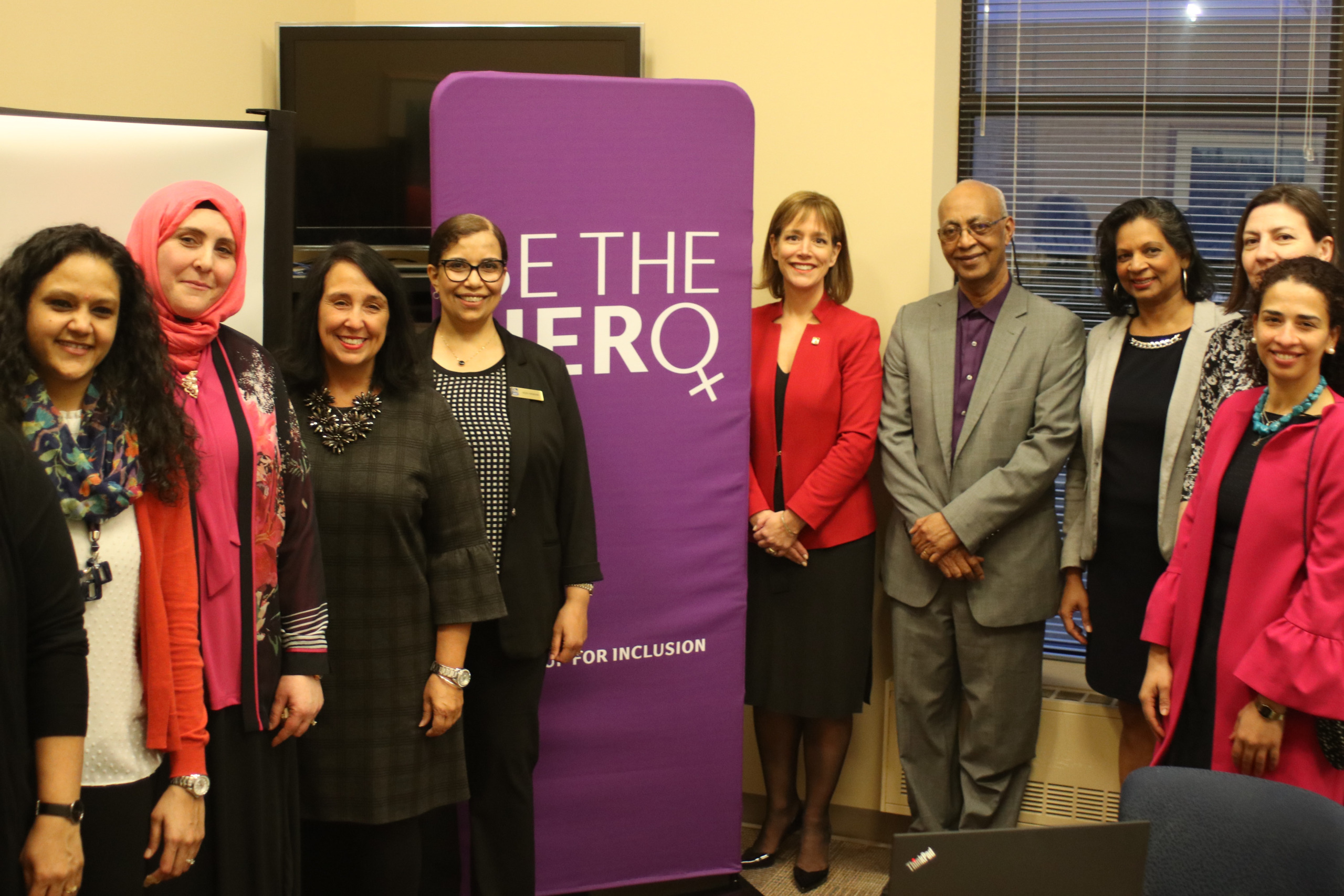 Heidi (centre-left) and RBC Regional President Marjolaine Hudon (centre-right) and others at a 2020 International Womens Day event.
Being okay with an entry-level position
Once her family had a place to live, Hemdan began looking for work. And she came across a barrier familiar to most newcomers: she lacked Canadian job experience.
"Without Canadian experience, I wasn't going to get the jobs I was qualified for," she notes. "So I said to myself, I'll take an entry-level job, gain some Canadian experience, and learn about the job culture."
Hemdan eventually landed a job in financial services. Looking back, she says, "I let go of my high expectations because I had to stay focused on my primary goal. I just needed to get my foot in the door. I was sure with my work ethic and skills, I'd be able to get to the next level."
Today, when she mentors newcomers on their job search, Hemdan tells them not to let rejection get them down.
"You're going to face a lot of barriers, but it's important to remember that you've made this courageous decision to move to a new life in a new country," she says. "You have to be strong. Believe in yourself. Keep your bigger goal in front of you so you can continue moving forward no matter what."
The value of community support and giving back
Like most newcomers to Canada, Hemdan found herself with no family or friends to provide the kind of support she'd left behind. Today, she's adamant that newcomers find the community support they need to settle into their new lives.
Settlement organizations, for example, provide newcomers with the chance to connect with others facing similar challenges and working towards the same goals. "Join some of their classes or groups," Hemdan advises. "You'll meet people just like you, who've left everything behind for better opportunities. And yes, they might come from different countries or backgrounds, but in the end, we're all going through similar experiences."
Many newcomers, like Hemdan, work as volunteers to help people newer to Canada with the same obstacles they themselves have overcome. For Hemdan, volunteer work is all about giving back to the community. "There's that common ground of being a newcomer," she says. "We share tips and experiences, and we guide and mentor each other towards success."
Today, Hemdan continues to volunteer in the Ottawa newcomer community with organizations such as World Skills, YMCA, PAND settlement agency, and the Ottawa Chinese Community Service Centre. This work inspires her as leader of RBC's Newcomer Advisor Team.
"It's not just a job. It's something I love doing. It's my passion," says Hemdan. "It's about more than banking. We're not just helping newcomers with things like opening accounts. We're asking, what is it that you need us to help you with? If you're looking for a job, for example, we can connect you with organizations that can help."
The Empowering Newcomer, Visible Minority Women Initiative
World Skills Employment Centre's' Empowering Newcomer, Visible Minority Women Initiative is one such collaboration Hemdan is involved in. It's a national gender-specific research program that aims to improve employment outcomes for visible minority newcomer women.
Initiatives like these allow newcomers at World Skills to access training and certification in a number of fields. "As a champion, Heidi has mentored many newcomer women and has inspired other RBC leaders to become champions for newcomers too," says Magdalene Cooman, Senior Director at World Skills. "Through her mentorship, several newcomers have landed great jobs with RBC, and with other employers in Ottawa."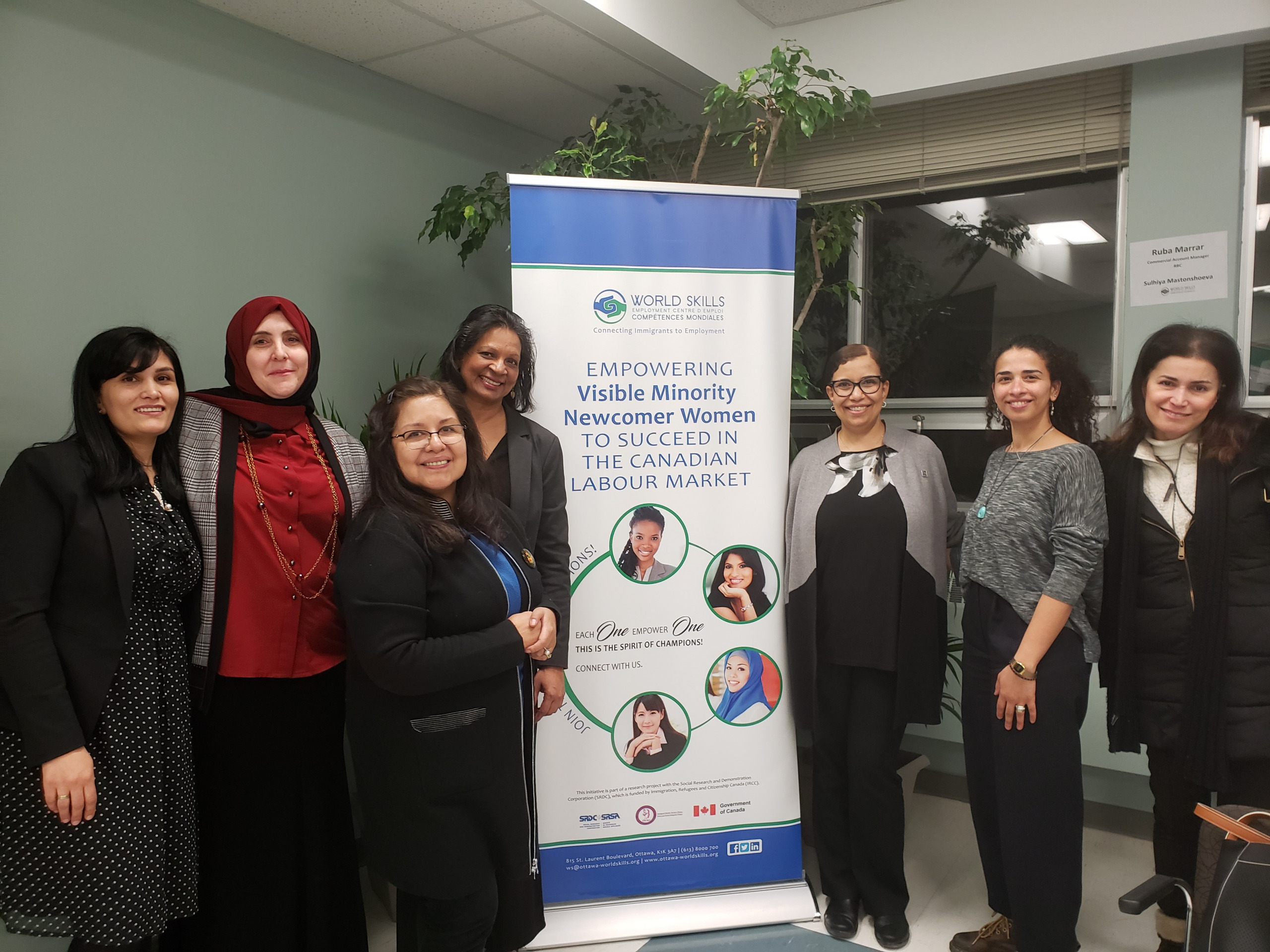 Heidi (centre-right) and others from the World Skills Employment Centre's' Empowering Newcomer, Visible Minority Women Initiative.
Hemdan has also been instrumental in assisting organizations such as World Skills in applying for funding support from RBC Foundation. "It's very much about deepening relationships with settlement agencies, and strengthening RBC's support for their initiatives to in turn provide much-needed support to newcomers," she says.
"Heidi is a natural collaborator who demonstrates great respect towards everyone she meets," Cooman says of Hemdan's work in the community. "She's a strategic thinker and an action-oriented woman who inspires others to join her in making a difference. She's truly committed herself to raising the bar for newcomers."
Reflecting on her path to leading this new specialized team at RBC, Hemdan says, "As an organization, RBC believes in newcomers and what they can do for Canada. I have felt this first hand in my career. That's why I'm so proud and happy to be working at RBC."
This article is intended as general information only and is not to be relied upon as constituting legal, financial or other professional advice. A professional advisor should be consulted regarding your specific situation. Information presented is believed to be factual and up-to-date but we do not guarantee its accuracy and it should not be regarded as a complete analysis of the subjects discussed. All expressions of opinion reflect the judgment of the authors as of the date of publication and are subject to change. No endorsement of any third parties or their advice, opinions, information, products or services is expressly given or implied by Royal Bank of Canada or any of its affiliates.